10 Beautiful (but Practical) Hallway Ideas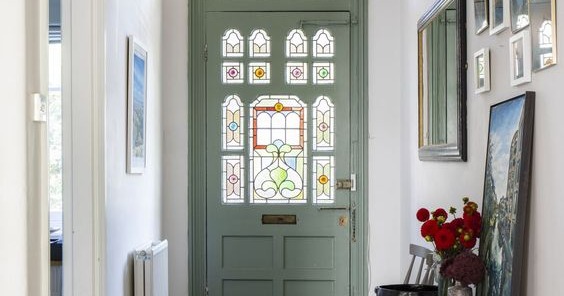 Hallways are core parts of a home. Usually considered practical, they can actually be beautiful places and a breath of fresh air when you enter. Hallways are high traffic areas and usually contain common items such as shoes, coats and maybe a place for your keys.
In many cases, hallways can be overlooked or seen purely for storage. So how do you create a functional space that wows? Here are 10 hallway ideas for marrying the practical and the beautiful (with a few smart design ideas for good measure).
1. Keep Your Colour Theme Consistent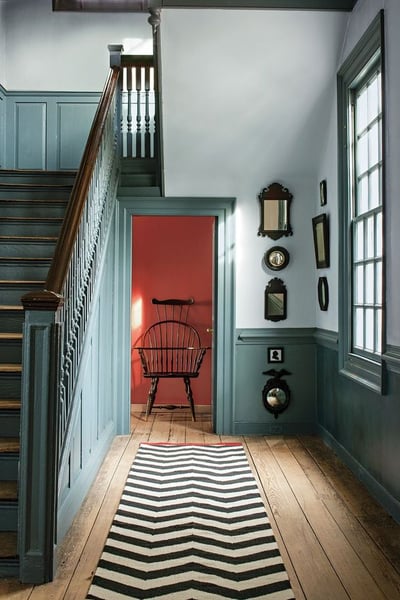 Image credit: Pinterest
Traditionally, hallways aren't areas where you relax, rather the place you use to get to other rooms. A hallway can stretch from the front door to the upstairs bedrooms - so why not continue a colour scheme from the moment you walk in to the moment you open your bedroom door?
In houses featuring beautiful solid hardwood furniture pieces, you should take care to choose a colour scheme that complements them. For example, in the photo below, you can see how the off white and green colours match the dark wood, continuing all the way up the lovely, traditional staircase.
Colour schemes are present in many rooms of the house, so having one in the hallway shouldn't be a radical choice. How about representing a transition from one part of the house to another by slightly altering the colour scheme as you move?
To explore our blog on the best home colour trends, read our blog here.
2. Add an Accent Feature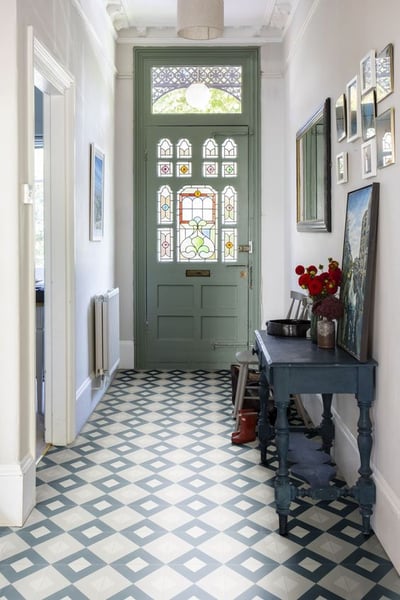 Image credit: Pinterest
While we're on the theme of colour, let's talk about accent features. Some hallways benefit from being minimalistic in colour - think white or cream walls to really make use of natural light (or make up for the lack of it).

An accent feature, like an intricately painted door or piece of furniture, can really draw the eye. Having one or two and a matching flooring pattern can help to create a fun and visually pleasing look. Little splashes of bright colour from plants or flowers can make all the difference.
3. Save Space with Sliding Doors
Image credit: The Learner Observer
While hallways are meant to be functional spaces, they're not guaranteed to be spacious. This means the arc of a traditional swinging door can take up a lot of valuable storage space. A sliding door doesn't have this problem.
Plus, they can be made to look as modern as you want (sleek with neutral colours) or as traditional as you desire (hardwood with brass fittings). It all depends on your taste.
4. Be Imaginative Under the Stairs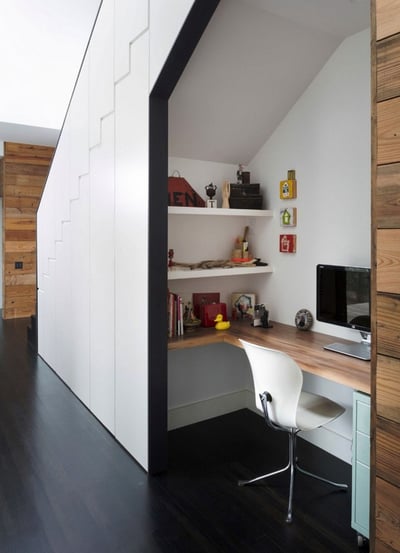 Image credit: Domino
Some homes have a lot of space under the stairs, which is a prime candidate for good storage design. These are highly under-utilised areas, but hold a lot of potential.
Why not create a useful mix of cupboards and drawers to maximise storage space? Alternatively, you could house a small desk under the stairs and create a quick access office space. One out-of-the-box idea is to turn the space under your stairs into a wine cellar. If there's no limit to your imagination, there's no limit to how interesting your home can be.
5. Make Lighting the Feature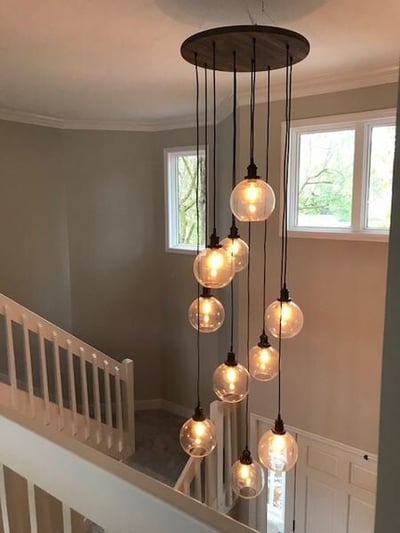 Image credit: Pinterest
Natural light can be limited in hallways, so a bright lighting fixture can be crucial. However, these aren't just practical items; they can be luxurious, eye-catching additions to your hallway.
You could go classic with an intricate chandelier or modern with a set of minimalist or boho-style hanging bulbs. Edison bulbs are a great way to achieve that industrial vibe everybody is trying to replicate right now.
But like hallway design, your lighting choice doesn't have to be strictly aesthetic. It can also be a highly functional choice too. For example, have you considered movable wall lighting?
6. Adjust The Mood With Movable Wall Lighting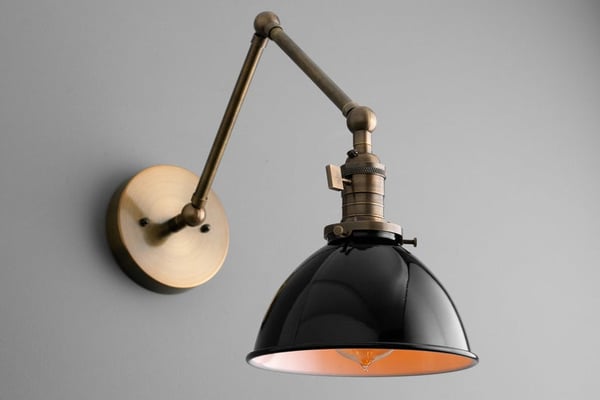 Image credit: Etsy
Lighting is important. The wrong light, placing or bulb type can make a hallway feel cluttered or cold. One practical way of making a hallway a little more homely is to include movable (or retractable) wall lighting. Wall lights that move, such as sconce lights on pivots, allow you to reangle the direction of light according to your preference.
They can also be bought in groups, meaning your hallway won't have one source of light and suffer from harsh, directional lighting. Consider buying two or three to complete the 'runway' feel of your hallway, a place dedicated to movement.
Also, moveable wall lighting is easy to clean. You should consider investing in dimmable lights so you can adjust the mood in the hallway, depending on the time of day or year.
7. Smart Design: Built-In Doormat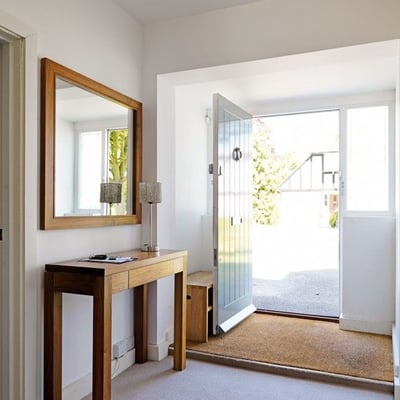 Image credit: Pinterest
Smart design takes raw materials and turns them into useful, appealing and, more often than not, quirky must-haves. A doormat is one of the most simple and yet useful items in the house, helping you to clean any dirt from your shoes before properly entering the house.
Having them built-in is the better option. One of the drawbacks to a doormat is their ability to slip and slide. If they're fixed, like in the image above, they've no chance of moving and causing a nuisance in your hallway. This is especially important with busy families or when the grandchildren are visiting, coming in and out to go to and from school, clubs or friend's houses.
8. Try a Vintage Wallpaper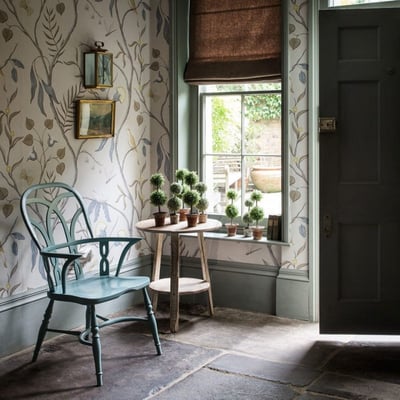 Image credit: Domino
Vintage wallpapers are very much back in style nowadays. In the opinions of connoisseurs, they've always been timeless.
Intricate patterns or image-laden print can give a hallway a period or bohemian feel, something to help stir your visual appetites. We need to realise that hallways don't have to be functional spaces, they can be fun spaces too.
9. Non-Slip Vinyl Flooring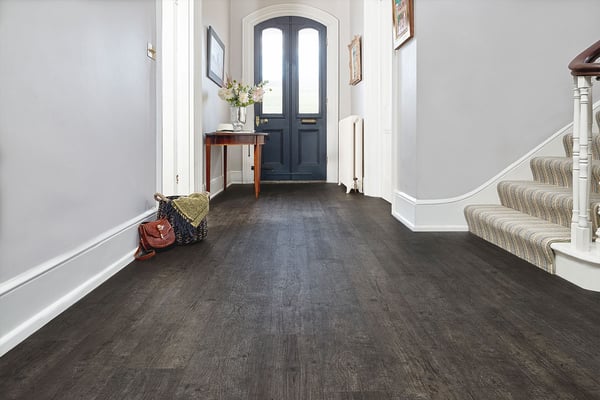 Image credit: UK Flooring Direct
Alongside your doormat, you'll need a durable, practical flooring type that's very easy to clean. Vinyl flooring is your best choice and, depending on the type, can actually be a very luxurious addition to your hallway.
It can be designed in many ways. So if you have a minimalist hallway, you could choose a more visually-complex floor type. This acts as a feature wall, drawing the eye and becoming the focal point of the room.
Vinyl can be made in many ways. If you place beautiful hardwood pieces in your hallway, you can get a practical, non-slip vinyl that matches their appearances, tying the room together wonderfully.
To see more information about hallway flooring ideas, visit our blog here.
10. Add Functional Furniture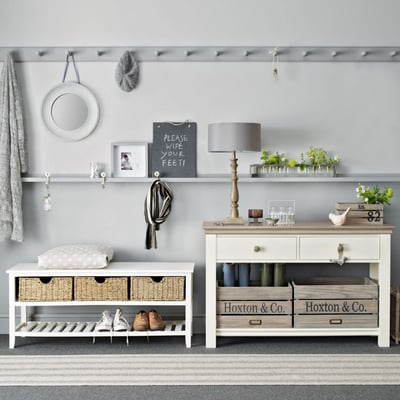 Image Credit: Tim Young
As we mentioned, hallways are functional spaces, usually housing shoes, coats, bags and other necessities. Simply being a functional space doesn't guarantee it's been well designed. More often than not, hallways can become cluttered and disorganised.
That's why hallways should have adequate storage solutions. For example, shoes can be packed away in a shallow storage unit. In terms of coat storage, you can use traditional hangers or a cupboard, if there's space. For those who are fans of handcrafted hardwood and a great amount of storage space, why not consider a linen chest?
Bespoke hardwood furniture pieces work incredibly well in functional spaces, especially if you're looking for an efficient use of space. For example, linen chests can be made to include seating, so they can double up as a place to remove your shoes and store them. Made-to-order furniture is the perfect option for maximising the unique shapes, alcoves and intricacies of a hallway, which are usually never a conventional shape.
Similarly, cloakroom pieces can be built to measure, offering practical and beautiful additions. And because they're hardwood, they're durable and last an incredibly long time.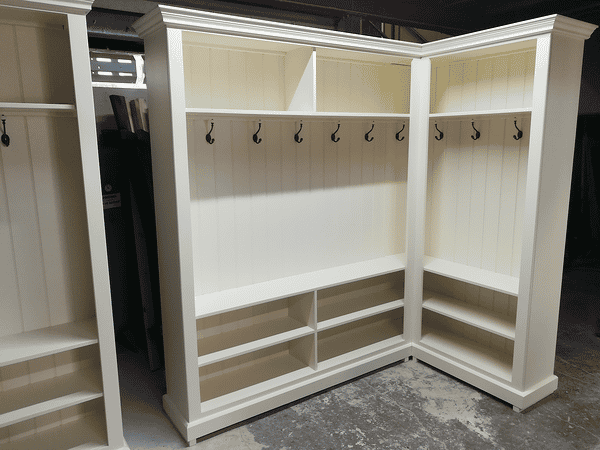 Some hallways contain alcoves and other design features that can be awkward to fit conventionally-sized furniture in. Bespoke furniture is always the answer for these hard-to-fill spaces. To explore more about bespoke furniture, you can explore our unique guide.
Additionally, your hallway could benefit from a seating bench with internal storage. Stylish and minimalist wicker baskets can be utilised for smaller, commonly-used items such as dog leashes or small umbrellas.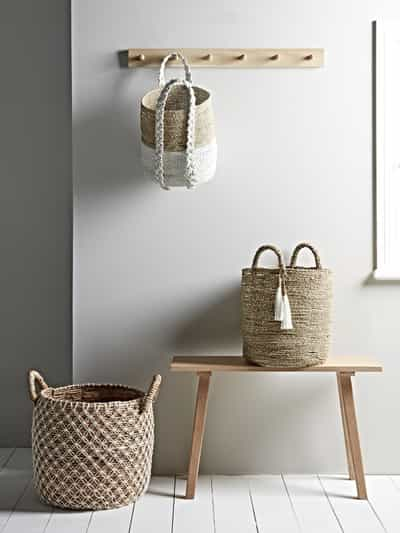 Image Credit: Cox & Cox
A hallway is a common area to store your house and car keys, which means they need to be stored securely. Have you ever thought about utilising a bedside table as storage? Who said they need to be by the bedside? Try pairing one with a decadent vase filled with flowers that complement your colour scheme, giving you a beautiful and practical focal point for the room.
For that extra ounce of uniqueness, think about adding a ladder shelf. These additions are perfect for housing important items while saving on space and embellishing the room with that gorgeous, Scandinavian feel.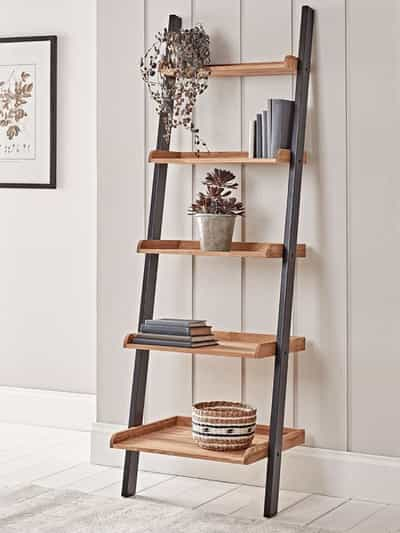 Image credit: Pinterest
The hallway is an important part of any home - but it's just one part of your abode There are many other rooms to consider. If you're looking for decoration and inspiration ideas for your home, we've got just the thing for you.
Revival Beds: Inspiration For The Home
In our guide, you'll find a wealth of beautiful inspiration to help you create the home of your dreams. With ideas for the bedroom, bathroom, kitchen, dining room and other key places turn a house into a home, you'll be spoilt for choice.
For the best inspiration and guidance for creating a stunning interior, simply click the link below.