4 Elegant Half Wall Wood Panelling Ideas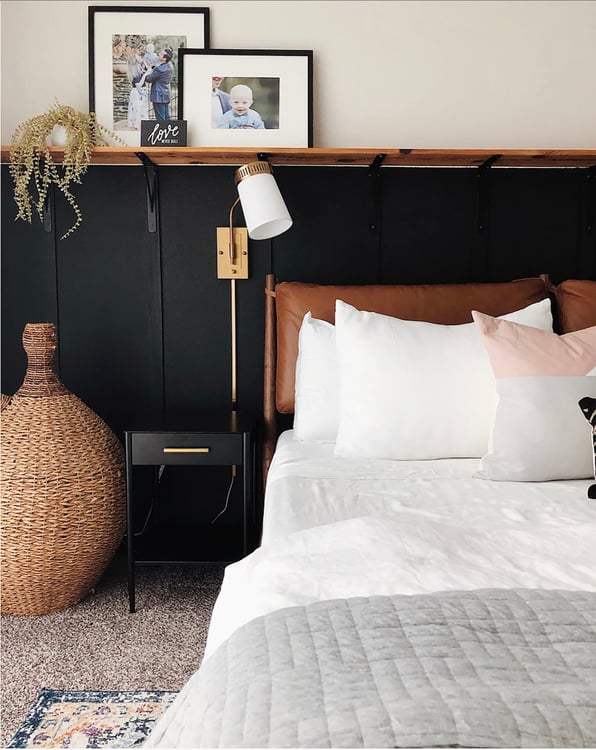 Wood wall panelling is an emerging home trend. With a rich history, wood-panelled walls were first popularised in Victorian home decor and had a resurgence most commonly in the form of full-wall veneers in the 1980s and 1990s. Now a modern take on the original, elegant Victorian-era iteration of wall wood panels is back, featured heavily in the homes of the most stylish homeowners.
Half wall panelling is the best fit for most homes as they offer plenty of versatility. To help you make the most of this here-to-stay trend, we've compiled the best styles of half wall wood panels that are elegant, timeless and modern.
1. Classic and Stained
For a classic take on wood wall panelling, a stained half wall panel with traditional embellishments comes to mind.
Whether you're modernising an 80s home decor staple with a real wood vertical panel or harkening back to the days of Victorian opulence with darker, more intricate panel designs, there are plenty of modern ways to incorporate wall panelling.
Give your space a rustic, log-cabin or cottage feel with vertical running two-thirds of the way up your wall. Choose a wood stained in a warmer colour, such as red oak or chestnut. Pair this with an off-white, cream colour to complement the warmth the wood brings for a refreshed retro look that's homely, simple and striking.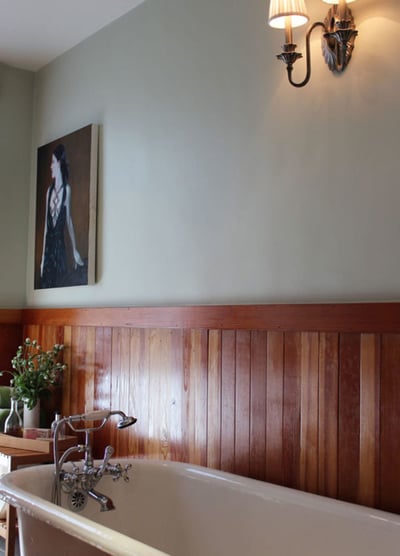 Image by Apartment Therapy
If you want to pay homage to the more traditional wood panelling originally used in Victorian-era homes, use a mixture of light and dark to create a timeless, elegant look and feel.
Around the lower third of your room, place panels of a darker wood with ornate trim and square sections. Pair this with light walls on the upper half adorned with large pieces of artwork to suit your style and bold, eclectic furniture. Don't make your wood panelling darker than your floor and try to match any wood parts of your furniture to the colour of the panelling.
2. Perfectly Painted Panels
Your panelling doesn't always need to be darker than your walls. In fact, having your wall a darker shade compared to the panelling, or painting both the same colour, can give any room a touch of depth and texture.
Create contrast and make your ceiling look higher by placing your panelling just over halfway up your wall. Since the panelling is taking up the majority of the wall space, painting it a lighter colour such as white will open the room up.
The darker colour at the top will add to this. For rooms with lower ceilings, painting your ceiling the same darker colour as the unpanelled part of the wall will open the room up and make your walls look taller and ceiling higher.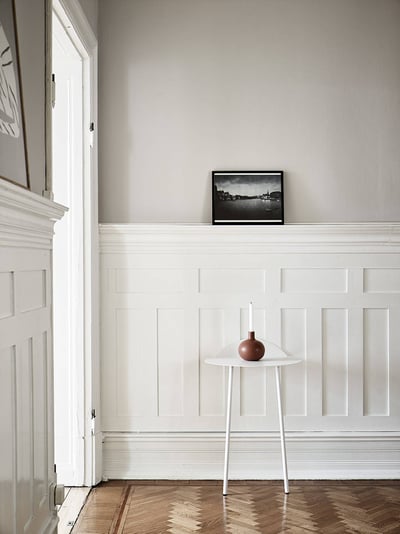 Image by Coco Lapine Design
Add subtle texture to your walls by painting your panelling the same colour. While this works well with any kind of wood panelling, all panel styles have a different effect to consider.
Vertical panels make a wall look longer and therefore ceilings taller. Whereas horizontal panels make a room look wider and works well with low furniture. Panels with square or rectangles add a timelessly classic, vintage look.
Don't be afraid of colour when painting your wall and wood panelling and choose a matt colour that best reflects your personality. Consider how much natural light your room gets when selecting a colour - especially if you're looking at darker options - but don't talk yourself out of a colour you like due to fear. If the colour isn't right, repainting it is possible with a bit of effort.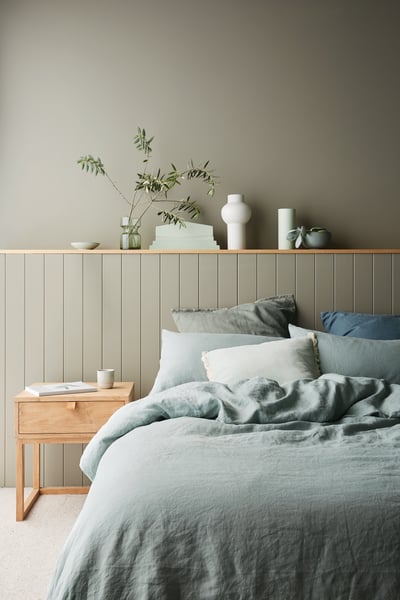 Image by The Interiors Addict
3. Make it Modern
Wooden wall panels may have their roots in interior design before the First Industrial Revolution, but that doesn't mean they need to look old fashioned or conform to certain shapes or styles.
Geometric designs are slowly taking over the resurgence of the wood panelling trend and for good reason. These diverse designs fit almost all styles of modern decor and look just as good painted as they do stained in a natural colour.
The options for geometric patterns are endless and this can be easily accomplished at home by drafting your ensign, cutting wooden edging strips to match, and adhering them to a prepped wall before painting.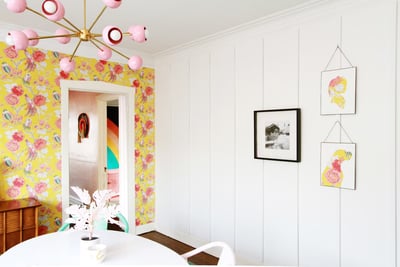 Image by Apartment Therapy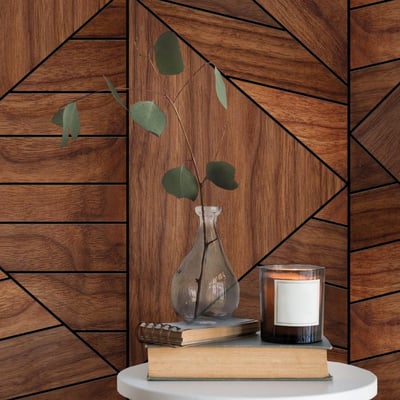 Image by Newmor
For a more effortless and ultra-modern twist on half wood wall panels, truly commit to dark colours and stark contrast by opening a tin of black paint. A black interior isn't just for fans of dark, gothic design. Black has also been a quiet favourite of many interior designers for years, and now the amazing impact of contrasting black with softer colours has been picked up by more and more DIY lovers and design enthusiasts.
Black furniture, doors, walls, floors and even matt black taps and bathroom hardware - black is a colour trend set to stay.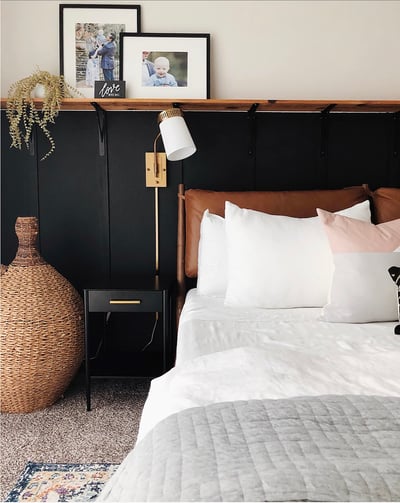 Image by Apartment Therapy
4. Faux Real
If you love the look of wood wall panelling but don't want to break the bank, you can still add half wall wood panelling that's as elegant as any other option. There are numerous cost-effective ways to do wood panelling yourself, but some of the most popular include using high-quality laminate wood flooring and reclaimed wood.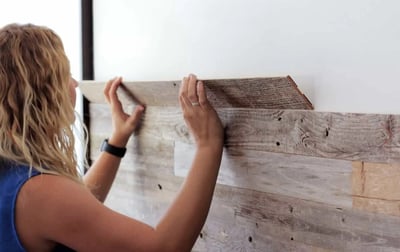 Image by Decor Snob
There are many tutorials on how to use quality wood flooring on walls, as well as how to use sanded and exposed reclaimed wood for a more rustic, modern farmhouse look. The benefits of using laminate wood or reclaiming and fixing up your own are that you have complete control over the colour and height. You can even match your floors directly to the walls if you want to.
Why not go one step further and source wood from specialists that have sustainability at the heart of their operations? That way, you know you're not only getting the finest quality wood for your half wall wood panelling renovation but also doing your part for the planet.
Are you inspired to try out wood panelling in your home? It might just be one of the many things you're planning when renovating your home. Whether you're touching up your bathroom or transforming your bedroom, take the hard work out of finding inspiration for your upcoming projects by downloading our guide below.
Create Your Dream Home with our Inspirations Guide
Your perfect home is waiting for you. Save your valuable time scrolling through endless online mood boards or flicking through piles of design magazines. You can find all the home inspiration you need with our free guide, created to help make your next home renovation project that little bit easier.
To create a home that reflects your personality and is loved by your friends and family, click the link below.