Henry Smeaton | The Best Quality Mattress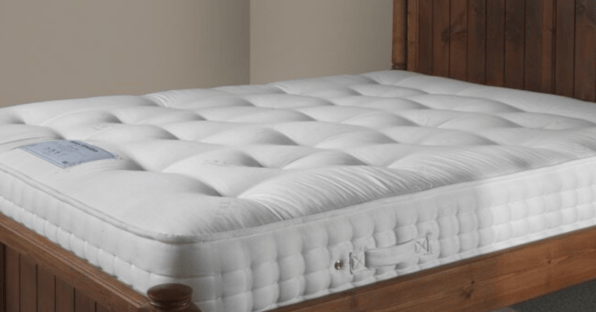 Stylish. Luxurious. Durable. The expertly handcrafted Henry Smeaton mattresses represent an investment in the highest quality furniture that guarantees you the most comfortable night's sleep.
While the name Henry Smeaton may be familiar, you may not have explored the wide range of mattress offerings that bear his respected moniker. Below, you'll discover how Henry Smeaton mattresses set the standard for the best quality mattress.
Henry Smeaton Classic
Classic by name and nature, the Henry Smeaton Classic is handcrafted with only the finest materials. Ranging from unique blends of cashmere, lambswool and silk, it's truly a mattress that offers support and comfort on a sublime level.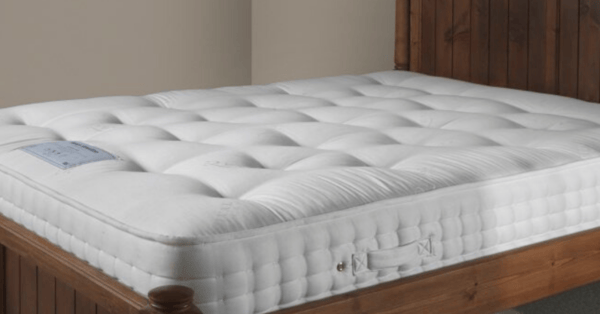 The Henry Smeaton Classic comes in many variations. You can choose either 1000, 1500 or 2000 individual pocket springs, all offering comfort and responsiveness for any sleeper. Our sumptuous blend of materials cocoons each spring, creating an unmatched feel of comfort.
The interwoven layers of filling, paired with one of the finest Belgian damask fabrics, work to create uplifting support. It's a chemical-free mattress, making for a more natural night's sleep.
Henry Smeaton Next Generation Memory Foam
'Memory foam' is a phrase on many people's lips when it comes to mattress shopping for your sanctuary. It's an increasingly popular addition to bed design. However, where traditional memory foam requires body heat to work effectively, the Henry Smeaton range doesn't.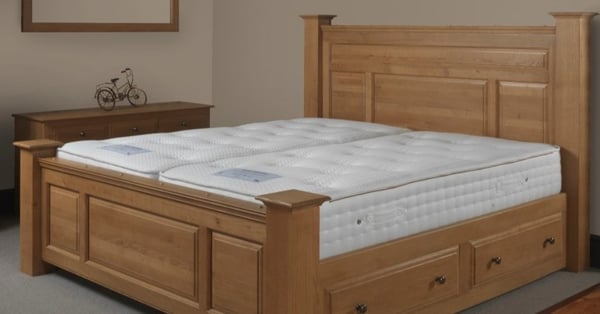 With the memory and pocket memory design, you'll be able to rest in comfort with a cooler night's sleep.
Each of the Henry Smeaton memory foam mattresses contains an open cell structure, meaning it conforms to your unique body shape instantly and effortlessly.
We offer two variations, the Next Generation Memory Foam and the Next Generation Pocket Memory. The former is 22cm deep, with a triple layer of memory foam offering supreme comfort.
The latter offers support equivalent to 1400 pocket springs. It also includes a chemical-free microclimate fabric to help regulate your body temperature throughout the night. Additionally, you can experience a sublime night's sleep with the Next Generation memory foam topping.
Henry Smeaton Classic Latex
The Henry Smeaton Classic Latex features a latex design that envelops 1500 or 2000 pocket springs. It offers several different benefits to the Henry Smeaton Classic, such as superior uplifting support, provided by natural latex. When it comes to comfort, the Henry Smeaton Classic Latex is in a league of its own.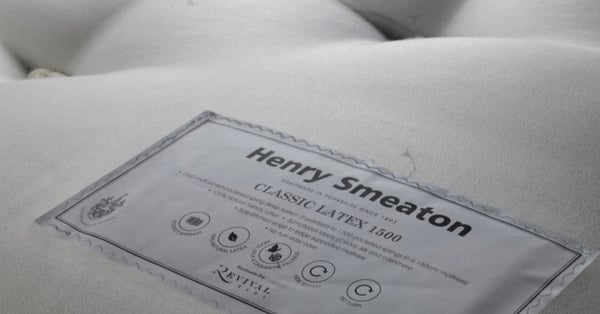 One of the main benefits of this mattress is how it effortlessly supports any pressure points you might be sensitive to, ultimately creating a more relaxing night's sleep.
Henry Smeaton Diamond
There's nothing more impressive or valuable than a diamond. That's why it's a name befitting this type of Henry Smeaton mattress. Ranging from 7000 to 11000 pocket springs, you can't find a more supportive mattress.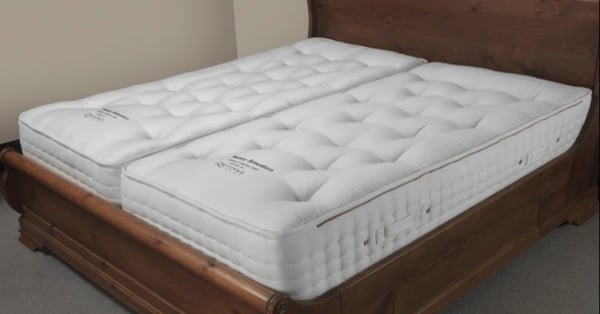 The design of this unique mattress is completely responsive to the individual contours of your body. It's crafted from the highest quality lambswool, cashmere, mohair, silk, cotton and natural latex - all hand-tufted by our specialists. These materials are carefully and creatively enveloped in our chemical-free Belgian damask cover, which is then hand-stitched by experienced mattress makers.
Our Henry Smeaton Diamond mattress collection represents a level of comfort that's truly unrivalled. Due to their hand-engineered design and craftsmanship, they're the perfect accompaniment to a handmade bed. For example, imagine pairing a Henry Smeaton Diamond Mattress with an Ambassador four poster bed.
Such a regal combination of handcrafted furniture would be undeniably luxurious.
Soft, responsive, flawless. With the Henry Smeaton Diamond, we've taken the science of sleep to an entirely new level.
Henry Smeaton Platinum
What do you think of when you hear the word 'platinum'? Precious? Unique? Rare? These are all perfect ways of describing the Henry Smeaton Platinum mattress collection. Each one is handcrafted to the exact specifications of Henry Smeaton himself, aligning with the values of the master craftsman.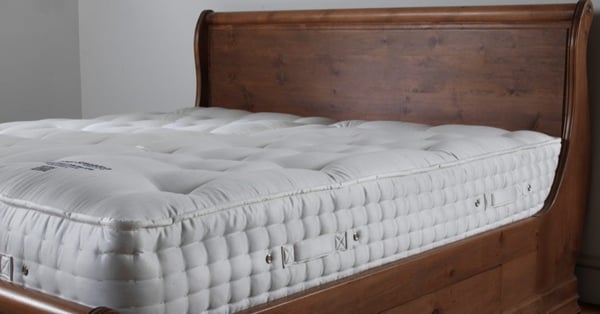 We offer three designs; 3700, 4700 and 5700, the corresponding number of pocket springs you'll find intricately layered on the inside. They range from medium to firm support, with your choice depending on what you prefer in the feel of a bed.
The Henry Smeaton Platinum mattresses are uniquely engineered. They contain the famous Henry Smeaton 'triple decking' to create a more even platform for you to spend your restful nights on.
The Platinum mattresses also feature luxurious Belgian damask fabric and the feel that can only come from a hand-tufted mattress. They're passionately handcrafted to grant you a supreme level of comfort and support, meaning you'll never want to leave your bed.
Each of these unique mattresses comes with a five-year guarantee and are also available in sizes that go up to 8ft wide. But if you're looking for something truly unique, such as an extra long mattress to match your bespoke Revival bed frame, our mattress specialists and artisans can provide that.
Mattress Sizes and Guarantees
No longer will you buy a mattress and find it's either not the right size for your room or even worse, not the right size for you. At Revival Beds, we handcraft beds in all wonderful shapes and sizes, that's why we offer a wide variety of generously-sized mattresses to fit any room and any need.
Plus, these mattresses can be made to size, meaning if you have the need of a bed outside the conventional sizes, we can deliver.
Henry Smeaton's luxury mattresses are a perfect fit for our ethos, we have the same level of dedication in our workshop, using time-honoured processes to produce high-quality furniture.
They're also environmentally-friendly. We make sure to use recyclable materials so when it comes time to replace your Henry Smeaton mattress, it doesn't need to go to landfill. We also offer mattress recycling, which is always the more eco-friendly option when it comes to getting a new mattress.
So if you're looking to get lost in a mattress that stretches 8ft by 7ft, with our Henry Smeaton mattresses, you're in good hands.
We offer the following sizes for all our mattress types:
Single 3'0" x 6'3".
Double 4'6" x 6'3".
Kingsize 5'0" x 6'6".
Super Kingsize 6'0" x 6'6".
6'0" x 7'0".
Eastern King 6'6" x 6'6".
6'6" x 7'0".
Emperor 7'0" x 6'6".
7'0"x 7'0".
Caesar 8'0" x 6'6".
8'0" x 7'0".
All of our mattresses come with a five-year guarantee, a quality which is only increased by our use of chemical-free, fully recyclable materials.
With such an extensive range of mattresses, materials, sizes and combinations, it's natural to want more information on these impressive additions to your abode. To provide for that need, you can take a look at the Henry Smeaton Mattresses guide.
Henry Smeaton Mattresses for Revival Beds
Ever wondered what makes a quality mattress? Are you inspired by this blog and want to see even more beautiful Henry Smeaton mattresses? Our brochure does all of this and more.
From how to find the perfect mattress, guidance on how to conduct a mattress 'MOT' and insight into our manufacturing process, you'll be fully prepared to create the bed of your dreams.
Simply click the banner below for your own copy.