What to Consider When Buying a Four Poster Bed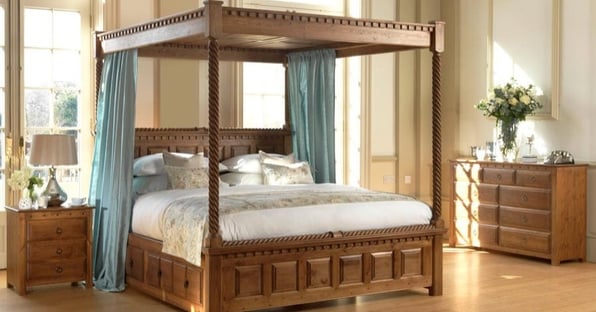 When you plan on introducing a genuine showstopper in the bedroom, you can't look any further than the most exquisite focal point imaginable — a four poster bed. The elegance it exudes demands attention and its versatility means you can dress it to suit any mood and room.
But selecting a four poster involves more than blindly flicking through a catalogue and picking the first one you lay your finger on. It should cater to your needs and grow old with you — not something that comes mass-produced with cheap materials.
To make the careful yet right decision, here's what you need to consider when buying a four poster bed.
The Size of Your Four Poster Bed
Buying a four poster bed isn't an easy decision. You also shouldn't have to sacrifice anything you desire to achieve the true feeling of royalty by having a majestic four poster bed you can sink into at the end of the day. If you need a bed size that seems a little out of the ordinary — you can get it.
Whether you want to live like Caesar or let the kids or grandkids sleep like mini emperors, nothing is off limits with the size of your four poster bed with a bespoke bed manufacturer, as it all depends on your requirements. Here are the four poster bed sizes you can choose from at Revival Beds:
Single 3'0"
Double 4'6"
Kingsize 5'0"
Super Kingsize 6'0"
Eastern King 6'6"
Emperor 7'0"
Extra long? High and wide? It's all a possibility. You need to consider how big you want the four poster bed in your home. If you want to change the height, you can. All of our four poster beds are handmade in the UK, so we can change the width, height and length to suit your requirements.
What Style Will You Choose?
There isn't a one-size-fits-all approach with the size of your four poster bed — and the same applies to the style. While you can dress your bed to suit the theme of your room and to your personal tastes, the actual frame style is what helps bring the entire room together.
The four poster bed is a timeless style and there's no better design for creating a statement. Do you want something traditional and classic? Luxurious and romantic? Or maybe simple and understated? Choose the perfect style where you'll be glad to spend the night.
Here are the styles available at Revival Beds:
Select the Finish Carefully
There's something comforting about ordering your handmade four poster bed direct from the craftsman that built it. It's these same craftsmen who'll apply the ideal finish to your four poster bed at Revival Beds.
Again, it comes down to the style you want to achieve and whether it matches the theme of your humble abode. When selecting your bed and the supplier, do your research to ensure the materials they use are built to last for generations, rather than something you need to repeatedly replace.
At Revival Beds, all of our timber is sourced responsibly and we can offer a range of finishes to suit your tastes. We use the finest grade of European oak with a distinct finish that's full of character and offers plenty of durability. All of our four poster beds are also available in natural wood finishes — all hand applied.
Do You Need a Canopy?
Again, the four poster bed you desire comes down to your preference. Some bedrooms will benefit from having a four poster with a wooden canopy, while others are likely to look just as majestic without one — such as our Quebec Pencil Bed — without compromising on luxury. It's the perfect addition to your four poster that adds an air of sophistication.
At Revival Beds, most four poster bed frames are available with a canopy or curtains. They're optional, so it's down to your taste if you want your four poster with a canopy to get the cosy feeling of being tucked away or keeping it open so you can see your ceiling.
Think About the Drapes
The last thing you deserve is disrupted sleep thanks to the sunlight on an early Sunday morning. To add an extra air of sophistication to your bedroom and four poster bed, you can also add luxury curtains or drapes that offer multiple benefits that go beyond being an extra furniture piece.
On those cold nights, drapes offer warmth so you can sleep in comfort. They also add a layer of privacy for you or your guests and the fabrics help block any sunlight, so you can have the lie-in you deserve and muffle out any sounds, allowing for better sleep.
You'd be spoilt for choice when choosing your curtains or drapes from Revival Beds. We have hundreds of fabrics to choose from, including dreamy voiles to heavy brocades in various colours. Plus, they're made to measure, so you can get the perfect luxury drapes regardless of how big your four poster bed is.
What About Bedroom Furniture?
To bring the entire room together, your four poster bed shouldn't be the final addition. You should also consider bedroom furniture and how the right sets can complement the dramatic showpiece in the centre of your room.
Just like you shouldn't compromise on your four poster bed, you shouldn't sacrifice on your bedroom furniture either — it should all be made to last a lifetime. To level up your bedroom, custom bedroom furniture will be worth your investment.
Also read:
You need furniture that has the innate ability to match other pieces. When combined, the furniture and your four poster bed create a harmonious visual statement, creating a space with a finely tuned blend of comfort and grandeur.
Wardrobes, bedside cabinets, chests of drawers, blanket boxes — where do you even start? Our Collections Brochure features a library of custom furniture you can add to your bedroom. Get your free copy below.
What Else Do You Need to Consider?
By now, it's clear just how much thought needs to go into selecting your ideal four poster bed. It's the bed that should grow old with you, so it's important you choose the right one and consider all of the aspects you might overlook and regret later.
Underbed storage: Do you need storage underneath your bed to store clothing or valuables? Or do you want your chest of drawers and wardrobes to house them instead?
Installation: Is it down to you to assemble the four poster bed you buy? This can be a mammoth task. At Revival Beds,

our two-person team will deliver and assemble

your four poster bed in your bedroom — free of charge.
Assembly and disassembly: Ensure the four poster bed you purchase is easy to disassemble and reassemble. We make it easy to do so,

with simple instructions

designed to do just that.
Bespoke: Just how bespoke is bespoke? Manufacturers should work to your requirements when you're planning on creating your dream bedroom. We can change the height, width and length of your four poster bed to suit your precise needs.
We understand that choosing the right bed can be difficult. There are lots of different things to consider when making your decision, which is why we've created a bed buying guide to make that decision easier.
Find Your Perfect Four Poster Bed
In this guide, we'll explore everything you need to know when picking the right bed — from the obvious benefits to the intangible perks you might not have considered.
Whether you're style conscious or simply looking for a bed that'll last you a lifetime, read on to find the perfect bed for you and your needs. Get your free copy now using the button below.