Bed Of The Month: Ambassador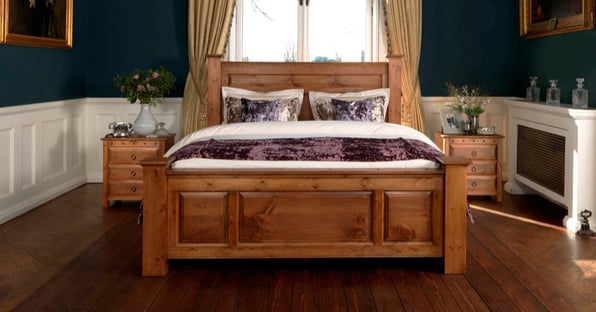 Are you looking for a bed that has a 'wow' factor? The type that becomes a family heirloom or even a member of the family itself? The Ambassador is that bed. It exudes understated elegance, fortitude and style that truly is timeless. It's an everlasting addition to your abode - one that will guarantee you satisfying nights of sleep throughout its entire lifetime.
Let's take a look at the Ambassador and why it's Revival Bed's 'Bed of the Month.'
The History of the Ambassador
There has always been a demand for the bedroom to feature an attention-grabbing, rustic bed. One that has a dominating presence yet is both warm and inviting after a long day at work. At the time, our Parisienne Sleigh and County Kerry beds were proving popular, but we wanted to take it one step further.
We knew we could compete with what was on the market at the time - the Cannon Ball Bed - and the development of our new posts gave us more flexibility than ever. This led to the introduction of the Mackintosh Bed.
After careful designing and building, the Ambassador bed was born. Even then, we felt it needed more of a twist.
With a background in antique furniture, we added a secret drawer in the bed post that created a lot more interest than any ordinary bed, as hidden compartments and secret storage is what we're also known for. These subtle yet impactful additions created the well-deserved interest in the Ambassador - setting it apart from other beds that are only known for being big.
Since its launch, the Ambassador has always been a talking point because we hid prizes, such as chocolates and miniature drinks, in the secret drawers to create a fun approach. It didn't take long for the Ambassador to become one of our best-sellers.
The Ambassador is one of our all-time favourites here at Revival Beds. The first thing customers notice is the bed's sheer presence within a room, some even being lost for words about the grand handcrafted piece they experience.
It's an incredibly robust bed, built expertly with solid wood that stands strong through time. And with sizes that go up to 8ft wide, it's a unique testament to the highest-quality beds available today.
If royalty were a bed, it would be called the Ambassador.
From here, we went on to develop a four poster version and years later, the
Tall Ambassador
.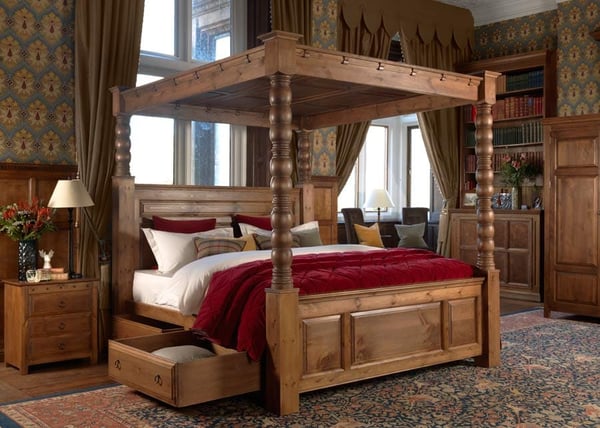 Features & Styling
Like all of our beds, the Ambassador is inherently customisable. To begin with, the bed can be crafted as a four poster or as a traditional bed, offering you manoeuvrability when it comes to design and how your bed looks in your bedroom.
Similarly, if you're looking for a wider bed or a bigger height - all you need do is ask. We pride ourselves on our ability to craft custom-made beds that accurately reflect the client's desires.
So what kind of features and styling can you expect from an Ambassador bed?
Materials and Colour
The Ambassador can be crafted from either the finest European oak or Oregon, a combination of Quebec Yellow and Scandinavian Redwood. While oak comes in its traditional and timeless hue - a gorgeous natural oak finish - Oregon can be ordered with one of four natural wax finishes, from light golden beige tones to deep, rich mahogany-like chocolate.
Sizes
The sizes we offer are wonderfully varied. The Ambassador can be built as a:
Double 4'6"
Kingsize 5'0"
Super Kingsize 6'0"
Eastern King 6'6"
Emperor 7'0"
Caesar 8'0"
We also offer beds that can be built up to 8ft long. So, if you've truly got the need for space, the Ambassador can be built to accommodate your tastes when it comes to comfort. Enjoy a bed you can truly get lost in.
Features
We offer underbed storage - the perfect place to store bedding, duvets or anything that takes your fancy. The Ambassador can be built with four underbed storage drawers, each the size of a large suitcase to provide 16 cubic feet of space to use as you please.
They each have dovetailed joints, ensuring extra strength and open on very sturdy, well-tested runners.
Naturally, the four poster can be built with a canopy that matches your colour scheme ideas and material choices. Beds with canopies now are rare, but whenever chosen, they never fail to transport you to a place often magical and always restful.
Finally, the Ambassador can include drape rails if you'd like to include them, providing a little privacy should you prefer that.
The Furniture That Matches
The Ambassador is an incredible choice - a true showstopper and centrepiece when placed in a bedroom - but what goes with it? Here are our top choices.
Secret Drawer Bedside Cabinets
For a sense of practicality, purpose, poise and playfulness, match your Ambassador with one of our bedside cabinets complete with a secret drawer. It has an incredible amount of storage space and the secret drawer to keep your most treasured possessions safe.
Gentleman's Cupboard
Our Gentleman's Cupboard is almost a metre wide and sports two built-in drawers at its base and one large door, making it the perfect choice for accessing your finest clothes and keeping them tidy. It's the wisest choice for those individuals with fine suits or dresses that need somewhere safe and accessible to keep them.
Double Pedestal Dressing Table
To complete the opulence of your bedroom, consider our Double Pedestal Dressing Table. With eight spacious drawers and two smaller drawers perfect for jewellery and a rotating mirror, this is the grandest choice for functional needs.
After all, everyone needs a space to get ready or complete important work - it's a must for a bedroom. The Double Pedestal Dressing Table is the perfect choice for completing a perfect space.
Explore The Ambassador Today
All our beds are handmade individually with the utmost care and attention. They're made-to-measure, ensuring you're getting exactly what you asked for. If we've enticed you with dreams of a bed that revives you each morning and rests you each night, click on the links below to explore more information on our Ambassador beds.
To see our other beds that have earned the title of 'Bed of the Month', visit our blog.