Bed Of The Month: Quebec Pencil Bed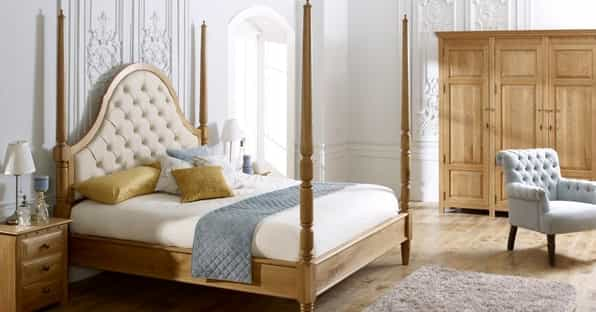 A Pencil-style bed embraces the look and feel of a four-poster but without the canopy, finding the right balance of modern airiness and tranquil tradition. Our Quebec Bed builds on this but stands out through our inclusion of a Gallic twist in the design.
The Quebec Bed you'll find at Revival Beds is a highly contemporary take on a classic but sticks to its heritage, with a beautiful, opulent buttoned leather headboard crafted with our finest leather. Let's explore the history, features and design opportunities of this premier bed style.
The Design History of the Quebec Pencil Bed
In terms of our designs, the Quebec Pencil Bed is one of our latest concepts. It was designed to coincide with our 35th anniversary to showcase the high-quality skills of our loyal team of master craftsmen.
To properly celebrate and display these skills, our team had to choose something special. Eventually, we decided to match European Oak and Italian leather as the core elements of the Quebec Pencil Bed.
Over the years, Revival Beds has experienced many enquiries for Pencil beds because of their ability to be the best focal point within a bedroom. Because of this, the 35th anniversary design chose the Pencil style.
The inclusion of leather fits well, not only with the bed but also with our recent launches. We also released the leather collection of solid hardwood beds, including the Tuscany Sleigh bed and Amalfi Sleigh bed. This collection was initially inspired by one of our craftsmen who had a love for the interior styling of Volkswagen camper vans, with their upholstered leather interiors. Since that moment, our leather beds have been popular.
Without all of this history of design inspiration and the skill of our master craftsmen, the Quebec Pencil wouldn't be available today.
Features of The Quebec Pencil Bed
Like our other beds, the Quebec Pencil Bed can be fashioned in European Oak or solid pine - a mixture of Quebec Yellow and Scandinavian Redwood. The headboard is fashioned from leather sourced in Italy by our longstanding partner Crest Leather, renowned for their ability to fashion the finest quality leatherworks.
Quebec Pencil Bed Sizes
Here at Revival Beds, we're proud of our ability to create exactly what you want and so we offer the option to configure your bed upon ordering. In terms of size, we can build the Quebec Pencil Bed to the following sizes:
Double 4'6"
Kingsize 5'0"
Super Kingsize 6'0"
Easter King 6'6"
Emperor 7'0"
However, we can make the Quebec Pencil completely custom. In fact, as every single bed in our collection is handmade, we can develop a custom or made-to-measure bed in whatever size you would like. We can even create bespoke mattress sizes to fit alongside custom-made furniture.
The bed can also be made with a choice of 15 leather shades, but can also be finished with more bespoke colours, depending on your preference.
Furniture To Pair
The Quebec Pencil Bed pairs perfectly with a number of our bedroom furniture creations.
Emperor 4 Door Wardrobe
The Emperor 4 Door Wardrobe is our biggest wardrobe and one of the biggest pieces of furniture we craft. For bedrooms with higher ceilings, the balanced, 'stately' proportions fit perfectly.
It's a completely solid wood construction, with a choice of size internal configurations to suit any storage preferences you may have. In terms of wardrobes, you aren't getting any better than this.
Brittany Dressing Table
A romantic bed deserves to be paired with an equally romantic dressing table. As our Quebec Pencil Bed has a Gallic twist, it pairs perfectly with our Gallic-inspired Brittany dressing table.
This dressing table is available with or without the coordinating mirror and with or without the matching stool, upholstered in one of our fabrics or with one supplied by yourself.
Each piece of our furniture carries the Revival Signature of absolute quality. If you'd like to see our other beds of the month, alongside insights on handcrafted furniture, sustainable wood and design inspiration, head over to our blog today.
Explore Our Quebec Pencil Bed
We chose the Quebec Pencil Bed as our bed of the month for good reason. It's romantic, elegant and suits a variety of modern bedroom styles.
For those design connoisseurs looking to create a highly-contemporary bed that bridges the gap between classic and modern styles, the Quebec Pencil Bed is the perfect choice. To discover more about our Quebec Pencil Bed, click the button below.