Country House Christmas Decorations That Will Get You in the Festive Spirit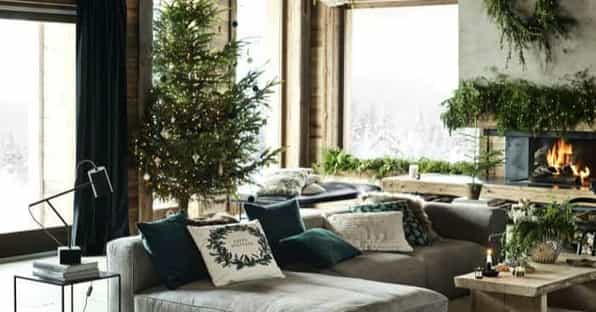 Christmas - a time of love, laughter, festivities and family. Quite frankly, there isn't a period of the year which is held in higher regard, as Christmas is a universally-loved celebration. For those looking to decorate their homes, going the extra mile to create a festive atmosphere or winter wonderland that everyone will adore, we've compiled the following list of ideas to help get you in the festive spirit.
Have yourself a sustainable christmas
Christmas time is the time for joy, but it's also the time for waste. Empty wrapping paper, old decorations and bits of tinsel everywhere. We're living in an age of increased sustainability in everything we do, so why should our Christmas decorations be any different?

One way to encapsulate the magic of Christmas is through biophilic design choices. The use of festive wreaths and other greenery, such as trailing vine-like Fir garlands, complete with lights or golden highlights, add that sustainable festive touch to your home. You can even make these yourself.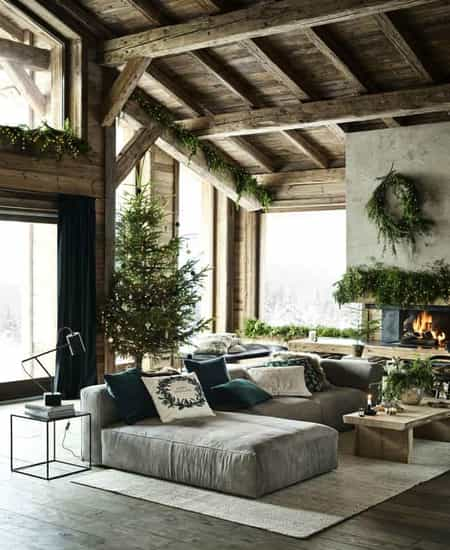 Image credit: H&M Home
Introducing natural elements to the home makes perfect sense for the country home Christmas. The history of Christmas actually begins in a variety of pagan festivals, where it was known as 'Saturnalia' for the Romans, which then was influenced by Germanic traditions (amongst other things).
As one of the original meanings of Christmas was to celebrate life and a good harvest, organic materials have naturally always been associated with the celebration. So alongside your tree, include more wreaths and another wintertime plantlife to really make your celebrations come alive.
Additions like these are simple, elegant and clean. Typically, there's a particular focus on colours like red and gold. Now, it's time for some green.
choosing the right wreath
As part of both Christmas and biophilic design, the wreath can be just as important as the tree. It's an acknowledgement of celebration, a statement that says 'there's joy in this household' - so it's best choosing the right one.
It'll tie into the rest of your decor and can be used as the starting point for the rest of your design. You can go traditional; deep greenery with added berries and fruit, like this one available from John Lewis.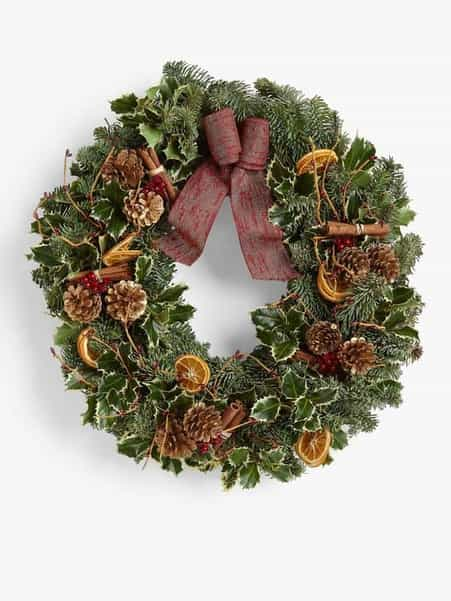 Image credit: John Lewis
Alternatively, try something a little more modern, such as this style from Ash and Hart Floral. This style of wreath ties in non-festive plant life with winter classics like fire and pine, but also leaves parts free from foliage.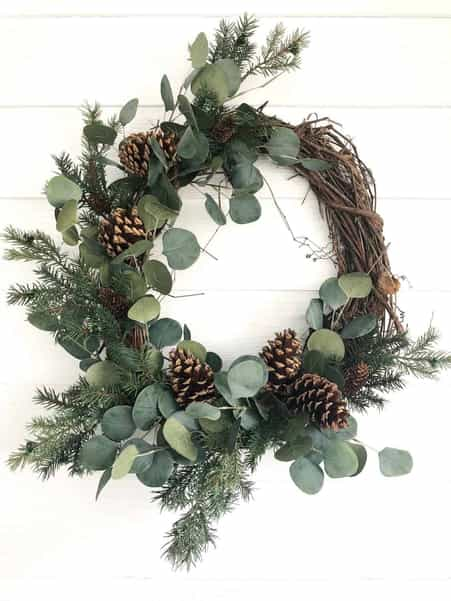 Image credit: Ash and Hart Floral
Also, you can have more than one. Choose the biggest and best for your front door, then strategically place smaller wreaths throughout your home, to create a fluid theme that can be felt everywhere.
metallic cosiness for your home
Becoming ever more trendy is having metallic highlights as part of your Christmas decorations. While gold has always been a key colour for the period, copper and brass are increasingly seen as warm, cosier colours.
Look at this delightful table spread by Sanctuary Home Decor. They've created a neutral styling that could fit with any backdrop, but the key highlights are the copper cups and candleholders.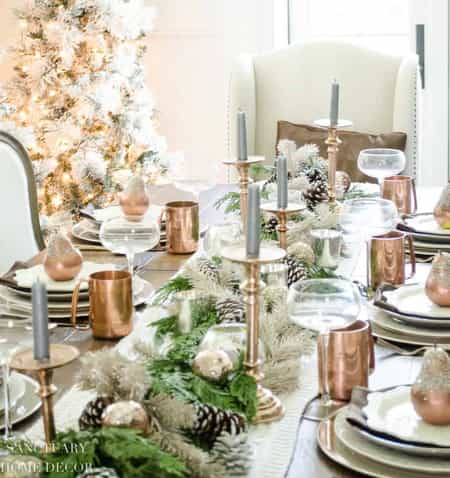 Image credit: Sanctuary Home Decor
These furnishings accentuate the deep colour of the hardwood table and beautifully complement with the homemade cedar garland and lighter plates.
Colours like gold, brass, copper and silver look charming when used in key places - such as cutlery. Especially those with an aged glow, like patina, which are perfect for your country house. Remember to go for the less shiny metallic items, which can feel cold under bright lights.
Try combining a bold, expressive colour with metallic elements in your festive theme. A combination of deep red hues and copper highlights, alongside organic additions, create a wonderfully cosy Christmas feeling.
experimenting with darker colours
While blues, purples and deep greens can feel cold at times, they don't have to. Don't be afraid to experiment with non-traditional Christmas colours. Dark and moody combinations can actually be very festive when used correctly.
Take these uniform tree decorations by Georg Jensen, for example. Long, dark blue ribbons that hold golden ornaments, draped over a Christmas tree's branches can be simple, beautiful and timeless.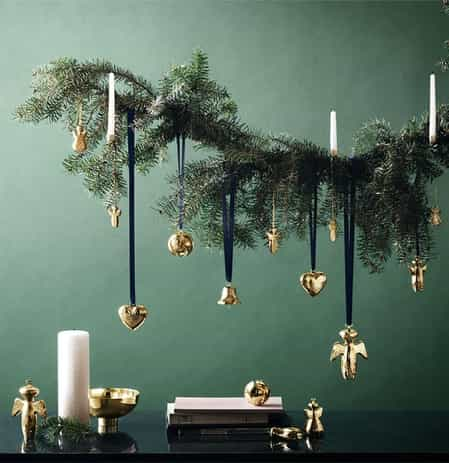 Image credit: Georg Jensen
As we've said before, Christmas is also a time for celebrating nature, so natural hues such as blues and greens are wise choices.
Getting Your Lighting right
Nowhere is lighting more important than at Christmas time. At this time of year, it's dark and gloomy. So to create that truly Christmas hygge feel, make sure you take the time to create a meaningful lighting set-up. Remember, a single source of light creates a very one-dimensional feel to a room.
Breaking up your lighting sources with lamps, fairy lights and candles creates multidimensional aspects to your lighting, meaning you're not left with large discernible shadows or harsh lighting. This also helps with your actual room design. For dark nights, deep colours and candles are strong and welcome combinations.
Christmas lights in your home can sometimes look a little contrived, especially if they're very colourful. Try and keep your lights uniform with golden fairy lights, which are very versatile. For example, look at this light-filled garland by Edna and Ossie. It's understated, elegant and accentuates the blackened hardwood bannister perfectly.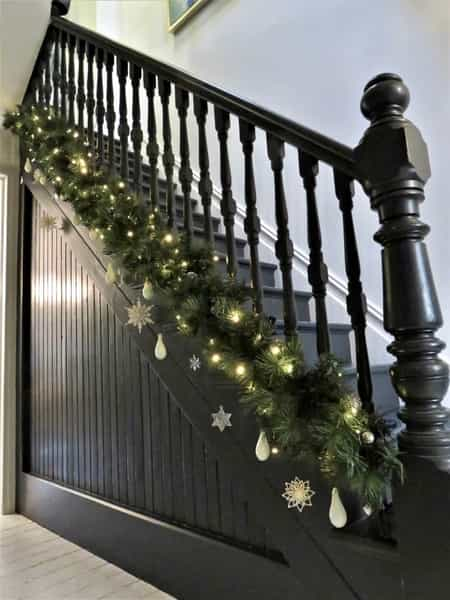 Image credit: Edna and Ossie
minimalist ornaments
Touches of either vintage class or minimalism are available through the right ornaments and decorations. Simple glass baubles, rustic ornaments and even DIY creations can help achieve a true feeling of getting back to tradition.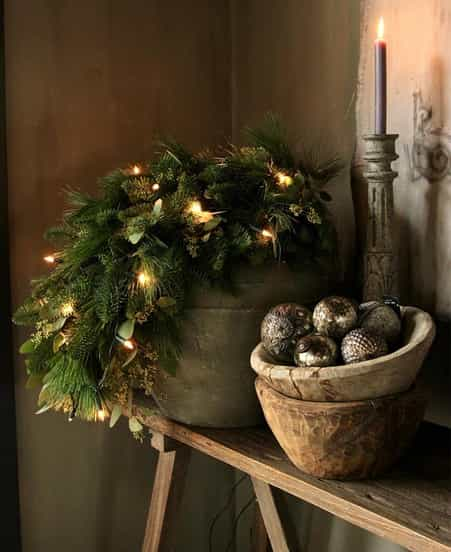 Image credit: De Wemelaer
Look at these homemade glass baubles filled with sprigs taken from different winter plantlife - a way to combine two ideas into one.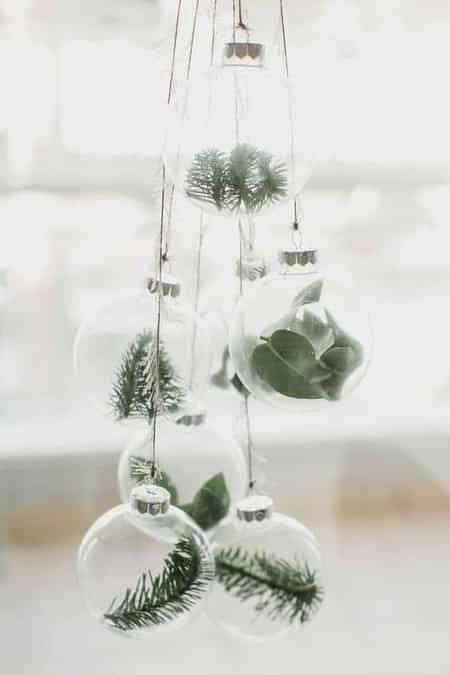 Image credit: Santorini Bliss Weddings
Scandinavian style is very popular and for many reasons. It's a way of marrying minimalism with cosy interiors, so what better time than at Christmas to channel this theme?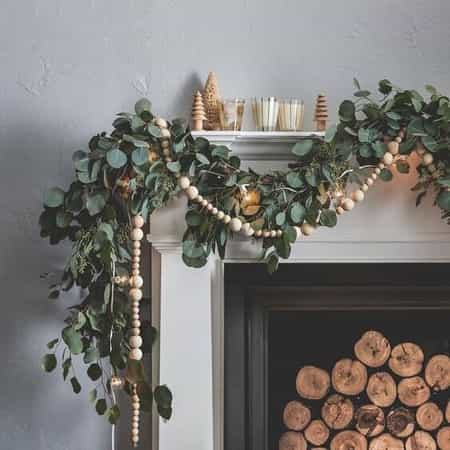 Image credit: The Well Essentials
These country house Christmas decoration ideas are the perfect focus for your festive preparations. But what about the rest of the house during non-festive periods? You always need design inspiration for keeping a constantly lovely home to reside within. That's why we've created a design inspiration guide to help you.
design inspirations for the home
Whether it's your bathroom that needs updating, your dining room that is desperate for a culinary narrative or your whole house that needs revamping, our guide to design inspirations will help you create something wholly sumptuous and modern - perfect for garnering praise from friends and developing a timeless space for you to enjoy.
To explore your free copy of our guide, simply click on the link below.