4 Ways Chunky Wooden Bed Frames Add a Touch of Class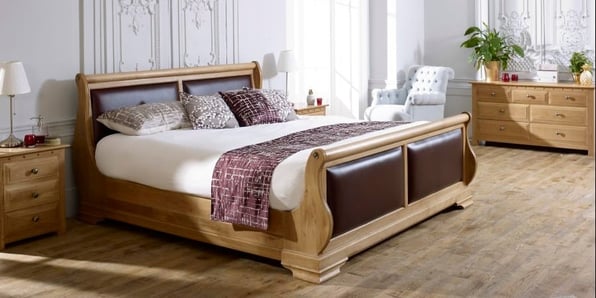 Given that the average person sleeps for almost a third of their life, there should be no holding back when it comes to choosing a bed. Chunky wooden bed frames are the perfect choice for your room for so many reasons. They're long lasting and stylish which makes them the must-have centrepiece that can give any room a fine touch of class.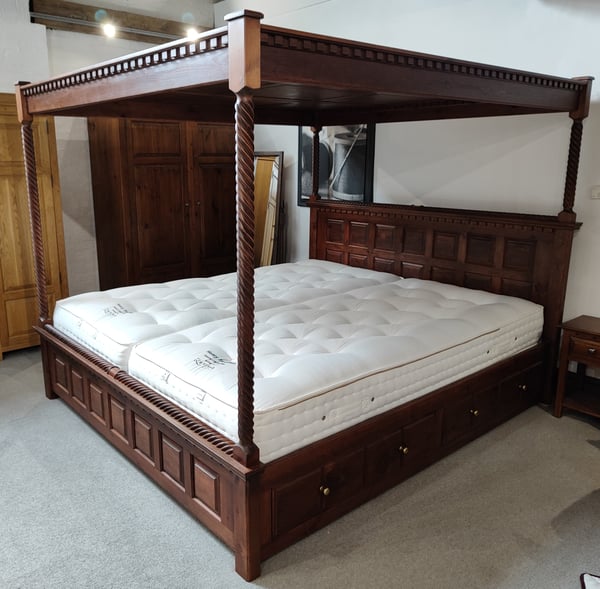 Here's how.
We'll cover:
1. they exude class and quality
Whether it's a stylish sleigh bed or a majestic four poster, chunky wooden bed frames just ooze class and quality. Not only do they look stylish but their luxury finish reflects the high-quality craftsmanship.
For instance, the solid mortise and tenon joints provide a great level of strong support for the bed.
As well as this, chunky wooden bed frames are made from either the finest grade of solid European oak that's between 150-200 years old, or a combination of Quebec Yellow and Scandinavian Redwood to really show off the impressive detail and regal bed design. They're then polished with a unique blend of wax that naturally enhances the beauty of the wood.
Think of the typical rooms you see in classic movies or that you associate with the Royal Family. You always picture a large, elegant wooden bed frame, don't you? These prestigious connotations are a fine example of how classy chunky wooden bed frames are.
After all, it's not very often you see princesses sleeping on camp beds.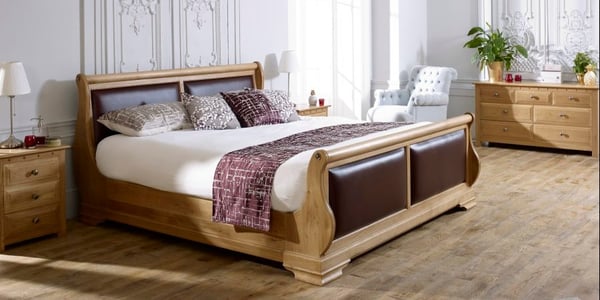 2. Gives Your Room a Timeless Finish
One of the main deciding factors when it comes to choosing your bed is how it looks in your bedroom. Just as you wouldn't buy shoes that don't match your outfit, you shouldn't buy a bed that looks anything shy of perfect in your room.
That's why wooden beds are perfect. Aside from the four-poster masterpieces, chunky wooden bed frames look brilliant in all different kinds of rooms.
The dark brown wood is a classic look that will never go out of fashion, nor will it ever look tacky. Chunky wooden bed frames are sophisticated and versatile for every sense of style.
So, whether you're after a modern, cool vibe for your bedroom or an elegant, traditional look, there's something for every taste as there are many different styles of wooden bed frames to choose from.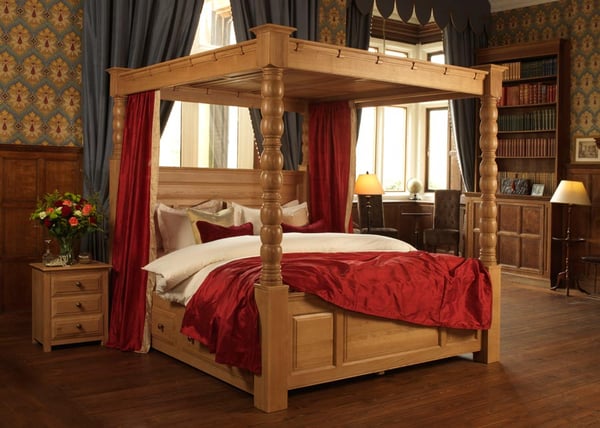 3. They're Built to Last
Handmade wooden bed frames are made from the finest natural materials and built for a lifetime.
You can be confident that your bed has been made with the finest attention to detail. Beds are designed, customised, carved and put together before undergoing a 72-hour treatment period where it's lovingly polished and waxed.
When you choose a chunky wooden bed frame by Revival Beds, it's sure to last you a lifetime, whether you're buying one brand new or inheriting one that's been passed down through the generations.
But, just for your peace of mind, Revival Beds come with a 10-year guarantee so if you have any issues with your bed, we'll be on hand to help.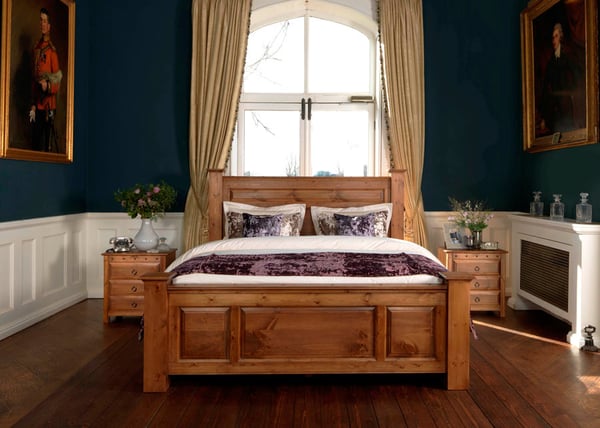 4. they're The ideal Centrepiece in Any Room
What's the first thing that you notice when you go into any bedroom? The bed, of course.
That's why if you want your bedroom to capture attention and create awe from the moment anyone steps into it, make a statement with the perfect centrepiece for any room - a chunky wooden bed frame.
Even the chicest, most well-designed room in the world could be undermined with a poor-quality bed. So, make sure that your room is finished off perfectly with the most luxurious, stylish wooden bed frame and complemented with quality bedroom furniture like a solid wood wardrobe and drawers.
complete Your bedroom with a Revival Bed
Durable and timeless yet stylish and versatile, a chunky wooden bed frame can easily add a touch of class to any bedroom. But of course, you need to pick the right bed.
If you're ready to reinvent your bedroom decor, download our free brochure below. It includes our range of luxury wooden beds and bedroom furniture which are handcrafted to your specifications.
Or, if you have any other queries, feel free to get in touch and one of our experts will be on hand to help.