What Is Vintage Aesthetic? And How to Style it in Your Bedroom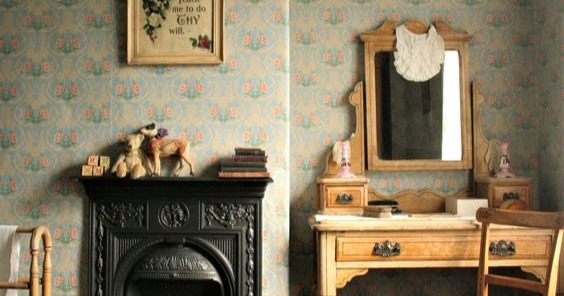 Vintage items are popular in interiors, fashion, appliances and even in the cars we drive. We all want a blast from the past, especially if it's fused with modern convenience. Some vintage items come cheap and with a thrill one can only feel at a flea market. Others come with an inflated price for their exclusivity, craftsmanship and heritage.
Although everyone is considering an era-inspired abode, achieving a vintage aesthetic in your bedroom means something different for every individual. Vintage, by definition, means belonging to another time, so bedrooms can morph into any decade of your choosing, blend with a property's style or a more modern interior trend to create something entirely new.
The opportunities for vintage aesthetics are endless. Here are just a few ways you can style old favourites in your favourite room of the house.
Vintage Farmhouse
Farmhouse style bedrooms are very much in vogue but they too can be made vintage. Whether it's through an unmistakable colour palette or time-honoured, traditional furniture, you can catapult yourself into another time as soon as you step into your sleep chamber.
In this farmhouse, the features have been tinged with seventies style, sporting a classic yellow, green and brown colour palette. The clash of patterns, too, is reminiscent of seventies attitudes where disco, free-thinking and revolution were all just around the corner.
While one cottage picked a period to devote to, another kept it classic by investing in staple bedroom furniture pieces — all from a different age. This approach allows you to pick furniture you love and not feel pigeonholed by its origin. There's also the option to tie it all together by painting the wood in a shade of trending sage green or another similar hue.
Victorian Vintage
Victorian homes are some of the most desirable properties in the UK with high ceilings, double reception rooms and cosy fireplaces in every bedroom. With plenty of space in every area, including your master bedroom, they're apt for ambitious interior projects that pay homage to their birthdate.
More spacious than most bedrooms, Victorian sleep spaces have ample room for fireplaces as well as alcoves to fit traditional furniture in, such as dressing tables. To complete the look, handpicked wallpaper and carpet have been selected for their subtle differences that present enough of a clash to call it vintage without going too far into garish territory. Not to mention the painted skirting board that cleverly finds common ground between the two.
Not every Victorian bedroom has to play it so safe. In fact, vintage can be made more modern with bright pops of colour and clean-lined furniture. Most notably, the bed in this sleep space avoids the obvious wooden frame and instead opts for the unexpected, a rice milk headboard that is stunning in its simplicity. The room is constructed from vintage items but it's contemporary in its curation.
Modern Vintage
Not all vintage lovers need to be so set on showcasing age-old styles that rarely surface in modern bedrooms. Indeed, vintage pieces can be repurposed to feel right on-trend. With a vintage twist, contemporary bedrooms gain a unique perspective with trinkets and objects no one else has in their home.
Mashing together coastal, Scandinavian and minimalist style, this bedroom feels current in its calming landscape, yet still stresses vintage chic with pre-loved lamps and armchair. Small details such as the paisley pattern of the rug and the handcrafted finish of the dresser make this room feel special, even in all of its simplicity.
Vintage aesthetics can comprise a small part of your plan, as is the case here in this luxury townhouse. First and foremost, this house is contemporary, taking elements of farmhouse chic with its bedside jug vase and whimsical forest charm with its graphic woodland wallpaper. Amongst it all vintage has its place, in its traditional wooden bedside cabinet to add authority and help to ultimately ground the room.
Find Furniture Inspired By Every Time Period and Finished By Expert Artisans
No matter which era or approach you take to your vintage aesthetic bedroom, you can find the right furniture for it in our Collections Brochure. From handcrafted bed frames to luxury soft furnishings, we can help lay the foundation for any bespoke bedroom project—and alter the spec of any of the products listed on request.
Discover the Revival collection by clicking the button below.