Traditional European Style Bedroom Furniture: Elegant and Time-Tested
Europe has one of the longest and most illustrious design heritages in the world, with countless art movements, fashion trends and design aesthetics produced in the continent. These movements have shaped how the world around us looks, influencing current styles seen in Europe and everything from art to architecture the world over.
While it may not be the first place you think of, the bedroom is an area that best represents these trends. From baroque furnishings to art deco decor, the bedroom can be the most humble, the most intentional, the most intimate of style recreations.
Here at Revival Beds, we've taken great influence from some of the most celebrated and influential styles when creating our bedroom furniture. We've even been inspired by some of the most beautiful locations Europe has to offer, from the heritage of serene Paris to the rolling, sun-filled fields of Tuscany. Read on to discover how our beds have been inspired by the best of Europe.
Parisienne
From the carved scrolling to the exquisite brass detailing, the Parisienne sleigh bed exudes luxury.
To be named after that fair city is to be steeped in beauty, class and serenity. That's the Parisienne.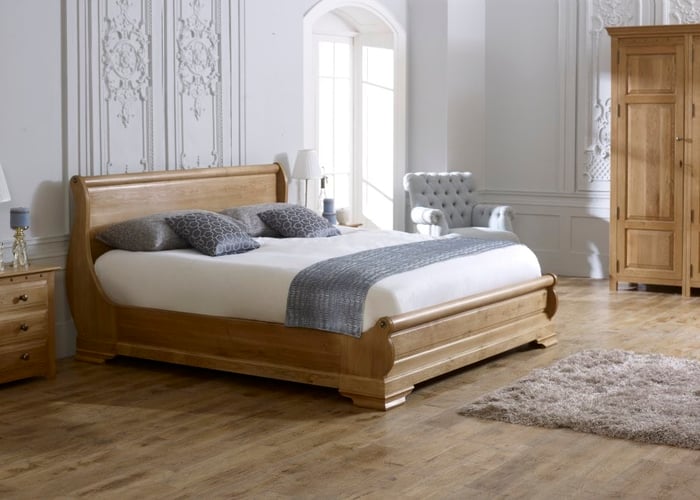 For those looking for the classic French bed, true to the original proportions set out in the historical sleigh bed, look no further. You can capture the real essence of Paris with this piece, which is a delightful mix of classical design and modern stature.
We've designed this bed with distinct features worthy of its French namesake. Heavily-moulded 'ogee' feet, fine brass detailing, gentle curves - with the Parisienne, you can recreate the feel of a boutique hotel or charming old-town flat near the Champs-Elysees.
Don't believe us? Explore the Parisienne yourself.
Monaco
In the heat of a Mediterranean summer, nothing is rushed. Exactly like the precise craftsmanship that goes into our Monaco sleigh bed.
Monaco, that jewel of the Mediterranean. A city-state filled with glitz, glamour and a glorious sea breeze. Like that city, our Monaco bed is grandiose yet fluid. Your eye will be led from the individual wood panelling at the head down to the footboard. It's a timeless piece, pure and simple like that sea breeze.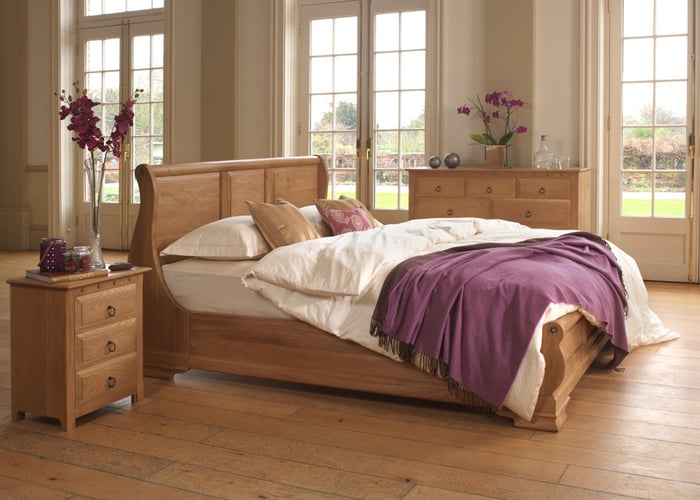 Taking inspiration from that coastal city and all its excess, we've truly over-delivered on every account in the Monaco.
To see just how we've done this, visit this page.
Amalfi
The Amalfi combines two of the most up-to-the-minute design elements: the elegance of a sleigh bed combined with the indulgence of fine Italian leather.
We took the traditional and popular sleigh bed design and catapulted its French-American elegance to the southern edge of Italy's Sorrentine Peninsula. Taking inspiration from and using Italian leather's luxury quality and feel, we create a sleigh bed featuring elegant leather panels that adorn the head and footboard, padded for extra comfort.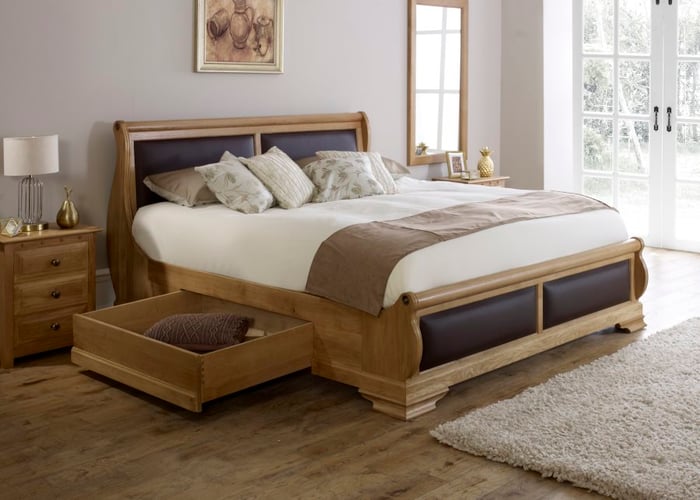 We source the finest real leather from Italy, ensuring what we buy is handmade, sustainable and has the quality we can only imagine using on our beds, which is why we only use Crest Leather.
This, combined with our intrinsic use of solid wood, the calming curves and the sturdy base creates a bed of charm, warmth and relaxation - the very essence of Mediterranean culture.
Find out more about the Amalfi here.
Tuscany
Exquisite English craftsmanship combined with Italy's finest leather, the Tuscany exudes grace and elegance like no other bed.
The Tuscany is the sister sleigh bed of the Amalfi and is redolent of all the grace, serenity and golden allure of those rolling hills, vineyards, olive groves and quaint towns. Tuscany is a perfectly proportioned, grand bed steeped in the heritage of its namesake. It's a bed that 'just works' and doesn't need to shout about itself.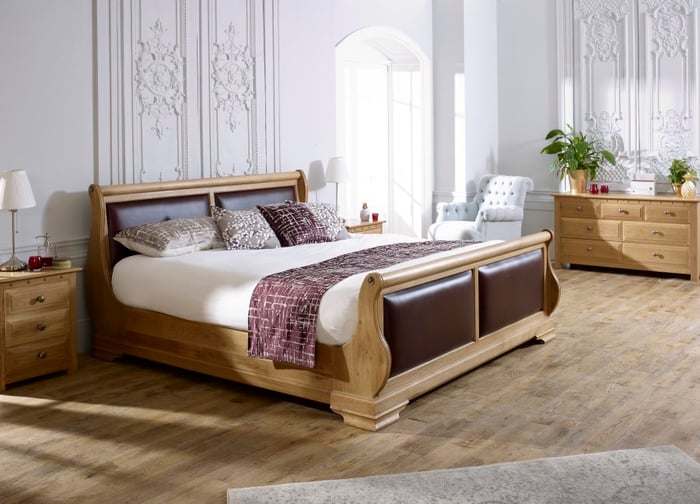 Like the Amalfi, it includes high-quality cured leather produced from a mixture of fertile grazing and careful animal husbandry. The leather, the wood, the design - each component will last a lifetime.
You too can recreate the rustic grandeur of old Italian vineyards in your own bedroom with our Tuscany sleigh bed.
County Kerry
With its rustic Irish charm, our craftsmen have a real soft spot for the traditional County Kerry bed.
A bed for lords and ladies, the grandiose County Kerry has an enduring appeal inspired by years of traditional bed making. With square panelling, split barley twist turning and carved dog-tooth detailing, it's an opulent bed that never fails at drawing the eye.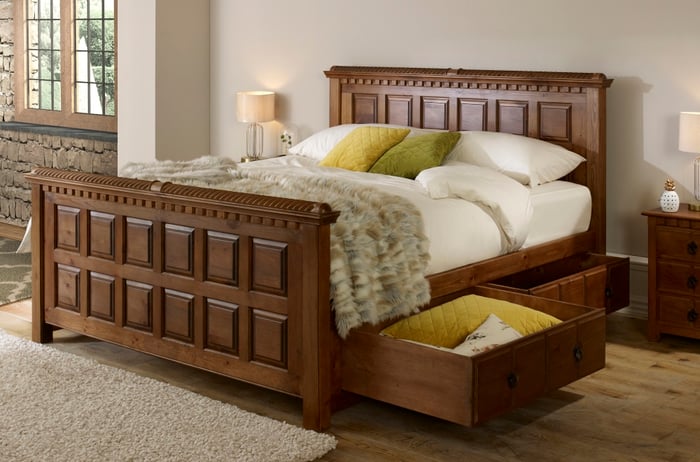 The County Kerry displays raised panels on both the head and footboards, each handmade and set perfectly by our dedicated craftsmen. With over 100 components, mortise and tenon joints, this is a complex and robust bed made with incredible attention to detail.
To see the details of the County Kerry, click here.
Camargue
Almost organic in its natural beauty, the Camargue sleigh bed has been lovingly crafted and hand-set into position to achieve those quintessential fluid lines.
South of Arles, situated between the Mediterranean Sea and the two arms of the Rhône delta lies Camargue, Western Europe's largest river delta. It's a natural haven, home to countless species of bird and plant life.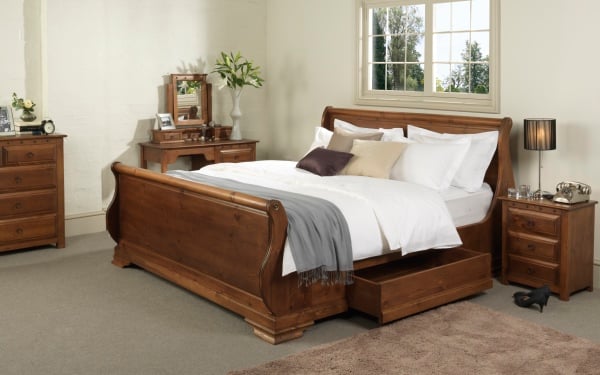 It's with this natural splendour we found inspiration for the Camargue, a bed with an incredibly natural feel, one that will suit any style of bedroom.
This bed holds a special place in our hearts, as the prototype had to be created by hand, from cardboard, on our workshop floor. It was the only way we could ensure the subtle proportions and delicate curves were created right.
Find out more about the stunning Camargue sleigh bed here.
County Cork
Take the finest Italian leather, the grandest Irish-inspired bed and what do you get? The opulent County Cork.
Travel back with us to rural Ireland, into County Cork. A county renowned for its geographic wonders, from mountains to lakes, coastline to forestry - it's a place of much natural beauty.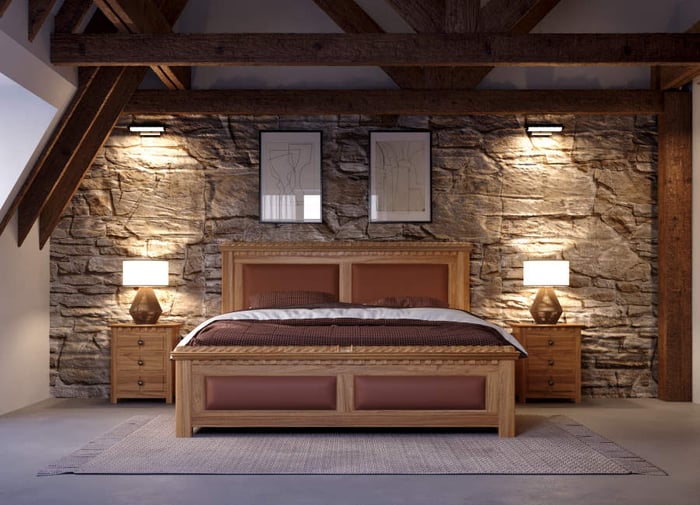 This bed was a development on our County Kerry bed. We wanted to enhance the bed by using leather features and so added leather-upholstered panels to both the head and footboard.
Like the County Kerry, the County Cork bed is a majestic addition to a bedroom. Its handcrafted components, fine leather and regal stature evoke thoughts of country manors, cosy nights, stone walls standing strong against the passage of time. This bed, like all of those things, is something that will last a lifetime.
Examine the gorgeous County Cork here.
Balmoral
The Balmoral is the epitome of tradition, luxury and elegance – welcome to our most magnificent four poster bed.
Here at Revival Beds, we don't make anything bigger, anything more sumptuous, than the Balmoral. Like the castle from which it takes its name, this bed is one of the most regal beds to grace a bedroom.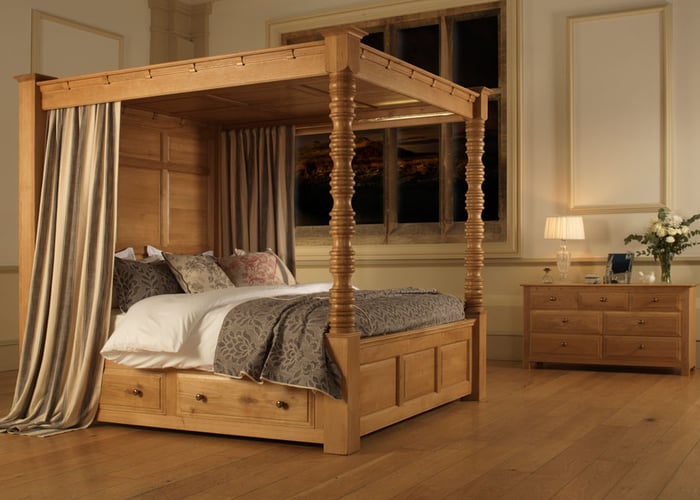 Using techniques that have been used to develop four poster beds for generations, the Balmoral features a full headboard, four optional storage drawers and exquisitely turned posts to create something absolutely magnificent.
All you need to do is imagine yourself drawing the optional drapes, staring up at the canopy and sinking into soft sheets for a slumber unlike any other.
To explore this king of beds, click here.
Windsor
The Windsor is a handmade four poster bed that looks just right with almost any size of bedroom and decor.
If you're looking for something with a focus on elegance but still with the stature and heritage of a four poster bed, Windsor is the right choice.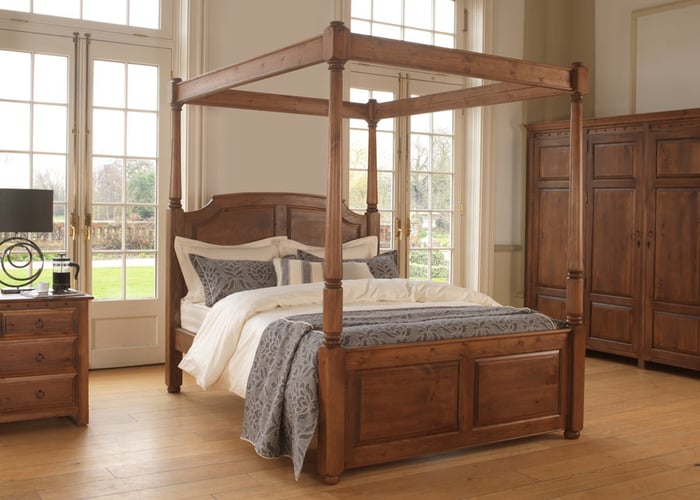 An open canopy provides the bed with a light, airy feel. It can be paired with drapes - we would recommend light viole - which pairs beautifully with the graceful lines of the Windsor.
To recreate the royal grandeur of its namesake, pair this bed with a luxury mattress and bedding. You'll never want anything more from a bed. Click here to see this bed in more detail.
Our European inspired beds are just one of our bedroom furniture collections. Remember, a bedroom is more than the bed you choose. Read on to find out more about the Revival Beds collections.
Discover the Revival Beds' Collections
Mirrors, dressing tables, wardrobes, bedside cabinets, ottomans… the list goes on. Each Revival Bed furniture piece pairs artfully with our impressive beds. The first thing you need to do is simply discover what is available. Fortunately, we have the perfect brochure for you. Our collections brochure takes you through our range of furniture collections, furniture that can make a bedroom into a sanctuary and turn a house into a home.
Click below to peruse through your own copy.