Bed of the Month: County Kerry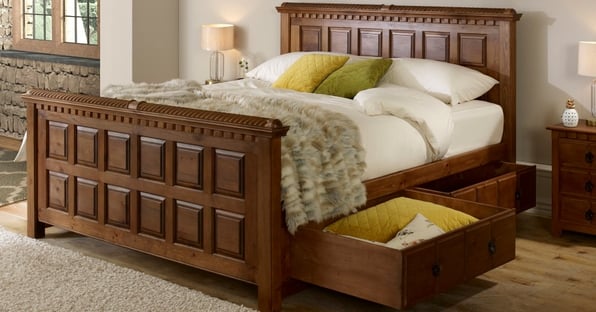 We're heading to rural Ireland for inspiration and insight for the next focus on one of our stunning handcrafted beds. From that inspiration, we created the grandiose County Kerry, a bed with an enduring appeal that goes far beyond being skin-deep.
The County Kerry is a heavily-detailed bed, which can feature over 100 individually crafted components, meaning this bed will receive over 100 quality checks before it's allowed to leave the workshop. So what is it about our County Kerry beds that makes them so popular?
The History of the County Kerry
Our first County Kerry bed was made in 1997 when we were still developing furniture for other retail brands. Upon visiting the NEC furniture exhibition, we began to look closely at our own product offering. We saw several companies were offering high-quality beds of intricate designs and decided the County Kerry would be the perfect option to compete in this market.
What we created was complex - an intricate bed with hundreds of different components. It was very well received by stockists, who appreciated its quality and the fact it was sold in larger sizes, up to 8ft wide.
The County Kerry's big break came when Duckers, a Rotherham-based manufacturer who sold their products throughout the UK, went into liquidation. Those who originally stocked Duckers found themselves looking for beds in the County Kerry style but had no way of fulfilling orders.
After a national promotion, interest in the County Kerry skyrocketed, leading to the bed becoming our second-best seller, only beaten by our sleigh beds. Once the County Kerry was installed on shop floors, we never looked back. We also designed a four-poster version and introduced an entire collection of exclusively designed bedroom furniture.
The Design of the County Kerry
We designed the County Kerry to be opulent but not dominating. Rather, it fits perfectly into medium bedrooms. You can see how meticulous we've been in its creation. We've chosen carved dog-tooth detailing and split barley twist turning to add to the eloquence, which pairs uniquely with the traditional square panelling.
Each panel sits resplendent on the head and footboards, contributing the overall effect that will provide you with a majestic sleeping experience you'll never want to replace. Every panel is handmade and put in place by our dedicated craftsmen in a time-honoured way.
The County Kerry is something you'd imagine in the master bedroom of a country manor or ancestral home. It's a statement, a piece that will always draw the eye. It's a functional piece, an artwork, a talking point and suits being placed in many bedroom styles, from those more traditional to those of boudoir-style.
As with all of our handcrafted wooden beds, we use solid mortise and tenon joints to keep our beds strong, robust and long-lasting.
Our County Kerry Variations
We create the County Kerry in several styles. For example, we have a traditional style bed we can provide with a high or low footboard. We also offer a four-poster variant that can be delivered either with or without an enclosed canopy.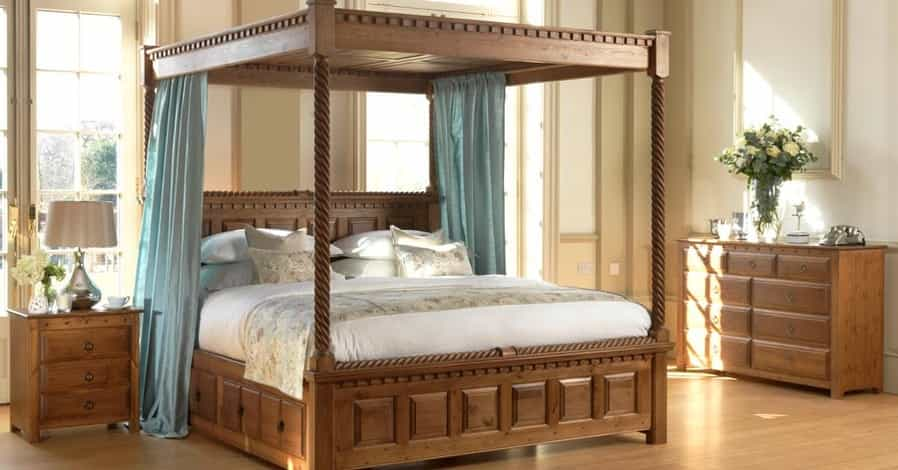 If you adore the look of this bed, but would prefer a higher headboard, have a look at our County Clare bed.
Under-Bed Storage
We can also include four under-bed storage drawers upon request. These are the perfect choice for those looking to add a little more functionality to their Count Kerry, with space to store bedding or anything else that takes their fancy.
These drawers provide 16 cubic feet of storage space and are hand-built, with dovetailed joints for strength and sturdy runners for the smoothest opening action.
You can learn more about our under-bed storage here.
Materials and Colours
We've crafted our beds in a multitude of natural shades and colours. We source the finest wood and materials to create something stunning.
The County Kerry can be made from European oak or solid pine, a combination of Quebec Yellow and Scandinavian Redwood, delivering the optimum combination of strength and elegance.
If solid pine is used, it can be finished in one of four natural wax finishes, ranging from golden hues to deep chocolate.
The County Kerry Range
We've developed a bespoke range of furniture to pair with the County Kerry, the perfect accompaniments to this designer bed.
11 Drawer Chest
Our 11 Drawer Chest provides a mix of smaller, medium-sized and large drawers, giving you a space to store whatever you want, depending on your needs. With these varied drawer sizes and a spacious surface on which to place anything - from mirrors to televisions, this is a versatile piece that matches the County Kerry in style and visual impact.
3 Drawer Bedside Cabinet
This 3 Drawer Bedside Cabinet is the quintessential choice. It's the right height and width to sit gracefully next to a County Kerry and provide the right amount of space for storage.
Made from solid wood, with dovetailed joints and gorgeously simple metal handles, crafted by a specialist in Birmingham, the 3 Drawer Bedside Cabinet pairs beautifully with the County Kerry, complementing any space.
Discover More About the Count Kerry
Our County Kerry can be built by our craftsmen in the dimensions you require, from the Double 4'6", all the way up to Caesar - at an incredible 8'0". To discover what this bed looks like in situ and find out more about the bed, click on the links below.
We design, craft and hand-build your bed to the best of your expectations, spending hours upon hours on the care and attention needed to create something timeless. To explore our work, our expertise and see the other beds that have earned the title of 'Bed of the Month', visit our blog.