How to Create Your Own Great Gatsby Inspired Bedroom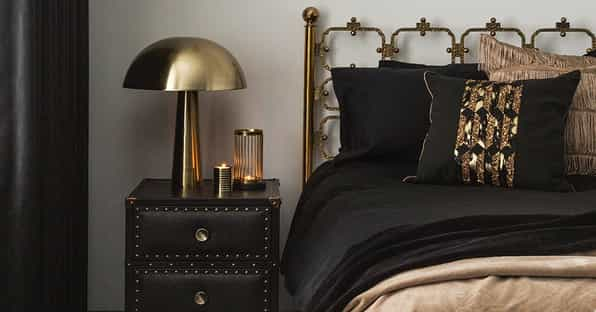 Everyone knows and loves the classic F. Scott Fitzgerald novel about unrequited love, glamour, hedonism and decadence. We all want to go to one of Gatsby's parties, experience the glitz, the excess, the music and the dancing. However, the Roaring Twenties are a long time ago, but recapturing their splendour isn't impossible.
So fling open the doors and fill the champagne glasses - it's time to create your very own Great Gatsby-inspired bedroom. Here's our top guidance for building a stunning Twenties-themed bedroom that channels the spirit of the eponymous Jay Gatsby while remaining aesthetically modern.
channelling the art deco theme
In the 1920s, Art Nouveau was on its way out and Art Deco had become the style of the era. Influenced by the geometric forms of Cubism, the bright colours of Fauvism, ancient cultures such as Maya, Persia and Ancient Egypt, it was a style of excess. Ebony, ivory and gold were regularly used alongside bold colours.
Art Deco can be easily used in the modern bedroom in ways that don't have to be incredibly maximalist. The use of multilayered colours and patterning are classic Art Deco aesthetics but can be ones that are made modern. But that's not all…
art deco seating area & furnishings
Brass remains a perennial favourite for Art Deco, but it's not the only material in use now. Art Deco forms are being combined with natural materials such as wood and marble to create modernist, organic looks that complete the flowing, curved lines of Art Deco sensibility. And these look great presented in a seating area.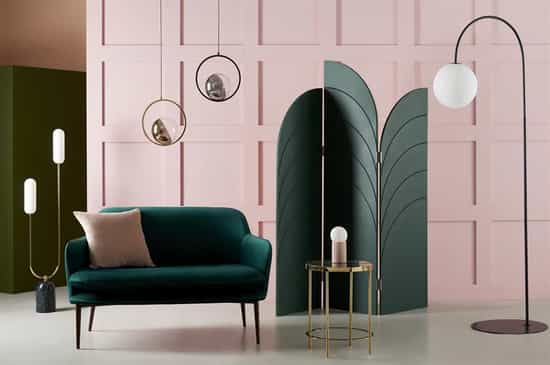 Image credit: Love Property
This room is minimalist Art Deco, with pink panelled walls contrasting the deep green of the sofa and beautiful room divider. Simple geometric shapes and curves create movement without looking overstated. While many people called the Roaring Twenties overindulgent (a key theme in The Great Gatsby), this look is the perfect pared-back interpretation for your seating area.
stylish wallpaper
While the style of Art Deco is iconic, loud colours sometimes don't go down well with our calmer, more muted tastes these days. With the right wall patterning, in the form of wallpaper, you can capture this in your bedroom.
In this image, you'll see the beautiful 'Claude' wallpaper design by Murals Wallpaper. With the key features of Art Deco updated to encapsulate a more modern era, this wallpaper combines gold accents with marbleised texture. The colour combinations provide depth without making your bedroom feel busy.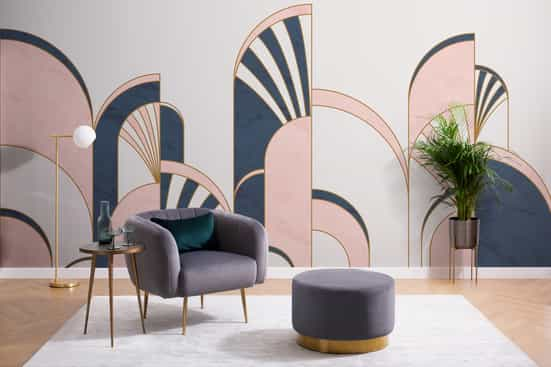 Image credit: Murals Wallpaper
capturing a colour palette
The thing that sets the Roaring Twenties apart from other 20th Century decades was the focus on decadence. Tastes have changed since then, but that's no reason why you can't capture the colours of the era in your bedroom.
Colours in metallic shades and shiny textures were a must and can be again. Keep it opulent without overdressing it by focusing on two colours and a highlight or lowlight. How about silver and white? Look at this room, 'The Gatsby Suite' pop-up at Turnell & Gigon.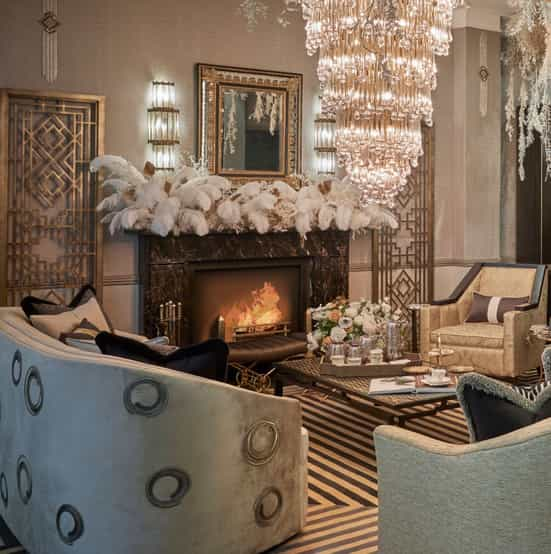 Image credit: Katherine Pooley
Focusing on off-white, gold and with lowlights of black and white, an opulent and yet modern room is created. It's very glamorous, with a grey Marquina marble fireplace and art deco-style gold metal screens. If you're looking for that quintessential Gatsby feel, this room is the perfect example.
A space most literary
Anyone turning their bedroom into a Gatsby-esque space will obviously be a fan of fiction. You can go a little further with the Gatsby theme by creating a room dedicated to literature. From the modernist works of Fitzgerald, Hemingway and Stein to more modern classics, position your design around showing your love of the written word off.
First of all, investing in the right bookshelf is a must. The classic look that goes well with literature is hardwood - durable and handcrafted to take the weight of all the books you have (or intend to buy).
Take inspiration from the Shakespeare and Company bookshop in Paris (the home of Fitzgerald for some years) and go maximalist with the literary stylings. For example, this bedroom has exquisite hardwood bookshelves to contain all those treasured tomes.
The deep chocolate brown perfectly matches the hardwood cypress bed. Alongside the traditional and warming chandelier, this room couldn't be a better place to read about Nick Carraway's first steps into West Egg.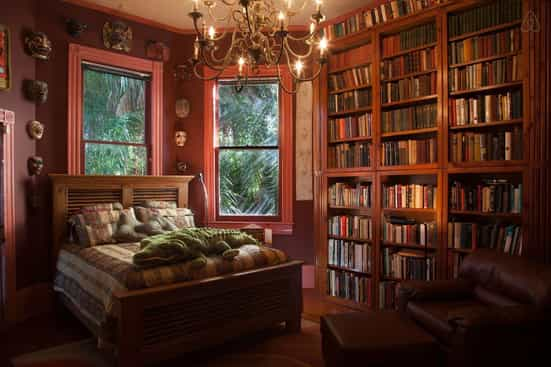 Image credit: House Beautiful
Choosing the right bed
To capture the opulence of The Great Gatsby, you need to choose the right bed. It needs to be handcrafted, beautiful, unique and fit for a king (or in this case, a mysterious millionaire). It should be a bed that's quietly luxurious and always ready for you after a fabulous party - or a day at work.

Hardwood is a strong material choice, contrasting against the brass and gold accents that Art Deco usually contains. Take, for example, the Studio Bed, a modernist piece with strong lines. In this version, we see a walnut finish combined with a vanilla leather - understated and classic, with the ability to fit into any theme, whether you go for Fitzgerald's Gatsby or Hemingway's A Moveable Feast.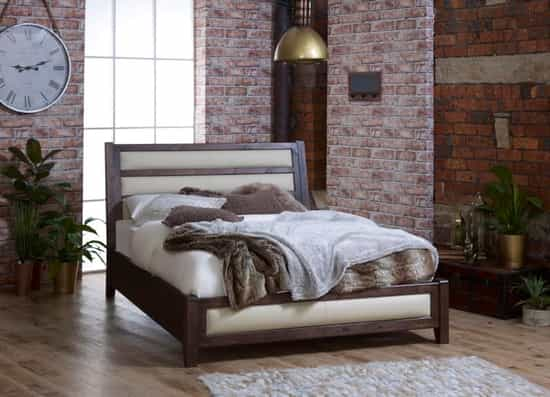 Its simple metropolitan design is reminiscent of New York, almost industrial in the age of seemingly endless prosperity. You could pair this bed with rugs, throws and sheets that feature decorative Art Deco patterning to accentuate the opulent atmosphere.
Creating a speakeasy-era jazz chique
Pour a glass, raise it high and play that Fats Waller or Paul Whiteman record loud, it's a night at the speakeasy. The Great Gatsby is set in 1922, two years into the prohibition era of the United States. Illegal speakeasies became the drinking places, moodily-lit jazz clubs with deep, cosy colours, tall champagne glasses, whiskey bottles and, of course, women dressed in the 'flapper' style of the time.
To recreate the kind of speakeasy that F. Scott Fitzgerald (or even Jay Gatsby) may have visited, try deepening the mood with exposed brick and mood lighting. The book itself is a dramatic novel, holding darker narratives of decadence under all the parties. Recreate that with the contrast of deeper colours, with brightness supplied by warm lamps or even the occasional chandelier.
Look at this beautiful speakeasy-inspired bar, E.P. & L.P. in Los Angeles. They've taken the darker themes and contrasted them with gorgeous, strategically-placed lighting to create a very real contrast. Why not capture this look with a bar cart in your bedroom? This can also be used for housing your collection of novels, accessories or simply for having breakfast in bed.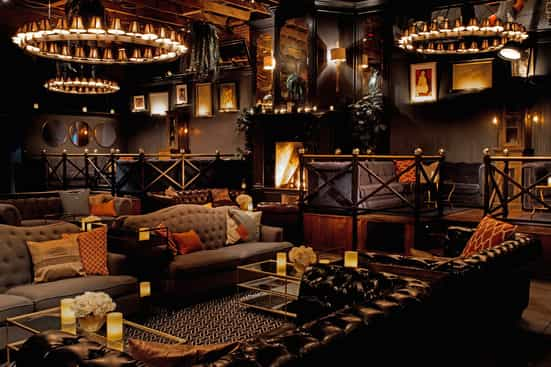 Image credit: Architectural Digest
Stylish leather sofas reflect the golden lighting, accentuated by dark walls and lit wall art. It's a splendid, modern take on those dimly lit prohibition-era bars of old. Capture that leather feel with an armchair to relax in or even a leather bed, such as the Tuscany Sleigh Bed. With fluid hardwood shapes finished in natural oak and deep oxblood leather, you too can recreate that speakeasy atmosphere.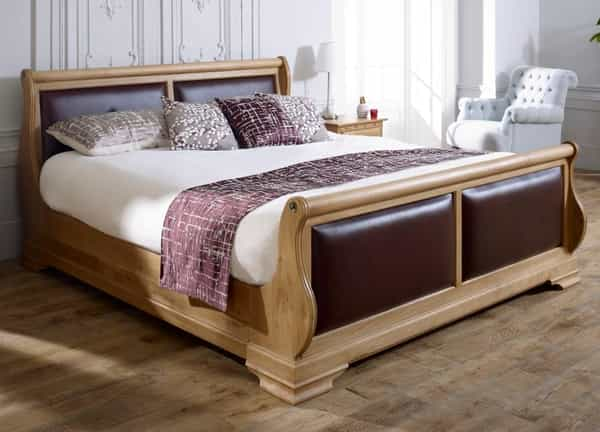 Final Touches
A room isn't complete without the right furnishings and accessories. Think about the little things that tie the room together. For a truly Great Gatsby inspired bedroom, you'll have to consider a room divider. This gilt and ebonised divider by the artist Piero Centofanti is a gorgeous addition, a real eye-catcher.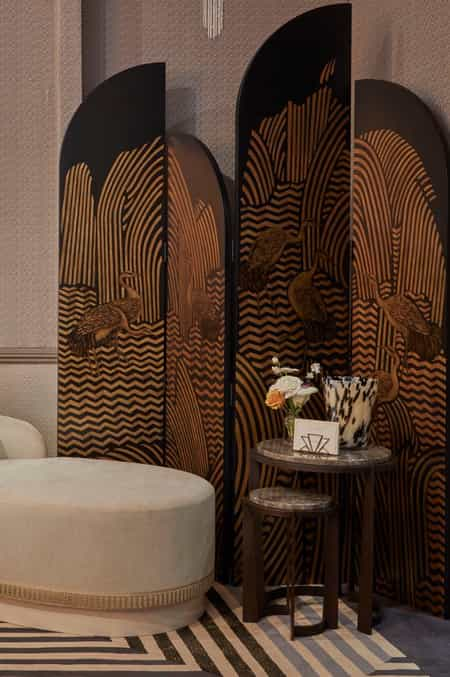 Image credit: Katherine Pooley
Try filling vases with gold-tipped feathers, use mother of pearl shells as places to put jewellery, choose art deco themed fabric for your throws, rugs, cushions and curtains.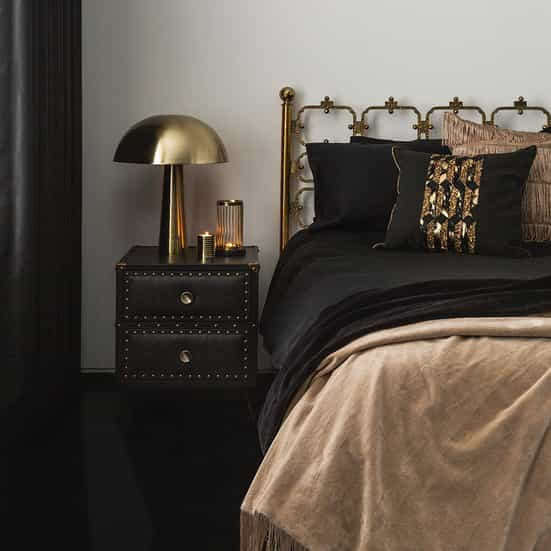 Image credit: Amara
Creating a Great Gatsby inspired bedroom now is about striking the right balance between modernity and maximalism. Now, modernity as a style can be interpreted in so many ways, but a key thing to remember is clever design is all about research, taking inspiration from many places so that your designs come together without any colour clashes or furniture mishaps.

To help you in your further home design projects, we've put together a helpful guide for you to use. It's filled with all the things you need to start your design journey. Read on to find out more.
Finding Inspiration for all rooms in your home
In our helpful guide, you'll find inspiration for each room in your household. Whether you're going for a complete house renovation or simply restyling your bedroom, this is the resource for you.

Inside, we've compiled lists of wonderful, timeless design ideas that offer new and immediately classic ways for your home to present itself. You'll find ideas for every room you have. Simply click the link below to get your free copy.