Supplier Spotlight: Crest Leather - Our Leather Supplier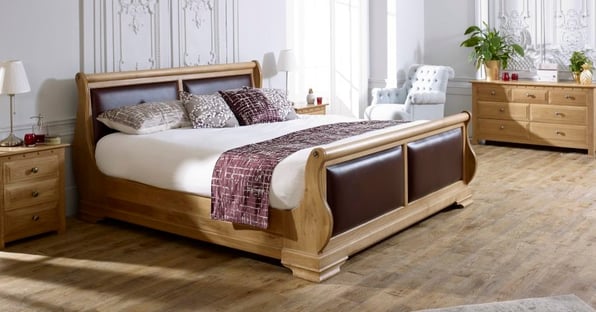 Whether it's our sustainable hardwood that we use to craft each piece of furniture or the leather we use to upholster our range of leather bed frames, we only work with the best materials here at Revival Beds. From the Tuscany Sleigh to the Quebec Pencil, each of these beds has been handcrafted then upholstered using Italy's finest leather.
We've chosen this leather specifically for its quality, as we wouldn't want to use anything less than the best. This leather is sourced from one of our very trusted partners.
So what more can we say about our leather? Read on to find out.
Our Leather Supplier: Crest Leather
The Crest Leather Group is a global producer of high-quality finished leather. Headquartered in London, they operate tanneries around the world, distributing to the UK and the rest of the world.
The thing we love about Crest Leather is their attention to detail. They control the entire production, from purchasing the rawhide through to ensuring deliveries are made on time.
They also respect tradition, like us. With every industry, modern technology has changed. For some, this means forgetting their artisanal roots - but not Crest. They respect that leather making is a practice centuries-old, but even with modern technology, it's still very much the work of an artisan.
Why We Chose Crest Leather
Like ourselves, Crest Leather has been established for over 25 years. They share the same ethos as us, an approach to sustainability that can be seen in all of their work and an appreciation for high-end products handcrafted in a time-honoured way.
At the same time, they're also pioneers, utilising technology and new styles to produce the best quality leather. This means we can provide you with traditional beds that use the finest leather colour trends and techniques.
How They Work
In short, leather is created in three steps; Tanning, Dyeing & Re-Tanning and Finishing.
Tanning
Tanning involves several stages, transforming the rawhide into quality leather. In this process, hides are permanently transformed to keep them stable while increasing their durability. Tanning is a process that's thousands of years old, but Crest uses the most modern techniques for producing the best product.
Dyeing & Re-Tanning
This step is crucial. At this point, the leather is treated with aniline dyes and fatliquors, which affects the colour, handle and grain of the leather.
Finishing
Like tanning, finishing requires several different processes to produce the final product. Depending on what type of leather is being fashioned, finishing may involve buffing, embossing, milling or the applications of waxes, oils and pigments.
You can follow the leather-making process Crest Leather utilise by watching this video.
Why Leather Beds?
Crest Leather truly knows why leather is one of the ultimate materials:
As a product of nature, each and every hide is unique. Leather will display traces of its past; a reminder of its natural beauty and the world from where it came.
Many people don't consider beds finished with leather, but they're at the pinnacle of luxury home furniture, adding that extra touch of class to your bedroom. The beds we create here at Revival Beds consist of our quality handcrafted wooden bed frame, which is then upholstered in natural grain, semi-aniline leather to ensure both quality and longevity. Semi-aniline leather has a thin protective top coat added to protect it from wear and staining.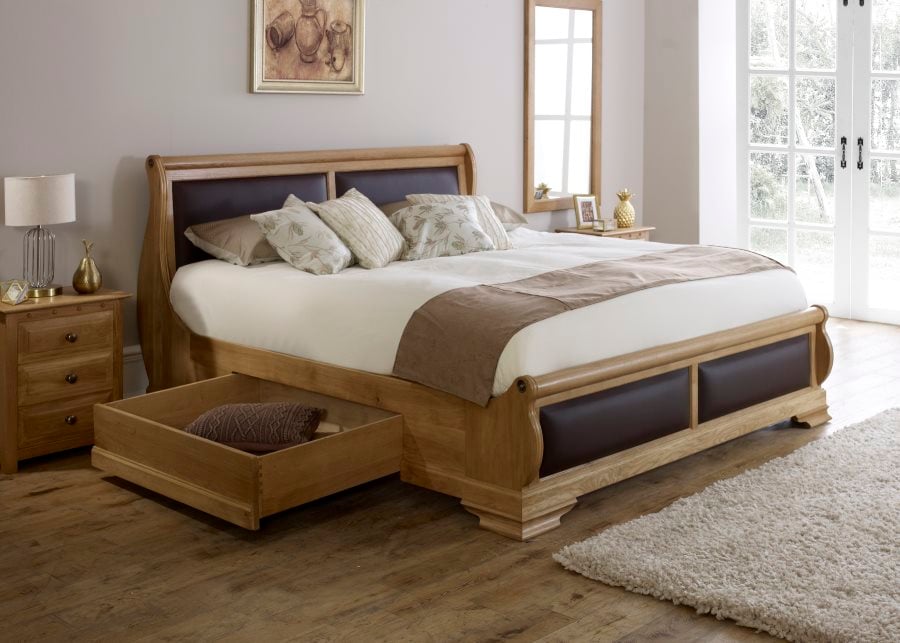 Our Amalfi Sleigh Bed, upholstered with leather of a rich chocolate finish.
But not only is a leather bed aesthetically beautiful, tapping into the centuries-old heritage of creating leather furniture, there's also the practical benefit of easier maintenance and cleaning. Leather is a robust, hard-wearing material that keeps its texture and rich finish for a very long time.
At Revival beds, we offer 15 stunning Italian leather shades in our luxury collection of beds. All of our leather beds are also available in four natural wood finishes, alongside a solid oak finish. Most of our leather beds are available up to 8ft Caesar size. Our bespoke service also means we can create extra long bed frames. Each comes complete with a 10-year guarantee. Take a look at our range of superior leather beds by clicking the button below.
However, for the truly personalised approach to your luxury bed, you can connect with us to learn about our vast array of bespoke leather shades. If you have dreams of a bespoke leather bed, simply download our guide to bespoke bedroom creations, where you can discover just how we can create a luxury leather bed that suits your wants and needs.
Just click the banner below to find out exactly what our expert craftsmen can create just for you.