The Benefits of Choosing Handmade Wooden Furniture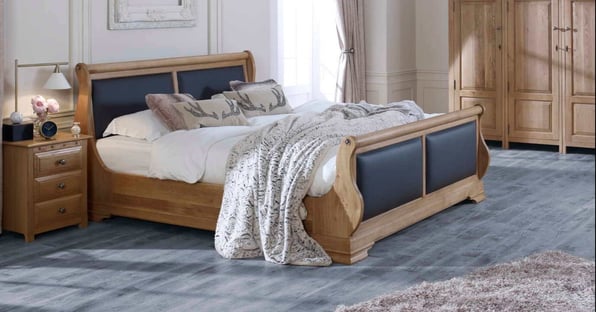 While flat-pack furniture is cheap and quick to install, it fails to capture the charm, quality and heritage of handmade wooden furniture - qualities only truly present by using these materials.
The level of quality imbued within solid wood furniture is amplified when handmade by expert craftsmen. But what benefits are you likely to capture if you choose handmade wooden furniture for your home?
Uniqueness in Every Piece
No two pieces of wood grow the same. Each individual length of timber has its own pattern, its own finish, its own grain. Like a fingerprint, these characteristics make up the unique identity of the wood.
From shading to ring marks, the character of solid wood is far more intricate and complex than any flat-pack piece. When you choose handmade wooden furniture, not only can you get a bespoke design but you can also get solid wood with a look and feel that exists nowhere else in the world.
Utilising Experienced Craftsmen
'Handmade' is the word we need to focus on. It's a word that's a testament to the skill, time and dedication artisans and craftsmen put into designing and building wooden furniture.
With furniture made in this way, with a well-developed, collaborative and sustainable manufacturing process, you're getting the best of furniture makers - people with countless years of experience. Each component will be meticulously created and put together, resulting in robust and beautiful furniture every time.
The best craftsmanship ensures a sustainable manufacturing process and approved by the British Furniture Manufacturers (BFM), alongside ensuring products are built in the UK and materials, such as solid wood and Italian leather, are sourced from trusted suppliers.
With handmade wooden furniture comes the peace of mind that every piece you're purchasing is perfect.
Timeless Furniture Options
Handmade wooden furniture is a style of furniture not burdened with the possibility of falling out of fashion. Wooden beds, wardrobes, dressing tables, bedside cabinets and more have been made from wood for countless years and will continue to be made for countless more.
It's a one-time investment for a lifetime of beautiful furniture, distancing itself from the latent issues caused by cheaper materials such as veneer, MDF and metal. Handmade solid wood is inherently customisable, easily maintained and has an unmatched strength not to be found in other furniture materials.
On top of this, solid wood offers nine distinct benefits itself:
Durability
Undeniable beauty
Sustainability
Design versatility
Easy maintenance
Customisation options
Variety of finishes
Cost efficiency
Timelessness
Having handmade wooden furniture made for you is one of the most fruitful design choices you can make. So where do you begin searching for pieces like these? We have the brochure for you.
Enhance Your Home With Handmade Wooden Furniture
In this brochure, you'll discover the essential furniture for creating timeless bedrooms. From chests to wardrobes to mirrors, our collections can help complete your sleeping sanctuary. To explore the collections brochure, click the link below.