6 Storage Ideas to Maximise Space While Keeping Your Bedroom Stylish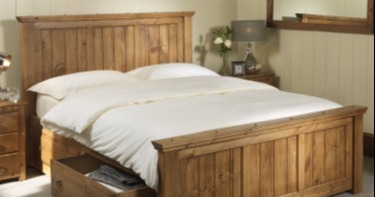 Most of us are looking for more storage space, needing places to house out-of-season items and personal objects. But how can you balance adding extra storage while keeping the same, sophisticated style?
With creative space solutions, bedrooms still look their best giving us a well-deserved space for rest, relaxation and rejuvenation. Yet, they can also serve our more functional needs and our fancies, helping us tuck away unused linens, items of clothing, and all our other treasures and trinkets out of sight.
In this blog, we show you six ways to maximise the storage space in your master bedroom without ever compromising its interior integrity.
1. Bedside Cabinets
Switching side tables for bedside cabinets is a simple space solution, allowing you to enjoy extra drawer space without the need to reorganise your room.
Although glass-topped side tables are elegant, airy and never overly imposing, they fail to provide any storage, aside from a small space to sit a glass of water or a book.
On the other hand, Bedside cabinets open up opportunities to store reading glasses, night cream, sleeping masks, and other personal items that don't yet have a home. You can achieve the same graceful bedside with a cabinet, so long as you choose a style that suits your overall interior aesthetic, be it modern or traditional.
2. Chest of Drawers
While most of us store the majority of our clothing and accessories in a wardrobe or a dedicated dressing room, a chest of drawers provides a great opportunity to store the garments we reach for at different times of the day or don't necessarily need hanging.
From gym clothes to loungewear, chests of drawers are useful for storing items we might need to access in a hurry, reaching for a robe after a slow Sunday morning or retrieving our activewear when we're ready for an earlier start to the day.
Finally, a chest of drawers provides us with a utilitarian surface perfect for placing family pictures, housing a jewellery collection or creating interior interest through plants, mirrors and other ornaments.
3. Wardrobes
Wardrobes are an obvious storage solution being the most thought-about staple piece of bedroom furniture. We all have some form of a wardrobe, but are we using it to its best benefit?
When choosing a wardrobe, look for a sturdy, solid wood silhouette where possible as well as a product that has multiple configuration options to choose from.
Adding drawers or unique integrations like a sliding shoe tray can mean your wardrobe is suited to more than just hanging garments, making way for shoes, boots, slips, scarves, belts and more. In doing this, you can do away with messy shoe racks and domineering drawers making the entrance to your home light and airy and your bedroom a lot less cluttered.
4. Dressing Tables
As well as maximising space, dressing tables bring a traditional, ladylike elegance to a room, serving you in all sorts of activities from applying makeup to styling hair and elevating an outfit with jewellery.
The addition of a dressing table helps make your space feel more like a luxurious sleep sanctuary than a basic bedroom.
From a storage perspective, additional drawers and surfaces make sense for storing personal appliances, perfumes and garment accessories, making dressing tables a must-have for any luxury bedroom.
5. Blanket Boxes
To truly maximise your space, hidden pockets of storage are the answer. Blanket boxes are an innovative way to achieve this with a seat and storage solution in one.
Custom blanket boxes guarantee your bedroom will still feel stylish and never clunky or crammed against the other items in your room. During customisation, you can choose high-quality materials to match your headboard, drapes or bed linens to create a cohesive effect.
A blanket box is best stored at the end of a bed instantly making your home feel as glamorous as a hotel.
6. Underbed Storage
Another somewhat secret storage solution is underbed drawers. Already integrated into a bedroom mainstay, underbed drawers don't take up any additional space in your room.
In turn, your place of sleep can remain streamlined and simple, always exuding an atmosphere of calm.
Seasonal hand-stitched linens such as summer drapes and higher tog duvets can live here, as well as surplus towels, luggage and out-of-season clothing.
If you're investing in more than one of these storage solutions, then you might want to consider the possibility of buying a matching furniture set.
Buying matching furniture, so long as it's high quality, made using materials such as solid wood, Italian leather and natural wax, means each piece will look harmonious when sat side by side as well as age, wear and mature at the same rate.
Never Compromise on Style with Solid Oak Matching Sets
Storage meets style with solid oak matching sets.
Even if your bedroom is full of spaces to store items, wardrobes, drawers and cabinets all become seamless when they're all made of the same high-quality materials, finished to the same standard and bought from the same workshop.
To make your master bedroom as functional as it is fashionable, explore our Collections Brochure, an easy-to-use guide to all of our matching, handcrafted solid oak pieces, made in Britain, designed for luxury decoration.