What To Look For When Buying A Quality Bed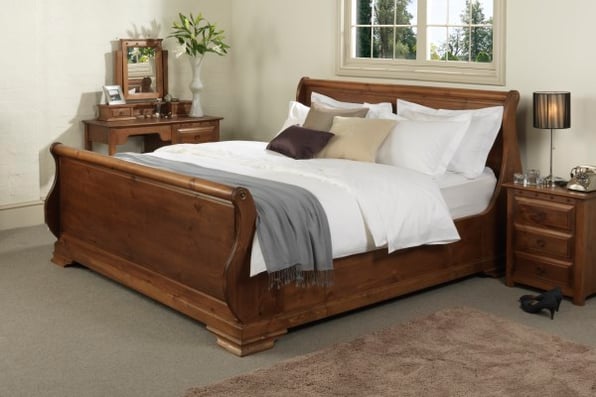 If you're in the market for a new bed, then its always important to make sure your investment is worthwhile. But how do you find out what's under the slats?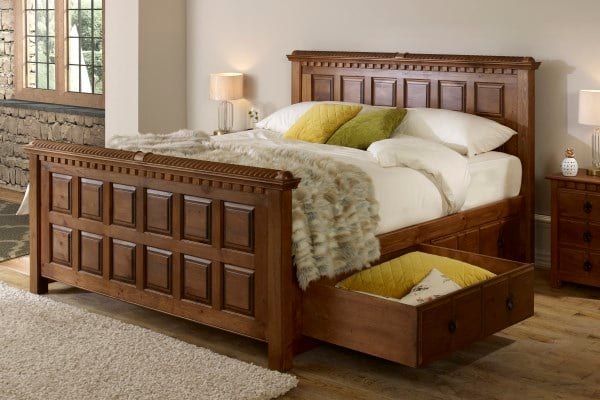 This useful guide will show you how a quality bed frame is made and also the questions you should be asking the manufacturer or retailer before making a decision.
So what do you look for when buying a quality bed?
Solid Wood Slats
When looking for a quality bed, always ask the manufacturer what the slats are made from and how they are fixed to the bed base. Good quality slats means less chance of any breaking and a better chance of a good night's sleep.
Here at Revival, each bed comes with 18 solid pine slats within the bed frames that are cloth-webbed 50mm from each end, holding them together securely. Each slat measures 70mm x 17mm and these are positioned 40-45mm apart for the optimum support for your mattress.
We use pre-drilled screw holes in the middle and ends of each slat then enable a secure fit to the bearers on each bed and the centre bar when required – this eliminates any noise from movement.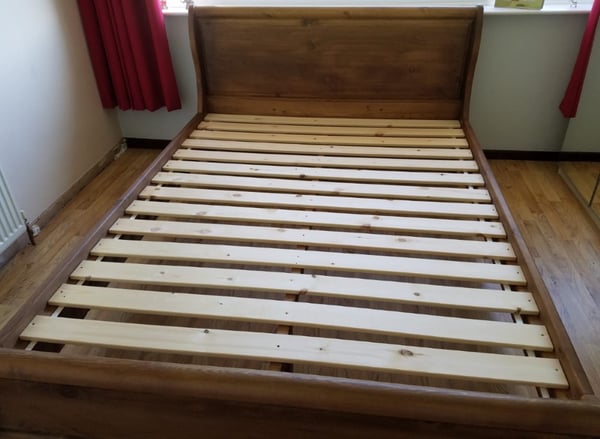 Do beds come with a centre bar?
If your new bed has slats and is king-size or bigger, then it should come with a centre bar for optimum support. This is a solid piece of wood that runs the length of the bed. It connects to the slats with screws and has two supporting legs that touch the floor for added strength.
A Quality Assembly Process
A quality bed manufacturer should be able to offer a delivery and installation service so you know your dream bed has been installed correctly. You should ask if there are any costs involved and if it will be carried out by their own employees.
It's also important to ask what fixing and components will be used to put the bed together, as the last thing you'll want is a bed that does not feel secure or even squeaks.
Revival beds are assembled on each leg by self tapping inserts and steel threaded bars. This trusted technique of building the bed frame is a dry process and has the advantage of requiring no glue or fixing agent, allowing you to disassemble your bed easily and reassemble if ever required. It also makes the bed frame very strong and means it will never squeak or creek.
If you would like to see what our crafting process looks like, from start to finish, click here.
Handcrafted Design
When buying a bed, you don't want to settle for one that looks like the rest. You know the type, fresh off the production line, with little care or attention given to the aesthetics of the piece.
The good thing about the highest quality beds is that you're more than likely to find a wide variety of bed styles to choose from. In fact, you should never accept less than what you truly want for your bedroom.
Now, choosing a style is one thing, but finding design inspiration is another. Here at Revival Beds, we care about more than just the bedroom, offering furniture and design inspiration fit for any room of the house.
To explore some of our favourite design choices, you can use our inspirations guide.
Consistent Weight Support
You'll need to work out the weight of the individual(s) who will be sleeping on the bed and then add that to the weight of a quality mattress, which could be anything up to an additional 10+ stone.
Here at Revival beds, our beds have a load rating of 50+ stone and additional support will be added for larger frames, such as our Caesar beds, which are 8ft wide.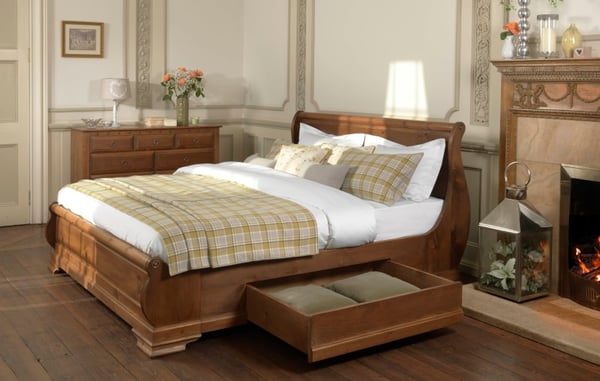 The Finest Materials
If your bed is made from leather or wood then ask what type, its origin and if it has been sourced sustainably.
All wood used for a Revival bed is from sustainable FSC trusted suppliers. Quebec Yellow is from Canada and Scandinavian Redwood from northern Europe. European oak is sourced from a family business in Italy that have been in the industry since 1962.
A 10 year Guarantee
Make sure your new bed comes with a guarantee. A quality UK bed manufacturer will be confident in offering something that exceeds the 12 months that is statutory in the UK. Also, make sure you're confident in the retailer being around long enough to hold up to the guarantee period.
Revival Beds have been handcrafting quality bed frames since 1983 and each one comes complete with a 10 year guarantee, as well as a 21 day money back promise.
Now, if you'd like to gain some inspiration for your new bed or are unsure what kind of styles you can choose from, we've got the perfect brochure.
Explore the Bed styles available to you
There are over 25 beds in the Revival collection, including four poster beds and solid oak sleigh beds which are available in a range of 5 different natural wood finishes.
To download your free brochure, simply click on the link below.