10 Exciting Guest Bedroom Tips Guaranteed to Add a Touch of Luxury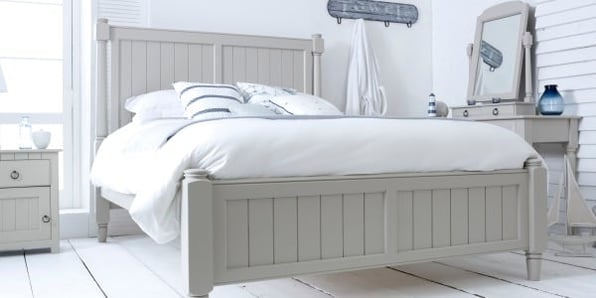 Whether you're hosting a friend for the weekend or a family member for the summer, it's down to you to provide them with a guest bedroom they would never want to leave. If you're struggling on where to start when it comes to adding a touch of luxury or need inspiration for the design, here are some exciting guest room tips you can use right away.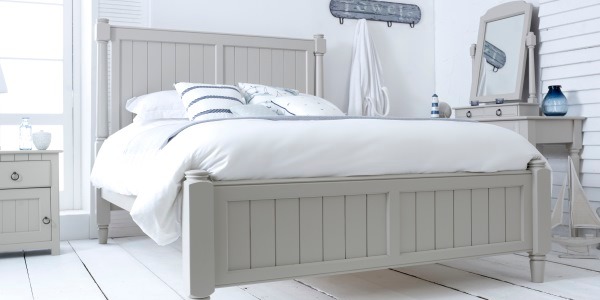 1. Don't Forget the Essentials
Before thinking about how to be as creative as you can possibly be, don't forget about the essentials. While they're minor, these small additions can go a really long way to improving the guest experience and making your guest bedroom stand out.
Some basics to include are:
A comfortable robe and slippers.
A range of towels.
Extra bedding as an option.
Amenities like shampoo, conditioner and body wash.
A hot water bottle.
An alarm clock.
You never know whether a guest forgot to pack something. You can even go the extra mile and leave a carafe of water on the bedside table. So, with the essentials, they'll be both comfortable and feel right at home.
2. Keep the Guest Room Light and Airy
Another useful tip is to keep your guest bedroom light and airy. Try to avoid darker colours and tones as it's easy for guests to feel claustrophobic rather than at peace.
So, take advantage of the windows and natural light as well. Plus, this makes the guest room look much bigger so make sure you declutter it before their arrival.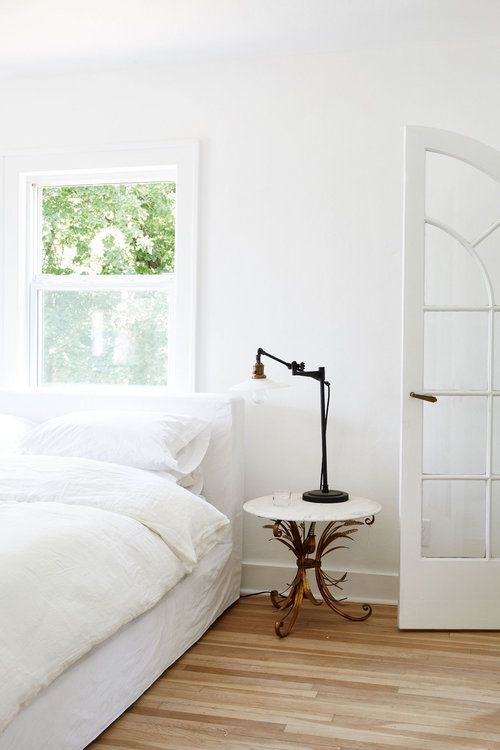 Image Credit: Nicole Franzen, Leanne Ford Interiors
To do that, look through an elegant range of chests and storage to keep the room clutter-free.
3. Add a Bookcase With a Reading Corner
If your guests are after some peace and quiet, a nice touch is to add a bookcase full of a variety of novels and stories they can dive into at their own will. To take it a step further, think about adding a window seat as this gives your guests somewhere to cosy up that isn't the communal living room.
Or, they might just want to grab a good book, curl up in the blanket and read until they fall asleep.
4. Think About Adding a Desk and Comfy Chair
It's also a good idea to offer a workspace to your guests, just in case they want to stay productive when staying in your home. Take inspiration from what you might see in boutique hotels and if your space allows, give your guests a little ensuite workspace.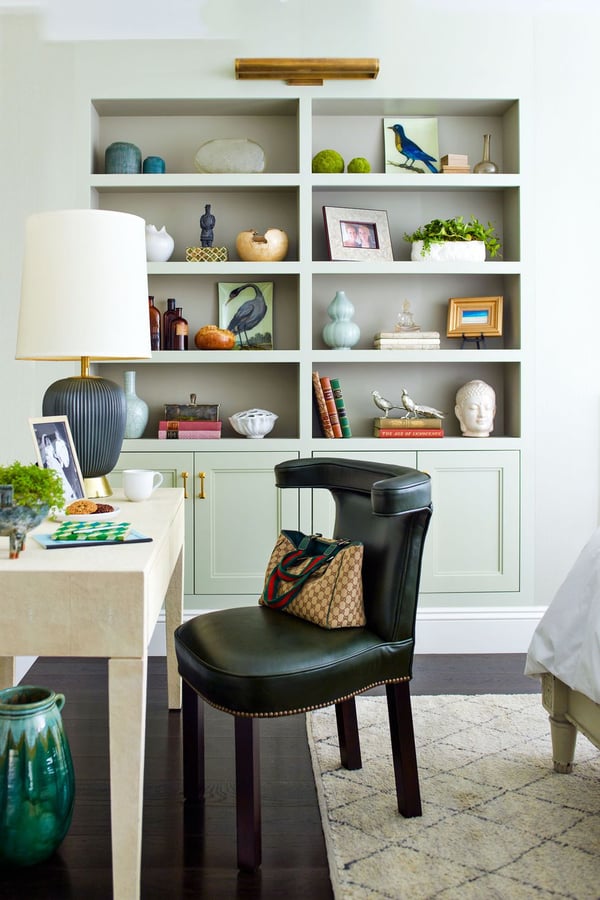 Image Credit: House Beautiful
It can be as simple as a wooden desk, table lamp and a comfortable chair. If you're in a more urban setting, low sitting armchairs are another perfectly comfortable option with some plush cushions making all the difference.
5. Source Some Artwork to Utilise Your Wallspace
Bring the walls in your guest bedroom to life with some artwork. While the minimalistic trend is in right now, four bare walls can seem boring.
So, dial up the art and add some real character to the bedroom. Framed artwork is a nice little touch without taking up too much valuable space, so it's an addition worth adding.
6. Aid Their Sleep With Blackout Curtains
As the host, your guests are relying on you to provide them with the most peaceful night's sleep possible. Although big windows and natural lighting is important to create a contemporary and homely feel, think about adding full and tailored blackout curtains. This will stop too much light getting in and disrupting their sleep.
If this isn't possible, then offer a silk eye mask. This also blocks the light while being very gentle on the skin.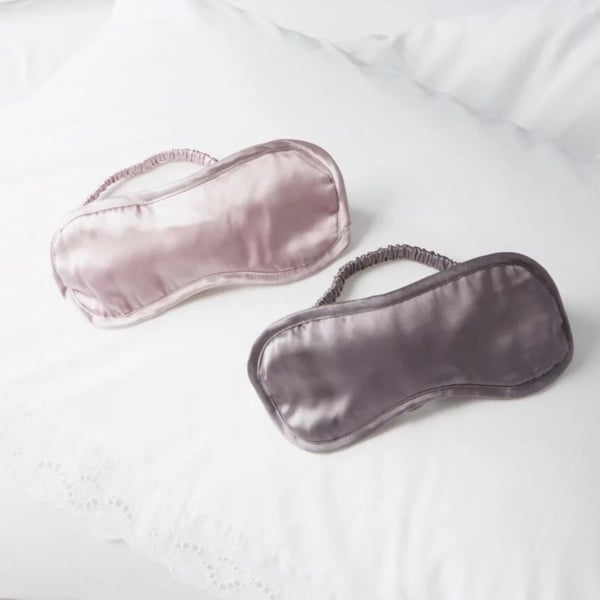 Image Credit: Soak&Sleep
7. Offer Boredom Cures With a TV and Sound System
Even the most luxurious of getaways feature a big TV and sound system that offers crisp quality to make you feel like you're living the experience on-screen. Your guests might all have different ideas of how they want to unwind.
Some might appreciate that reading corner you installed while others will want to sink into a comfortable mattress, throw that soft duvet over them and catch-up on some of their favourite TV shows. You can even go the extra mile and offer a better-quality sound system for a fully immersive experience.
8. Add the Finishing Touches
To create the most luxurious guest bedroom possible, there are some finishing touches you can still add when everything has finally started to take shape. Some nice little touches you can include are:
Candles and incense sticks: Perfect for creating an ambience and a pleasant welcoming experience.
Fresh flowers: A small but mighty detail. Fresh flowers smell lovely, they're welcoming, pleasant to look at and they communicate that you're excited to have your guests stay with you.
Mirror: Your guests will appreciate having access to a full-length mirror, especially if they're living out of a suitcase.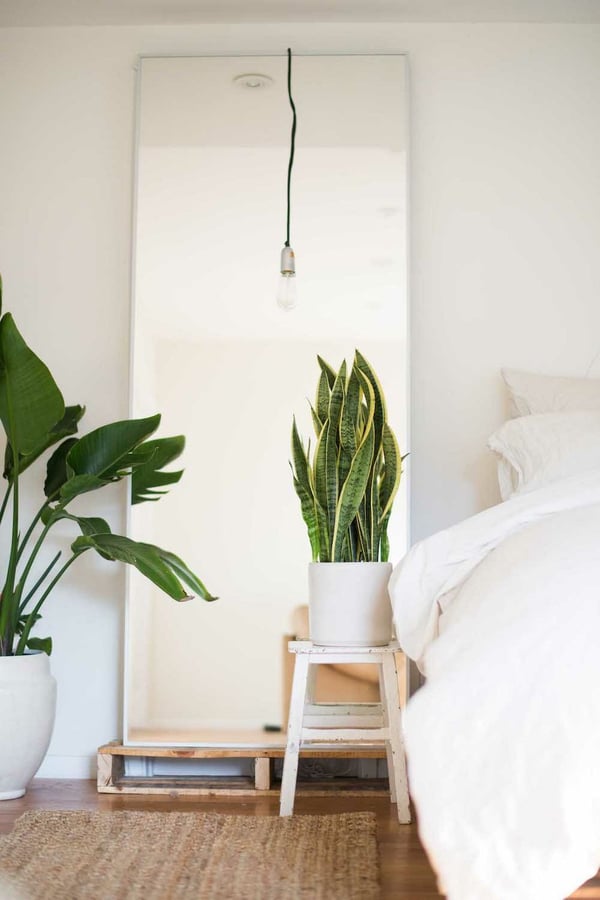 Image Credit: Alexandra Ribar; Leanne Ford Interiors
Cushions and throws: Keep the colours gender neutral and include some cushions and throws available for use. Think about luxurious materials, like cashmere for throws, to add supremely soft comfort and colour to any scheme.
9. Incorporate Smart Technology
To take it one step further, incorporate smart technology as a luxury that your guests can take advantage of. The purpose is to make their stay in your home as pleasant and painless as possible - so that could mean they never have to lift a finger.
Think about adding voice assistants like Google Home or Alexa. Or even smart lighting where your guests can choose the exact tone they want to suit their mood.
10. Complete the Luxury Aspect With a Handmade Premium Wooden Bed
To round it all of, perhaps the most exciting guest room tip which is guaranteed to add a touch of luxury is to invest in a handmade premium wooden bed. This is what can make or break your guests' experience, as a poor bed is likely to affect their perception of your bedroom as a whole.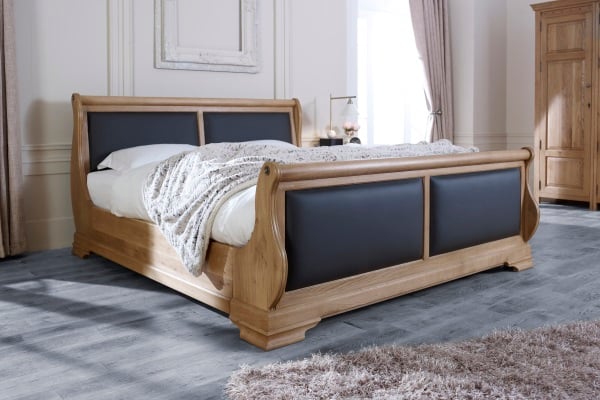 When you think about a luxurious setting and what your guests are likely to remember, it's a handcrafted wooden bed which instantly comes to mind. Here are some other reasons why wood exudes luxury and why it's something your guests will appreciate.
It takes time: Wood is a material that takes longer to craft. The process can't be rushed and craftspeople take extra care to make sure everything is right with no blemishes.
Woods holds its value: It's a great investment for the future which means it can become a family heirloom.
Filled with character: Handcrafted wooden beds are filled with charm and character. The variation of wood grain and texture makes them truly one of a kind.
It ages beautifully: A wooden bed never loses its appeal. It'll still be an elegant and sophisticated choice for years to come with every guest coming through those doors complimenting its qualities.
They last a lifetime: Premium wooden beds are built to last a lifetime. You won't need to regularly replace them for each guest and it'll always maintain its superior qualities.
To get started with creating that perfect guest bedroom, it's now time to see which bed suits your ideas the most with your very own bed buying guide.
Enhance Your Guest Bedroom Experience With the Perfect Luxury Wooden Bed
If you're not sure about where to start when it comes to adding the perfect wooden bed to the guest bedroom, we've got you covered. We've created a free and comprehensive bed buying guide that will help you to find the perfect design and help shape the rest of the room.
It's full of useful tips and advice, different types of beds, the benefits and so much more. To get your free copy, click on the link below.