5 Key Items for French Themed Bedroom Decor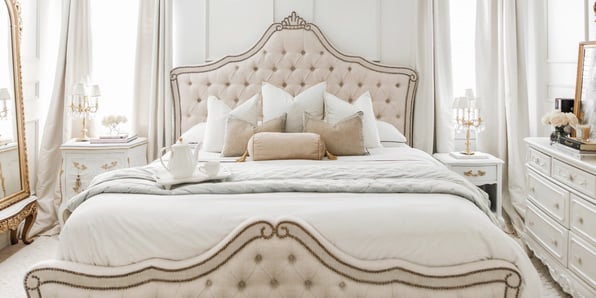 French-inspired interior decor is a popular concept that has stood the test of time for one very good reason: it's timeless. This style epitomises romance, class, style, luxury and grandeur - perfect for sophisticated homeowners that have a love for small details and enjoy the finer things in life. Here are some tips on adding French-themed bedroom decor into your boudoir.
1. Elegant Walls and Windows
The first thing most people will notice about French design is the detailed, ornate patterns and fabrics. Splashed across embedded rolls of wallpaper or fine satin bed sheets, you can find an endless number of colourful and romantic patterns and designs, many of them floral in theme.
This constant presence of soft, detailed patterns when searching for the perfect French-themed bedroom decor shows just how deeply these patterns are a part of the French decor aesthetic.
Bring these rich designs and patterns into your bedroom space primarily through your choice of wallpaper and window drapes. If you don't want to add the same style of wallpaper throughout your room, opt for the ever-popular feature wall trend.
Wallpaper your chosen wall - usually the wall your headboard will rest against - in your ornately patterned paper of choice. Choose a key colour from the paper and paint your other walls this colour.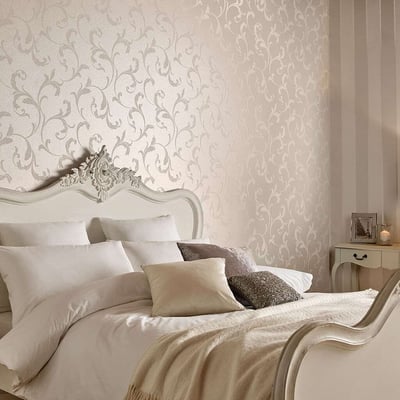 Image by Graham Brown
If you feel as though a fully patterned wall may be too overwhelming your room, paper just a stripe of the centre of your wall behind your headboard or use wooden wall panelling instead.
Wood wall panelling and half wall wood panelling is a surefire way to add a touch of elegance to your space while showcasing a more regal take on French-inspired bedroom wallpaper. You could even wallpaper inside the panels of the wooden wall features to bring your chosen pattern into play in an eye-catching yet muted way.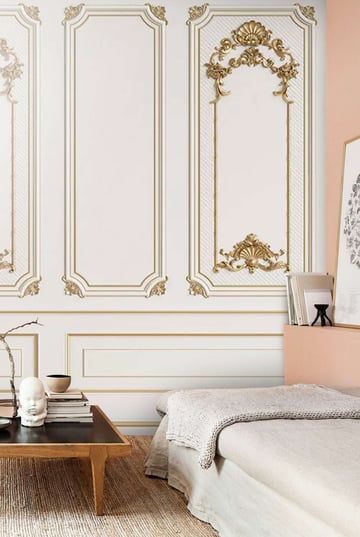 Image by FourWall
Hang matching drapes over your windows. For smaller windows, hang your curtain rod higher than your window frame and choose a length of curtain that pools slightly at the bottom. This will make your windows look bigger. To soften the light coming into your room and add privacy, incorporate voile curtains of the same length.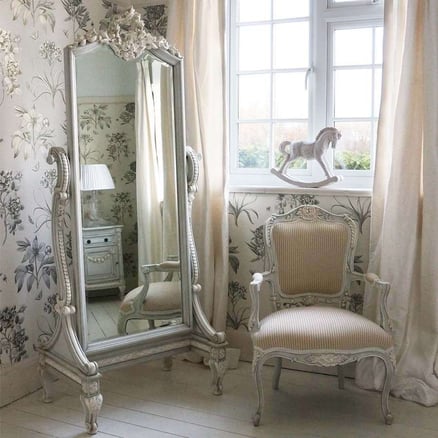 Image from Pinterest
2. Eye-Catching Lighting
You may have heard that lighting makes or breaks a room - and this is especially true for bedrooms. A place to relax, sleep, get ready for your busy day or evening out, bedrooms serve a lot of purposes and as such, they need lighting that fits all of these needs.
For your main ceiling light, a chandelier is, of course, the first choice for a sophisticated French-themed room. Your chosen chandelier doesn't need to be big and grand. Instead, opt for something that's high quality and has a base and arms that match the metal colours featured in your door and furniture handles and picture or mirror frames.
Matching metals is an often overlooked way to bring cohesion and a sense of class to a room.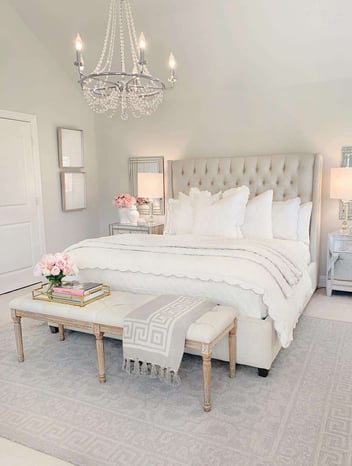 Image by Curated Interior
Find ornate lamps to light your bedside tables and vanity area that preferably match your ceiling light too. Also, make use of candles and antique candlestick holders throughout the room to add atmosphere.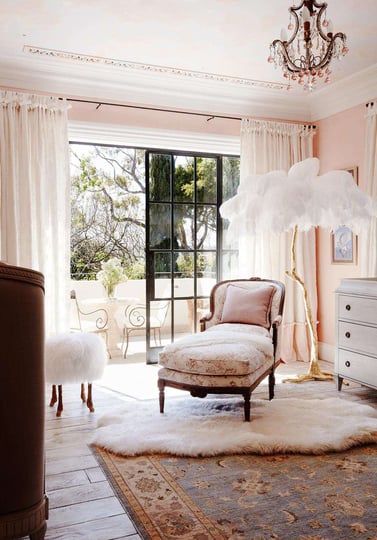 Image by Homes to Love
3. A Bed That Makes A Statement
Nothing says French-inspired opulence like a handcrafted, solid wood bed frame. French interior decor is all about creating a romantic feel through attention to detail and ornate shapes and designs.
To truly achieve this with your bed frame, choose a quality bed that features a large headboard with round edges and detailed designs. An Orleans Bed, which also comes as a four poster, is perfect for a French-themed bedroom, as is the stylish Quebec Pencil Bed. This particular choice of bed has an impressive headboard upholstered with the finest leather.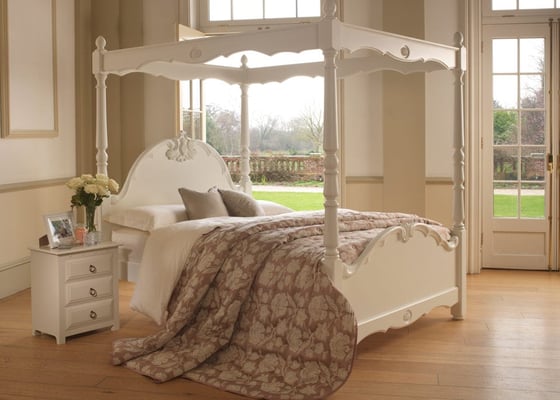 Or, why not opt for the French Sleigh Bed? The name says it all. It's a style that stretches back over 200 years and was also a popular trend during the 1800s in France complete with highly elaborate furniture, such as cabinets.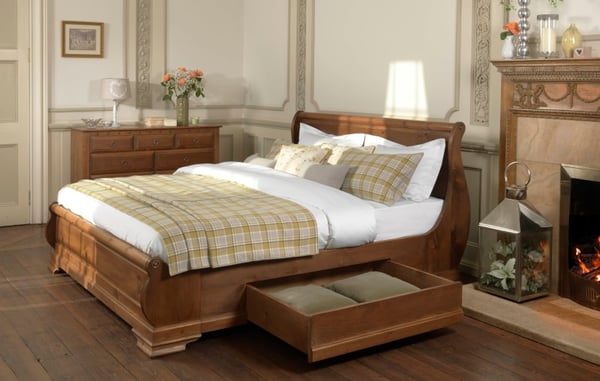 Truly embrace the sentiment of French decor and invest in high quality matching furniture that will last a lifetime.
Now that you have your beautiful, classic bed frame, you get to dress it. Try matching the colour of your bedding to your other furniture or wallpaper in the room and don't shy away from throw pillows and similar accessories.
Stacked decorative pillows are a fantastic way to add a sense of luxury and elegance to your bed. They can also be used to draw in and highlight other key colours in the room while offering added comfort and functionality.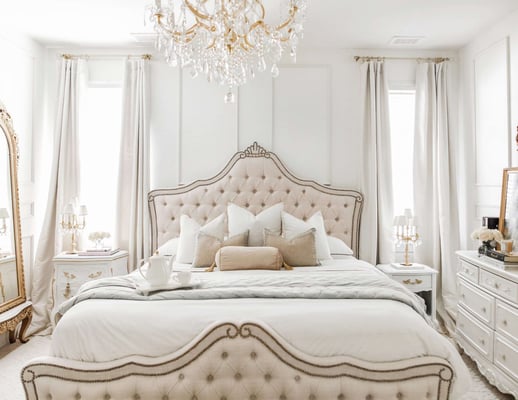 Image by J'adore Lexi Couture
4. Vintage Vanity Set
For your vanity area or desk, pick up a vintage vanity set. These sets usually consist of an ornate hang mirror, comb and tray and both beautiful original vintage sets and carefully created reproductions can be found online or in many local vintage and thrift stores.
You may already have heirloom sets passed down from your grandparents or parents in storage at home. Pair these sets with retro perfume atomisers and a decorative nostalgic makeup powder puffs to create a stunning French-inspired vanity area fit for a la dame.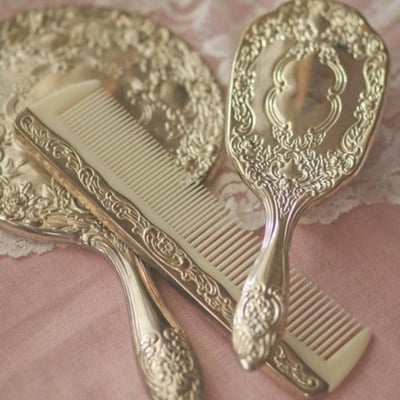 Image from WeHeartIt
5. Mirror, Mirror On The Wall...
What French-themed bedroom would be complete without an antique brass mirror?
Hang it over your vanity area, near your bedroom door for a final appearance check before leaving the room or even above your headboard as a key piece of decor.
If you have a fireplace in your bedroom, you could also hang it above that and adorn the mantelpiece with beautiful flowers and meaningful trinkets such as small picture frames. Floorstanding French mirrors or a Cheval style can also add a touch of elegance to your bedroom if you don't want to hang one up.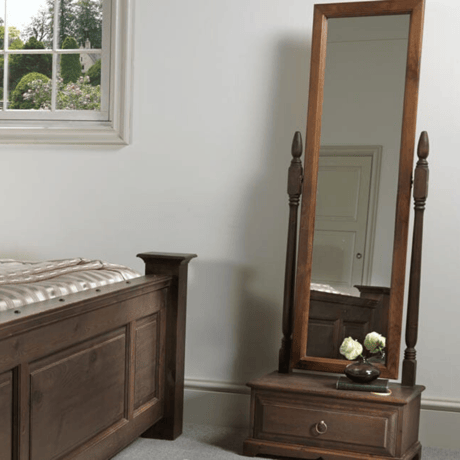 Mirrors inspired by antique French styles are easy to find online, in vintage stores and even at auctions, so it's worth shopping around to find the perfect mirror for your room and style.
There's a lot to think about when creating your perfect bedroom, and finding inspiration that suits your style can be a time-consuming task. Save your valuable time and energy searching for home decor inspiration with our free Inspirations Guide.
Your Perfect Home is Waiting
Calming home offices, classy hallways, rustic man caves, elegant living rooms - whatever your next home project entails, find the inspiration you need.
Create your perfect home and transform your space into a welcoming place that reflects your personality and is loved by friends and family. Download our free Inspirations Guide to find the inspiration you need all in one place.