Be the Man of the Hour With These Rustic Man Cave Ideas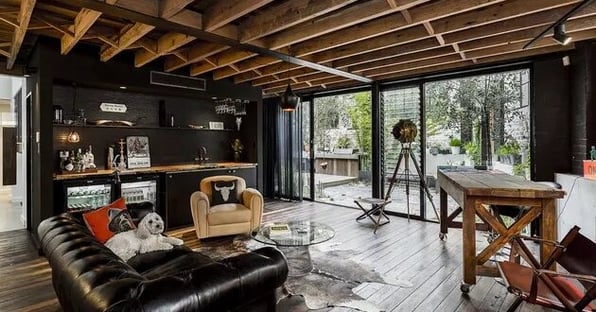 We commonly take the 'man cave' to be a place solely for men to relax in - but that's not the case. A man cave is for everyone; a relaxing, cosy space that's traditionally masculine in its design style. Filled with comfy chairs, enjoyable activities such as pool and potential sporting paraphernalia, the man cave is a place where you can take the weight off.
So what kind of design ideas can you use in the conception of your very own man cave? Read on to discover these modern and rustic man cave ideas.
Modern Rustic
A man cave doesn't have to abide by the stereotypical idea of one with dart boards and animal heads mounted on walls. Rather, we can update the man cave design to more accurately represent modern tastes.
The man cave can be minimalist, with light and space. It can be devoted to a certain passion, but not crammed with overbearing nick-nacks. With a smart design, anything is possible.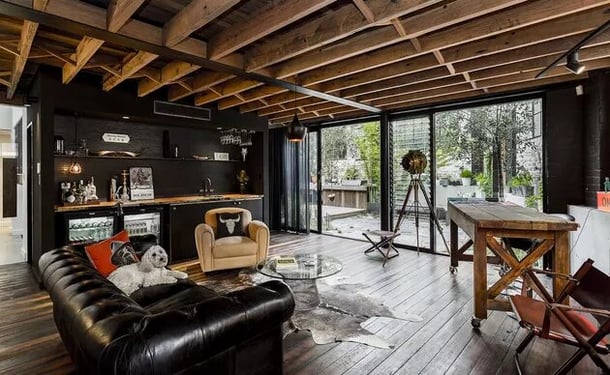 Image credit: Hunker
Look at this example. We'd know this as a man cave, but it's more than that. With a large amount of light contrasting the darker colours of both walls and furnishings, this room does well in pairing the traditional thematic choices with a more modern design. The exposed rafters align beautifully with the hardwood flooring, table and bar top.
Decorate the Space With Wood and Leather
A defining characteristic of the man cave is the use of wood and leather. Sofas, armchairs, tables, bookshelves and so many other items that are imbued with that rustic man cave feel are made with wood and leather.
A leather armchair, for example, is a luxurious statement. It says 'this is my chair, this is my room', becoming more like a modern-day throne for the castle that is your home.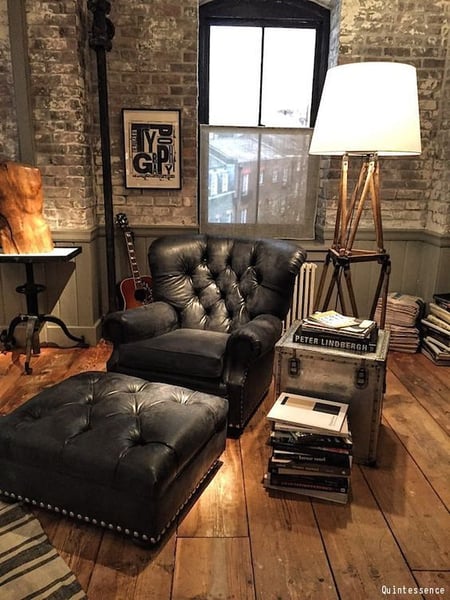 Image credit: Improvenet
Hardwood bookshelves are a must, carrying the weight of your favourite books, magazines and music. These pair beautifully with hardwood cabinets, perfect for placing next to your armchair as well as an Ottoman, the right mix of leather and hardwood - a place to store valuables.
Other rooms in which these items find themselves at home is the modern gentleman's study. To explore design ideas for this room if you're thinking about creating one, read our blog.
Designing Your Own Bar
Creating a bar is the true test of how far you're willing to go to create the man cave of your dreams. It's a must-have, a need, an antidote to the trials and tribulations of the outside world.
They can be small (little more than a drinks cart) or fully-fledged endeavours, replete with kegs, fridges, taps and bowls of your favourite snacks.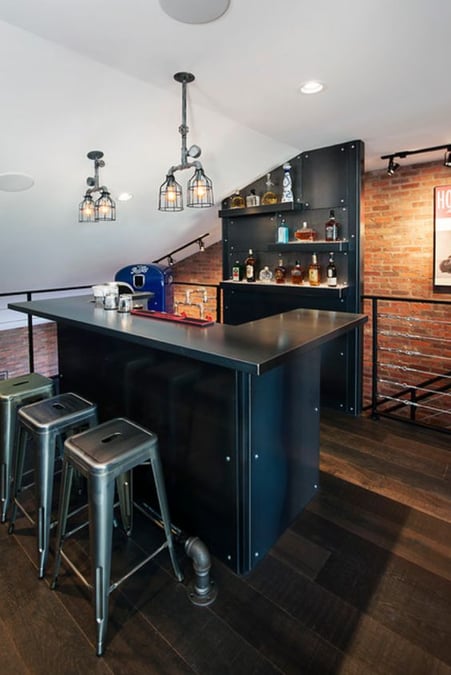 Image credit: Man Cave Classifieds
Bars can be made from sheet metal, stone or hardwood, as well as visually appealing mixtures of materials. Vintage bar signs and shelving go a long way in recreating that 'watering hole' feel, blending fantasy with reality in the perfect place to entertain guests.
Optimising Your Garage
If you have the space and ability, convert your garage into your man cave. This large space is the perfect blank template to begin. Plus, where it's positioned in your house makes it the best place to use as the 'getaway'.

Similarly, the garage door acts as a great way to bring the outdoors in within the warmer summer months. Look at this man cave designed by Laura Santos, where the indoor space opens out onto the grass.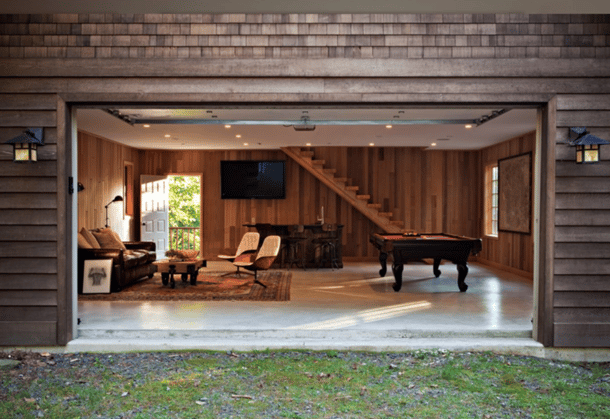 Image credit: Laura Santos Interiors
Replete with comfy chairs, pool table and wooden wall panelling. This is the perfect example of how you can turn a functional space into a fun space.
Freestanding Fireplaces
Who doesn't love warming themselves by the fire, throwing another log on as you drink fine scotch and watch your favourite movies or sporting events? It's the ultimate example of man cave bliss.
A man cave wouldn't be right without a fireplace. Unfortunately, many homes don't come with these and building one into an existing wall is a big, complex project. To make it easier and capture that relaxing, log cabin-feel that completes a man cave, why not invest in a freestanding fireplace?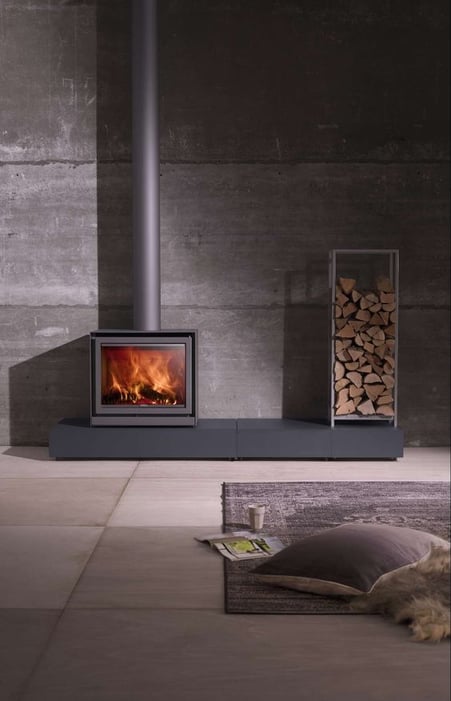 Image credit: Pinterest
These kinds of fireplaces are easy to place. Demanding just outdoor access for the chimney, they take the levels of feel-good that come with a man cave to the next level. You can get them designed with a modern look and feel or you can go for something much more traditional, which can even be used to cook or make coffee on.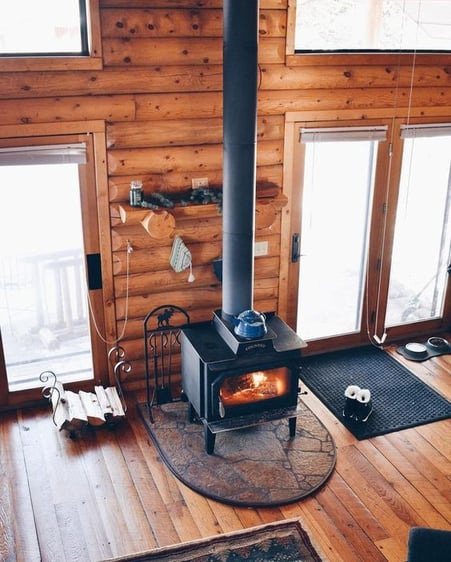 Image credit: The Cabin Diary
Getting the Decor Right
Choosing the right decor for the man cave depends on personal taste. A lot of the time, it can come down to determining a theme. Do you have a favourite sport? Base your decor on sports memorabilia, such as framed team kits or autographs.
How about hunting or fishing? Bring nature indoors with hardwood bookshelves filled with tomes on different species, how-tos and how to cook them just right. An aquarium would look right at home in a space such as this.
Do you enjoy travel? Theme your man cave around your favourite places, be it the beautiful plains of the Serengeti or the hustle and bustle of New York City. Items related to your favourite place can be easily sourced and work to create a strong visual narrative.
This visual narrative is important as it tells something about you. After all, this is your space and should represent your personality and interests.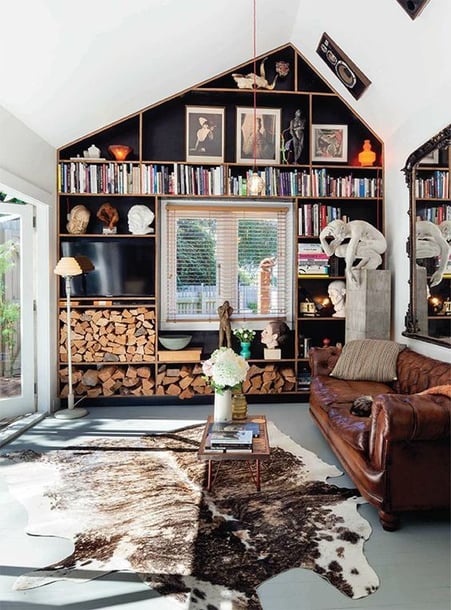 Image credit: Remodelaholic
From the chopped firewood to the animal skin rug, this light, garden-facing man cave represents someone who enjoys the outdoors and isn't afraid of getting their hands dirty. We can also see they're a fan of the finer, more comfortable things in the shape of that gorgeous leather couch, striking a balance between their outdoor trappings and indoor accoutrement.
The busts and books also tell us they're into knowledge and culture, potentially representing a well-travelled person who's just as at home on the streets of Rome or Paris as they are sipping a whisky in their relaxing man cave.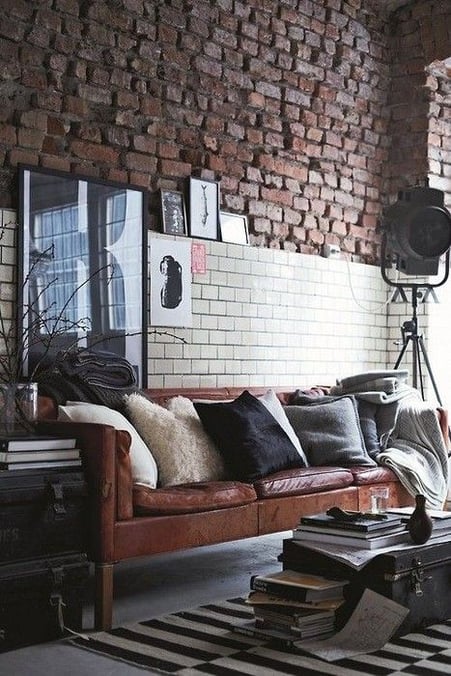 Image credit: Remodelaholic
Edison Bulbs
Nothing says man cave like mood lighting and nothing can capture mood lighting better than Edison bulbs. Otherwise known as vintage light bulbs, they're recreations of the early tungsten-filament light bulbs, known for the classic warm-yellow glow of their wiring.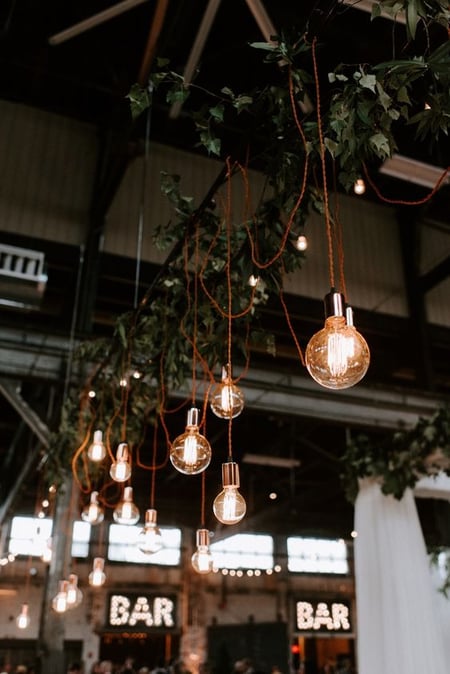 Image credit: Lindsay Hackney
With an exposed look and antique feel, these lightbulbs find themselves at home in any man cave. They go particularly well in bespoke lighting designs, mixing with reclaimed wood, burnished copper and metal piping with ease.
Look at this simple lamp design. Vintage, functional and simple. This kind of lamp suits most rooms and can be made fairly easily at home.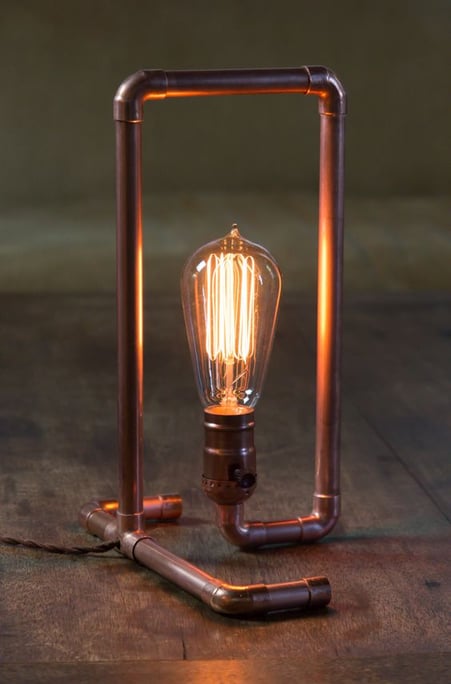 Image credit: ManMade DIY
We hope you've found a little inspiration in these rustic man cave ideas, but we realise the man cave is but one room of the house and there's a whole home left to redesign. If you're up for more inspiration and innovation, we have just the guide for you.
Take your home design to the next level with our inspirations guide
Once you've finished designing your man cave masterpiece, it's time for the rest of the house to get a makeover. Maybe you're looking to add narrative to your dining experience or a superior sense of sentimentality to your sunroom?
Whatever it happens to be, find design inspiration in our visual guide. From modern design to traditional aesthetics, unique features to functional ideas, you can explore room by room to get a little inspiration for your own home.
Let's begin with the inspiration - click the link below to get started.