Christmas Bedroom Inspiration: Don't Stop at the Door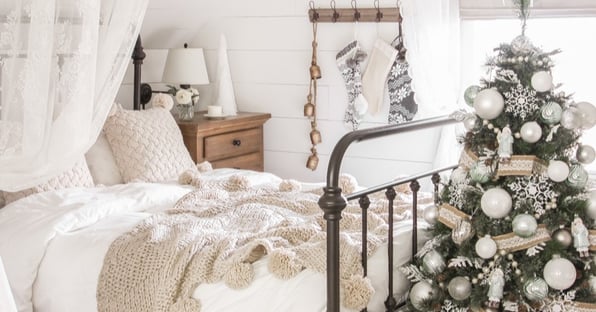 The fresh pine smell of Christmas trees. The warm scent of baking gingerbread. The taste of your first mince pie of the season. The sounds of a crackling log fire or an excited child's small hands ripping open wrapping paper on Christmas morning. There's something magical about Christmas.
Decorating for this time of year is special as it's one of the first ways most people get into the festive spirit. So, when it comes to Christmas decorating, why stop at the door? Take a look at our carefully curated Christmas bedroom inspirations and create your own winter wonderland in your bedroom this year.
Trending Colours
This year, lean into the classic deep greens and bright reds to create a quintessential Christmas combination. Think of rich greens like forest, basil and pine paired with touches of the popular festive red to invoke images of holly berries and Santa's iconic candy-apple red suit. Everything that exudes memories of Christmas past.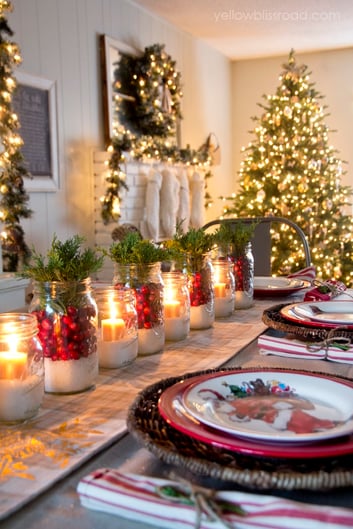 Photo by Kristin Maxwell
For a more minimalist Christmas, try natural textures in crisp whites and warm creams or cosy beiges and light greys. Accompany this with a statement touch of brightness in the form of icy blue, blush pink or cheerful red. These colours reflect a more modern and monochromatic approach to Christmas that still aims to retain the welcoming, homey and warm feelings this holiday season brings.
Combine these muted colours with minimal decor to allow the room and the decorations within to speak for itself. The aim is to avoid overcrowding the room with festive decorations in what's already an overwhelming and busy time of year for most.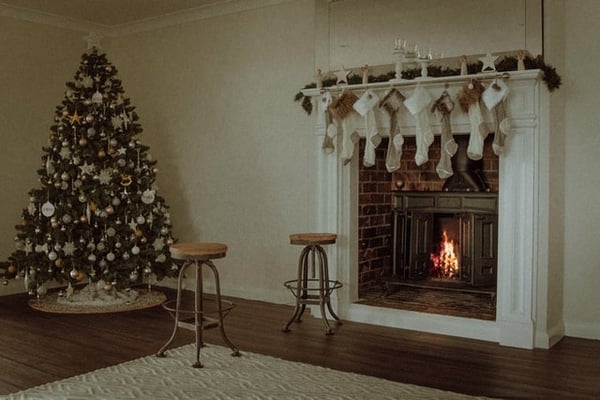 Photo by Kyle Head
Lights for a festive atmosphere
Christmas lights aren't just reserved for your tree or the exterior of your home. Choosing the right lighting in your bedroom to create a relaxing atmosphere is important all year round, but especially at Christmas, which is a busy time for many of us. Make use of festive string and curtain lights behind your bed or even over your windows. Try a warm white colour that isn't too bright and doesn't flash or pulse to set an inviting and calming tone.
If string lights aren't for you, try faux pillar candles in large floor lanterns. With their warm colour and gentle, realistic flickering, battery-powered candles are perfect for making any space feel festive and relaxing, all without the risk of real candles. Place them in large silver or gold metal lanterns for a soothing ambience that lightly mimics the colour and flickering of a small fireplace.
To make the lanterns themselves more seasonal, add foliage or bows to the handles or snowflakes window stickers to the glass panes.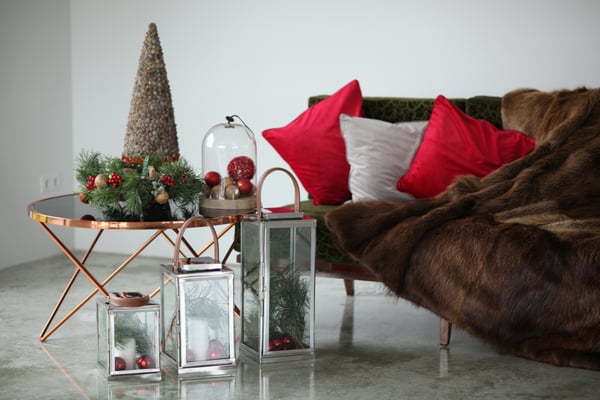 Photo by Marianna
Are You Hanging Up Your Stocking On Your Wall?
Stockings are a holiday decor staple. If you haven't hung yours over the fireplace already, have you tried them in your bedroom instead? Hang them on the wall, on the back of your door or along the footboard of your handmade, luxury four-poster bed.
If your stockings are already up or you want a modern twist on the traditional stocking premise, why not try a gift garland? Beautifully crafted with small gift sacks that are tied along a ribbon or twine, your gift garland could be a 12 days of Christmas countdown or a direct replacement for stockings stuffed with goodies and Christmas morning treats.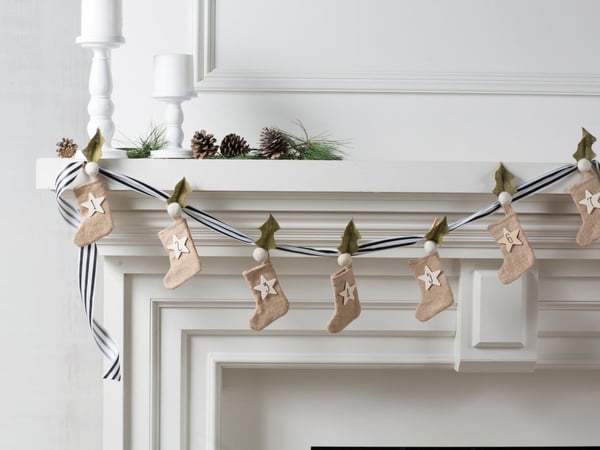 Photo by Oriental Trading
Hang your garland along a wall, shelf, fireplace or even drape it from the posts of your bed for easy reach. Meaning you won't need to leave the cosy embrace of your covers come Christmas morning to open your first present.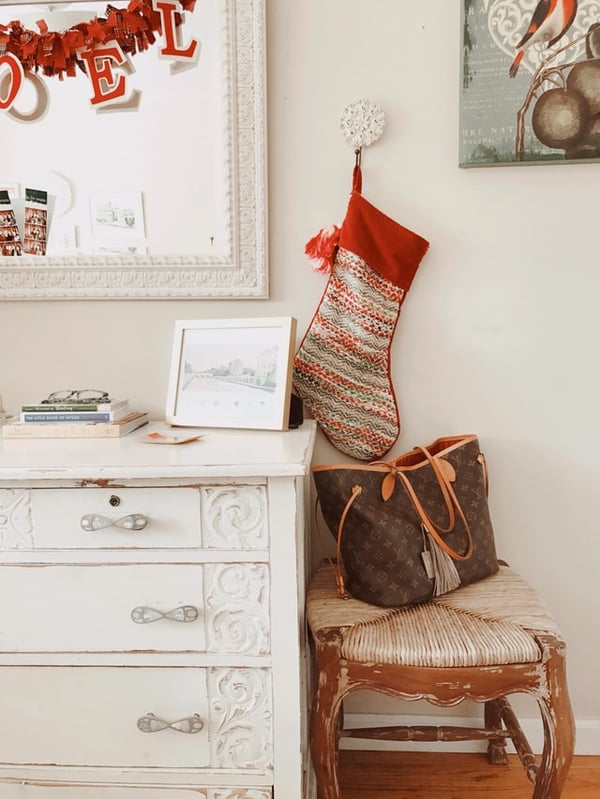 Photo by Lauren Haden
Cosy matching bedding
Beds are where Christmas truly starts. From reading Twas The Night Before Christmas to the children or grandchildren as they fall asleep on the 24th to being woken up at 6am on Christmas Day by their excitement, ready to see what Santa has left for them. A truly festive bedroom needs truly festive bedding to get you in the Christmas spirit.
There are endless options when it comes to seasonal bedsheets and sets, but there's no way to go wrong with traditional patterns. Match your colour choices to your existing bedroom decor - including your additional Yuletide accessories - and look for patterns that include antler, reindeer or snowflake motifs for a classic, timeless style. Traditionally festive, strong colours such as red, green and gold are good options to bring out a pop of colour too.
If you're looking for a cosier bedding ensemble for this colder time of year, throw out the fully-matching bedding and opt for a 'teddy fleece' duvet set. Use festive throw pillows and a patterned Christmas blanket in matching themed colours to make a functional yet festive bed that you'll never want to leave - even on Christmas morning.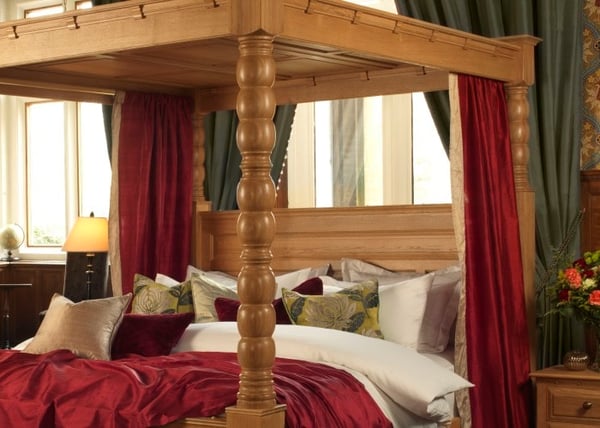 The traditional Christmas tree
Christmas trees in the bedroom have grown in popularity year on year. While there's usually no obligation to put presents under this purely decorative bedroom addition, a bedroom tree definitely brings a festive feel to the room.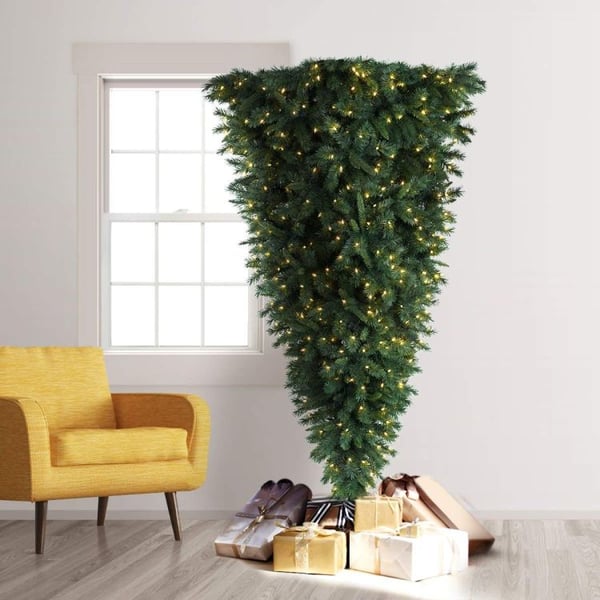 Photo by Treetopia
If you're considering a bedroom Christmas tree, why not opt for a less traditional take on the tree? Although the excitement surrounding upside-down Christmas trees has quietened, they're still very popular and this trend refuses to fade into the background.
Whether you're looking to literally or metaphorically subvert the traditional Christmas tree for your holiday bedroom decor, there are plenty of new takes on Christmas trees for you such as suspended Christmas trees which are hung from the ceiling with no base at the bottom. These types of trees save precious floor space and can be suspended right-way-up or upside down, giving you plenty of choice and opportunity to be creative.
Another top tree trend is using faux trees in non-natural colours, such as white, black or even pink. These colourful trees allow you to truly match your decor to your existing bedroom, right down to the last fake pine needle. When re-used annually, faux trees can last for decades and are also better for the environment, but you'll need to make sure you choose a colour you are committed to so you get the full eco-friendly benefits from these types of trees.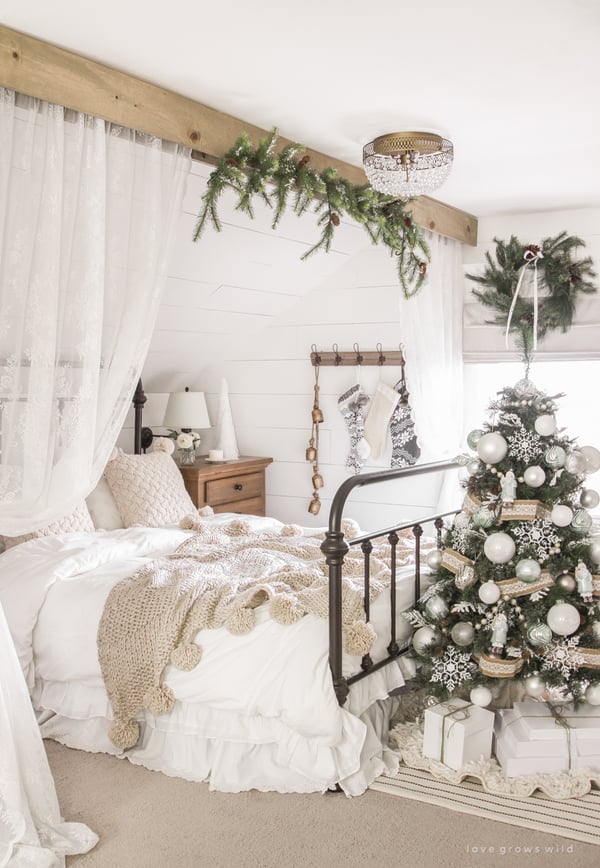 Photo by Love Grows Wild
Boughs of Holly
Potted plants, dried plants, faux plants, air plants, hanging plants - interior designers and decorators love using plant life, flowers and foliage to add a natural touch of colour and personality to a space. Many are finding themselves also drawn to festive foliage as a key component to their holiday decor. Beyond the beloved Christmas trees, holly wreaths and mistletoe, there are plenty of opportunities to use foliage in your Christmas decorations.
In the bedroom, for example, you could place some poinsettia or paperwhites in a planter or vase to spruce up your bedside tables or vanity area. Alternatively, drape swags of faux pine or a different kind of foliage along the edge of your shelves and surface tops, bordering them. For a tried-and-tested touch or tradition, place a wreath above your headboard or on your door.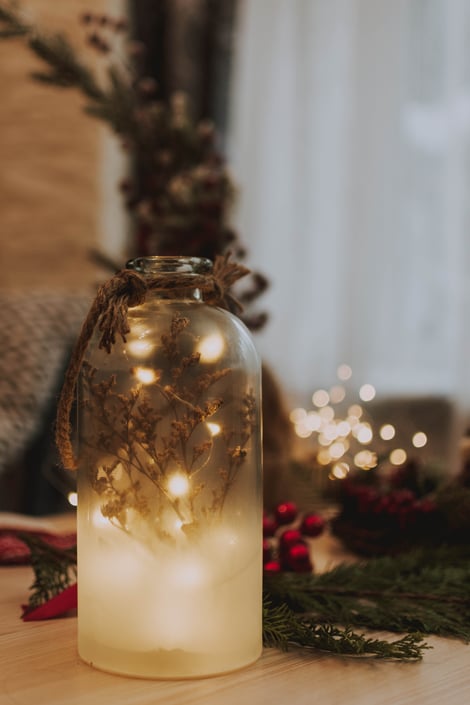 Photo by fotografierende
Deck the Halls: Finishing Touches
Many interior decorators and DIY enthusiasts will tell you the details matter. So, finish off your festive bedroom decor with some final touches and start enjoying your personal winter wonderland.
Add seasonally-scented cables and reed diffusers. Temporarily replace photographs with framed festive art prints or hanging signs. Adorn your shelves with small ornaments such as deer, snowy trees or a snowglobe and match your bedding - and even the rest of your family - with a Christmas nightwear set.
If you'd really like to go all out, transform your TV from its blank canvas to a Christmas scene with a looped scene DVD depicting a snowy landscape, a crackling log fire, the Northern Lights or another festive image of your choosing.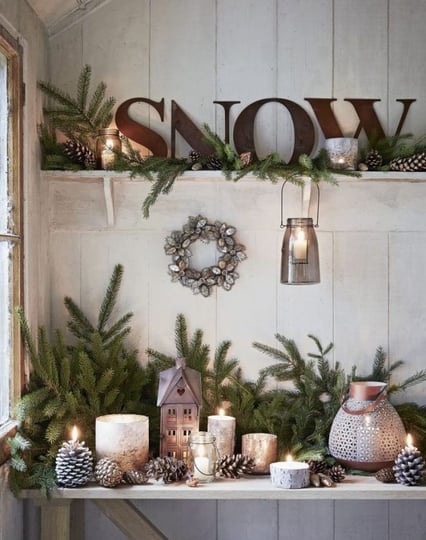 Photo by Craft Mart
Christmas is always an exciting time of the year and you should feel that festive spirit in every room in your home. But if you're looking to overhaul certain rooms or maybe undertake a big renovation project, where do you start? We have a guide that can help. Save valuable time by checking out our free downloadable design inspiration guide, here to help you fall back in love with every corner of your home.
Feeling Inspired? Creating a Beautiful Home Year-Round
Whether your dining room needs redecorating or you want to spruce up your bedroom space, finding home inspiration that suits your style doesn't need to be an impossible task. Our free guide provides inspiration that will help you create a beautiful and modern home that reflects who you are and is welcoming to your friends and family.
Click below to explore the endless possibilities presented in our free guide.