French Chateau Style Beds You'll Instantly Fall in Love With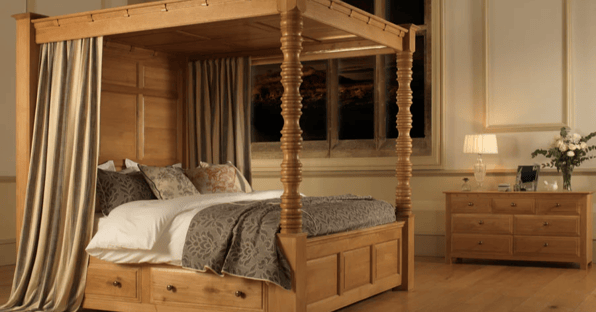 A glass of Sancerre supped delicately in the evening time; fondue shared over candlelight and the rolling hills of France, everlastingly beautiful through each changing season. A chateau, meaning 'castle', is a longstanding testament to the finer things in life, but its aesthetic and lifestyle aren't specially reserved for these places.
You too can channel a chateau atmosphere and a regal narrative at home with a French chateau-style bed, part of our range here at Revival Beds. Below, you'll see the most magnificent French chateau-style beds, redolent of a luxurious time that's very still much alive — and get an opportunity to shop them, all in the same window.
Stay tuned to the end and be graced with even more interior ideas, helping you create harmony throughout your entire home.
Creating Cosy Bliss With Sleigh Beds
Sleigh beds are created specifically with the French-inspired style in mind. While they channel the traditional feel of French chateau-style beds; deep wooden hues, organic and fluid lines, the feeling of something that helps you enter a winter wonderland in the French alps — they're also surprisingly contemporary.
Popular for their sleek and stylish design, sleigh beds are a flexible choice, with styling options available for all tastes. These types of beds find a home within, well, any home.
The Parisienne Sleigh Bed
The Parisienne sleigh bed is quietly bold. Inspired by 19th Century French style, the Parisienne displays a real 'sleigh' feel, with carved scrolling and top quality brass detailing. It's an incredibly refined style, mirroring the original style completely, but with a nod to the size and stature demands of more modern tastes.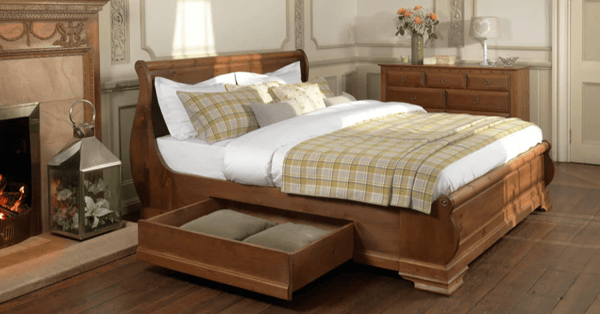 The most notable feature is how gentle this bed feels. Each curved piece of wood supports you through the night, with a low slung base to help you feel like you're sinking into pure comfort.
With heavily moulded 'ogee' feet, brass accompaniments and discreet under bed storage, you'll find authentic French aesthetics are captured with this stylish piece.
The Monaco Sleigh Bed
Monaco, the seat of Mediterranean luxury, is where this next bed finds its namesake and inspiration. With relaxing curves and a light feel, it channels the lapping blue bliss of the Mediterranean Sea at the height of summer. Like its namesake, this isn't a bed rushed with craftsmanship measured in expertise.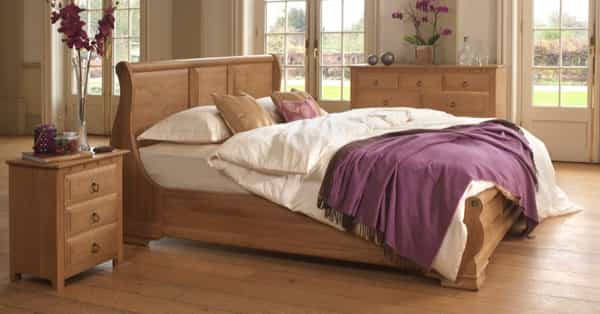 The motion of this bed is like the tide, leading you from three individual solid wood panels on the head and footboard to the single piece of hardwood used for the leg scrolls. With a unique spacing for the wooden slats, you'll experience genuine support throughout the night.
Many hours of work go into the Monaco Sleigh Bed and the finished product is truly sublime. It's a space where you can spend many hours enjoying sleep, a morning cafetière or a glass of wine after a long day.
The Camargue Sleigh Bed
The Camargue region in France is known for its natural beauty, from dramatic mountain areas to remote Mediterranean beaches. It's a place rooted in a love for the outdoors and all things organic. The Camargue sleigh bed, with its quintessential fluid lines and strong legs, is the very same.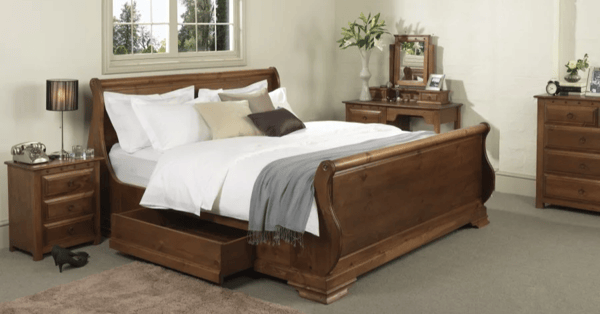 With the very finest materials, the Camargue sleigh bed embodies its name. The strength of those dramatic peaks are built into the bed itself and the flowing lines of the coast are represented in the smooth head and footboard. Untouched by the trends of modernism, this is a classically-French bed, one that's happy to define a space you can escape to.
Let this bed transport you to the chateaus of Camargue, the walled city of Aigues Mortes, the red tile roofs of Saintes Maries de la Mer and the 'wild west' of Europe's largest river delta. With this bed, the French lifestyle is captured in craftsmanship.
Shop Beds in This Section
Does the chic style of The Parisienne speak to you? Can you hear the soft whisper of the Mediterranean sea with The Monaco Sleigh Bed calling your name? Or, perhaps your heart is with the oh-so-classic Camargue. Whichever bed you're drawn to, shop them with ease below.
Capturing Dynastic Regality With a Four-Poster Bed
Four-poster beds, the royalty of the sleeping world. Crafted with absolute expertise and attention to detail, a four-poster bed is a statement of heraldry, turning a room from a 'place' into a 'palace'.
The Traditional Balmoral Four Poster
The traditional Balmoral, though inspired by the stunning Scottish city of Edinburgh, is apt for a French chateau environment thanks to its stately feel and option for an enclosed canopy. How very privée.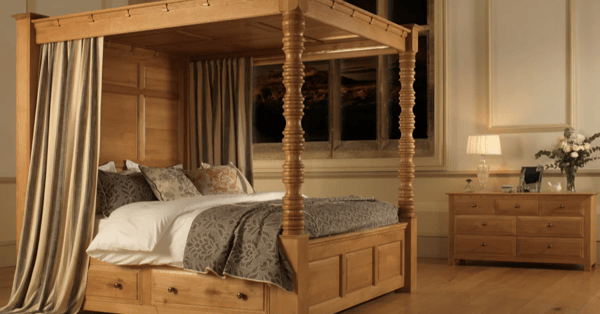 The biggest of our beds, The Balmoral makes an immediate impact with its full headboard and authentic box shape. Bigger is better with this style, meaning you can ask for a super kingsize or bigger to create a truly bespoke, chateau-style bed. After all, there are no limits to real French regality.
Pair this bed with floaty voile drapes to create an atmosphere worthy of French design's influential and historical narrative, where you can imagine yourself living the lordly life in the Centre-Val de Loire region.
The Quebec Pencil bed
The French-inspired styles stretch across the four corners of the globe. Our Quebec Pencil Bed is inspired by that far-reaching influence, with a classic chateau-style, Quebecois simplicity and an inherently Gallic-inspired twist.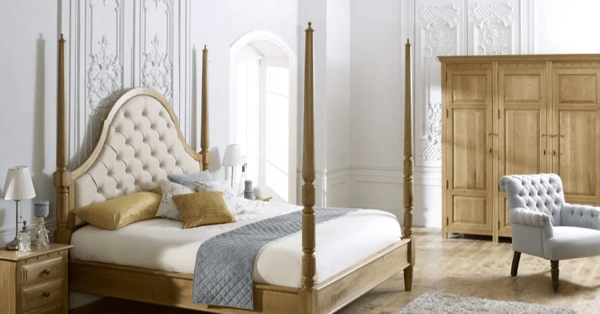 The Quebec Pencil bed differs from traditional four-posters as it does away with a canopy, leaving clean and elegant posts. It's truly a bed that embodies the feel of a historic chateau while remaining contemporary in its minimalism.
The bed displays an exquisitely shaped and buttoned leather headboard that stands proud above you as you sleep. It's also a bed style that's highly customisable, taking on uniquely chosen finishes with grace.
The Vermont Four Poster Bed
Vermont, from the French, Verd Mont, meaning 'Green Mountain'; a coastal gem in New England. The French chateau-style bed that bears its name is inspired by this place, with a minimalist design that creates a blissful and practical sanctuary. While it's true to its New England namesake, the style is perfect for those looking to create the wooden interior of chateaus or chalets.
With clean, understated lines and immaculate panelling, this bed style is the lord of subtlety. It's a delicate balance of new modernism and classic tradition.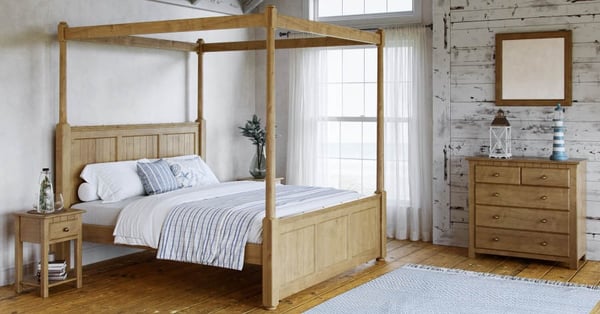 If you want to bridge classic and contemporary, choosing solid oak in the Vermont style will allow you to instantly imagine yourself in the French Alps, comfortable and cosy as the snow falls outside.
Pair this bed with lightweight drapes and other pieces of hardwood furniture to capture the entire narrative of the long-standing chateau — a narrative that stands the test of time.
Shop Beds in This Section
Whether your taste lies in the more traditional Balmoral style, the more contemporary Quebec or somewhere in between, such as The Vermont offers, chateau-style beds can slot seamlessly into your interior plans. Today, chalets and chateaus aren't all dark woods and traditional tones. You can enjoy French luxury on your terms.
The Practicality of a French Chateau-Style Bed
We draw most of our inspiration from chateau-style beds as their elegance also makes for well-rounded pieces of furniture that have longevity at their core. As chateau-style beds are traditionally made from solid wood and sport a slatted base, they tend to stand the test of time, as well as remain timeless in terms of style.
Unlike with more superfluous interior trends, you can be confident that Parisian chic and French grandeur will remain as iconic as ever.
So, are chateau-style beds a good investment? We think so — especially if they're handcrafted and ethically sourced.
While representing the beauty and grace of a time that can be difficult to capture within modern surroundings, the beds we have available are also undeniably durable and are made to last a lifetime.
We build them from the finest, sustainably-sourced wood and hand assemble them, so you don't have to replace your bed every few years. These robust and long-lasting beds, created in a range of natural wood finishes, are a testament to fine craftsmanship.
With under bed storage available and an extensive choice of finishes (ranging from solid Oak or Quebec Yellow and Scandinavian Redwood pine), these beds will prove to be practical and fit your personal style.
Design your bed to complement your colour scheme or match the finish of other pieces of solid wood furniture we handcraft here at Revival Beds. From bedside cabinets to wardrobes and even mirrors, we can help you create and customise each aspect of your bedroom and its furniture to your exact style and specifications.
A French chateau-style bed is just one addition to your household that creates a truly splendid environment. For more design inspiration and guidance, visit the pages of our design inspiration handbook.
Design Inspirations For The Rest of Your Household
From the bedroom to the pantry, the sunroom to the dining room and further throughout all corners of the home, there are countless design ideas to consider, test and create.
Inside our 'Inspirations For The Home' guide, you'll find a wide variety of design ideas, from contemporary to classical and everything in between. Start making your house a home today, simply by clicking the link below.