Oak vs. Pine: Which Premium Bed Material Suits You Best?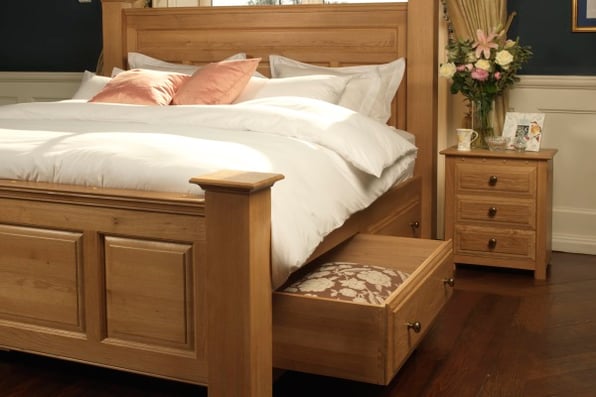 Oak and pine are two of the most popular upholstery furniture choices that people choose for their beds. But why? In short, wooden beds are elegant and timeless. Plus, they're an investment that'll last you a lifetime. We're outlining the key differences between both oak and pine, and which option is best for your investment.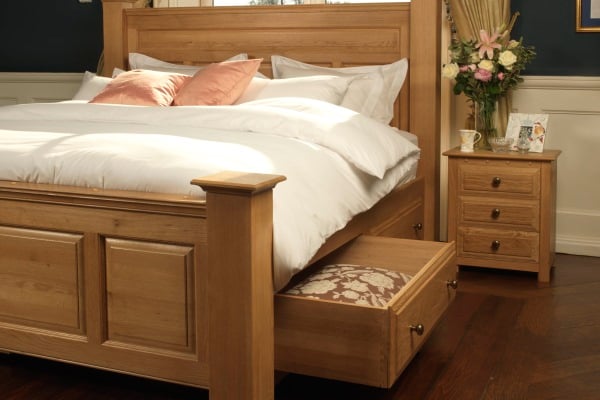 We'll cover:
The Benefits of an Oak Wood Bed Frame
More Durable Than Pine
Oak is considered to be a more durable wood than pine, which means that it's generally longer lasting and is less prone to wear and tear. If you look after it well, it'll last you a lifetime.
This is the main difference between oak and pine. Oak is stronger and has great wear-resistance.
Elegant and Classy Bedroom Addition
In addition to durability, an oak bed frame also has the capability to be an effortless centrepiece of any bedroom. A grand bed frame is the first focus of somebody upon entrance and sets the tone for the style of the whole room.
Oak is a beautiful finish for a bed that'll ooze class throughout the room.
The sheer beauty of an oak bed frame is something to admire on its own. The natural grains of wood gives the bed its own characteristics which definitely can't be ignored.
An oak bed frame makes a statement and it's a style that'll never go out of fashion. Whether it's a regal four poster fit for the monarchy or a sleigh bed that's so welcoming it's impossible to ignore its calls to climb into bed, oak wood beds are finished in a stunning sand colour that only emphasises their quality.
Oak also excels in the elegance department thanks to medullary rays. These mystery marks are a naturally occurring finish which will always add a rich character and a touch of beauty to any oak beds and furniture.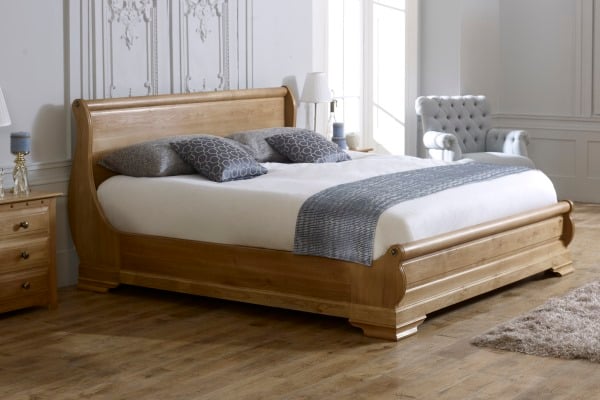 Superior Standard of Quality
Another benefit of an oak bed frame is that it isn't just an ornament. Oak bed frames are something any owner should be proud of. A classic oak bed frame can have many connotations to a prince or princess' bed, which shows the level of quality and how well made they are.
An oak bed doesn't need much maintenance. Once you've purchased a frame and seen how it looks within your chosen room, we're confident that you'll love it. An oak frame is a sense of value that you don't get with other bed frames. The comfort and warmth of a quality mattress sitting on top of an oak frame is second to none.
Plus, at Revival Beds, we wax and hand polish the oak wood too. This highlights the attention to detail and quality too.
The Benefits of a Pine Wood Bed Frame
Pine bed frames were very fashionable within the last decade. However, are they still on trend? A lot of businesses still use pine wood due to its affordability. Here are the main benefits of using pine wood for your bed frames:
Pine wood is often used for painted furniture. It's easy to put your own spin on things and refresh any outdated pieces of furniture with a fresh coat of paint. Painting a piece of furniture can give it a completely new look and feel.
Pine wood is classed as a soft wood. Although it's still long lasting and robust, it tends to not be as sturdy as oak.
Pine wood is usually cheaper than oak. And as the cost is usually the main factor for a lot of people, some tend to opt for pine wood. But, if you want true value for money and a night's sleep like a king, every night, we advise investing in an oak frame.
Recently, pine wood furniture has become very popular, especially for children's playrooms and offices. It's a massively versatile material that people can put their own spin on.
Pine wood is also more sustainable and better for the environment. This is because it grows faster so it's much quicker to replenish tree stocks.
With pine, you can also change the look and feel simply by applying different wax finishes. So, if you're chasing an antique feel or even something a little more contemporary, you can achieve it with pine wood.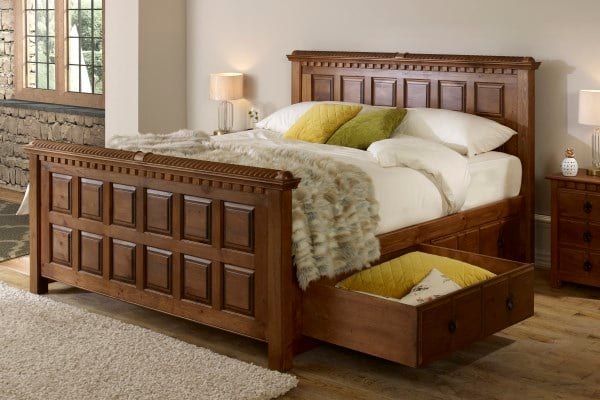 Which is the Better Option?
Judging from the discussion above, it's safe to say that oak wooden bed frames are the better option, but that doesn't mean pine beds aren't a worthwhile investment.
Oak is considered to be a lot harder than pine wood, therefore the bed frames will be a lot more durable, require minimal maintenance and you're unlikely to have to replace your frame on a regular basis - if at all.
The advantage of investing in a pine bed with Revival Beds is that despite it not being as luxurious as oak, our dedicated craftsmen can still make your pine bed look more luxurious by applying different finishes.
That shouldn't put you off pine entirely, however, as all of our beds - including pine - are made from much better quality than oak from other places. This is down to the grade of the timbers and the components we use.
If you chose a solid wood bed created by the right craftspeople and the right bed manufacturer, you might even be able to pass down your oak masterpiece to your future generations.
The best part? Whether you're deciding between an oak or a pine bed, you get the same 10-year guarantee either way.
Enhance your Home with Revival Beds
There's no denying it - an oak bed frame exudes class and makes a grand statement as the centrepiece to any bedroom. But why stop at updating your bedroom? Our guide below takes you through every room in a house, showcasing beautiful pieces to inspire your own home decor.
Whether you're hoping to transform your bathroom into a beautiful oasis or create a more inviting atmosphere in your living room, our guide showcases the most stunning interior design inspirations.