Make the Most of Your Space With These Practical Boot Room Ideas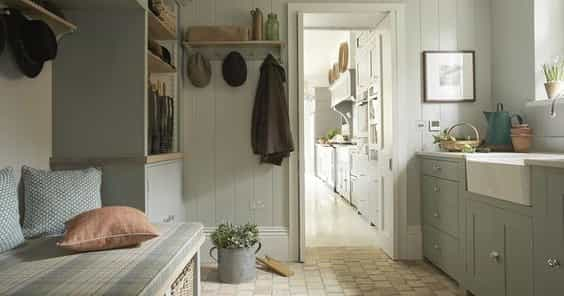 Boot rooms are key additions to any purposeful and well-designed home. They're a mix of an entrance hall, porch, utility room and cloakroom - representing an all-in-one functional space that marries smart design with lovely visual appeal.
They fulfil a real need, acting as the buffer between the outside and the inside and are perfect storage spaces for outdoor paraphernalia. Here are our favourite practical boot room ideas which do a wonderful job of combining practicality with style.
Efficient Storage Space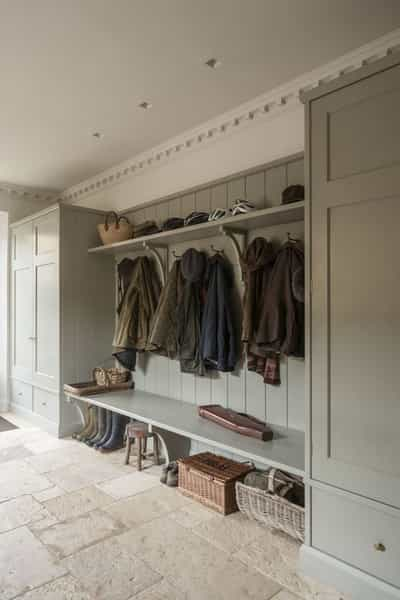 Image Credit
Every family household has a surplus of clothing, gear and outerwear. Countless summer and winter coats - as well as multiple pairs of shoes that suit different needs - they all need a place to go. This means making the most of storage space is a must; essential additions that can turn clutter into clarity.
Durable, built-in cupboards with multiple shelves and drawers can help to maximise the space you have on hand. They're also easy to organise as you can assign a level to each family member. Shelving can even be areas where you store dry firewood if you have a fireplace. Not only is this practical but it also looks unique.
Seating, in the form of a padded hardwood linen chest, can be perfect for those busy mornings when getting the kids' shoes and coats on before school for when they come to visit. They're utilitarian pieces that add warmth and comfort to practical spaces.
Hard-Wearing Flooring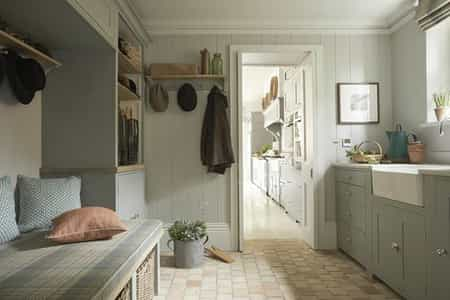 Image Credit
The boot room is the connecting space between the inside and the outside which means it's one of the most-used spaces in your home. A robust stone flooring is a perfect foundation for your practical boot room.
Ranging in many colours, stone flooring is a natural, durable and pleasant addition to your boot room which can be tailored to match your specific colour scheme. Choose large flags with intricate marbling or for a more unique touch, go with stone bricks of complementary colours.
Including Waterworks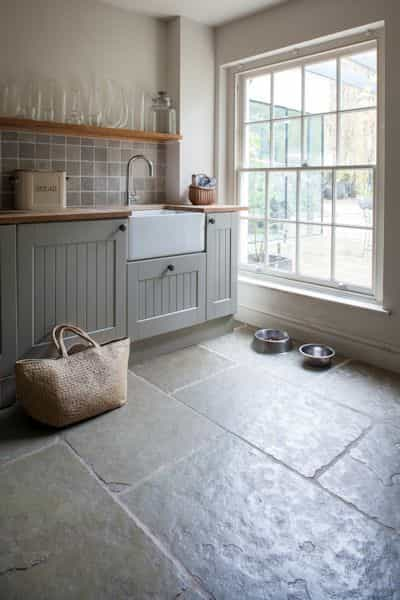 Image Credit
A fantastic, practical addition to boot rooms is a deep farmhouse sink. Perfect for washing mud off boots or wellies, as well as giving your pooch the bath they may need after a long walk.
When it comes to boot rooms, the deeper and bigger the sink, the better. Remember to include a handheld shower cord for added manoeuvrability.
Bespoke Coat Racks and Artisan Shelving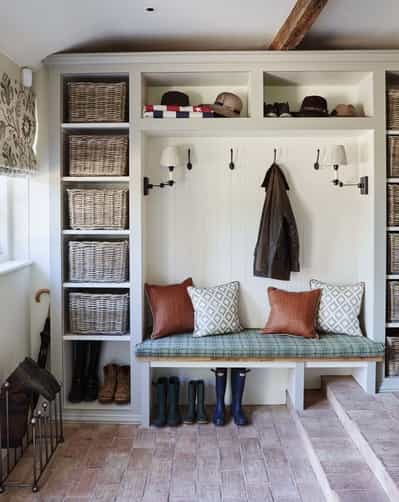 Image Credit
Shelving is a fantastic choice for any boot room where you can store clothing or coats that aren't in season, blankets or other odds and ends. This can be done artisanally with wood chosen to match the colour scheme or furniture throughout your home.
Don't forget hanging space for coats, hats and scarves either. Here, you can make use of interesting design ideas, such as brass piping fashioned into hooks for a feel that sits somewhere between bohemian and industrial. For a more natural look, you can fashion a coat rack out of driftwood - a visually appealing and environmentally friendly choice.
Sliding Doors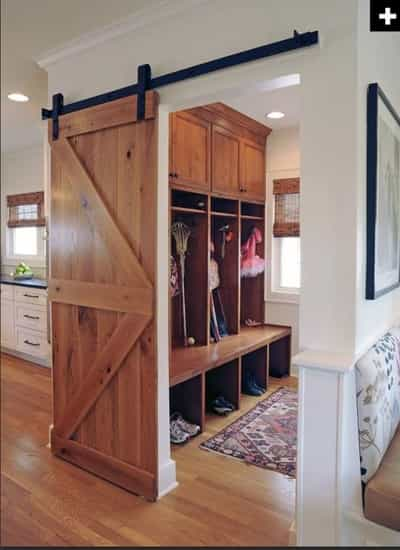 Image Credit
If you have a boot room that airs on the smaller side, don't worry. You can still make a lot of use of the space - you just have to be more creative with your design choices. One way of making more space is by incorporating a sliding door.
This helps to relieve the smaller room of a traditional door's arc as it opens, meaning you and your family will have more space to get ready.
Splashes of Colour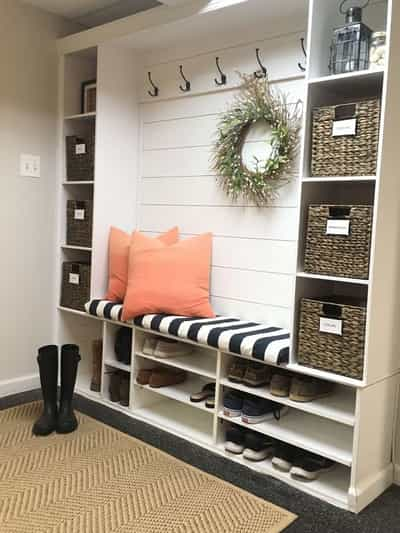 Image Credit
Boot rooms aren't purely functional, they can also be pretty. We recommend having an extra focus on the colour schemes and material use so your boot room transforms into a space you enjoy.

After all, the boot room is the first thing you see coming in and the last thing you experience on your way out. It should help you prepare for your busy day or welcome you back for relaxation. Create a minimal, non-busy space with white walls or invite Mediterranean chic by choosing a warm-coloured stone that captures sunshine beautifully.
Keeping it Simple

Image Credit
There's actually no need to have a boot room to still capture that boot room practicality. If your front or back door opens immediately into a hallway, create a boot room through bespoke furniture.
Combine hardwood shelving with chest and seating to create a moveable boot room that can be built and positioned according to your needs and specifications. Include wall shelves, wicker baskets and a hanging rack to create a small and brilliantly practical space with minimal effort.
To make the most of space, why not consider utilising your room's corners? For example, here's a bespoke L-shaped open wardrobe we created for a cloakroom, using the customer's specifications. It turned out beautifully, turning a once empty space into something incredibly functional.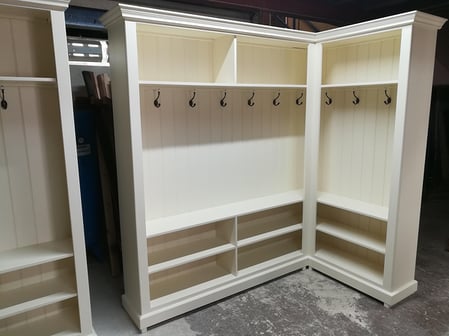 Biophilic Bliss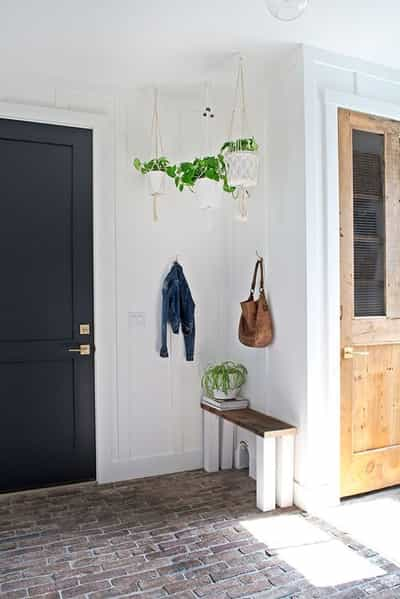 Image Credit
Try a green theme with biophilic additions such as hanging plants like golden pothos, a plant that grows well in any conditions and is incredibly hardy. According to colour theory, green helps us feel relaxed and more productive, meaning you'll have a calming and natural room to enter the outside world from and forget about your worries instantly.
The boot room is an important part of the household, but when it comes to design, there's the whole house to consider. For more design inspiration for your abode, download our in-depth guide, full of exciting, luxurious and practical additions for any household.
Design Inspiration for the Whole Household
Featuring detailed descriptions, ideas and images, you can use our guide to explore wonderfully unique concepts that can create a more liveable and more beautiful home for you and your family.
From your living room to your bedroom and beyond, we've outlined a host of home enhancements that will invoke the envy of all. Just click the banner below for your copy and get inspired.