On average, a person will spend 33 years of their life in bed. To make sure those years are as comfortable and relaxing as possible, you need to invest in the right bed. It all starts with the base of the bed. There are different types of bed bases though, so it's worth knowing all the details to ensure you make the right choice.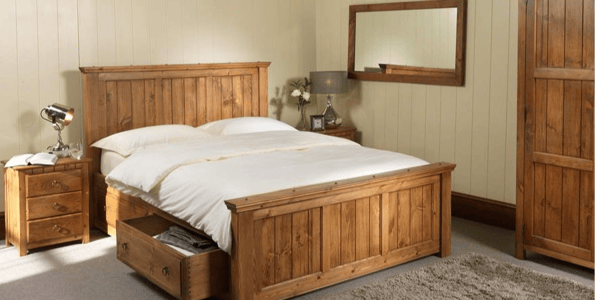 The Different Kinds of Bed Bases
Bed bases are probably something new to you and you might not even have realised that there's a choice to make. Before you commit to a base you aren't happy with, here's everything you need to know.
Divan
The UK's most popular choice of bed base is the divan. It typically consists of two different parts - a wooden base that sits on the floor and a mattress that sits on top of the base. The reason they're so popular is that divans are versatile in size and are usually designed with in-built storage.
Two or four drawer options, continental-style drawers and sliders are all possible with divan beds. Perfect for keeping your bedroom organised and clutter-free.
Divans usually fit into three different categories so keep that in mind when you see it written anywhere. You'll need to double check to see if it's a Sprung Edge, Firm Edge or Platform Top divan.
Sprung Edge - durable but luxurious, the Sprung Edge divans are created with open coil or pocket spring systems. Basically, this means they're built to last and designed to provide added support across the whole mattress.
Platform Top - offers firm support and is often required for some mattresses. Can be the most cost-effective option if you have a budget you need to stick to.
Firm Edge - dropping in popularity. Firm Edge divans are created with a rigid edge and a sprung centre. Now they're only really used as the base for single beds.
Bedsteads
Bedsteads, or just bed frames as they're sometimes referred, are always a popular choice because of their look and aesthetic. You can find them available in an array of different styles, perfect if you're sticking to a certain theme in your bedroom.
Decide between traditional favourites and the latest modern offerings to find the bed base that suits your style. Bedsteads are manufactured using wood, metal or plastic so there's something to suit everyone.
Although you'll be influenced heavily by the design, make sure to always keep mattress support in mind.
The last thing you want is to choose your dream bed base, only to find it doesn't support the mattress you want to have. Have all of the important room, bed and mattress measurements to hand when browsing so there's no chance of being disappointed.
Adjustable Bed Bases
These bed bases are growing in popularity thanks to the added functions they offer. More of us are looking to watch TV, eat and work in bed, so we need beds that'll manage that. The flexible upholstered sections or wooden slats allow you to adjust each section to suit whatever you're doing.
For example, with an adjustable bed, you're able to raise the head and neck to work comfortably.
They're also popular among people who have certain medical conditions. Being able to adjust the bed can make it easier to get in and out - perfect if you're suffering from joint pain. Adjustable bed bases give you the freedom to sleep in a way that suits you.
Guest Beds
If you regularly have guests over or the kids have sleepovers, then you might want to look for a guest bed. These bases have beds that fold out, offering someone a place to sleep without taking up any extra room.
They're flexible and are perfect for utilising space in small bedrooms. Like guest beds, bunk beds are also a practical choice if you're short on space.
Slatted
Usually used along with bedsteads, slatted bases are flexible and allow you to have the bed as firm or as soft as you want. You can actually adjust the tension of some slats to suit your sleeping requirements.
Keep in mind that the bigger the gap between the slats, the more general wear and tear you can expect to have on your mattress.
Again, it's important to keep all the important measurements in mind when browsing so that you don't end up with bases and mattresses that aren't compatible.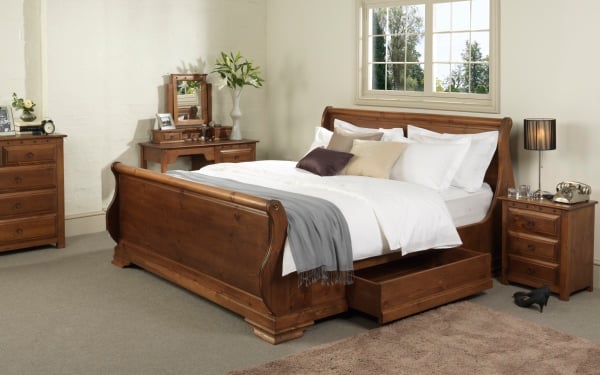 Download our Brochure to Find Your Perfect Bed
Revival Beds are on hand to help you find the perfect bed. Whether it's a traditional classic or a stunning four poster bed, we have luxurious models to suit any style.
For a closer look at our range of wooden sleigh beds, traditional beds and New England style beds, make sure to download our brochure today.
Start the search for your dream bed today by downloading our free brochure using the link below.