Sleigh Beds for the Bigger Bedroom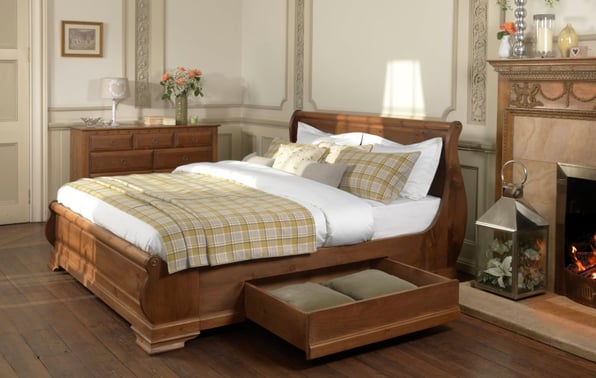 How To Incorporate A Sleigh Bed & Furniture Into A Bigger Bedroom
Standard furniture risks looking lost in a room with high ceilings and wide walls, and packing in extra pieces to fill the gaps will create a cluttered appearance that spoils the aesthetics of the room. Fortunately, we have a range of furniture designed especially to suit the bigger bedroom…
An obvious must-have piece for your bedroom is a bed – after all, it's where you spend the majority of your time! In a large room, it's great to be able to make a statement with your choice of bed, and choose something that can become a centrepiece and expression of your style and taste. Whether you opt for a stand-out headboard, an imposing four-poster or another type of bed that really grabs attention, size is everything.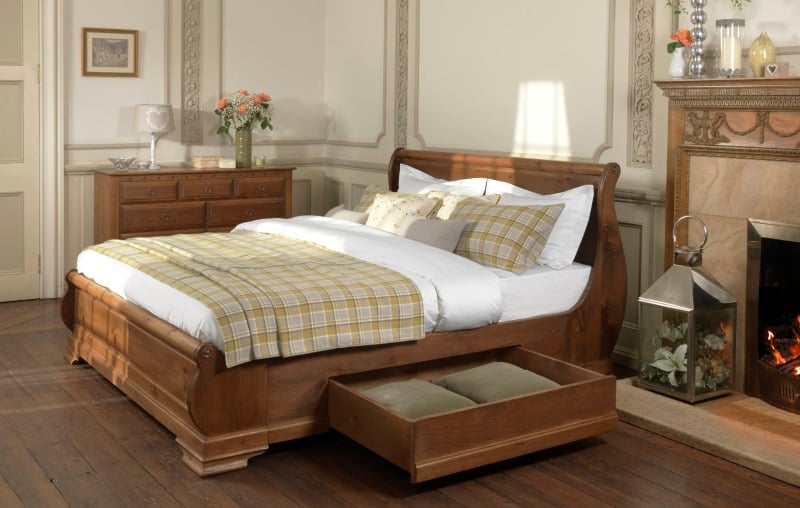 Sleigh Beds Are Impressive Yet Elegant
At Revival Beds, one of our most popular bed styles for customers with large rooms is the sleigh bed. These majestic beds are given their name due to their resemblance to a sleigh, with both a headboard and footboard incorporated into the frame itself. The graceful and elegant curves of the frame and the stunning hand-carved wood keeps our wooden sleigh beds true to the original French style: strong, robust and yet beautiful.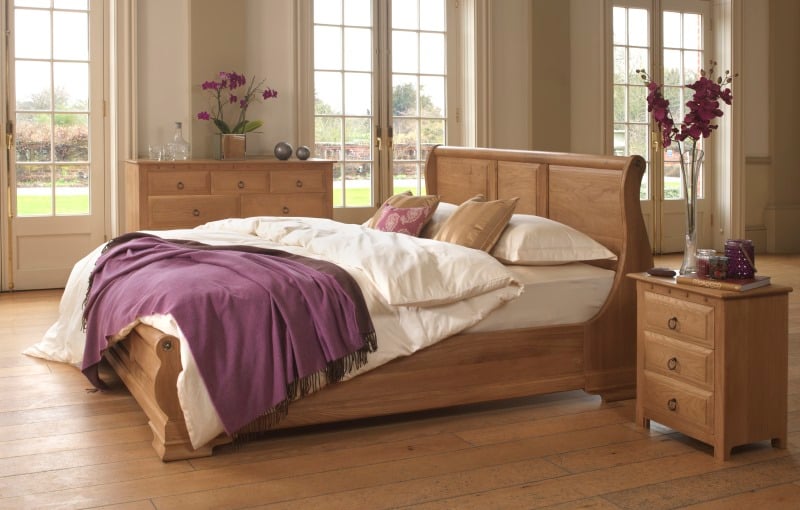 Like all of our beds, Revival Sleigh Beds are made to order by our team of skilled craftsmen. They are available in a range of hand-painted and natural wood finishes, and come in a number of standard sizes including Single, Double, Queen, King and Super King sized. We also make 7ft Emperor and 8ft Caesar sized beds, and if even that isn't large enough for your needs, we can make any of our bed styles to your bespoke measurements. Our customers love being able to choose any of our stunning bed frames in made-to-measure sizes, with custom made mattresses and bed linen to match.
Timeless Style Adds Glamour To Large Bedrooms
Our selection of solid wooden sleigh beds has been painstakingly designed to provide the perfect balance of comfort, style and practicality. With an under bed storage option available for each style, you can hide your bedroom clutter and create a clean, serene space to relax and rest. The large headboard and footboard make for a cosy feel, and with our extensive finish options, you can choose whether your bed stands out or blends in with your décor, depending on your personal taste. Whether you opt for our 19th century inspired Parisienne or the simplicity of the Connecticut, your beautiful sleigh bed can take pride of place, whatever the size of your bedroom.
Download Your Free Brochure
You'll find more information about our collection of handcrafted beds, as well as details on bed sizes, finishes and our free delivery and installation service.