How to Design Your Own Hotel Inspired Bedroom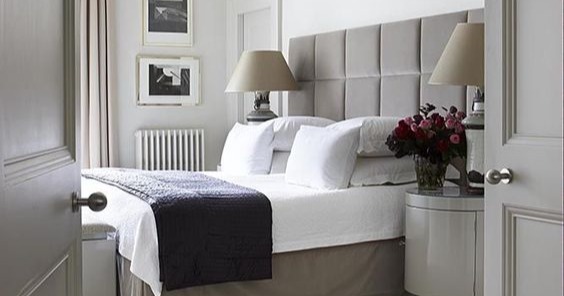 Whether it's the soft lighting, sumptuous overstuffed pillows or fluffy robes you never want to take over, everybody loves the indulgent moment of sinking into a hotel bedroom. So, it's no wonder many are looking to achieve a hotel-inspired bedroom of their own — one that makes it difficult to leave in the morning and calls you to bed at night.
If you want to design yours from scratch, we asked 11 interior experts for their tips on creating hotel-inspired bedrooms to inspire you. From hanging original art so your bedroom looks the part to creating a signature scent so it also smells the part, here's what they said.
1. Minimalist Design
"Most hotels are sleek, modern and minimalistic with little clutter and striking designs. If you want to recreate the look and feel of a hotel in your home, then your bedroom should be the same. Have as much enclosed storage as possible to minimise clutter and use bold art and bedding to create a simple but stylish bedroom."
Richard Petrie, Thomas Sanderson
2. Unique Art
"We are a big proponent of collecting art — whatever your budget. The most dynamic pieces in hospitality are those that create an element of surprise, intrigue or excitement. For your own residence, go ahead and curate your collection — you don't have to put it all on display. Move the pieces from room to room after a few months or pair something together in an unexpected grouping. We are currently in love with Angela Chrusciaki Blehm's playful pieces that bring instant joy and — a lot of colour — to every room."
Andrea DeRosa, Avenue Interior Design
3. Five-Star Sheets
"Spruce up your bed. Indulge yourself and add comfy sheets. Hotel rooms tend to go all out on their linens, picking out the very best pillowcases, duvets, comforters and sheets. Recreate this by picking a set with a 200-300 thread count in a material that you find comfortable. Add down pillows and invest in a high-quality mattress to ensure that you have a good night's sleep."
James Kalim, Only Silent
4. Calm Colours
"To achieve the look and feel of a hotel bedroom, focus on purchasing the highest quality items that you can afford. This doesn't mean everything has to be the highest possible quality, just the key elements such as the sheets, the bed and the comforter. Having these items be super luxurious and comfortable will give your room that hotel feel, especially if you stick with a white or light tone colour palette."
Alex Czarnecki, Cottage
5. Striking Statements
"Get inspired on Pinterest, invest in a quality bed and mattress and remember — less is more. Let one piece dominate, let the others be in harmony with the statement piece. Use plush, soft materials and warm light for your lighting installations."
Bryan Stoddard, Homewares Insider
6. Dual Purpose
"Placing living room furniture in your bedroom, whether it's a sofa, chairs or even a sectional, is highly desired. It gives the master bedroom a dual purpose for unwinding, as well as rest."
Anne Mueller, Briar Design
7. Signature Scents
"Top luxury hotels use scent to create a memorable ambience in the lobby and rooms. The Westin uses white tea and fig as its signature scent for a light and refreshing feel. Another well-known hotel brand uses a delicate blend of roses and tobacco to give a sense of hominess. Make your bedroom feel like a hotel room by using scents like white tea, vanilla, cedar, green tea, sweet grass and citrus or find out the scent of your favourite place to stay and recreate it."
Andra DelMonico, Trendey
8. Beautiful Beds
"You can achieve a luxe, hotel bedroom look by focusing on your bed. First of all, focus on including a striking headboard. Otherwise, the bed looks temporary and lonely. Secondly, dress your bed in neutral colours. Finally, add some layers to glam it up — a quilt for cooler weather, pillow shams, a decorative pillow and a throw across the end of the bed."
Pamela O'Brien, Pamela Hope Designs
9. All the Amenities
"Hotel-inspired bedrooms should have all the amenities of a luxury overnight stay; fluffy bathrobes, slippers, toiletry kits, ironing supplies — even a chocolate on the pillow. Little touches like this make your space feel staged for action, whether you need to prepare your shirt for work in the morning or unwind on the weekend."
Lindsey Grubbs, Iron in a Bottle
10. Seek Separation
"I love the idea of a chaise lounge in the bedroom — specifically close to the bed. It's far more comfortable to read on that than sitting on the bed and it creates a separation between sleep and wind-down time. Also, I suggest adding another rug under the chaise and making it its own vignette with a floor lamp."
Marisa Molinaro, Marisa Molinaro
11. Finishing Touches
"Much of what makes a hotel bedroom is its thoughtful finishing touches. Think remote controls for effortless shade and temperature control, a full-length mirror for its function and ability to open up a space, an integrated fridge for added convenience and a reading light that never disturbs your bed partner."
Vicente Wolf, Vicente Wolf Designs
These quick tips will help you to transform a tired space into a luxury sleep stay. Yet, when designing your own hotel inspired bedroom from scratch, you'll need to go back to basics.
Find the perfect furniture for your hotel-inspired bedroom
Interiors are guided by their furniture, allowing them to dictate which colours, style, layout and accessories will work best within a space. Naturally, deciding on your perfect bedroom range comes before anything else.
Browse our Collections Brochure that's overflowing with interior inspiration and luxury, handcrafted wooden furniture that's built to last a lifetime. From four poster beds to ottomans, chest of drawers to mirrors, we have everything to make a master suite seem like it's sprung from The Ritz, Claridge's or even New York's iconic Plaza.
Click the link below to download your copy and start transforming your home today.