4 Fundamental Styles of Traditional Dining Room Decor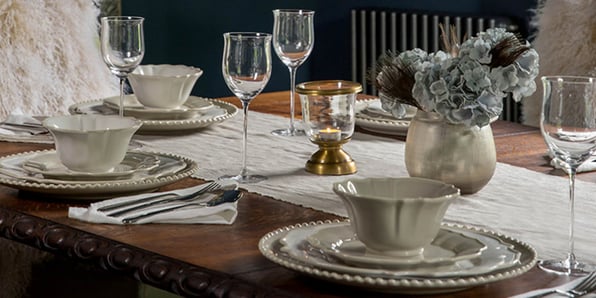 'Food tastes better when you eat it with your family' is more than just a saying: studies show that it's true. With family meals being so important, creating a dining room you can enjoy and be proud of is a must for many homeowners. If you want to create the perfect area in your home where you can enjoy good food, relax and engage in good conversation across the table, we have the traditional dining room decor inspiration to help.
1. Country Cottage
What could be cosier and more homely than a quaint, cottage-inspired farmhouse chic dining room? Evoking memories of traditional family mealtimes defined by real home cooking, the country cottage themed dining room is the perfect traditional style for nostalgic homeowners.
Image by Marc Wilson
Revive and refresh this dining room design style and inject your personality by incorporating statement colours that reflect you. Although softer colours such as lavender, yellow and periwinkle fit well with this traditional dining room style, don't be afraid of bolder colours too.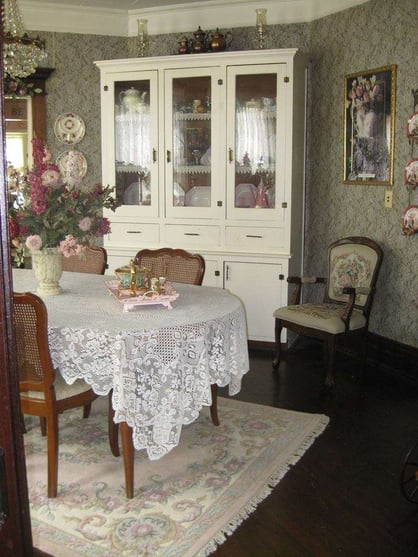 Image via Fairynests
Vintage lace tablecloths, wooden cabinetry and countertops, ornate plates on display, the presence of flowers featuring in vases, the detailed wallpaper and decor designs are staples of this warm, welcoming style.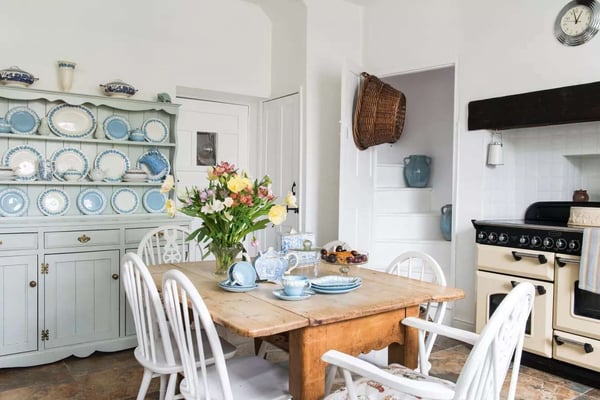 Image by Colin Poole
The country cottage style epitomises traditional English decor and is perfect for multi-functional spaces of all sizes. So, whether you're dining space is its own room with high ceilings and a 12-seater dining table or the centre of your traditional kitchen or open-plan living room, this flexible traditional style is full of potential and personality.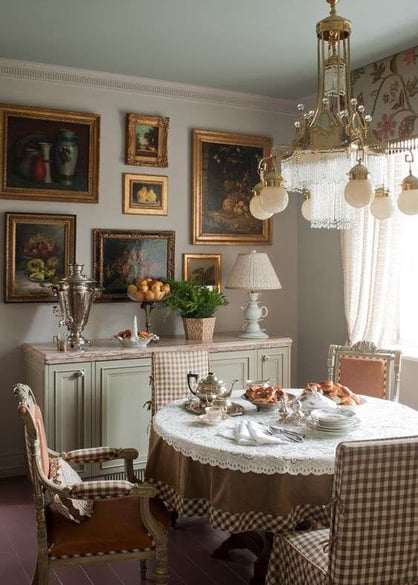 Image from The Wall Street Journal
2. Grand and Glamorous
You don't need 10 foot high ceilings or windows that span the entire length of your wall for a grand dining room. Real crystal chandeliers and gold embossed oak placemats don't always make a dining room glamorous or impressive.
The size of your room and the limitations of your budget doesn't mean a glamorous, grand traditional dining room is beyond your reach. Creating a grand dining room is about how you decorate the room, not the price of the items you decorate it with.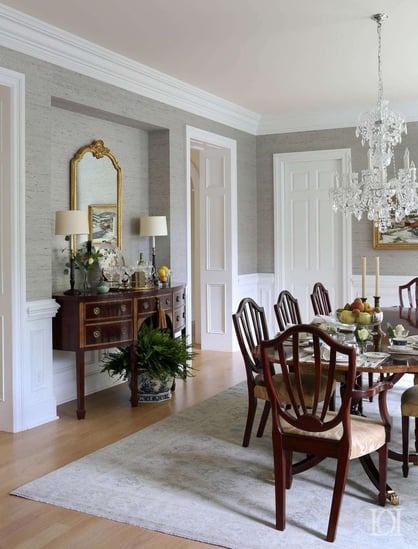 Image by Tom Grimes for Deborah Leamann Interior Design
Good lighting, a strictly-observed colour scheme, a statement dining table, wall decor and room features such as panelled walls or a fireplace are all key in creating a grand dining room. All of these elements can also be achieved on almost any budget for homeowners who are patient and thrifty enough.
Match your wall, furniture and drapes in a strict colour scheme. Your scheme can be bold or neutral - the choice is yours - but don't deviate from it.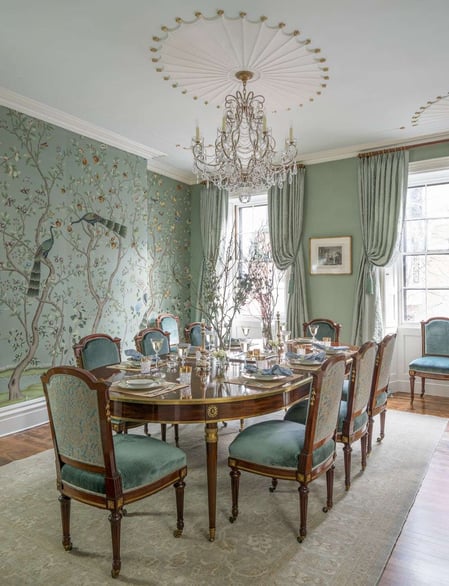 Image by Eric Roth for Kristin Paton Interiors
Your statement table doesn't need to be big or topped in marble. For smaller spaces, opt for a table that's an interesting shape instead of the classic long table choice. Known for their association with King Arthur of legend, round tables are an all too overlooked option for dining rooms. They save space and provide plenty of surface space to get creative with centrepieces.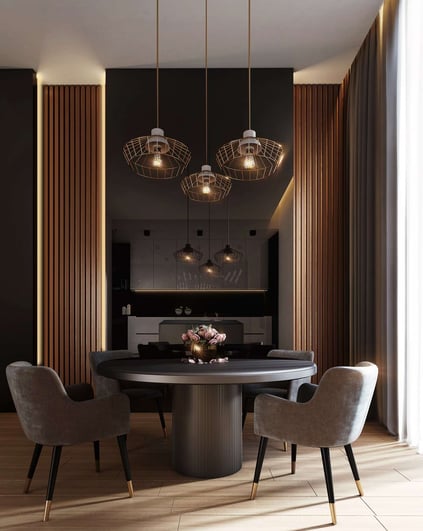 Image by Houzlook
A fireplace is the heart of any home and a dining room with a fireplace is the epitome of traditional elegance and grandeur. If you don't have a real fireplace in your dining room, adding a fake one can create an interesting visual feature while almost providing a source of ambient light in the form of candles.
Styling a false fireplace is a great way to add colour and dimension to a dining room - or any other room for that matter.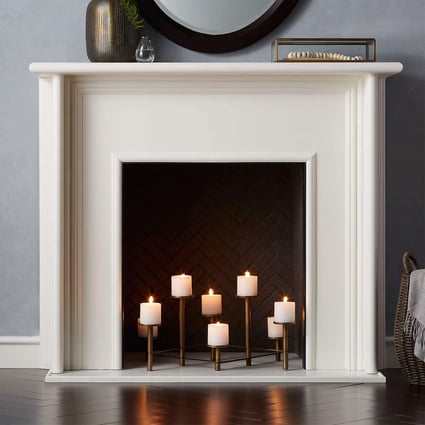 Image by Crate & Barel
3. French Farmhouse
One of the key styles that inspired the shabby chic era of decor. French Farmhouse pairs the soft colours and traditional patterns of the traditional farmhouse style with the clean elegance and sophistication found in all types of French-inspired decor.
Light colours, exposed or distressed wooden tables, classic and vintage-style plush dining chairs with ornate details on the legs, an eye-catching floral centrepiece and an even more attention-grabbing low chandelier are the key components of a dining room in this style.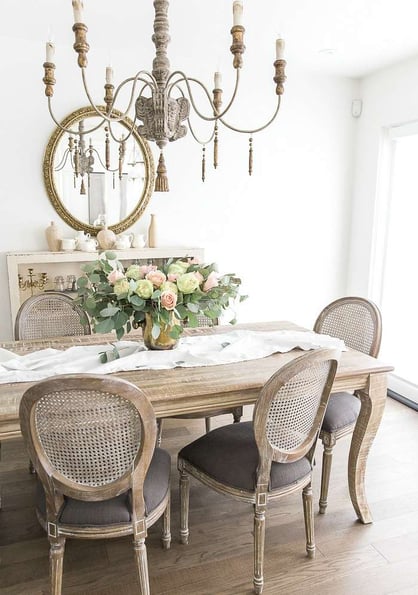 Image from French Garden House
Natural textures and colours such as rattan, distressed wood, (faux) fur and brick all amplify the charm of the French Farmhouse theme by making a usually pristine traditional decor trend such as French more industrial and realistic. These materials add character and warmth to the French Farmhouse dining room.
Bring these elements in using a mixture of seating styles, placemats or tablecloths made from natural materials and a wooden or exposed brick feature wall. The naturally occurring colours of these feature wall ideas nicely complement the usually light and bright whites and creams of the traditional French Farmhouse dining room.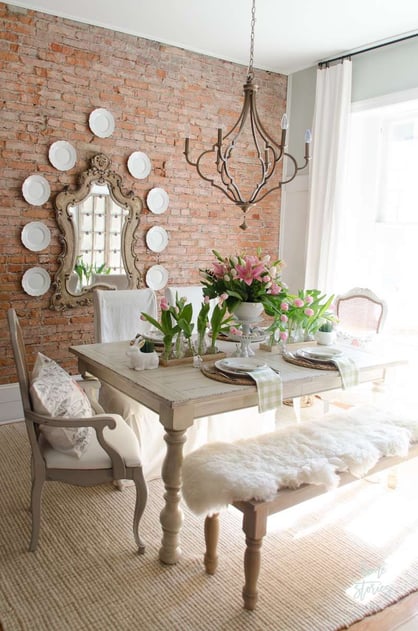 Image by Home Stories A to Z
Another defining trait of the French Farmhouse style is the attention to detail. Small touches such as well-grouped trinkets on the sideboard or perfectly coordinated table runners and fabric napkins are important. Don't forget details such as placemats, candlesticks or seat covers.
All of these small details are a way to incorporate a hint of femininity and your style into the dining room.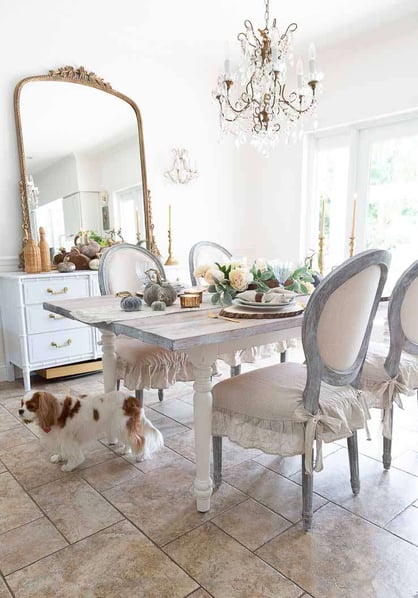 Image by Shabby Fufu
4. Dark Dinner
A dark room doesn't have to mean a gloomy room. Dark dining rooms have been on trend for many years with most of these designs leaning into traditional components of dining room decor such as chandeliers, long dark wood tables, grand high-backed chairs and wooden wall panelling.
Dark dining rooms create a moody and completely sophisticated atmosphere, perfect for hosting a dressed-up dinner party or for brightening up with candles and natural light for family mealtimes.
Pair dark walls with floral centrepieces and flourishes along with chair covers, table runners and dishware in lighter tones. Classic and traditional dark dining room colours include dark blue, green, burgundy and black or deep grey. These colours pair well with brass hardware and frames on the wall to add warmth and accentuate the opulence of the room.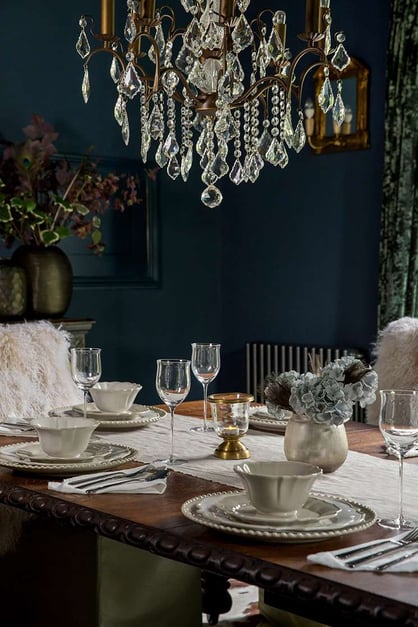 Image by The English Home
If you have dark wood wall panelling in your dark, traditional dining room, there are a few ways to make sure the details of the panels don't get lost. Highlight the edges of the panels in a metallic shade - such a gold, copper or brass - to match the lighting fixtures, door handles, sconces or other features of the room.
This gives the room more of a sense of character and luxury while underscoring the more traditional and stylish antique elements in the dining room.
For smaller rooms, half-wall wood panelling that runs around two-thirds of the way up your wall may be the best idea to give the appearance of higher ceilings which is important in a dark room,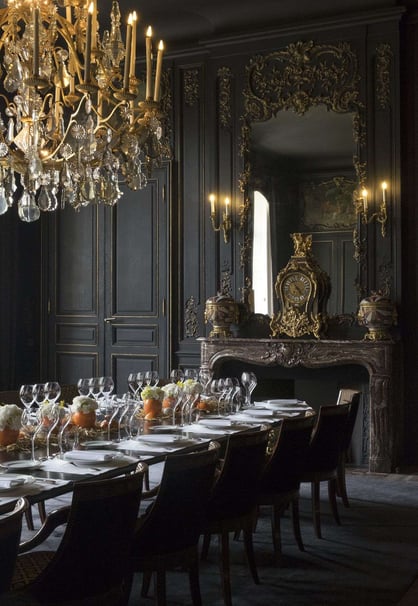 Image from Pinterest
Traditional styles don't just have to rely on ornate, baroque and antique items reminiscent of the Victorian era - arguably the period which popularised excess, grandeur and luxury.
For a dark dining room with a contemporary, party feel, art deco is a traditional style that can easily achieve this. Use classic art deco patterns in furniture or on an accent wall for an obvious nod to the 1920s concept. Alternatively, incorporate the rounded shapes and clean lines of these classic patterns to create a dining room that's a stylish blank canvas for all the future dinners, parties or family socialising you plan on using the room for.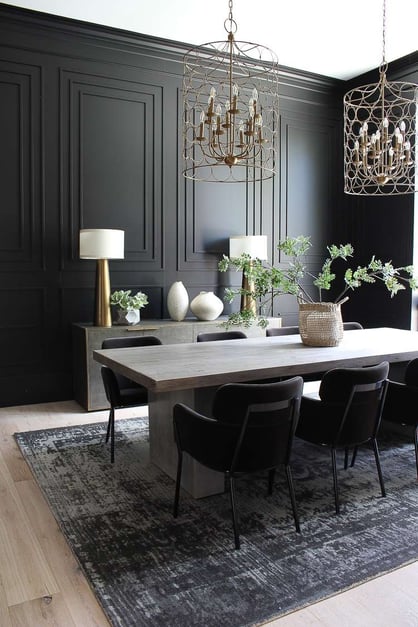 Image by House of Silver Linings
Creating the perfect dining room to host your family and guests is no small task. Finding inspiration and styles you are drawn to can take time and effort as with any home project. Save your valuable time when it comes to planning your home projects with our free Inspirations Guide, designed to give you all the ideas for home decor and design you need in one place.
Inspiration For Every Room
Be inspired to create the perfect home with our free downloaded Inspirations Guide. Gone are the days of buying piles of interior design magazines or spending hours online scrolling for inspiration ideas. Whether it's your kitchen that needs an overhaul or you want to channel your inner Jay Gatsby and create an envious bedroom, there's something in there for every corner of your home.
Create a home that reflects your style and personality and is loved by family and guests alike. Just click the link to get your copy.