Stunning Traditional Stone Fireplace Ideas To Get You Thinking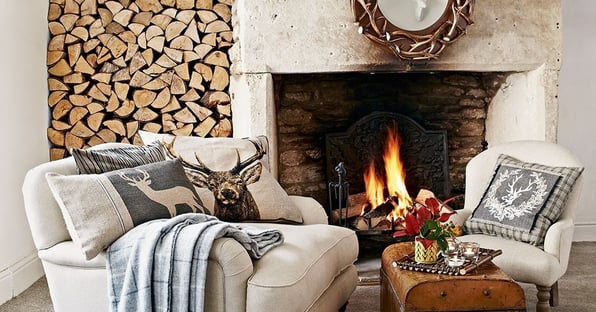 A crackling fire warm enough to alleviate cold fingers and make cheeks rosy red epitomises what home feels like. A home is a place of comfort and warmth, away from the cold weather and everyday stress of the outside world. So, what is a home without heat and a fireplace?
A traditional stone fireplace - whether it's made of carved stone, bricks or natural stone blocks - is the statement piece of any house, regardless of size. Wooden or fibreglass fireplace surrounds are also impressive and give any room an essence of elegance and grandeur, but today we'll focus on traditional stone fireplace ideas including the types out there and how you can make the most of them.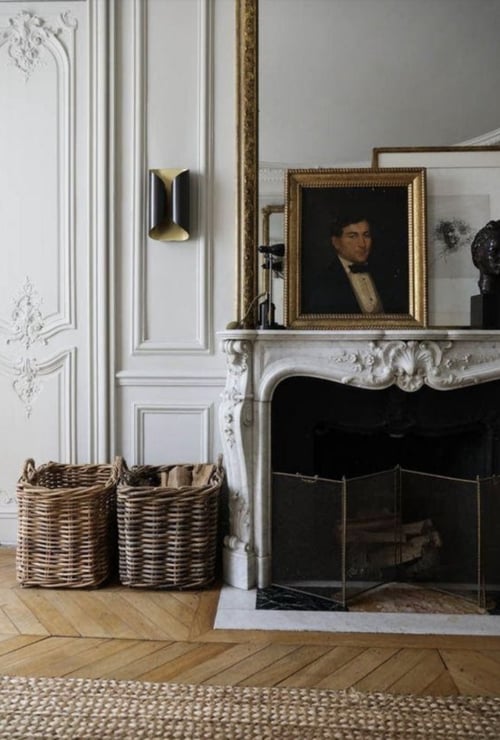 Image by The Socialite Family
Types of Fireplace
Electric, open fire and log burner are the most common type of fireplace with traditional stone fireplaces usually being either of the latter two.
Open fires provide more direct heat and are usually accompanied by a fireguard or metal grate for protection. Although this type of fire is more exposed and therefore may make those with carpets, pets or small children nervous, there's no denying the majesty and presence fires like this add to a home.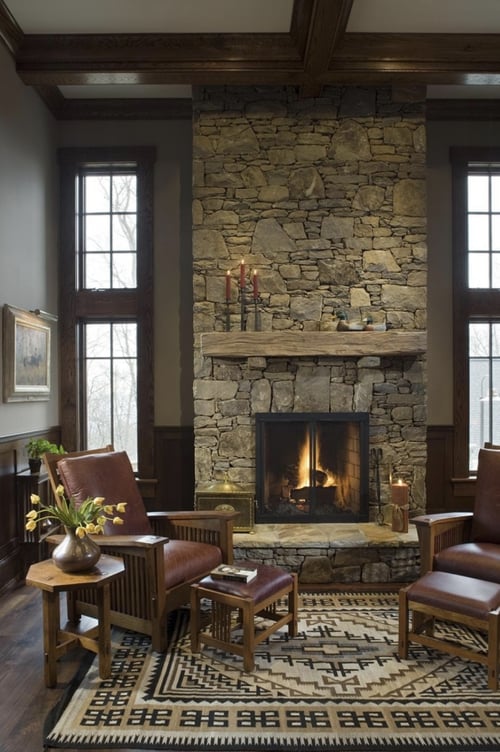 Image by The Architectural Studio
Log burner fires evoke images of small cottages made of brick and exposed wooden beams. They're compact but mighty, able to heat entire homes with a lot less wood or coal than one might think. Log burners are available in all styles, from modern to more traditional and classic, so there's always a choice that will suit any home. Most of the styles available look fantastic as part of a traditional stone fireplace too.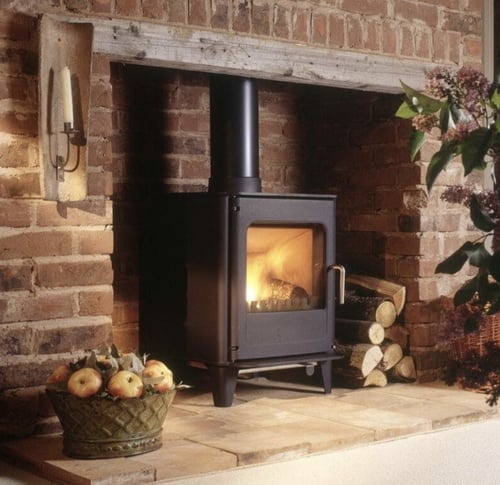 Image by eBay
Colours and Concepts
A traditional stone fireplace speaks for itself, meaning rarely will a wall painted or papered in bright colours be suitable for a room with a stone fireplace. It's best to commit to either light or dark ones and avoid bright colours, such as yellow, lime green, bright red or similar colours.
Choosing between dark and light colours isn't as simple as choosing between painting your walls white or papering them black. Consider drawing from the lightest colours present in your fireplace for inspiration for a lighter room colour. Alternatively, the depth of rich, dark blues, greens and clarets offer a sophisticated and moody colour choice to contrast nicely to your fireplace.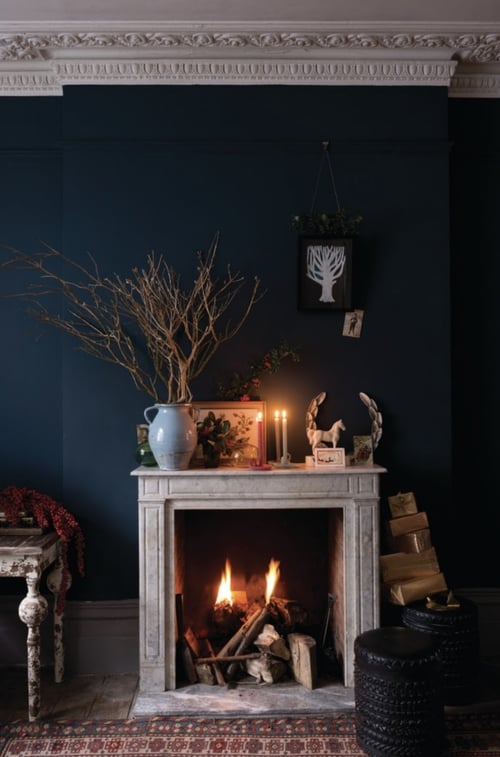 Image by House Beautiful
Decorating Your Fireplace
Whatever your style, there are ways to coordinate and dress your traditional stone fireplace to suit your space.
Fabulous Frames
Every living space needs a mirror or two (or three). They reflect light, brightening a room and make any space look larger. Not to mention they're functional and having one in your main living space is always a good idea to check how you look before leaving the house or answering the door. Clean round mirrors with a thin metallic frame are very much a hot trend at the moment, but nothing can beat a classic, vintage brass ornate mirror, too.
If the idea of a mirror doesn't appeal to you, an art print, treasured photograph or framed painting also make for elegant touches and can showcase your personality and highlight the chosen colours from your walls and furniture. There's also the option to make use of both mirrors and pictures, layering them along the mantle instead of hanging them over the fireplace.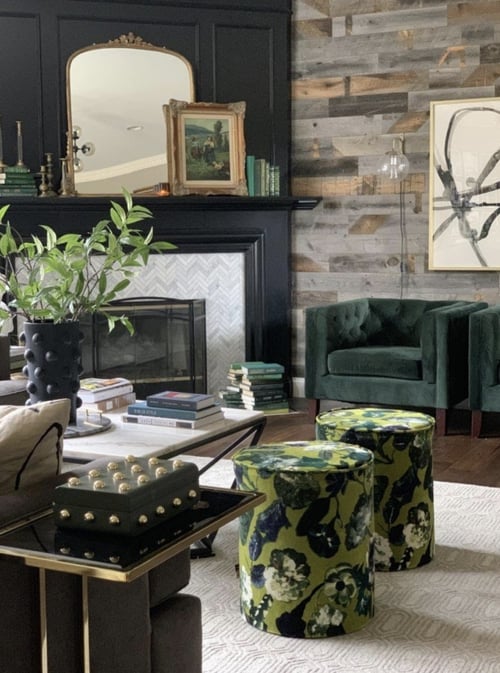 Image by Haneen's Haven
Creative with Candles
Pillar, tealight, tapered, poured, soy, woodchip, scented, electric - whatever kind of candles you like, they make an excellent mantle accessory. The flickering low, captivating light of a lit candle adds ambience and a cosy atmosphere to any room. Changing the colour of candles in a room to fit in with seasonal decor for Christmas or Halloween is a quick and easy way to change and freshen up a room.
Just be sure to not place your candles too near the fire itself to avoid them melting.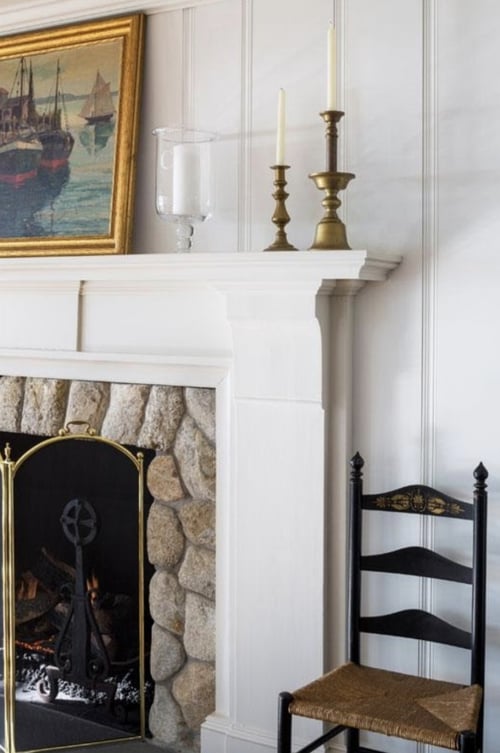 Image by Patrick Ahearn
In Full Bloom
A floral touch goes far in bringing some personality to a traditional stone fireplace. A vase of colourful fresh flowers or pots of trailing plants that thrive in warm, arid settings can inject some life and vibrancy into the room and the colours contrast nicely to many stone fireplaces. Taking this idea of plantlife a step further, natural garlands are a great way to dress a larger traditional stone fireplace, especially around the more festive times of the year.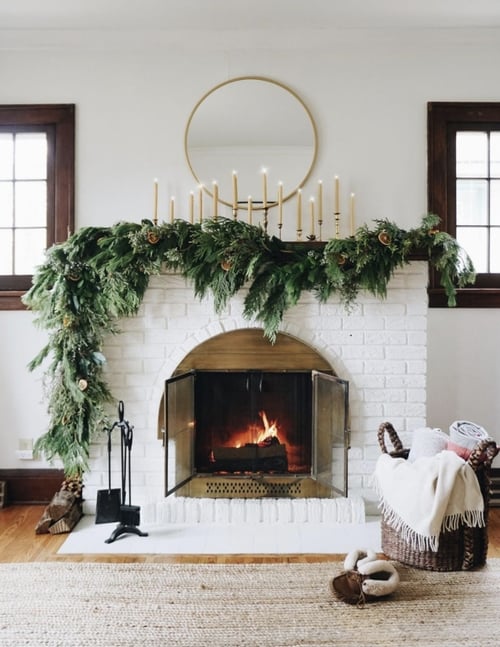 Image by Francois et Moi
Styling a False Stone Fire
If your home has a traditional stone fireplace but no actual fire, there are still lots of opportunities to decorate and maximise on the feature and make it a focal point. Many popular ideas online include stacking books or logs in the space where a fire would normally be, as well as placing candles in the base.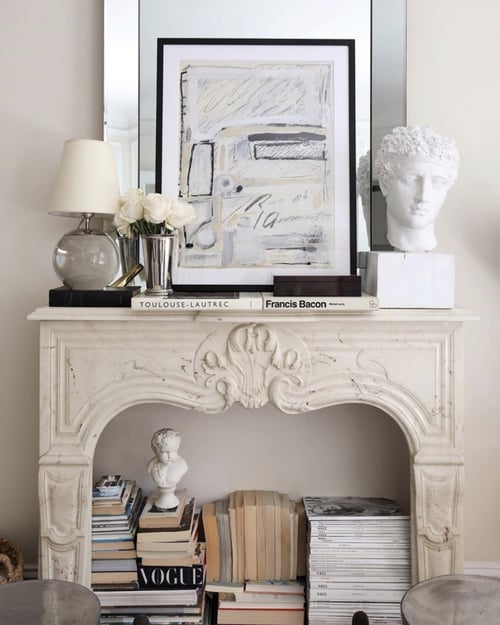 Image by Josh Young
Cleverly using candles in this way means the fireplace will still give off a warm and inviting light when the candles are lit while referencing the original purpose of the fireplace. When paired with other decorations such as flowers and an ornate mirror, this effect is quite striking and immediately draws the eye and captures the imagination.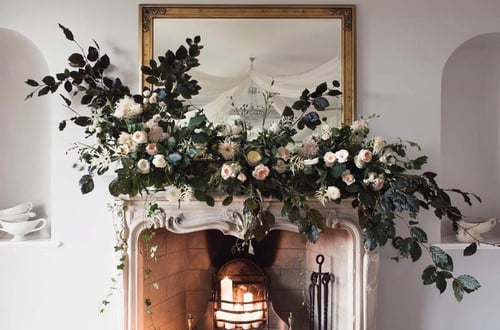 Image by Loulabel Floral Designs
Storing Firewood In Style
Arguably one of the most tedious parts of owning a fire - apart from cleaning it out - is sourcing and storing your firewood. While we can't help you when it comes to maintaining your fire, we can suggest how you store your firewood in an easy-to-use and beautiful way.
Mighty Wood Wall
Even length stacked wood gives any room a rustic charm, especially when paired with warm colours, browns and white throughout the rest of the room. Wood walls are a popular choice of storing firewood because of this and it's easy to see why.
Aside from the striking cabin-style effect of this firewood storing method, a full wood wall also means you're unlikely to be caught without enough wood to keep your fire going due to the enormous amount of storage this provides.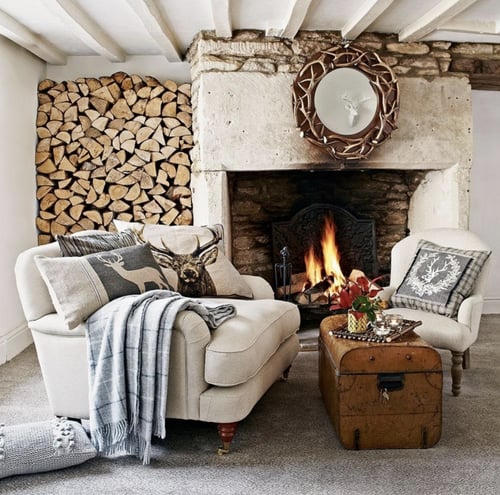 Image by Ideal Home
Mounted Shelves
With a mounted shelf system, you have the choice of colour, size, shape and material of your wood storing system. Add a further level of functionality too by choosing a wall-mounted storage solution that allows you to separate logs, kindling and wood that's still drying.
This will save time rummaging around for the right piece of wood and mean you only need one visible storage system for your firewood.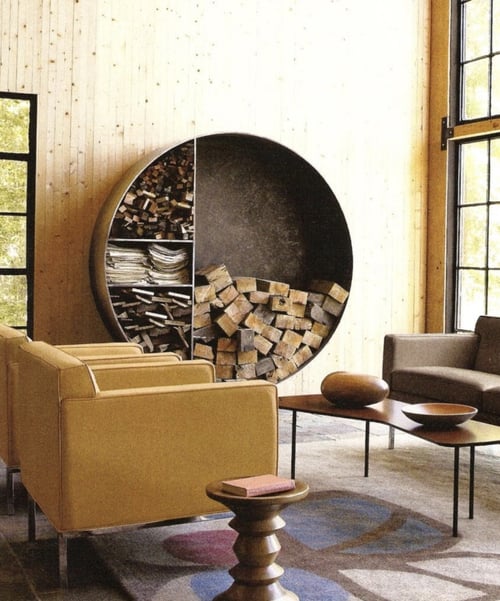 Image by Home Edit
Traditional Basket
Sometimes, the best solution for a problem is not to overthink it or try to re-invent the wheel, so to speak.
A sturdy and attractive firewood basket will always be in style, with materials such as wicker never going out of fashion. Firewood baskets made from natural materials such as wooden crates or woven rattan, reed, willow or bamboo baskets are timeless and effortlessly complement the colours of firewood.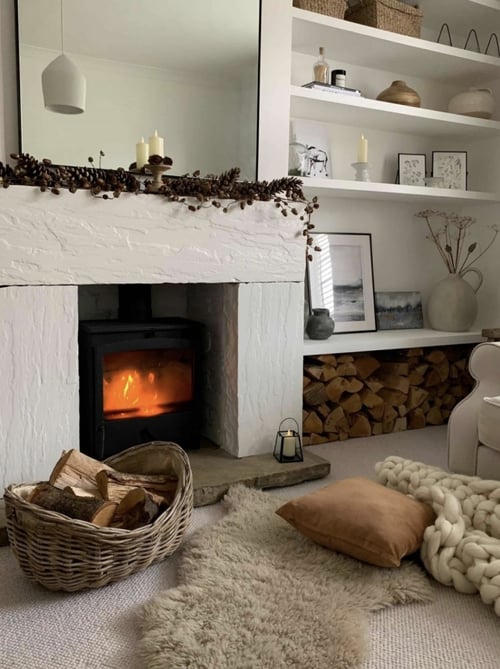 Image by The Basket Company
Timeless Coal Bucket
Most fires need coal to keep them burning after wood is used. Unlike firewood, coal doesn't have the same obvious potential to be tied into your interior's concept or stylishly stored as an element of the room's decor. Because of this, finding a good quality coal bucket that complements your room's colour scheme is the best way of storing coal.
The most common colours for coal buckets include polished brass, aged silver and matt black, with many styles available. We prefer the more traditional style of coal bucket as it best suits a traditional stone fireplace.
Many sellers of coal, firewood, fireplaces and log burners also carry a choice of coal buckets, so you won't have to go too far to find a great selection to choose from. Alternatively, plenty of online home retailers also carry different styles of coal buckets.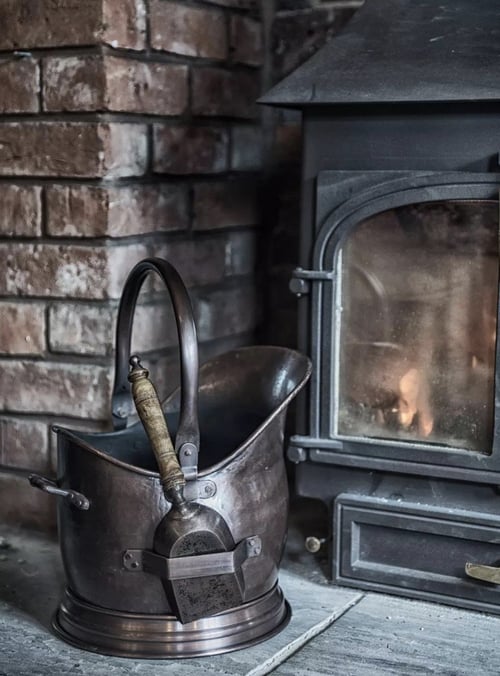 Image by John Lewis
Hidden Storage: Beneath the Bench
Hidden bench storage has endless uses and applications. A space-saving staple in many modern homes, hidden benches make the perfect solution for storing back firewood, coal and any other accessories or items needed to maintain your fire, such as fire lighters and a cleaning kit.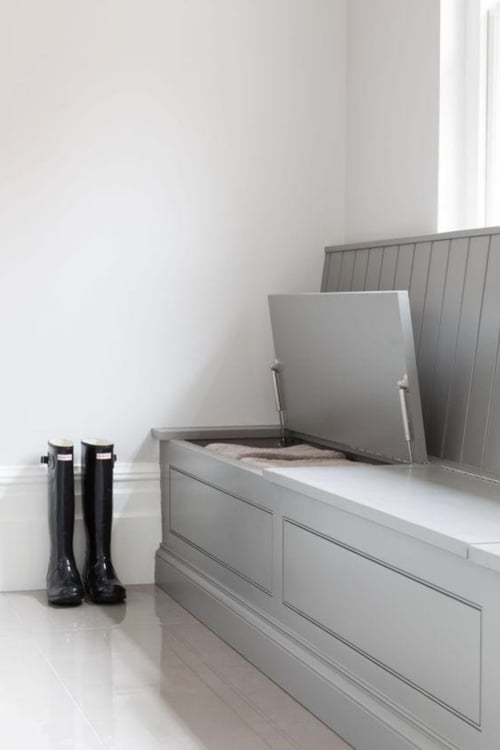 Image by Humphrey Munson
There are endless possibilities when it comes to styling and decorating around a stunning traditional stone fireplace. The warmth and timeliness they offer paired with the grandeur and class they exude make them the perfect feature for almost any home, which is why it's so important to make the most of them.
Finding inspiration for your home can be an arduous task leading to many hours spent scrolling online and stacks of design magazines and books taking over your living space. Take the work out of finding home inspiration and save your precious time with our Inspirations Guide.
Transform your home with our inspirations guide
Create your perfect home, a place that truly reflects who you are and is inviting and welcoming to guests. A beautiful home is something you can share with your friends and family, it's a place where you get to express yourself and create your own idea of what makes a dream home.
If you like our ideas on traditional stone fireplaces, why not download our free Inspirations Guide and start your journey to creating your perfect home?