Oak vs Pine: Which Premium Bed Material Suits You Best?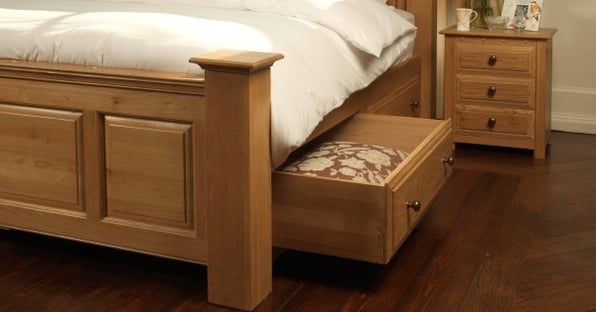 It's common to be torn between oak and pine to use throughout your home, in chests, wardrobes, bed frames and more.
To help you decide, we've prepared an in-depth comparison of both wood types, taking functionality and appearance into account. Plus, we'll point you in the direction of where to buy quality wooden furniture. Surprise, surprise, it's in the region of our lovingly handcrafted pieces.
---
Save yourself some time and skip to the good stuff. Download our Collections Brochure for breathtaking options for your bedroom (and beyond).
---
Everything You Need to Know About Oak Furniture
Oak is known for its durability as a long-lasting, hard-wearing wood that's part of the 'hard wood' family. If you want to buy a piece of furniture and keep it for the long haul, you can be confident oak furniture will weather more than a few storms and even look better because of them, thanks to its unique knots and defined marks.
Functionality
It's clear oak excels in its function, allowing furniture to perform its primary purpose of aiding your everyday life. This could be supporting your cloud-like mattress through a sound night's sleep or holding all of your items without doors or drawers jamming.
Oak furniture is heavy — something you'll know if you ever tried to lift some. A little help with assembly, please? But this weight makes oak a reliable raw material and stops it from being prone to wear and tear. Though we aren't talking about pine just yet, it's worth noting oak outdoes its rival in this regard.
Also read: What to Look for When Buying a Quality Bed
What's more, oak is relatively low maintenance. It can be hand polished to highlight quality if you feel inclined to do so, but for the most part, once you've put oak furniture where you want it, all that's left to do is marvel at its beauty.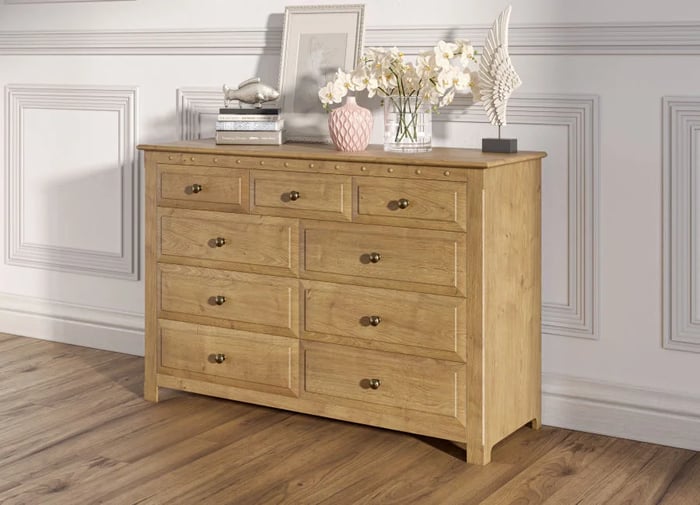 Appearance
Oak is an elegant and classy choice that has timeless decorative appeal. When finished, it sports a naturally stunning sand-like colour that's rich, creamy and apt for contemporary interiors.
Though it isn't as light in colour as pine — although we're generalising here — oak is rarely overbearing, nor does it find itself competing with other aspects of a room. For example, you can comfortably opt for oak in a four-poster bed and feel it doesn't dominate your sleep space.
The medullary rays within oak, along with its deeper pores. In other words, the mystery marks that add character and beauty to the wood mean it ages like fine wine. From sturdy chests and elegant dressing tables, oak furniture promises to balance out the youthful charm by adding an experienced, old-worldly touch.
However, like pine, oak can shapeshift to suit a particular style or colour palette. Different stains and polishes can completely transform the appearance of oak, so the possibilities are endless.
Picking Apart Pine As a Furniture Material
Pine has been at the height of fashion many times over and gets points for its versatility. With straighter, lighter grains, pine is easier to paint for a quick spot of redecoration. In the same vein, its lighter weight and looser grain mean it's less durable than oak. But as a solid piece of wood, it can still hold its own, making for a strong piece of furniture.
Functionality
Let's be blunt. The functionality of pine isn't as superior as that of oak. But as furniture types go, pine makes for a pretty good contender — easily beating mass-manufactured furniture pieces made from metal or even plastic.
Also read: Metal vs Wooden Beds: Which is Best?
Pine is lighter, making it slightly less robust than 'hard wood' materials. Technically, pine trees contain 'soft wood' which means there's a different water system in the trunk of a pine tree, meaning it sports a looser grain. Hard and soft wood feel the same to the touch, but the internal quality differs. The advantage of soft wood is that it's generally more affordable and easy to access in large supplies.
Pine tree stocks are also quicker to replenish as pine trees grow substantially faster than oak varieties. On the face of it, this makes pine wood a more sustainable option, but in reality, the environmental argument is much more complex than that.
Pine furniture might not last as long, causing consumers to buy new pieces more times over. So, both oak and pine probably have a similar footprint when considering longevity. That said, no wooden furniture carries the same footprint as non-natural materials. But if you're particularly conscious about the environment, you might benefit from looking at reclaimed wood options.
Appearance
Pine is pretty. It's lighter than oak — as a general rule of thumb — and so can pull off that chic Scandinavian feel without too many adjustments. Its straight grain also makes for a smooth surface to paint and apply wax finishes to create various looks from antique to contemporary styles.
Pine is a popular choice for children's bedroom furniture where you might want to choose a fun pop of colour over a naked wooden surface. As far as adding your stamp to furniture, pine is the pick of the bunch.
Pine vs Oak Furniture: The Best of the Best
After reading about each of the furniture materials in-depth, do you have a clear answer in mind? We didn't think so.
Oak is appealing due to its durability and characteristics. We opt for it most of the time, using aged European oak, to be precise. But this doesn't label pine as a bad material to use in furniture production. As we've established, pine has some clear benefits in its versatility and ability to regenerate and replenish quickly.
Rather, it's important to note the grade of timber and other components, such as the level of craftsmanship that's gone into the making of a furniture piece, as well as the type of wood used.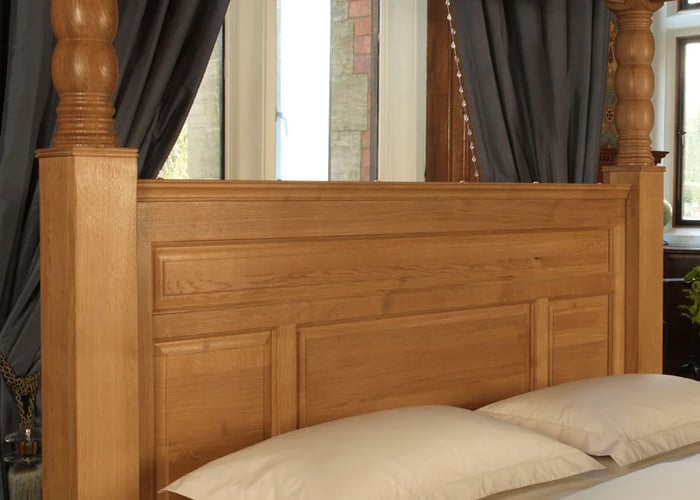 Material isn't everything — although an artisan furniture maker will likely pick a premium material to start making magic.
Premium Materials, Premium Craftsmanship — Get the Best of the Best With Revival Beds
You don't need to worry about the nuances of your furniture when you find a superior supplier like Revival Beds.
With the amount of dedication our small team of makers has to their craft in our local Nottinghamshire workshop, you can be confident our furniture is made from the best possible materials, but also constructed in a way that's built to last with generous policies to protect it.
Explore everything we have to offer, from masterful wooden beds to matching bedroom furniture, as well as bespoke pieces, all in our Collections Brochure.
Click the banner below to get your copy.