5 Questions to Consider When Choosing a UK Bespoke Bed Maker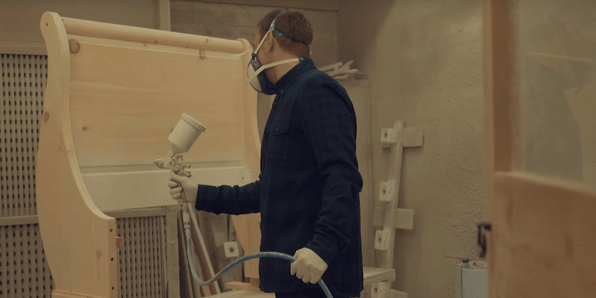 A bespoke handmade bed is the hallmark of class and quality and can elevate any bedroom interior. The decision shouldn't be taken lightly when it comes to choosing a bed maker to create your premium wooden handmade bed.
Here are the things you should consider when deciding the right UK-based bespoke bed maker for your bedroom project.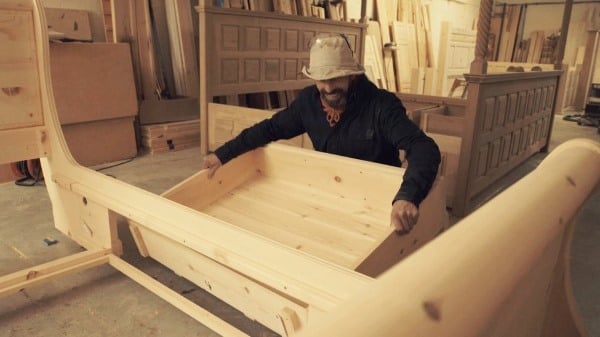 Can I Customise My Bed to My Specifications?
How Long Will It Take to Create My Bed?
Will the Bed Makers Take Care of the Installation for Me?
Will It Fit Into My Bedroom Budget?
Do the Bed Makers Use Sustainable Materials?
1. Can I Customise My Bed to My Specifications?
One of the main aspects that should attract you to a wooden handmade bed is the ability to tailor it to your specification. You don't get the same opportunity to customise with a metal bed alternative. You're often limited and will usually have to settle for a one-size-fits-all option.
With a premium wooden bed maker, you're able to ask for a bespoke finish if you require a certain colour match to existing furniture or have a custom size in mind. Nothing is 'off-the-shelf' with a premium wooden bed.
Or perhaps it's more storage you require. Bespoke beds with storage underneath are a practical solution to neaten up your bedroom space.
A major bonus of a premium wooden bed is their versatility. You can be confident that your bed frame will always give your bedroom a sophisticated finish as the look is evermore.
Paired with plush throw pillows and decadent fabrics, you can switch up the theme and style of your room just by adorning your new bespoke wooden bed with these accessories.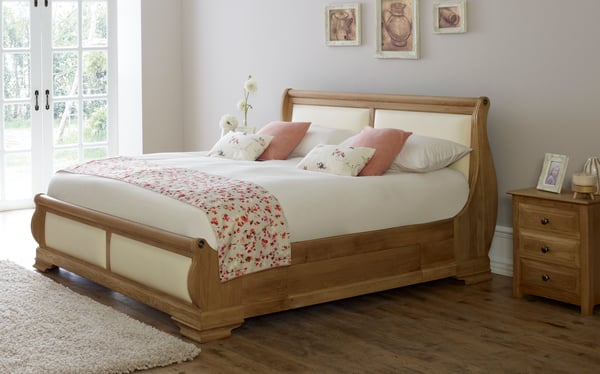 2. How Long Will It Take to Create My Bed?
We understand that once you've bought something, you want that instant gratification. However, quality takes time. They aren't as convenient as a cheaper store-bought option but the finished result is worth the wait.
You'll be so preoccupied decorating the rest of the bedroom that your premium wooden bed will arrive in no time.
Revival beds are handmade and made to order in our Nottinghamshire workshops by our dedicated craftsmen. We limit our orders so we can focus our undivided attention on each bed, taking the time to get every detail just right.
3. Will the Bed Makers Take Care of the Installation for Me?
With all the intricate details and personalised touches that go into a bespoke bed, it's natural to assume that the installation will be taken care of by the bed makers.
However, this isn't always the case for all bespoke bed makers. Sometimes, they may not offer such a service or an additional fee could be involved. But the right bed maker will offer this as part of their service.
For example, at Revival Beds, going that extra mile to install your new bespoke bed in your room is no problem. We have our own delivery and installation specialists whose services don't require an additional fee.
For additional peace of mind, we even offer a 10-year guarantee on our beds.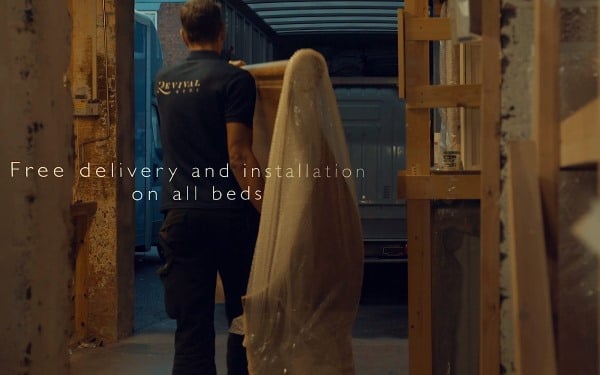 4. Will It Fit Into My Bedroom Budget?
We're not ones to disguise the fact that handmade wooden beds are more expensive than store-bought. Luxury bespoke beds are high-quality but they're also affordable.
An investment in a high-quality bed will last you a lifetime. When you think about all of the replacements you'll have to buy every few years for a shop-bought bed - the price really isn't so different.
Some bespoke bed makers may even offer flexible finance plans, so there's no need to wait to put your order in on your dream bed.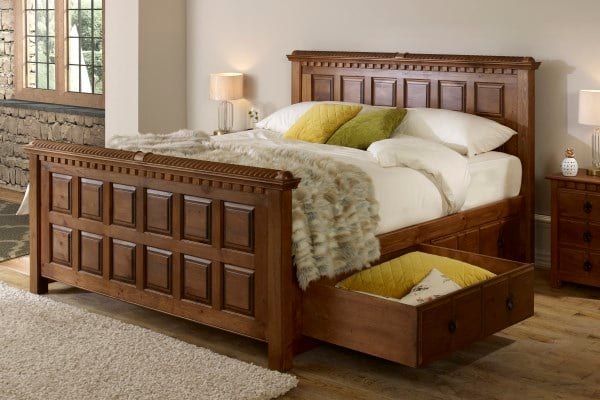 5. Do the Bed Makers Use Sustainable Materials?
Sustainability isn't just a passing trend. It's something you should seriously consider when choosing a bed maker. You should ask your bed maker if the materials used in their products are ethically sourced.
At Revival Beds, each component is lovingly crafted from the finest grade timber, which is grown in sustainable, managed forests and handpicked for its character. We only ever use the very best raw materials, which are all sourced from sustainably managed forests.
Now you know what to consider when choosing your bespoke bed maker, it's the perfect time to find the right handmade bed for you.
Choose Your Perfect Handmade Bed From a UK Bespoke Bed Maker
If you know you want the quality and luxury of a handmade bed but don't know where to start in terms of style, materials and finish - then look no further. With over 30 years of experience in handcrafting, we have the insight when it comes to the craftsmanship of premium wooden beds and bedroom furniture.
To help you find your perfect bed, we've created a free bed buying guide. It's packed full of useful information that you should consider when investing in a bespoke bed. From different types and their benefits to how you can make a statement in style.
To get your free copy, click on the link below.