4 Reasons Why Custom Bedroom Furniture Is Worth the Investment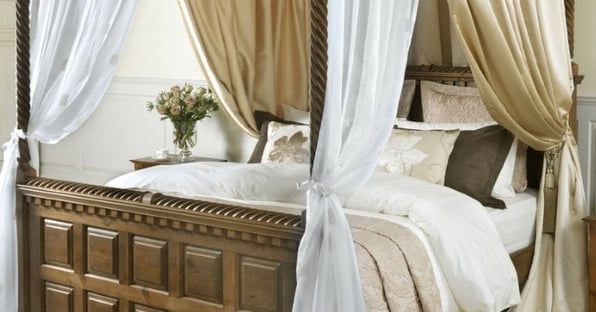 It's no secret commissioning custom furniture is more expensive than buying standard designs. The question is, is investing a little more money to have a hand in the design worth it?
From seamless storage to bespoke beds and reviving unused spaces in your home to the novelty of owning something entirely unique, we explain why custom furniture is worth every penny you pay.
1. Finding the Perfect Fit
Sometimes, we're willing to invest more money and time into a piece of furniture that will prove to be a good fit for fiddly spaces such as alcoves, tight walkways and bedrooms with low ceilings.
In these scenarios, custom bedroom furniture can feel like the only viable choice.
Those with customised beds can shop made-to-measure bedding to create a completely bespoke sleep experience.
The only other alternative is to leave such spaces empty, meaning you end up underutilising part of your living space while leaving it to look unresolved.
Custom bedroom furniture is the answer. If your motivation is practical, the greatest aspect of custom furniture is the ability to design to your dimensions. Whether you're cleverly customising your bed and mattress size to maximise space or trying to squeeze extra storage into your abode while making it appear seamless, you can do so using custom bedroom furniture.
2. Dictating the Design
The most appealing reason to order custom furniture is the ability to have a hand in creating its design, dictating size, shape, colour, material and more.
It's true that every interior project is stunted not by an inability to decide on design — but an inability to find it. Most of us are certain of the outcome we wish to achieve but then find it hard to translate our ideas into reality. We spend time trawling through websites, showrooms and brochures, only to feel like the furniture we really want only exists in our minds.
The Parisienne Sleigh Bed channels French chic and is fully customisable with two types of timber and five different finishes.
We may lust after a French-inspired boudoir complete with a traditional sleigh-style bed, an elegant armchair and a traditional dressing table. Yet, the real challenge is to find all of these items, in the right shades, sizes and finish that will suit our taste, space and budget.
With custom furniture, there's no compromise.
3. Owning Something Unique
Customisation allows us to control every aspect of bedroom furniture creation — yet it's also a status symbol, proving our interiors are entirely our own.
You can rest easy knowing that nobody in the world has the same slumber as you.
A play on a four poster bed, The Quebec Pencil Bed is available to customise with 15 luxury leather shades, from cherry red to thyme green.
From the curvature of a bed base to the colour of fine Italian leather, your sleeping chambers are uniquely special when you invest in bespoke bedroom furniture.
While designer interior items might tempt you, nothing compares to knowing your latest furniture purchase is one-of-a-kind. No matter how many high-end pieces you have in your home, naturally, none of them are as impressive as something that boasts exclusivity and has personal contribution added to its production value.
4. Committing to Quality
Custom bedroom furniture comes with a price tag to match its select service. Yet, this also proves that such purchases commit to quality, using only the finest materials and best practices.
When ordering bedroom furniture online, it can be difficult to know if a product is of premium quality, accurately matching its picture and item description. Sometimes, furniture lives up to our expectations but more often than not, we're disappointed by the lack of craftsmanship or ease of assembly when an online order arrives at our door.
Even the smallest items of custom furniture like this Blanket Box with Drawers are finished to the highest quality with perfectly positioned rivets and sliding drawers as smooth as butter.
There are no questions around quality when you invest in custom bedroom furniture as you can receive samples, discuss materials and approve proposed designs before your piece is even built, depending on the workshop you choose to purchase from.
Of course, this means custom bedroom furniture is an investment as it'll cost considerably more than a mass-manufactured design. Yet, custom furniture is built with the right intention, promising to last a lifetime.
Discover a Library of Custom Furniture, Built to Last a Lifetime
What if you could customise your entire bedroom with furniture built to last? We make a bespoke bedroom of this calibre possible by offering complete customisation on every item in our Collections Brochure.
Each piece is handcrafted in Britain and designed to match its respective range of furniture. However, there are also plenty of opportunities to achieve an entirely unique look by tweaking small elements from the sizing of a headboard to the right shade of leather.
Discover a library of custom furniture instantly by downloading your copy of our Collections Brochure below.