The Ultimate Guide to Types of Bed Frames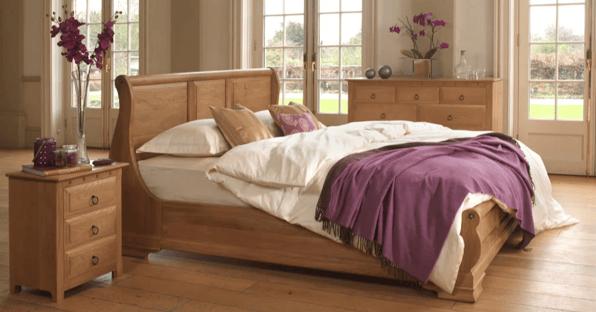 Bed frames are what instantly draw our eye to sleep interiors; the curvaceous nature of a carefully handcrafted bed or the dramatic stance of an arresting headboard. So, why not give them some thought? This ultimate guide discusses eight of the most popular types of bed frames, letting you know exactly who and what they're good for.
We've left out more niche options like folding beds that prove useful in a handful of cases (namely in small New York apartments) and water beds that should, in our opinion, be left in the '80s.
Instead, we explore the types of bed frames we get asked about the most, from the bed that seems to be everywhere, the divan, to our speciality and pièce de résistance, the glorious four poster.
---
Good to know:

We talk a lot about style in this blog. For more in-depth information surrounding how sleep health is impacted by types of bed bases, read our ultimate guide on bed bases.
---
Divan Bed Frames
The divan bed frame has recently been introduced into the mix and has become one of the most popular choices amongst bed buyers. Often affordable, always streamlined and never out of place in a modern bedroom, a divan bed seems like a simple no-brainer. But, is it?
Good quality divan bed frames with a structural base and practical underbed storage, should you require it, can prove to be a good medium-term investment.
If you're longing for clean lines in your sleep space, divan beds will give you the right aesthetic appeal. But be warned, divan bed frames vary in quality and may force you to do more research than usual before making the all-important purchase.
Good for: Decidedly modern bedrooms, discerning customers and those on a budget.
Ottoman Bed Frames
If your bed frame is an ottoman, it houses some sneaky under bed storage for awkward items like winter duvets and vacuum-packed seasonal clothes.
Importantly, the ottoman style provides storage through a gas lift mechanism. It makes for easy lifting and a satisfying thunk when you return your bed base to its dominant position. Still, it can cause you to run into functional problems down the line if it falters and promise to disturb your carefully placed bed accessories every time you use it.
Ottoman beds are modern, so they'll suit Scandinavian homes and even blend into mid-century modern interiors with their chameleon-like qualities. The question is, do you want to buy into the novelty and lightness of an ottoman frame or invest in a more robust, long-lasting piece of furniture?

Good for: Minimalists with lots of belongings, contemporary interior enthusiasts and tech-lovers.
Sleigh Bed Frames
Classical in their elegant French style, sleigh beds are timeless and often 'on trend', according to interior experts.
Sleigh bed frames are characterised by their swooping silhouette that curves and scrolls around the foot and headboard to create a U-shaped sensation. This makes for a cosy, comfortable sleep but sleigh beds are also as practical as they are pretty.
With under bed storage drawer options available, sleigh beds are substantial, offering the perfect balance for the sensible yet style conscious consumer. Due to their ageless appeal, sleigh beds may not be first in line for an uber-modern pad, but they do work well in various bedrooms, from retro spaces to more romantic boudoirs.
Good for: Those who love the finer things in life, people seeking balance and adding a touch of glamour to any room.
Wooden Bed Frames
Wooden bed frames that often sport a slatted base for even distribution of weight are some of the most versatile frames to choose from. As wood can be stained, carved and manipulated to emulate various styles without losing its strength or durability, it stands as one of the best, natural and sustainable materials available for bedroom furniture.
Traditional and metropolitan beds can be found using this type of frame, so there really is a wooden bed frame for everyone.
What's more, with wooden bed frames, you often get the luxury of choosing matching bedroom furniture, such as custom bedside cabinets and chests. For those who like a picture-perfect abode and fuss-free styling, wooden bed frames are a sure, safe choice.
Good for: Everyone including savvy shoppers, people in favour of matchy-matchy interiors and those focused on getting the most for their money.
Upholstered Bed Frames
If you're dreaming of your bed looking like a cloud, the cold touch of metal or the hard surface of wood might not be your best bet. Upholstered bed frames offer a cushioned surface that's firm enough to sleep on yet still snuggly enough to swoon over.
The key issue with upholstery is the risk of getting it dirty, pilled or generally becoming tired after years of wear and tear. What's the solution? Partially upholstered bed frames, especially those that sport leather, which can retain the benefits of wooden bed frames and their upholstered counterparts to give you the best of both worlds.
Upholstered beds also add a bit of personality to a room, so you don't have to rely so heavily on temporary fixtures like drapes, ornaments and rugs.
Good for: Risk-takers, dreamers and those who crave mixed media and variety in their artistic process.
Metal Bed Frames
Metal bed frames are like marmite. These bed frames can either scream clinical and cold or subtle and simplistic, depending on how you view them.
While metal bed frames are often a cheap option that are relatively easy to assemble at home, they're rarely ever the right option for long-term use. And with fast homeware becoming the new fast fashion, this is something every consumer needs to stop to think about.
If you're hung up on the idea of a Victorian-era bed frame, opt for wrought iron instead. Just know this might cost you a pretty penny and be heavy to put into position.
Good for: Impulse shoppers, quick fixers and those seeking a traditional yet simple sleep space.
Platform Bed Frames
These bed frames are low to the ground, making them perfect for Japanese-inspired interiors or a metropolitan bachelor pad.
Offering a totally different aspect than every other bed frame on this list, platform bed frames are a bold choice that allows you to stand out from the crowd, perhaps by better highlighting a mural, a wall feature or an arched window above your bed.
The only drawbacks of a platform bed are the obvious lack of storage space since the bed base itself is sunk into the ground. It's tricky for those with little mobility to crawl out of bed in the morning. But then again, is a slow morning such a bad thing?
Good for: Designers who desire something different, spiritual gurus and those that are cautious of overshadowing their home's natural beauty.
Four Poster Bed Frames
We're all familiar with four poster bed frames, or as they're sometimes known, a canopy style bed frame. Four poster bed frames have, for centuries, been reserved for the highest members of society. But now, four posters adorn every type of home, being admired for their grandeur, iconic style and privacy.
TV shows like Bridgerton have brought four poster bed frames back into the spotlight, showing just how adaptive this opulent silhouette can be.
Whether you go all out with frills and dark mahogany hues or freshen the face of a four poster with minimalistic posts finished in natural oak, there'll be no regrets when choosing to style your bedroom like a queen.
Good for: Show-stopping bedrooms, fans of regencycore and those who value their alone time
Bed Frame Decided? There's More to Choosing The Perfect Bed
From materials to supplier, bedding to mattress type, a lot goes into designing the perfect basis for a good night's sleep.
Want to make the wisest investment into a place you'll melt into for half of your lifetime? Discover all of the elements of a perfect bed in our latest download.
Improve your sleep experience now.