Key Points To Consider When Buying A Big Bed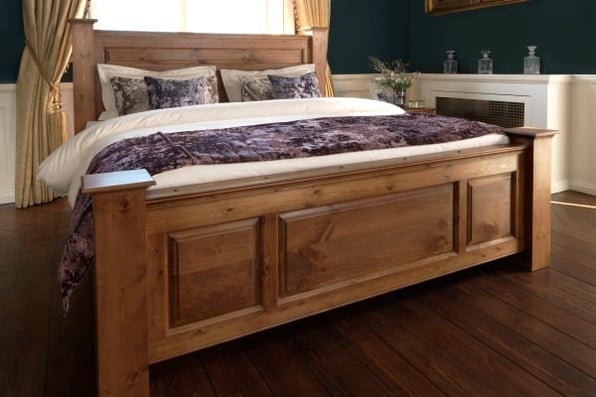 The demand for bigger beds is increasing, evolving lifestyles and access to enhanced resources, has lead to more options being available to create the perfect master bedroom.
There's no doubt that purchasing a bigger bed is an exciting purchase, but there are a few points to consider to make sure you get exactly what you are looking for.
Here are the things you should consider.
What bed sizes are available
Choice can be limited - find a UK manufacturer
Have you measured up?
Can you utilise the beds footprint as storage?
How to find the right size mattress and bedding
Will a bigger bed fit up my stairs?
Is delivery and installation included?
How to find your perfect big bed
What bed sizes are available
Standard bed sizes in the UK go up to 8ft wide which are known as Caesar, while Emperor beds are 7ft, super king-size 6ft and king-size are 5ft wide.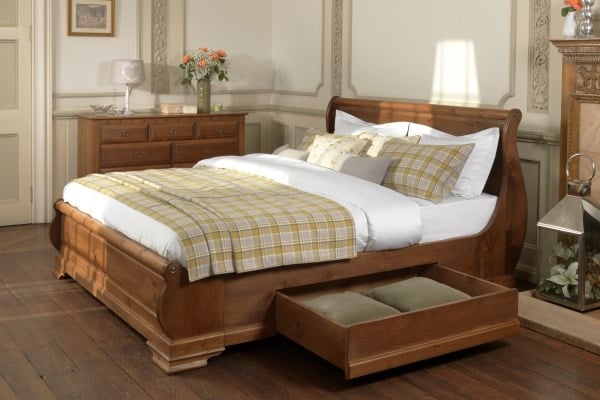 Generally, beds that are super king-size and above are considered to be big beds.
Bear in mind that with these sizes, it is the width that changes, while the length stays the same – 6'6" long. So if you want a big bed that is extra long, you'd have to specify this as a bespoke requirement.
Choice can be limited - find a uK bed manufacturer
Because bigger beds are more specialist, it means suppliers will have limited options available in terms of styles, designs and colour options.
Going direct to a UK bed manufacturer means you will have more choice. The last thing you want to do is invest in a bed that is the right size, but not the design you had in mind to match your bedroom décor.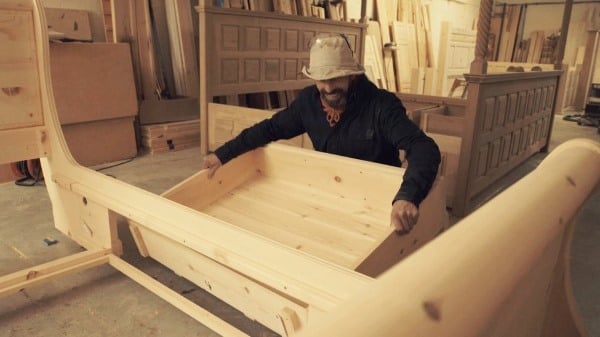 A bespoke bed manufacturer will be able to offer an extensive collection of luxury beds up to Caesar and Emperor sizes, in a number of different designs and styles.
Have you measured up?
Sounds simple, but make sure you have enough floor space in your bedroom. Always request the dimensions of the bed beforehand and consider drawing a floor plan. Because as well as the bed, you will also need to consider additional items such as bedside cabinets, chests and wardrobes.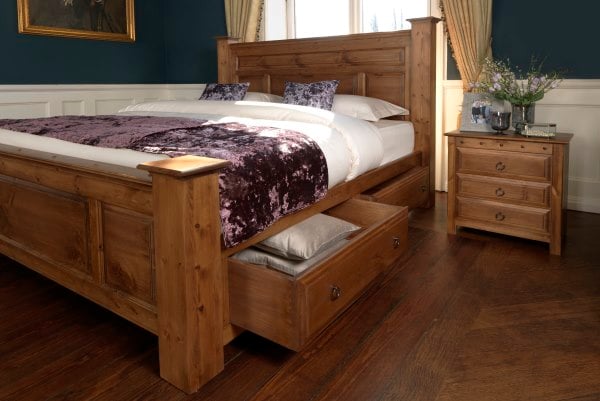 Also remember that, depending on bed type, Caesar beds may be wider than 8ft. For example, this Ambassador bed in 8ft Caesar is actually 8.85ft wide, but this is the size of the frame for an 8ft mattress.
Finally, bigger beds require furniture that is in proportion, so a bedside cabinet that is perfect for a king-size bed, may look lost alongside a Caesar bed. So if you are looking for bigger bedroom furniture to compliment your new bed, make sure the supplier has an extensive collection on offer.
Can you utilise the beds footprint as storage?
There's no denying that bigger beds take up a larger footprint, so it makes sense to use this space as storage. Bigger beds with drawers have a lot of benefits and can provide up to 16 cu.ft of additional storage space, so why fill your bedroom with clutter when you can store everything neatly away?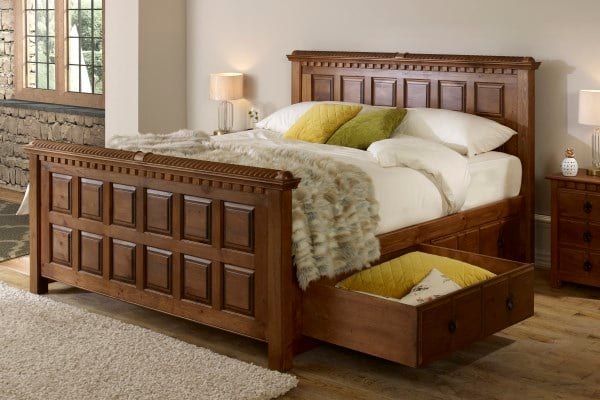 How to find the right size mattress and bedding
Because bigger beds are more specialist, it also means that mattress and bedding options can be limited if you don't find the right supplier. But it does make sense to get the bed, mattresses and bedding from the same place, so everything is delivered and installed at the same time.
Luxury bedding up to 1000 thread count and quality mattresses with up to 11,000 pocket springs are available for bigger beds up to 8ft wide, so make sure your happy with the options available.
Also ask about your guarantee and consider your old mattress and what your going to do with it. A mattress recycling service should be available as part of the delivery and installation, which means your not leaving it outside until its picked up by the council.
Will a bigger bed fit up my stairs?
It shouldn't be a problem. The area of the home that often has limited access is the stairs bulk-head, so its important to check this against your bed dimensions.
Look for a bed manufacturer that has experience doing this and can talk you through what measurements are required. A specialist bed manufacturer like Revival Beds will ask these questions and double check these measurements before delivery and installation.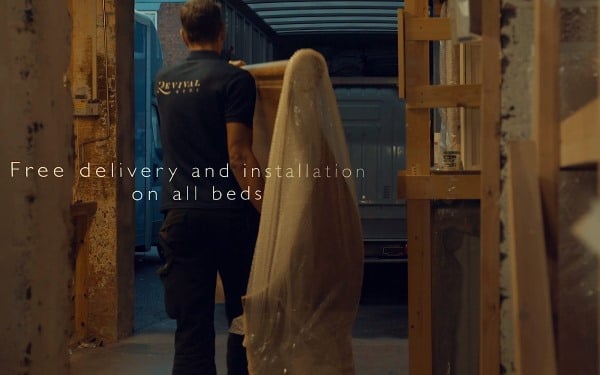 is delivery and installation included?
Find out if delivery and installation is included in the price and also ask if this will be done internally or by a third party.
Quality wooden beds should come with free delivery and installation by their own specialist team. This means you can spend more time on other areas to consider next, such as the mattress and bedding, rather than worrying about how your bed will be installed.
How To Find Your Perfect Big Bed
At Revival Beds everything is handmade in the UK and their designs, including sleigh beds and four poster beds are available up to 8ft Caesar.
There's also storage drawer options for their solid wooden beds, as well as a full collection of furniture, mattresses and bedding to fit all bed frames.
As part of the service, all beds come complete with a 10 year guarantee, as well as free delivery and installation by their specialist team.
To find out more, simply download your free brochure.