How to reinvigorate your bedroom with painted furniture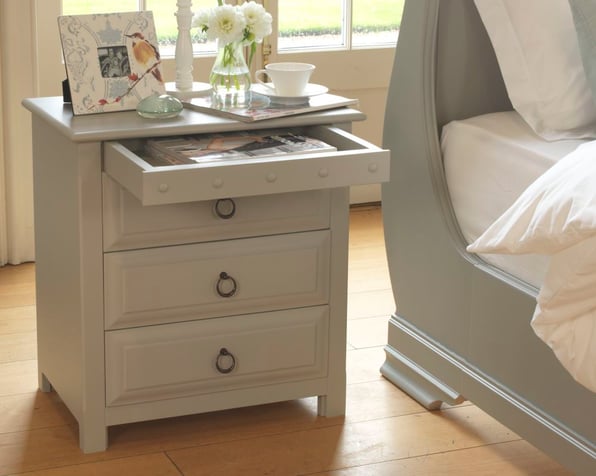 How Painted Bedroom Furniture Adds Luxury To Your Bedroom
The bedroom is undoubtedly one of the most important rooms in the house. On average, it's the room where you'll spend a third of your life – maybe even longer than that. It's the area where you relax, recharge your batteries and allow your body to rejuvenate. And, it's for this reason that many people like to decorate their bedroom with a fairly neutral theme in mind; on the premise that a less complex, less chaotic design and colour scheme will allow them to relax better and get a good night's sleep.
Due to the neutral decoration themes, it's often the case that bedrooms can lack character. Adding character to a bedroom can be done in many ways; buying a statement bed (four poster beds are often a great statement bed), eye-catching flooring or adding meaningful, decorative accessories. However, buying a statement bed can be expensive, as can replacing flooring; and building up a collection of meaningful accessories and decorations can take a long time.
So, how can you add some more character and revamp your bedroom quickly without spending a small fortune? Easy. The answer is painted wooden beds and painted bedroom furniture.
Adding character with painted wooden furniture
Painted wooden bedroom furniture can be a beautiful addition to the bedroom, adding oodles of class and character.
If you're looking for ways to improve your bedroom, then adding some painted furniture is a great way to bring some personality to the area. Solid wooden furniture brings with it a sense of authenticity and a warm, caring feel; unlike plastic and metal bedroom furniture that often comes across cold and lacking personality. Adding paint to the wooden furniture helps to bring in some vibrancy.
Introduce colour with painted bedroom furniture
As previously mentioned, the majority of bedrooms across the UK are decorated in plain, neutral colours. These neutral colour schemes can often leave the bedroom feeling like they belong in a showhome. Painted bedroom furniture is a great way of naturally introducing some colour into your bedroom and creating a warm, loving ambience; it can also be key in helping you create the bedroom of your dreams and turning your house into a home.
Painted bedroom furniture adds practicality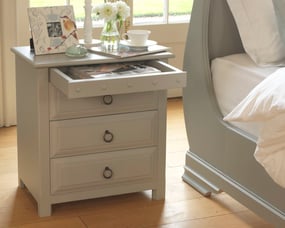 On top of being able to add some well-needed character and colour to your bedroom, painted bedroom furniture can also help to bring some more practicality to the bedroom. Although decorative accessories can help to bring your bedroom to life, these accessories often don't serve much of a purpose. For example, paintings may look nice in your bedroom and help to bring colour and create a nice vibe, but they don't provide a function, and you're unlikely to interact with them on a day to day basis.
If you choose to improve your bedroom by introducing painted bedroom furniture, you're not only adding something that is aesthetically pleasing; you're adding something that you can make your life easier day to day.
There are many practical pieces of bedroom furniture you could add to your bedroom, such as drawers and dressing tables. A dressing table is a fantastic place to sit each morning and get ready before you go to work. A painted dressing table can offer you that functionality and help you to improve the overall look and feel of your bedroom at the same time. Similarly, a painted chest of drawers can look great while also serving an important purpose (storage).
Download your free brochure
To find out more about our collection of solid wood beds and bedroom furniture, simply click on the link below to download your free brochure.