Is a Luxury Divan Bed Base Really Your Best Option?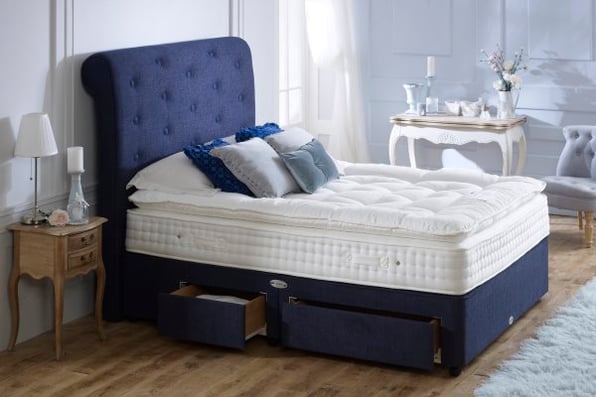 It's easy to see why divan beds are a popular attraction for those looking to improve the decor of their bedroom and achieve a perfect night's sleep. People tend to look at a divan bed base as one that oozes class and luxury while maintaining practicality. In some cases they are, especially when compared to regular metal bed frames and bases. However, as versatile as divan bed bases are, they still possess many issues and limitations which can stop you from building the perfect sanctuary in your bedroom.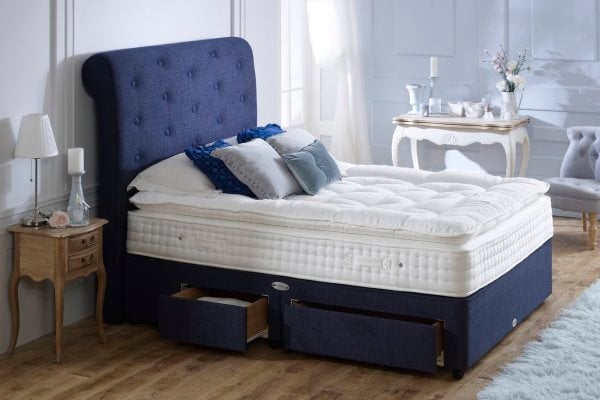 Why People Choose a Divan Bed Base
Believe it or not, a divan bed base's popularity is usually nothing to do with how it looks or even the quality of sleep you can get.
Its popularity primarily stems down to storage space, as this is the main functionality of a divan bed base - whether it's 'luxurious' or not.
However, despite being a versatile option with more storage options compared to the likes of metal beds, it doesn't mean that a divan bed base is the most luxurious, adaptable and practical option to go with.
The Limitations of a Divan Bed Base
There's no denying that there are some uses of a divan bed base. However, when it comes to chasing the luxury and prestige aspect, there are still issues and limitations with them that you should be aware of before making a decision.
A bed isn't something you replace regularly. So, you need to make sure it's just right - a place you look forward to when coming home and sinking into a bed made for royalty.
Despite having storage options, they have weight and size restrictions.
The upholstery in a divan bed base is simply stapled on. This means tears are an actual possibility which are both difficult and expensive to repair.
Ottoman storage is popular - fact. This is because it offers more space than drawers, but it's not practical. As soon as you have anything more than just a mattress on, it all slips down when you lift it up and the bed spreads get caught under the mattress when you lower it back down. So, they're actually more frustrating than they are useful.
Finally, their quality does deteriorate over time. If you do have a divan bed base or think it's the most luxurious option around, look out for bleaching of the upholstery, weakening of the frame, drawers breaking from overuse and the headboards collecting dust which makes it challenging to clean.
Luckily for you, there are many more options available that give you the best of both worlds. You receive all of the benefits mentioned above by having a wooden bed, while enjoying superior storage - more so than any divan bed base can provide.
Plus, wooden beds are much more sturdy as the quality will maintain by simply polishing and waxing them. Not only that, but the look will also continue to improve as the grain slowly comes through over time.
Why There Are Better Options Than A Divan Bed Base for luxury...
Whether it's a handmade sleigh bed that offers a unique blend of traditional French-inspired design or a majestic four poster bed that can transform any room into a luxurious and romantic sanctuary, your options aren't limited.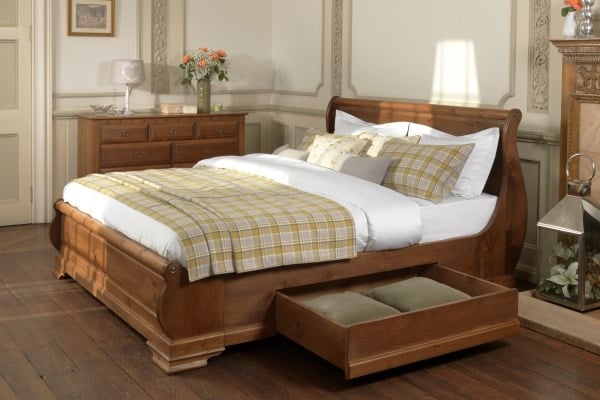 In general, wooden beds are the ultimate glamorous addition to any bedroom, achieving levels of detail and luxury that you just can't achieve with regular divan beds - regardless of their material.
When it comes to storage space, you'd be surprised at how much more extensive the options are.
With wooden beds, you get more space - up to 16 cu.ft - and you can have a lot more weight in the storage drawers too. With divan bed bases, however, you're restricted to around 5 kg which really limits your options.
With a wooden bed from Revival Beds, as long as you have the strength to open it, you can store as much as you want without the drawers ever failing you.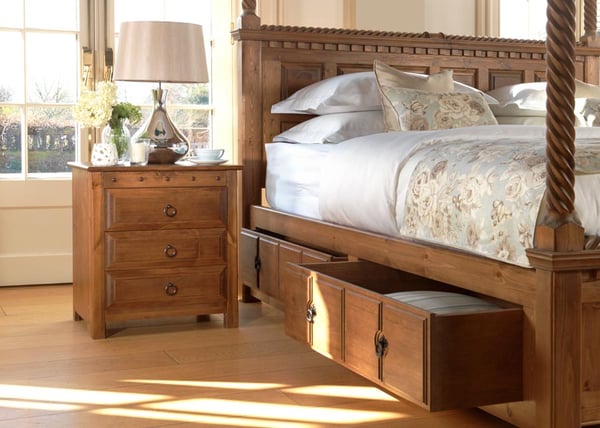 Wooden beds that feature wooden storage drawers offer a lot more. These bespoke designs are actually a better money-saving option while offering stylish and timeless designs you can't achieve with anything else.
The premium quality and large storage space allows you to declutter your bedroom while achieving a better night's sleep.
With all of this in mind, now is the perfect time to begin your search for your perfect wooden bed that'll last a lifetime.
See How Wooden Beds Can Elevate Your Bedroom With Your Bed Buying Guide
Decorating your bedroom is always an exciting challenge, one which requires plenty of thought to create your haven exactly how you want it. The perfect bed needs to come into the equation, so we've created your very own bed buying guide to help.
It's packed full of useful information from what you should consider when decorating a bedroom, the perfect luxury bedroom furniture, different types of beds and so much more.
Get your free copy using the link below.