How to Choose a Handmade Bed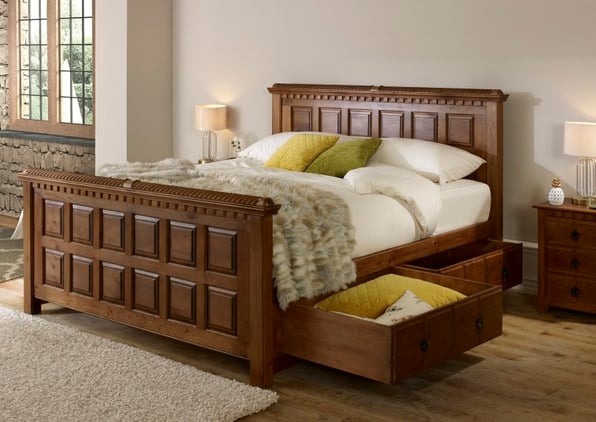 Handmade beds are amazing for so many reasons. Not only are they immensely comfortable but they add a touch of class and light up any bedroom. There are plenty of styles and finishes to choose from, but how do you know which one is right for you?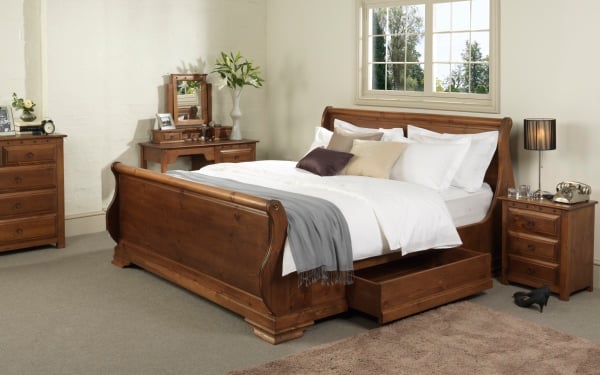 If you're wondering how to choose a handmade bed so you don't end up with an unsuitable option, here are the questions you should be asking:
Is it the right size?
In an ideal world, you'd choose the biggest bed available, wouldn't you? However, room size, budget and necessity all play a big part in your decision making. There's no point having the biggest bed in the world and sleeping in it all alone or having a bed that is far too big for your room and leaves little room for other furniture.
The size of the bed is also related to the type of bed too. For example, four-poster beds are obviously a lot bigger than a single sleigh bed, so don't choose a bed that's far too big for the room. Or too small for that matter.
Different bedroom furniture suppliers stock different types and styles but at Revival Beds, our sizing ranges for our handmade beds are:
Solid Wooden Sleigh Beds - Available up to 7ft Emperor size.

Four Poster Beds - Available from 3ft Single to 8ft Caesar. The most popular size selected is 5ft King-size.

Leather Beds - Available up to 8ft Caesar.

Traditional Beds - Available from 3ft Single to 8ft Caesar.

New England Beds - Available up to 8ft Caesar.

Metropolitan Beds - Available in Double, King-size and Super King-size.
Although, if these sizes still aren't suitable we can cater to all your bespoke needs to make sure you get the perfect bed.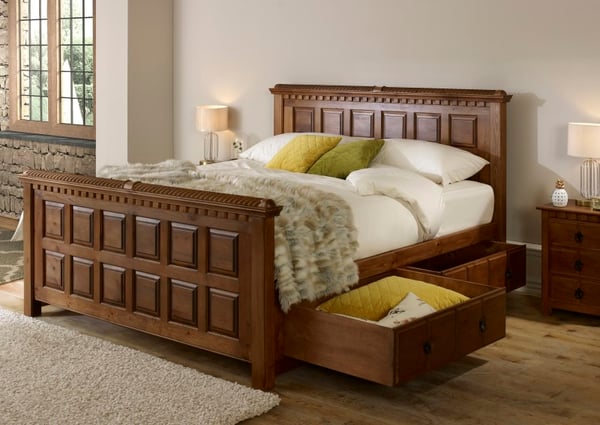 Is it Durable?
You want a bed that's going to last. There's nothing like your own comfy bed, but you don't want to have to keep buying new ones every couple of years because of general wear and tear. It's one thing in the house that can be guaranteed to be used on a daily basis, so it needs to be up to the task.
Our beds come with a 10-year guarantee which proves how durable these stunning pieces are. A handmade bed isn't just a bed or a piece of furniture. It's the vital finish that will transform your bedroom. The beds are made from the finest oak or oregon, so you can be confident that they're made to last.
is it the right design?
Like any other piece of furniture, you need to make sure your bed complements everything else in your bedroom. A good handmade bed will put the finishing touches to your perfect room, or it can make the room look shoddy compared to the bed if it's not decorated properly.
This is why it's important for everything to match.
All Revival Beds bedroom furniture is made to order. If there's a preferred finish you need so that your bed matches the drapes or complements the carpet perfectly, then we can do it. Our team of experts handcraft every element of each traditional wooden bed frame to make sure that everything is perfect for you.
is it the right type?
Just as the design matters, so does the style. A lot of it is to do with how it would look in the room, but it's personal preference too.
Revival Beds offer a great array of styles that are all handcrafted to create the perfect finish for you. The styles include:
Sleigh Beds. Offer a unique blend of traditional French-inspired design and contemporary living to go with many different styles of room.

Four-Poster Beds. A fine four-poster bed could add class to any room. If you're looking for luxury and romance then it's definitely the one for you.

Leather Beds. We only use the finest leather possible so we can assure top quality in our products.

Traditional Beds. Our collection of traditional wooden beds that showcases nothing but passion.

New England Beds. Simple and honest. These beds would look perfect in any room.

Metropolitan Beds. Timeless designs that look great anywhere.

Is it the Right Supplier?
Finding the right bed is important but so is finding the right supplier. As with anything, you want to receive a good level of customer service and you want the company to go above and beyond for you.
And a good supplier will. After all, the cost shouldn't just be for the bed, it should be for the full experience you receive.
Revival Beds offer a premium level of customer service, as recognised by being awarded with a Feefo Trusted Service award for 2019. Not only do we guarantee your money back if you change your mind within 21 days, but we also deliver and install your bed for free, saving you the hassle.
You can be confident that Revival Beds only use the best materials to craft our beds. Each bed is made with care by hand in our Nottinghamshire-based workshop. You'll fall in love with our beds as soon as you see them.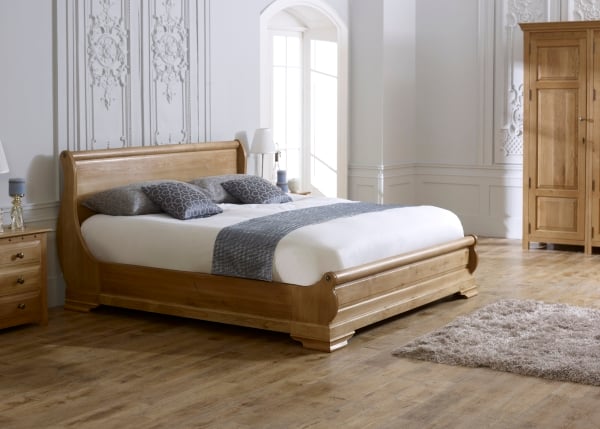 Choose Your Dream Revival Bed
So, now you know exactly what to look out for when choosing a handmade bed, it's now time to pick one.
To view our range of stunning wooden beds, download our free brochure below. Or, if you need any further questions, feel free to get in touch and one of our experts will be on hand to help.