How to Transform Your Guest Bedroom With 4 Pieces of Furniture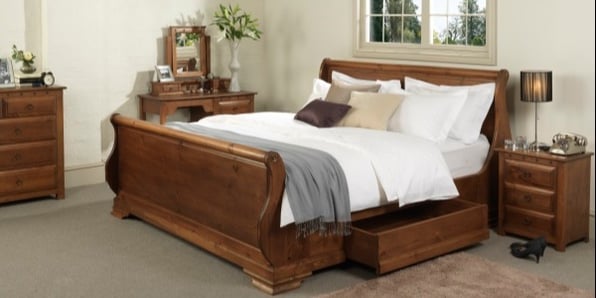 If you're someone who loves to host, creating the perfect guest sanctuary is key to ensuring a memorable stay for your family and friends. It's no secret - the best guest bedrooms are uncluttered, comfortable and feel as homely as possible.
To create a functional yet cosy space, it helps to first focus on the furniture essentials. These pivotal pieces can transform your space and give your guests a night to remember.
1. A Place for Reflection: Mirror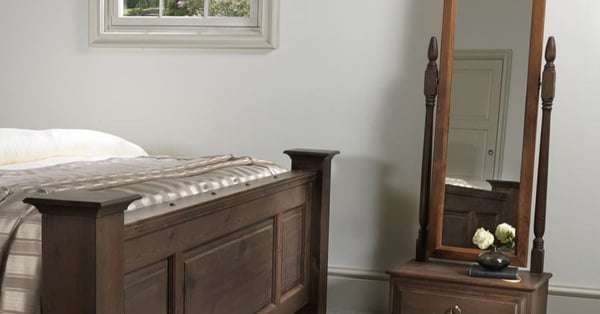 After unpacking their overnight bag, houseguests will appreciate having easy access to a full-length mirror. When accompanied by matching furniture, you can elevate a bedroom with the addition of a high-quality mirror.
They're a functional addition and a well-placed mirror has the potential to open up any space. Interior designers have been using this trick to amplify light and make a cosier bedroom appear more spacious for decades.
If space is at a minimum, perhaps a bespoke free-standing mirror with incorporated drawers may be better suited if you really want to metamorphose your guest bedroom. With its compact nature, this frees up valuable wall space for other décor like artwork, photographs and even wall hooks - essential for that all-important guest robe which is a staple for any stay.
2. Utilitarian Space: Chest of Drawers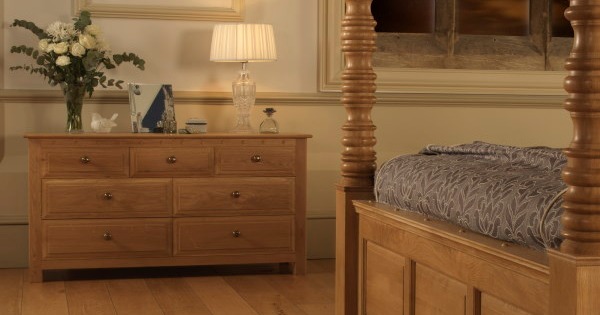 A chest of drawers isn't just for storing personal items away and out-of-sight. Reclaim the underutilised space and make it more than just a place for storing the overspill of your wardrobe. Their spacious surface area can be used as a makeshift dressing table, perfect for guests who are only at your abode for the night.
When converting your guest bedroom into an effective space, it's important to invest in high-quality pieces. Although the furniture is less prone to wear and tear, you should still strive for durable materials. It's one less thing to worry about when you invite family and friends to stay.
When paired with other functional pieces, your bedroom can be titivated time and time again into a sumptuous space for any occasion. Oak furniture is strong and durable; the perfect choice for such a pivotal guest bedroom piece.
3. Stylish and Spontaneous: Ottoman Storage Chest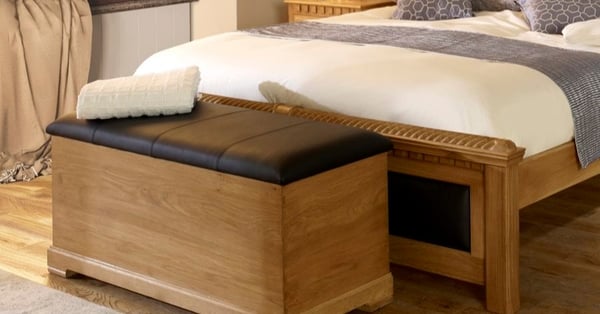 Traditionally hinged hollow boxes, sometimes with decorative cushions or upholstered padded tops, Ottomans may not be the most obvious transformational piece. However, whether you're looking for function or beauty, they remain a great storage solution.
Ideal as an impromptu workspace, table and even a place to perch if the piece is well crafted, their durability means they can be used throughout generations, with many different functions and in various locations. If you decide to spoil your guests with breakfast in bed, it's the perfect place to serve it. You simultaneously earn the reputation as the best host ever while also preventing crumbs.
Bringing comfort, fantastic storage space benefits and utilitarian advantages; it's what every guest dreams of from their host. And if your guest bedroom needs to become a nursery, an office or multifunctional space, it can still provide the benefits you need - even after its guest bedroom days are over.
4. Life-Changing Comfort: Premium Bed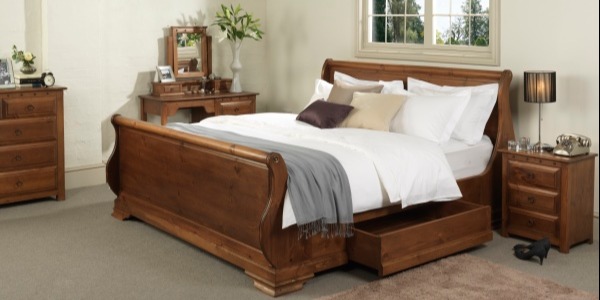 The most important thing you can provide for a guest is a comfortable place to rest their head. An inviting bed to stretch out on with a cup of coffee, especially when it's loaded up with decadent pillows and throws, will make any guest feel at home.
Although futons can give you flexibility, you sacrifice the style, storage and structure a more premium option provides. A well-dressed bed is key to a beautiful guest room, especially when they have underbed storage. A sofa bed you need to convert just can't give your guests the welcome they deserve.
Choose a strong classic style in a withstanding material like oak that won't go out of fashion. This ensures maximum impact on the decor and minimum impact on your wallet. Not only is this cost-effective but you'll also have the complete freedom to blend different materials and styles with such a versatile colour scheme.
The easiest way to transform a guest bedroom is to buy your other furniture from the same collection. This way, it creates instant unity. Don't underestimate the power of cohesion. It creates the perfect canvas for creativity and gives you the ability to change the style of the room with just an exchange of accessories.
Enhance Your Guest Bedroom Experience With a Cohesive Furniture Collection
If you're unsure about where to start when it comes to tying the perfect wooden bed to the guest bedroom, we've got you covered.
We've created a free and comprehensive brochure to help you find the perfect pieces to complement each other. To get your free copy and make even the most coordinated interior designers envious, click on the link below.