How to Style Light Oak Bedroom Furniture 12 Different Ways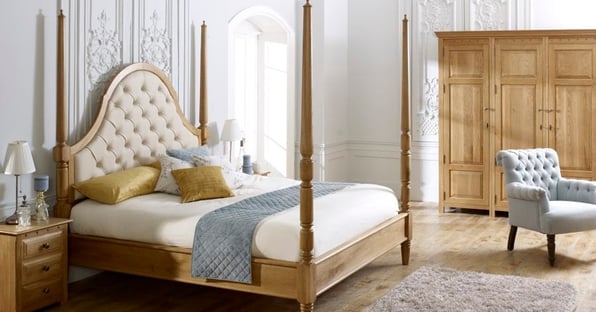 Light oak furniture is a popular choice for those wanting to create a light and airy atmosphere, drawing inspiration from Scandinavian and Japanese interior trends. However, light oak can be styled in ways other than with crisp, white sheets and open spaces.
In fact, the possibilities of light oak are endless and are made even easier to attain by investing in a matching bedroom furniture set. From blushing bedrooms to regal resting spaces, there are less obvious ways to include light oak in your latest interior endeavour.
1. Parisian Chic
The obvious choice for a Parisian palace is an antique style bed complete with a buttoned headboard and an elaborate design. Here, Parisian chic takes on a more mature form, opting instead for the honey hue of natural oak paired with soft, pale greys.
By using light oak in replacement of painted wood or fabric, the room feels less clinical and more obviously inviting. Plus, the addition of the Parisienne Sleigh Bed takes away the overdone element of French-inspired furniture and replaces it with a timeless, tasteful look.
2. Romantic Reds
Light oak isn't reserved for light and airy looks. It can also be used to create depth and drama in the bedroom. Customising the Tuscany Sleigh Bed to sport natural oak with dark grape leather creates the perfect platform to do this, allowing you to dress your bed in intense shades of wine and burgundy.
The result? This bedroom exudes authority and demands attention, yet thanks to its light oak foundation, it's never overbearing, even in the light of day.
3. Slightly Blushing
Light oak is also a well-loved wood that lends itself to both feminine and masculine styles. Sometimes, it can do both in the same room. Here, the Tuscany Sleigh Bed is pictured with black leather accents to give its natural oak frame an androgynous look.
Pale pink throw cushions and fresh flowers decorate the space, adding a feminine factor to the room and balancing both energies. In turn, this bedroom belongs to both parties, helping you to achieve a truly harmonious hideaway.
4. Fiery Fuschia
Light oak is inoffensive, helping it to gain plenty of popularity in both homes and hotels. However, this doesn't mean light oak is destined to be boring, bland and devoid of colour.
Accessories can spice up this sure choice in an instant. Just add a brightly coloured throw, decorative cushion, plant and ornament. Here, we've paired fuschia with the Monaco Sleigh Bed — a shade that's a mainstay for the spring and summer seasons.
5. Pretty Pinks
One of the easiest ways to style light oak is with flowery, feminine accessories. It's a great way to style a lady's lair without making the space feel sickly sweet. At first, you could be tempted to paint the wood bright white to make the space feel light and airy.
However, the Amalfi Sleigh Bed in natural oak with cottonseed leather achieves the same appearance yet proves to be a better investment, giving you endless ways to dress it when pretty pinks are no longer your go-to style.
6. Easy Breezy
Here, the Amalfi Sleigh Bed sits proudly amidst a sea of matching bedroom furniture. In this bedroom, the addition of French doors and an oak mirror makes the space appear easy-breezy, keeping your sleep space feeling fresh at all times of the year.
Sometimes, it's best to embrace and emphasise natural light in a larger space, making this the focal point of your furniture. This style works best with light oak as it's never too overbearing — even when it's finished in contrasting black leather.
7. Ravishingly Regal
For a truly traditional bedroom, people rarely look to oak furniture as a starting point. Instead, they turn their attention to darker walnut or antique mahogany finishes, believing this is the best way to channel the traditions of the past. Yet, with truly classic silhouettes such as the Ambassador Four Poster Bed, emulating shade as well as style isn't necessary.
In fact, it can run the risk of appearing like a cheap imitation of an era. Light oak allows you to be brave with other aspects of your bedroom such as wallpaper prints and lighting styles, never leaving the look feeling too try-hard or museumlike.
8. Contemporary Classic
For those with diverse interior tastes, light oak allows you to draw on both classic and contemporary styles without the need to compromise. Here, the Quebec Pencil Bed serves as the classic element of the room while a soft colour palette of bronze and baby blue catapults this concept into the present day.
This Gallic bed style could easily become conservative. However, its natural oak finish and rice milk leather headboard make it look a little more liberal and in tune with its stylish surroundings.
9. Irresistibly Irish
Light oak is versatile enough to act as the base of even the most patriotic of projects. In this Irish scheme, light oak serves as its bread and butter, being used everywhere from the magnificent County Kerry Four Poster Bed to the chest of drawers and bedside cabinet.
To style the suite, traditionally checked linens and subtle splashes of greenery are all that's needed to add a suitable amount of Irish charm.
10. Perfectly Private
Privacy often denotes darkness. However, light oak allows us to sit in a secluded cocoon of golden warmth, meaning we can stay out of sight without sinking out of existence.
In this example, the natural oak frame of the Balmoral Four Poster Bed is the perfect structure for shutting the world out. Simply add floor-length drapes and draw the curtains to create a perfectly private place to recoup and recharge, away from the onerous outside.
11. Whimsical Wonderland
Light oak is perhaps the finest finish for creating a sense of childlike wonder. Above, the Windsor Bed is paired with soft prints and joyful colours to create a secret whimsical world.
A breakfast tray enhances the ethereal aura of this room, suggesting you can stay in bed until the early afternoon. Light wood blends into the background when it's required, making room for more reserved styles like this, where a darker timber may not work as well against such dainty decor.
12. Maine Moment
Introducing light oak to New England-inspired bedrooms permits you to withdraw stark white finishes from at least one room in your home. While crisp, cool colour palettes often work in practical places like kitchens and bathrooms, bedrooms often call for a more calming, cosy colour story that is as mellow as it is modern.
The Maine Bed and matching bedroom furniture help round out the room and fresh linens and lampshades ensure the room feels authentically Atlantic.
Investing in a matching light oak furniture set helps you to achieve any of these bedroom styles while giving you the flexibility to switch to a new interior theme later down the line. This is where our latest guide will help you.
Try Any of These Styles with Light Oak Bedroom Furniture Sets
Whether you want to go from contemporary to classic or vice versa, you can, with high-quality, durable furniture pieces that will last you a lifetime. Explore all of our light oak options — all made using aged European oak — by downloading a copy of our Collections Brochure below.
Our furniture ranges are complete with dressing tables, drawers, bedside cabinets and even blanket boxes so you can find a fully functional furniture suite, all with the same premium finish. Get your copy today.