How to Achieve a Country Style Bedroom Aesthetic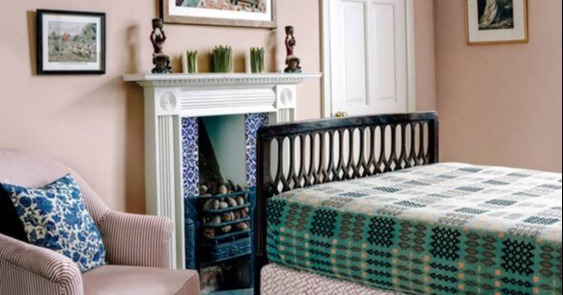 When you think about a country style bedroom aesthetic, the mind instantly wanders to picturesque, pastoral scenes and rambling hillsides just outside your window, bringing the spirit of the outdoors into your interiors. If you want to achieve your own form of bucolic bliss, read our nine interior tips for creating a country-style bedroom.
1. Bring the Outdoors In
The best country style bedrooms nod to their surrounding landscape and the whimsical way of countryside living. As such, ditsy, botanical and paisley prints all feel at home in country style bedrooms becoming obvious choices for cushion covers, four-poster drapes and curtains.
While investment in statement soft furnishings is an everlasting addition to a country style bedroom, handpicked floral arrangements and greenery from the garden give sleep spaces a seasonal touch.
2. Pick Countryside Colours
The inspiration from the outdoors doesn't stop at soft furnishings. The colours of your country style bedroom can be selected from its scenery to create a cohesive, authentic atmosphere. For example, a British countryside-inspired bedroom will sport shades of green, soft pinks and natural materials like wood to create a perfectly placed colour palette.
From here, your choices can inform your interiors, causing you to opt for exact-match wall colours, carpeting and wooden bedroom furniture.
3. Prioritise Comfort
Country style bedrooms should feel quaint, slightly cluttered and above all, comfortable. Erring on the side of substance rather than style, a country style bedroom is one of the only interior trends that doesn't pride itself all in its image — but also in how it feels and functions too.
Whether a country-style bedroom is housed in a teeny-tiny cottage or a sprawling stately home, it should prioritise comfort, including well-loved bedroom assets like armchairs, plump pillows, and fabric-topped ottomans.
4. Focus on Frills
Country style bedrooms might focus on a more relaxed lifestyle but they are by no means fuss-free. Frills, ruffles and flounced bedding are very much back in fashion when it comes to this style.
While most modern bedroom ideas have their roots firmly planted in minimalism, country-style bedrooms can afford to throw minimalism's clean lines and subtleties out of the window, instead opting for an elaborate, overtly feminine appearance.
5. Play with Print and Colour Clashing
In much the same way that country style interiors ignore the principles of minimalism, they too disregard the rule book when it comes to the relationship between print and colour. Indeed, red and green can never be seen — except for in a country style bedroom.
Plus, in regards to prints, gingham, stripes, paisley and more, retro patterns are just some of the designs that can all happily coexist in a cleverly-styled country style bedroom.
6. Dress it in Drama
Just because country style bedrooms are idyllic, it doesn't mean they have to be innocent. Country style bedrooms can be as dark and dramatic as they are feminine and fanciful.
Simply dress your country style bedroom in deeper shades and add authority with a four-poster bed. A country style bedroom with this type of twist provides an immersive escape from the outside, while still paying respect to the rambling hillside.
7. Put Up Scenic Pictures
If an abundance of florals, real flowers and the colours of the country aren't enough, hanging pictures of the countryside is another simple way to add some rural charm. Hanging art inspired by or depicting the local area above your bed is a great way to personalise your country style bedroom project and give back to those close to the community in the process.
What's more, buying original art often proves a worthwhile investment, increasing in value over time if its subject or creator gains popularity.
8. Outline Original Features
If you're renovating your home in a country style, chances are you might be living in a historical home or a period property. The lucky owners of such abodes should maximise their model homes by painting beams, polishing original floors and styling their bedroom around these stories.
This gives country style bedrooms some much-needed character and weathered, rustic quality. So, no matter how modern or magnificent your bedroom furniture is, the room will still appear authentic and feel grounded.
9. Ponder Panelling
Panelled walls are common in farmhouse style bedrooms but they also feature in country style bedrooms from time to time. Wall panelling and cladding are used to make bedrooms feel like cosy cubes full of texture and traditional character.
That said, wall panelling can be used and does originate in the grandest of spaces, being used in castles and protected properties such as Windsor Castle in the past.
To bring your country style bedroom vision to life, you might find it helpful to find the perfect range of classic, country style furniture to act as a solid foundation for your country style bedroom in our latest brochure.
Build a Foundation for Your Country Style Bedroom
Our Collections Brochure is a great place to find the right range for you, sporting a library of handcrafted, British made furniture collections that are exclusively made from responsibly sourced timber and finished using only the finest materials.
To download your copy and watch your country style bedroom bloom, click the link below.