Beautiful and Practical Boot Room Furniture Perfect for Your Abode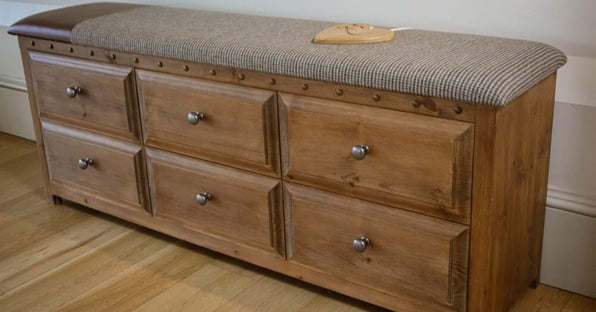 Traditionally, boot rooms are functional spaces — great for packing away those muddy boots and winter coats, alongside the classic umbrella stand. The alternative is much more inspirational.
Your boot room could be so much more than just a place to store your shoes and coats. Whether you prefer a modern or vintage-inspired look, minimalism or beautiful country home decor, we've compiled a list of beautiful, practical and stunning boot room furniture and designs to inspire you.
Want to find inspiration for your home in any room? Skip to the end of this blog post.
Built-in Seating for Comfort and Practicality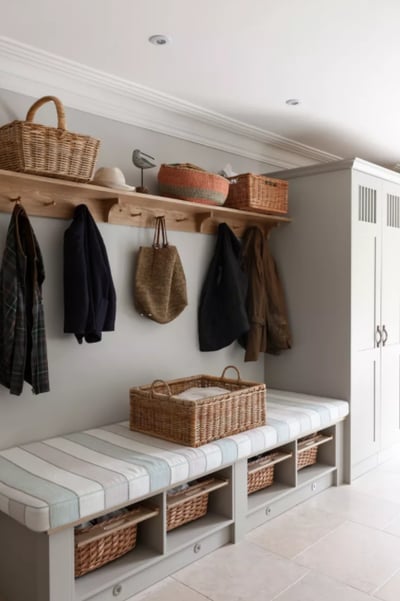 Credit: Mowlem & Co
Being short on space doesn't mean you have to lose out on comfort. Bespoke, delicately handcrafted storage benches will create both a space to store your shoes and an area to sit while you put them on.
Tidy, unique and practical, a carefully crafted storage bench is ideal for tucking away items. And by choosing something bespoke, it'll be intricately and delicately made to suit your unique requirements.
Make Life Easier with a Boot Room Sink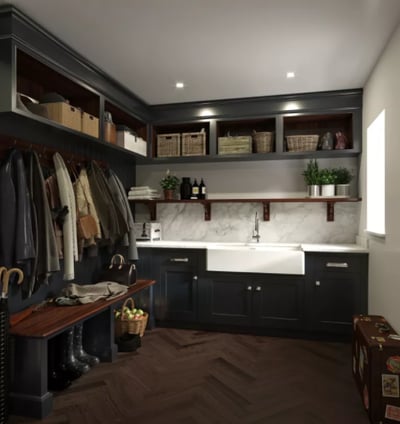 Credit: Mark Wilkinson
British weather can often leave us with a great deal of rain — and mucky shoes as a result. If you have kids or grandkids that are visiting during the holidays, you know all too well how they love to traipse tiny footprints throughout the house.
For homes that have the space, installing a sink in or near your boot room is a convenient, practical solution to ensure messy hands (or dirty paws if you have a dog) can be cleaned before entering the house. For complete versatility and practicality, opt for a tall tap with a pull-out spray to make cleaning a whole lot easier.
Boot Room Storage for the Whole Family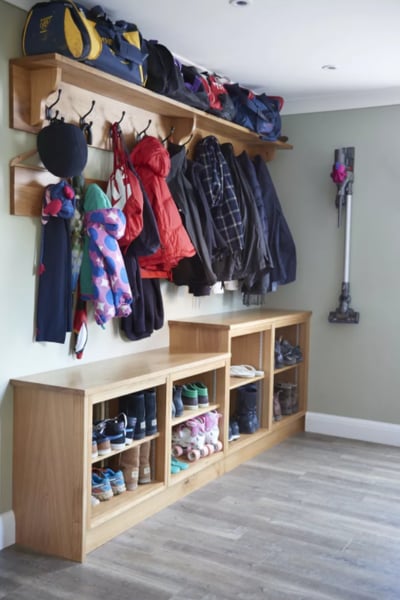 Credit: Rencraft
Little ones tend to have a shorter reach, but by placing hangers at a lower level for your children or grandchildren, you'll make a sweet yet practical addition to your boot room.
The fear over these kinds of designs is the lower hooks and storage shelves will look out of place, but by choosing matching hardwood, the lower hooks and storage shelves will only add to the aesthetic.
Make the Most of an All-In-One Solution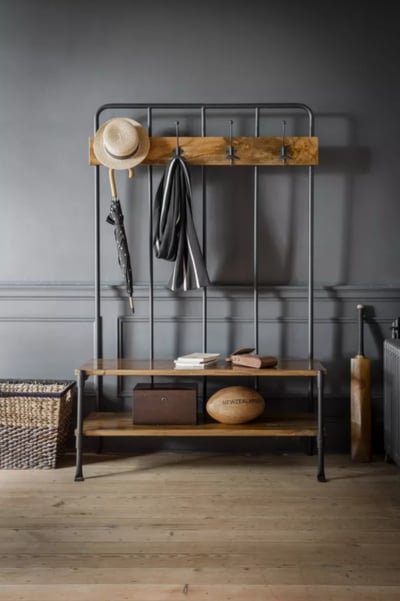 Credit: Atkin and Thyme
Minimal, modern and another fantastic solution for boot rooms with little space. This one-off piece of furniture features all you need for your boot room, including a bench, shelf and hanging space. Its dark iron frame and grey wall contrast the natural wood shelving, providing a rustic, vintage and inviting atmosphere.
It's perfect if you're trying to achieve the same look when renovating your boot room.
Match Your Style Boot Room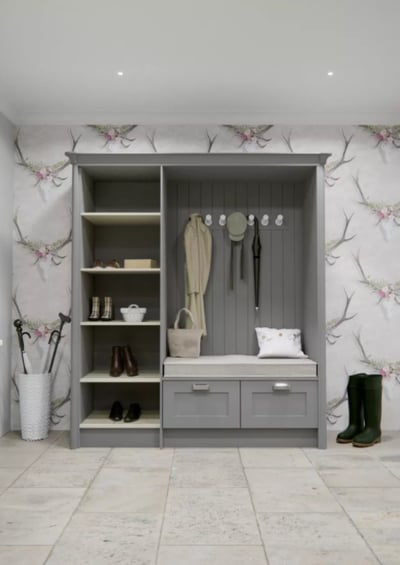 Credit: Lochanna Kitchens
Smart, cohesive and contemporary, this style of boot room is both stylish and practical. Its gorgeous, freestanding boot storage unit complements the decadent wallpaper while the white cushion and umbrella basket directly contrasts the grey scheme.
Adopt a similar style if you're looking to brighten up your space and bring the whole room together.
Create Your Own Style Bespoke Linen Chest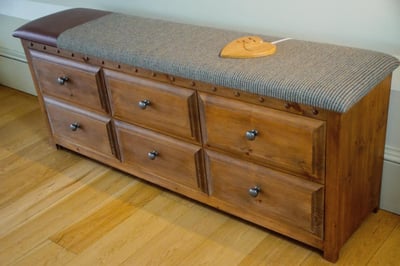 Uniquely crafted with a beautiful leather and fabric upholstery, this bespoke linen chest is perfect for creating your own style — and it's ideal for storing away hats and gloves in your boot room. With a comfortable fabric top, it's the ideal country chic addition that'll keep hallways clear from clutter and perfect for taking a seat.
Alternatively, you could choose an Ottoman, the perfect place for lacing up shoes.
You'll also have peace of mind that something like this — or any other bespoke piece of bespoke furniture you add to your boot room — is made just for you. The best part is by working with a bespoke manufacturer, you can find a style that suits your home's exact requirements.
If you'd like more information on creating and ordering bespoke furniture or our solid wood beds, you can download our collections brochure to see the full range.
Harnessing Country Glamour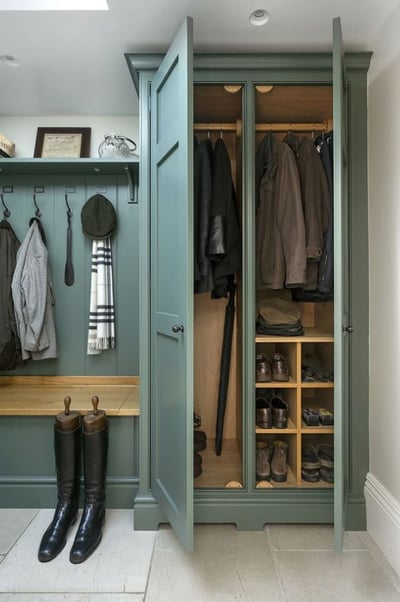 Credit: Pinterest
This tailored boot room exudes country glamour. From the green smoke paint to the natural oak interior, sophistication and allure ooze from this space. Items are easily tidied away in the bespoke wardrobe, providing plenty of space for all your coats, shoes, hats and other accessories.
If you have a lot of items that you aren't quite ready to part ways with but also don't want them on display, opt for a floor-to-ceiling idea like this.
Here at Revival Beds, we offer a number of wardrobes that would work perfectly in a boot room, from our Gentleman's Cupboard to our Emperor wardrobes.
If you've seen any boot room ideas that you'd like to see in your home, but you're unsure how to bring them to life, it's best to discuss your vision with experienced craftsmen. Whether you're looking for beautiful drawers, chests or boot storage, handcrafted furniture will make a unique addition to your home.
Although they're smaller areas, boot rooms are often the first thing you see when walking into a home, so you need to make it something you're pleased with and impactful. Now you've had time to explore inspiration for your boot room furniture, maybe it's time to update the rest of your home?
We've created a beautiful guide full of elegant, stunning and aesthetic ideas for every room in your home.
Get Inspiration for the Rest of Your Beautiful Home
From dining rooms that create a narrative to beautiful country kitchens, our guide is filled with stunning ideas to help bring your vision to life. Whether you're looking to enhance your home's architectural quirks or harness Scandinavian minimalism, our brochure has all you need to know.
Start creating your dream home and download our inspirations guide below.