From fairy tales to festivals - facts about four poster beds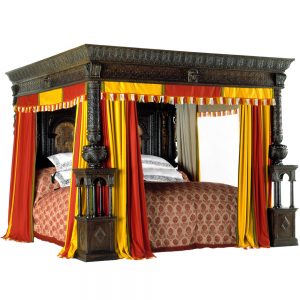 Facts About Four Poster Beds
1. The four poster bed was introduced in the 15th century, and was probably brought from Austria.
2. The oldest known four poster bed in Britain has provided a comfortable night's sleep for 15 generations of the same family. Built for the residents of Berkeley Castle in Gloucestershire in 1608, it has been slept in for more than 400 years.
3. The largest known four poster bed is the Great Bed of Ware. Measuring over three metres wide, it is reputedly able to accommodate at least four couples. Built in about 1590, it was probably made as a tourist attraction for an inn in Ware, Hertfordshire. It's currently on display at the Victoria and Albert Museum in London.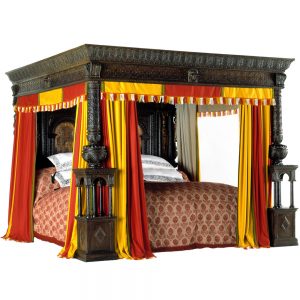 4. Hogwarts, the beloved school of witchcraft and wizardry in the Harry Potter series, furnishes all of its dormitories with four poster beds.
5. In 2010, builders renovating a hotel in Chester dumped a four poster bed from the property in a car park. Sold at auction for £2,200, the bed was subsequently verified as having belonged to King Henry VII – and is now estimated to be worth up to £20million!
6. In the Hans Christian Andersen fairy tale, The Princess and the Pea, a prince tests a woman's claim to be a princess by hiding a single pea beneath 20 mattresses on a four poster bed – his theory being that only royalty would be able to feel the pea. Sure enough, in the morning the woman complains that the bed was uncomfortable, thereby proving her claim…and they both lived happily ever after.
7. The set of Jan de Hartog's prize-winning play, The Fourposter, consists solely of the characters' bedroom, dominated by their large four poster bed. The story spans the 35-year marriage of Agnes and Michael.
8. If you thought festival chic was about dry shampoo and baby wipes, think again. If a soggy tent isn't for you, consider renting at yurt at Glastonbury, which comes complete with fluffy rugs, dressers, sofas and – you guessed it – four poster beds.
9. Brenda Lee's song, Big Four Poster Bed, reached number 4 on the US country chart in 1974.
[embed]https://youtu.be/DasrqlK02VA[/embed]
10. The dog house is no longer a place to be banished to: London's world-famous department store, Harrods, stocks a range of jewelled four poster beds for our four-legged friends!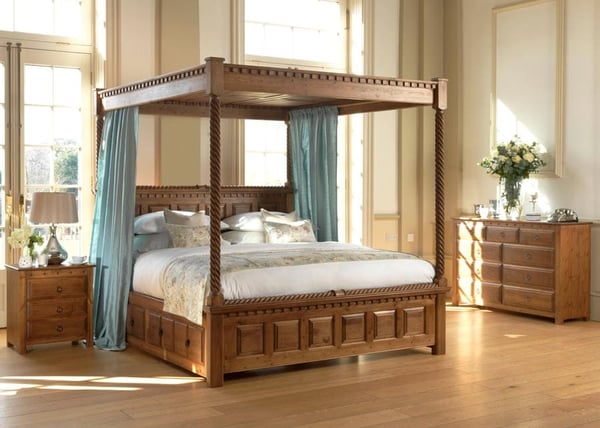 Download Your Free Brochure
To find out more about Revival Beds collection of four poster beds, wooden sleigh beds, traditional beds and bedroom furniture, simply click on the link below to download your free brochure.