Which Bed Slats are Best?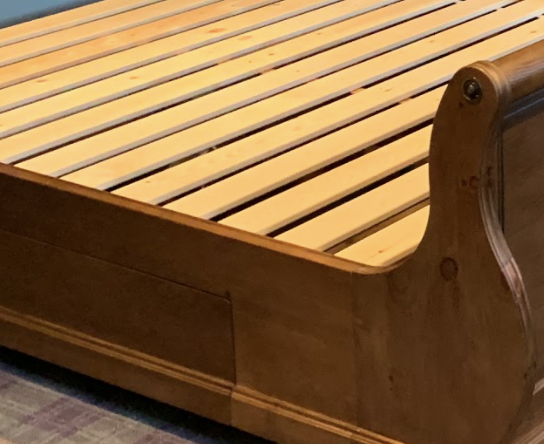 A good bed base is extremely important because it guarantees the right level of support and ventilation. There are different options when it comes to bed bases; divan, solid slatted or sprung slatted among other variations. Whilst divan bases are mostly solid, slatted bases are the more popular choice as they are more cost effective and durable than most divan bases.
Do Bed Slats Make a Difference?
Yes, they do! Bed slats help to make your mattress more comfortable and supportive. They work together with your mattress to provide you with much-needed support when you lie on your bed. They also increase airflow from your headboard to your toes which can help to keep your mattress sufficiently aerated and fresh for longer.
Solid slats vs Sprung slats
The main difference between solid and sprung slats is the way they are fixed to the bed frame, and the mechanism they use. Solid slats are flat and run across the width of the bed, usually made from a sturdy wood such as Pine.
Sprung slats are typically made from a flexible plywood like Beech. They are placed in 2 rows that reach halfway across the bed to the centre bar, usually fixed in place using a plastic clip that slots into holes in the bed frame.
Solid Slats
Solid slat are recommended if you prefer independent comfort and support from your mattress alone. For example, a medium feel mattress may feel softer on sprung slats because they have less resistance than solid slats. Likewise, a firm mattress may not be as firm as you'd like when using sprung slats.
Because of its structure, a solid slat base provides excellent distribution of pressure. This even distribution helps with back support, and unlike a sprung slat base, a solid slatted base helps to absorb movement. This helps to reduce sleep disturbance caused by a partner moving in bed through the night.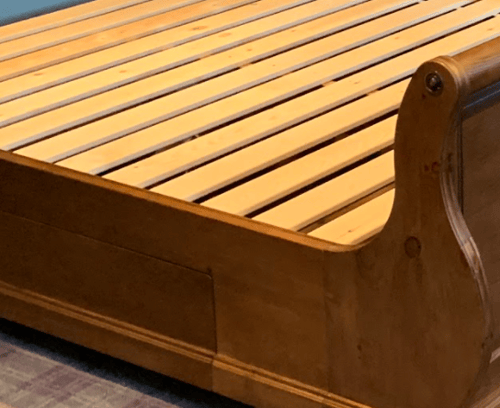 Sprung Slats
Sprung slats mimic the mechanism of springs, and are fixed to the bed in such a way that they bend and arch upwards. They give the bed a 'springy' or bouncy feel, and act as a shock absorber for the mattress. When you sit or lie on the bed the slats bend down under the weight.
Slats are individually joined to the bed frame, and each takes pressure independently unlike with a solid slat base where pressure is spread across the whole bed base.
Is There any Harm in how far Slats are Spread Apart?
Yes! If the slats are placed too close together, this will give the bed a very firm feel, potentially too firm. The smaller the gaps between the slats, the less air can circulate. On the other hand if the slats are placed too far apart, then the bed will have a bumpy feel and the large gaps will cause the mattress to wear unevenly.
Whilst there is no written rule on how far apart bed slats should be, it is recommended that they are placed no more than seven centimetres (70mm) apart. Every Revival Bed has slats placed every 40-45mm, and you can be sure that a Revival Bed base is a solid and sturdy mattress platform.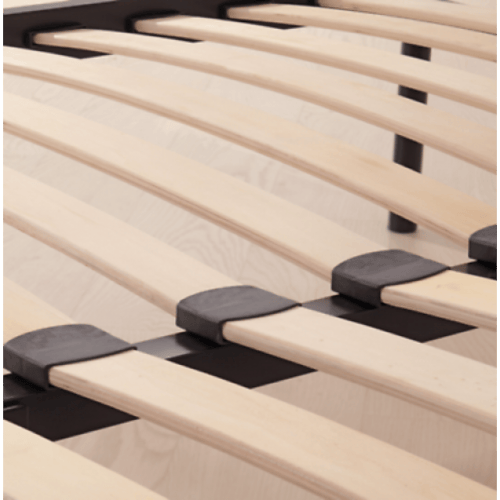 Advantages of Sprung Slats
Shock Absorbing - Sprung slats act as shock absorbers, bending under the mattress and taking the majority of the pressure.


Extended Mattress Life Span - Sprung slats bend into a flat position under weight, meaning that you cannot sink into the mattress too deeply as the slats take most of the pressure.
Disadvantages of Sprung Slats
Shorter Life Span - More strain and pressure is placed upon each individual slat, making them potentially weaken as weight distribution is not spread equally across the frame. This can lead to broken slats needing to be replaced. If broken slats go unnoticed, the split wood could potentially cause damage and wear to the bottom of the mattress.


Bouncy Bed - When you move in the bed in the night, the slats move with you. Whilst some people may prefer a bouncier bed, this can lead to disrupted sleep for you or your partner if either of you are restless sleepers who move in the night.

Advantages of Solid Slats

Longevity - As the slats are flat and fixed to the bed frame, pressure is spread evenly across all slats, improving the life span. Should one slat break, they are very easy to replace, though this is not likely to happen unless there is a weakness or fault in the wood used for that slat.



Health Benefits - Solid slatted bases offer great support to the back area as they are able to adapt to various weights, and offer a firmer feel. A slatted bed base is not only good for your health, but also for the health of your mattress. It offers the comfort, flexibility and support necessary, while preserving the lifespan of your mattress by keeping it aerated and fresh.
So Which is Best, Solid or Sprung Slats?
There is no right or wrong answer here as both different types of bed frame have their advantages and disadvantages.
At Revival Beds we pride ourselves on the quality and craftsmanship of our products, therefore we choose a solid slatted base to ensure a strong and sturdy mattress platform that is built to stand the test of time. Ultimately it is down to a number of deciding factors, such as personal preference, price point and bed design.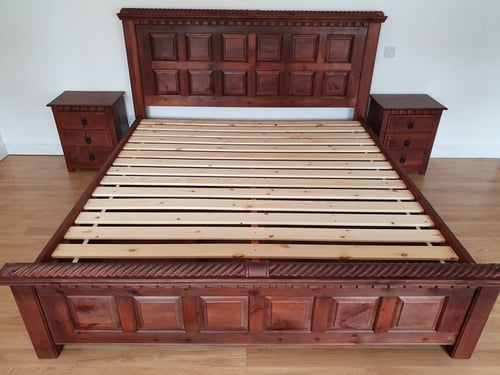 What Slats do Revival Beds Use?
Every Revival Bed comes with 18 solid pine slats that are cloth-webbed 50mm from each end to hold them together securely. Each slat measures 70x17mm and these are positioned 40-45mm apart for optimum mattress support. Pre-drilled screw holes in the middle and ends of each slat then enable a secure fit to the bearers on each bed and the centre bar when required - this eliminates any noise from movement.
What Mattress is Best to use with a Slatted Bed Base?
Memory foam mattresses are quickest to wear out on a slatted bed base. Traditional pocket sprung mattresses boast a longer life span. But there are many other areas to consider alongside the slats and mattress, such as the bed style, the material used to make it and how it is constructed.

Download Your Free Brochure
Our collection of solid wooden beds and bedroom furniture are only ever handmade to order in our Nottinghamshire workshops from the finest materials.
All beds also come complete with a 10 year guarantee, as well as free delivery and installation - to find out more, simply download your free brochure below.