Creating the Room of Your Dreams with Painted Bedroom Furniture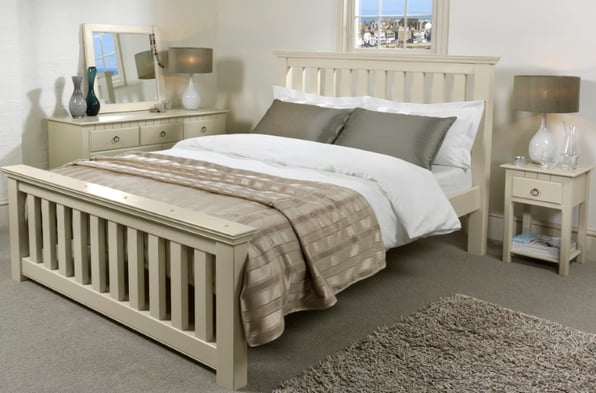 How To Style Your Dream Bedroom With Painted Bedroom Furniture
Some would argue the bedroom is the most important room in the house. After all, it's the only room kept private where you can shut the door on the rest of the world. That being said, you want to ensure that your sleep space is reflective of the mood you're trying to create, whether that's a calm retreat, a luxurious sanctuary or simply somewhere warm and inviting to slumber.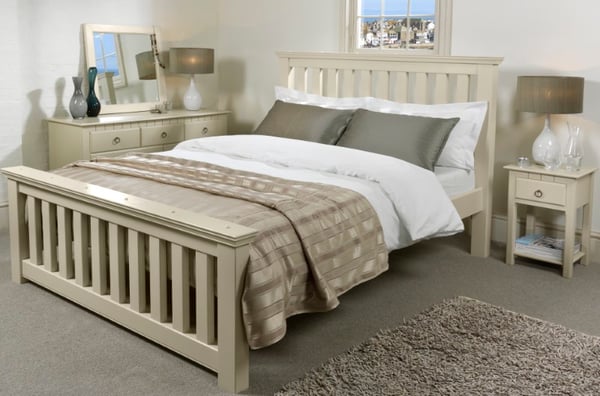 While the colour of your walls and the soft furnishings you choose all contribute to the overall appearance of a room, did you know something as simple as painted bedroom furniture could transform the entire look and feel of the space? In fact, a pop of colour can instantly take your bedroom from the place you merely sleep, to a sweet haven you find excuses to visit before bedtime.
Painted bedroom furniture can be the secret weapon to transformation
Whether you're redecorating the master bedroom or trying to add some personality to the spare, painted furniture can have a huge impact. For example, if it's something reminiscent of those balmy evenings in the Mediterranean you're trying to achieve, seek an off-white colour such as Revival Bed's Lace White (10) to be complemented by blue and rusty hues; perhaps it's something more contemporary you're after, perhaps a Scandinavian feel? Our Pale Gustavian (07) tone injects just the right amount of elegance and sophistication, especially when paired with crisp white linens.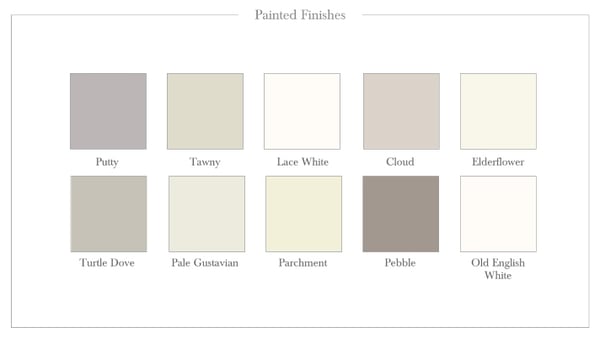 Re-decorating or just re-vamping?
If you're not looking to start a decorating project from scratch painted bedroom furniture is also the perfect way to create the room of your dreams with little effort. Furniture finished in darker paint colours such as our Putty (01), and Pebble Grey (09) can create a stark contrast to plain walls and furnishings, while also creating drama when added to bold, bright colours. Their rich, subtle tones are designed to stimulate the senses to create an opulent yet warm finish.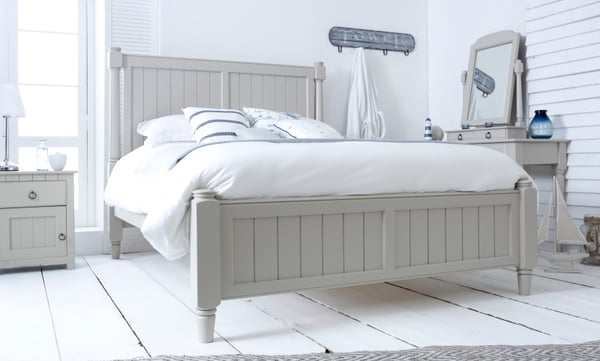 At the other end of the spectrum, those who opt for furniture painted in lighter tones are often surprised by the effect paler greys and off-whites can have on their bedrooms. Cloud (04) is a prime example of how one shade can be used in a multitude of ways. Neither white, nor blue, nor grey, furniture painted in this versatile colour can be accentuated by soft furnishings in a wide range of colours, textures and patterns.
Also, the smallest variations in white paint make such a difference to a room. Take Revival's Parchment (08) for example to create the perfect vintage feel. Add pastel colours, a gingham bedspread and drape dainty bunting to nail shabby-chic perfection.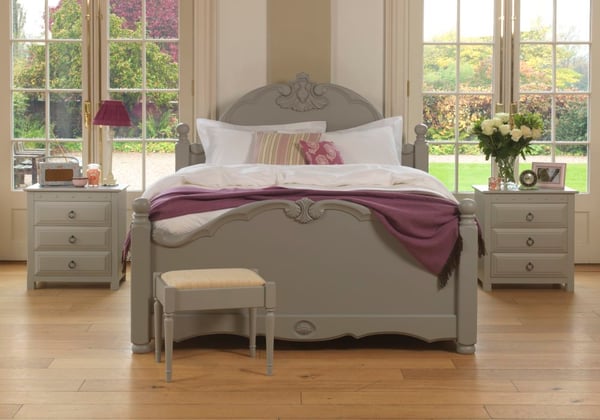 On the other hand, there is a good reason that Old English White (03) is one of our most popular colours. Clean, modern, effortless and contemporary, this crisp yet ever so slightly off-white option offers heaps of potential. Match with bare walls and muted tones to achieve minimalism at its finest; add large mirrors and vases with big bouquets of fresh or silk flowers for understated glamour; and if you're feeling brave why not create a stark contrast between your painted furniture and the rest of your décor by choosing a loud wallpaper and accessories.
If you are looking to redecorate, but are unsure in which direction you should go, you can use our guide to discover some of the most beautiful and charming design inspirations.
Choose your furniture, choose your finish, transform your bedroom
Once you've decided on the overall look you're trying to achieve for the bedroom, it's time to decide which pieces of furniture you want to add to it - and here at Revival Beds, you're spoilt for choice. Established in 1983 our craftsmen have been making beautiful furniture to order, for over 30 years.
Each piece created by Revival Beds is made from only the finest quality wood; Quebec Yellow and Scandinavian Redwood, as well as solid oak - all of which can have the option of being finished in one of our 10 magnificent paint colours to make your bedroom come alive. Revival Beds also offer a colour matching service, meaning your furniture can be painted in any colour to match your bedroom theme.
If you're curious about what colours go with oak furniture, read our blog on the subject.
Download your free brochure
Revival has a plethora of bedroom furniture including over 26 bed frames for you to choose from – four-poster beds, sleigh beds, traditional beds as well as painted wooden beds – bedside cabinets, wardrobes, chests, dressing tables, blanket boxes, and more. So, look no further than Revival Beds for the highest quality painted bedroom furniture that will not only stand the test of time but transform your bedroom!
To find out more, simply click on the link below to download your free brochure.