Handcrafted Wooden Wardrobes Build To Your Requirements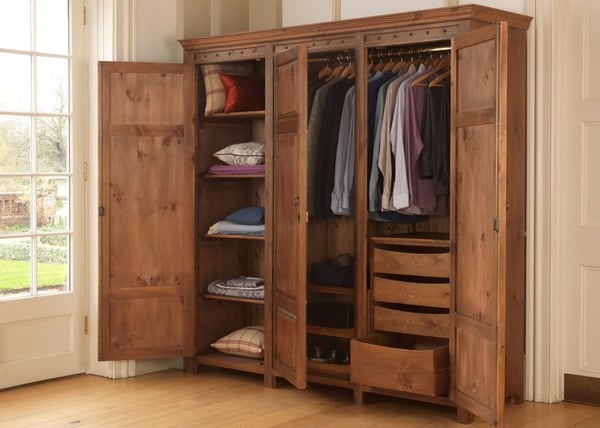 Every 1-4 door wardrobe is available in 2 different size options – standard and Emperor. But we can also provide a made to measure 'bespoke' service if you are looking for a custom size wardrobe - something taller, longer or wider than our standard sizes.
Wardrobe configuration options
As well as different size options, each solid wood wardrobe can be build to your individual storage needs, with 7 different internal configuration opinions available, including:
Long drop hanging rail
Short drop hanging rail
Double sliding shoe tray
Four drawers
Four shelves
Blanket drawer
Topbox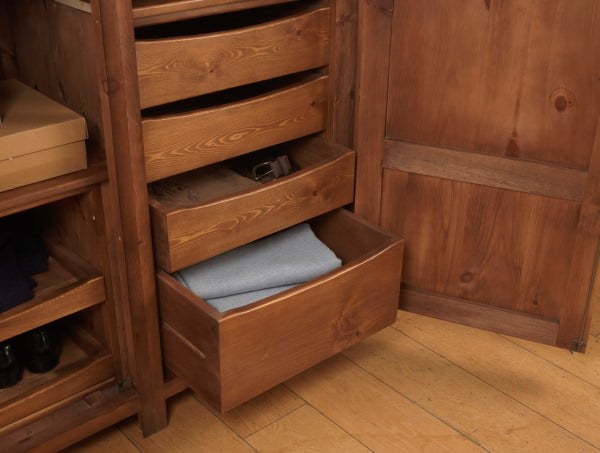 Just like our handmade wooden beds, including four poster beds and sleigh beds, our custom made solid wood wardrobes are available in a range of 11 different natural wood and pastel paint finish options – we can even offer a colour matching service if you need to colour match to your existing furniture collection.
Wardrobe colour matching service
We also have a number of happy customers who have selected their favourite Farrow & Ball colours, which goes through the same rigorous 7 stage finishing process to ensure we get the perfect finish!
Whether you are looking for a standard size or a custom-made wardrobe in 1-4 doors or even bigger, our craftsmen will build to your exact requirements.
Because of our 11 finishing options, we can also create any wardrobe style you like, from a contemporary wooden wardrobe in a pastel paint finish to something more traditional in an antique mahogany finish.
Free delivery and installation
So we can make sure your customised wooden wardrobe arrives in perfect condition, we also provide free delivery and installation by our own team. For your complete peace of mind, we also offer a 21-day money back promise.
download Your Free Brochure
As well as wardrobes, there is a full collection of handmade bedroom furniture, including bedside cabinets, wooden chests and dressing tables.
To find out more, simply click on the link below to download your free brochure.