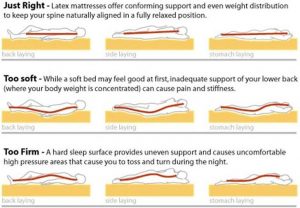 Julie gets to grips with memory foam mattress
This was a completely new world for Simon. Testing mattresses in his spare time with a female work colleague…what would his mates say? He didn't really care, all he wanted to do was find himself the most comfortable mattress he could afford.
With Julie putting the memory foam mattresses through there paces like the Dunlo pillow and the Tempra Simon decided to focus on spring count…but where to start. Simon attracted the attention of bed salesman and said that he wanted to know everything about the springs that were used in the mattresses in the shop.
There is more to mattresses than meets the eye
The salesman had been selling beds for years and really did know plenty. He started off by telling Simon that mattresses were like icebergs, what you see on the surface in no way tells the whole mattress story.
He said that there were a lot of mattresses that flattered to deceive. "They are given fancy names, expensive looking covers but unless the springs and the layers of filling are good quality and the mattress has been constructed properly the person using the mattress will not get a full and lasting benefit".
Do you suffer from stiffness and backache
"The main thing to appreciate with a mattress is how well will you sleep" he went on. "Keeping your spine straight whilst you're asleep is the job of your mattress". He then showed Simon this really interesting diagram that he had found on an American website called 'Sleep Like A Bear'. The diagram was mostly related to latex, foam and memory foam mattresses but it showed what was needed for a comfortable nights sleep.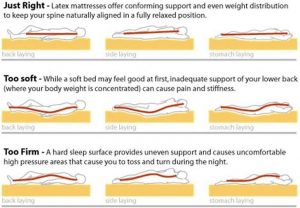 What Simon wanted from his new mattress
He gave the salesman the following requirements and benefits he was looking for.
1. I need my new mattress to provide me with eight hours of sleep a night.
2. I need to wake up in the morning refreshed.
And the reason I want this said Simon "is because I think my lack of quality sleep is adversely affecting my life. My job is suffering, my weight is increasing, I've had near misses when I'm driving, I can't exercise because my back aches and I'm tired and irritable during the day".
The salesman sympathised with Simon…he'd heard it all before. Time was flying in the mattress shop and Simon realised he was going to need much more time to make up his mind and whether he going with foam or pocket springs. Simon did realise there was a huge difference in value for money where mattresses were concerned. He was definitely going to buy a new mattress because of the benefits he was going to get. He knew it was going to cost him so he was determined to make the right choice…but not tonight.
A mattress spin
When Simon got home his head was in a flat spin. He never realised there were so many different mattresses providing so many different benefits. By the time he was half way through the visit he was starting to forget a lot of the detail he'd been told. The price range of the mattresses was quite staggering depending on the mattress size and the mattress quality.
Simon and Julie's mattress quality chart
He had almost made his mind up but he needed to be sure. Simon had decided to build his own chart of mattress strengths and weaknesses which would help him to come to the right decision. Although he wouldn't be seeing Julie for a few days he knew she would remember everything so he decided to email her his thoughts and ask her for input with his chart.
Maybe he'd revisit the same shop and another bed shop she had mentioned. For his chart he had also decided to include mattresses that were sold on the Internet. Simon laughed to himself, he was becoming a mattress nerd…how had that happened?
Download your free brochure
Find out more about Revival Beds collection of UK made mattresses, wooden beds and bedroom furniture.