10+ Natural Home Decor Tips: Bring Nature Indoors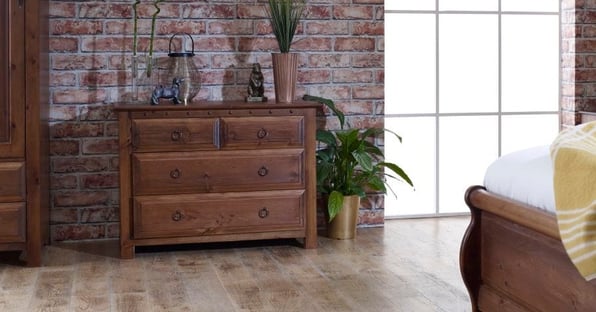 Natural bedroom decor doesn't have to be bland and uninspiring. Natural materials and colours reminiscent of the world's diverse landscapes make your home look beautiful and connected to nature. It's also a timeless style you can easily transform with the addition of a few accessories.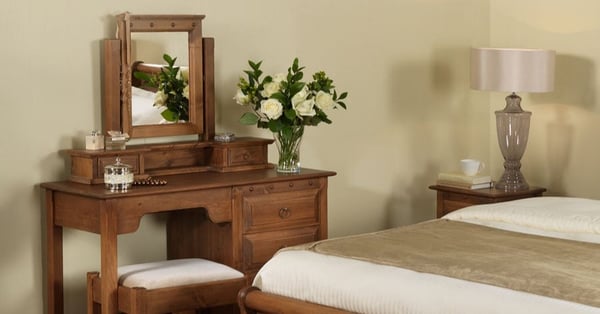 It's not just about adding a few plants. Here are our favourite natural bedroom ideas to help your boudoir bloom.
1. Invest in Wooden Furniture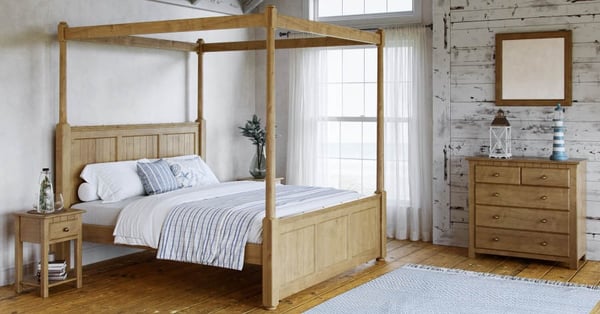 Shown: The Vermont Four Poster
Invest in durable hardwood furniture for your bedroom. Not only for its charm but also because it instantly makes a room more organic compared to a metal alternative. Wardrobes, beds, chests and everything in between can be made in this versatile material.
When hardwood is specially selected for its distinct character, the finishing touches bring it to life. Its beauty can be accentuated further with a stained finish and polish to truly enhance its natural features.
2. Opt for Organic Accessories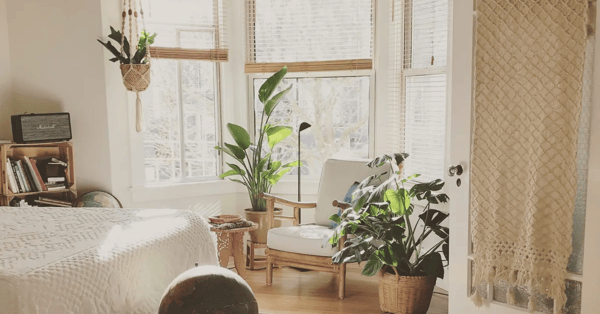 Image credit: Stylist
Natural materials are effortlessly stunning and they don't even need to try when it comes to catching your eye. Rattan, marble, cork, leather — and of course wood — are all beautiful materials Mother Nature has to offer.
To create a sense of calm and warmth in your bedroom, something simple you can do is purchase a few affordable accessories, such as wicker planters and sustainably-sourced throws, before investing in front-and-centre bedroom items.
3. Let the Shell of Your Bedroom Speak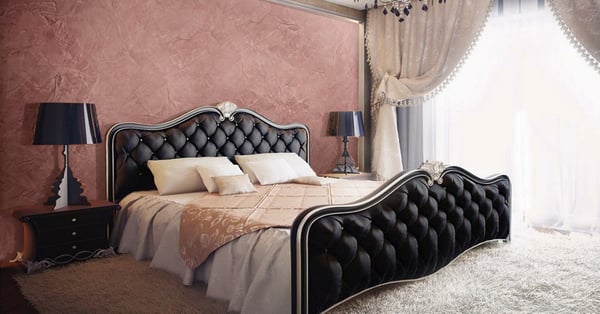 Image credit: Bioplast
Go beyond nature-filled furniture and accessories. Bring the outside in with your wallpaper too. Liquid wallpaper is a combination of natural cellulose, silk and cotton fibres that are kind to the environment. With fantastic thermal and insulation properties, it's also entirely composed of natural materials.
Using different sized tools, you can emboss, create patterns and make original markings that draw attention to your bedroom walls to get the best out of style and sustainability.
4. Tune Into Earth Tones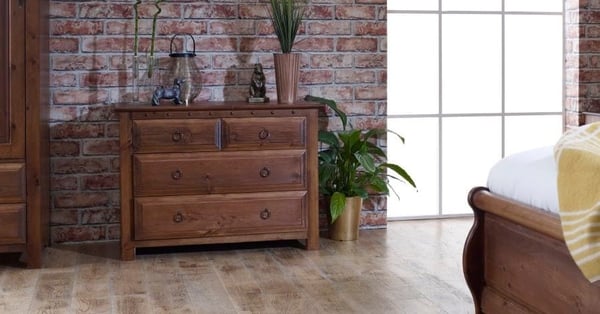 Shown: 2 Over 2 Chest
Earth tones are a description that frequents the art, fashion and interior design world. It's interpreted in many different ways, but by definition, the term refers to any hue with brown in its composition.
No matter how you define the term, a bedroom decorated with earth-tone colours emits an organic and natural vibe. Don't be afraid to recreate autumn with hues that mimic falling leaves. When done right, rich earthy hues are one of our favourites to bring into the bedroom. It's a staple in any interior designer's arsenal.
5. Keep Your Canopy and Drapes Light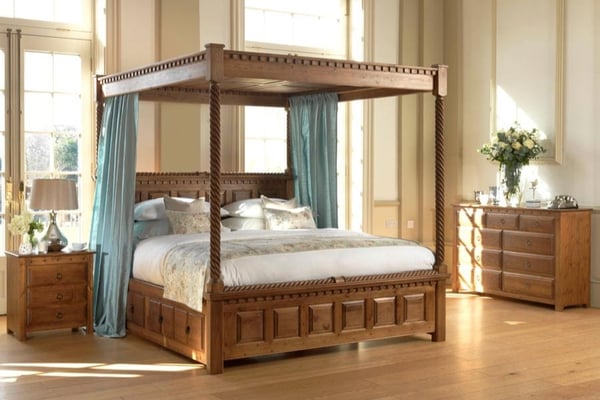 Shown: County Kerry Four Poster Bed
If you have an exquisite four poster bed, you can transform the focal point of your bedroom into a naturalistic sanctuary by making one simple change. Instead of heavy drapery with thick fabric, dress your bed with floaty voile drapes that billow down at either side.
Use pastel coloured fabrics to maintain a sumptuous and natural finish, giving you the element of privacy while retaining a pared-back, easy-breezy feel.
6. Honour Organic Shapes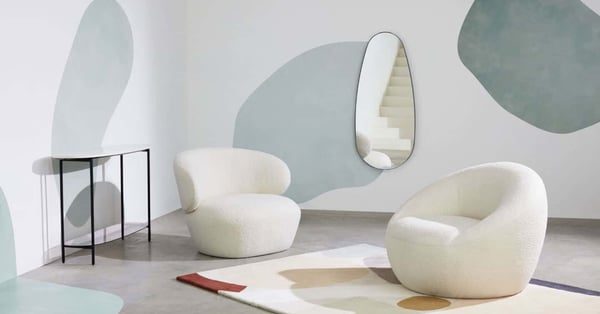 Image credit: The Design Sheppard
Outside, things aren't perfectly manufactured. Storms weather rocks; trees bend to the breeze and waves are ever shape-shifting as they respond to their natural environment.
We love that more interiors are now taking inspiration from this, seeing beauty in nature's imperfections. From puddle mirrors to peculiar textile patterns, there are various ways to incorporate the diversity of natural habitats. Where possible, honour these organic shapes, even if it means pairing rounded furniture next to those with right-angles.
7. Harness The Power of Plants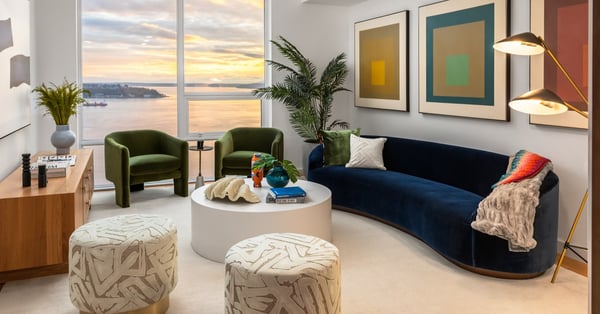 Image credit: Architectural Digest
Plants represent the most practical application of bringing nature indoors. Not only do plants have a whole host of health benefits, including improved air quality, but from an interior standpoint, they also allow you to play with texture and bring vibrancy to dark, unused spaces.
Plants work best when layered with different heights, sizes and species. You can dot plants around the room or if you're going to place plants close together, bunch in threes, taking care to put them in a triangular formation.
8. Find Flow With Indoor-Outdoor Living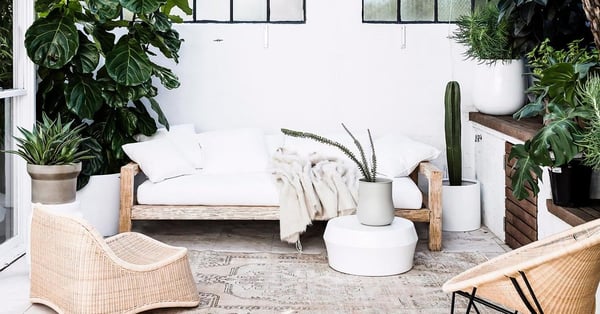 Image credit: Homes To Love
Whether you're fortunate enough to find yourself in a sunny climate where lounges can open onto verandas or you want to emulate this feeling in your home, finding flow with indoor-outdoor living can make your home feel at one with its surroundings.
Using similar furniture outside and inside can help to create cohesion. For example, committing to white linen in the living area as well as in the garden creates a golden thread that runs throughout your interiors.
9. Ground the Room With Rugs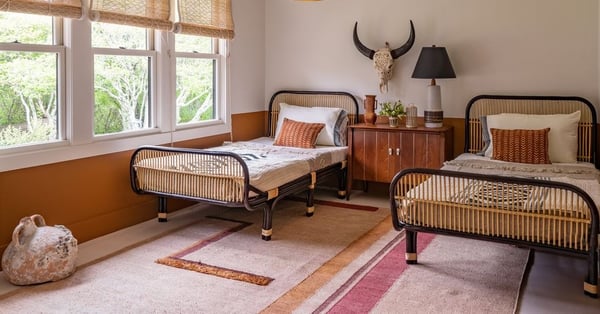 Image credit: House Beautiful
Rugs can create the same grounding sensation as a patch of dry land, a bank of mossy grass or a dune of soft, white sand. With a rug underfoot, your room begins to come to life, offering you a richer, more immersive experience.
Visually, rugs can help bring furniture to the forefront and focus through clever framing. Natural interiors call for natural fibres like jute, wood or rattan that can be artfully combined.
10. Bounce Light With Mirrors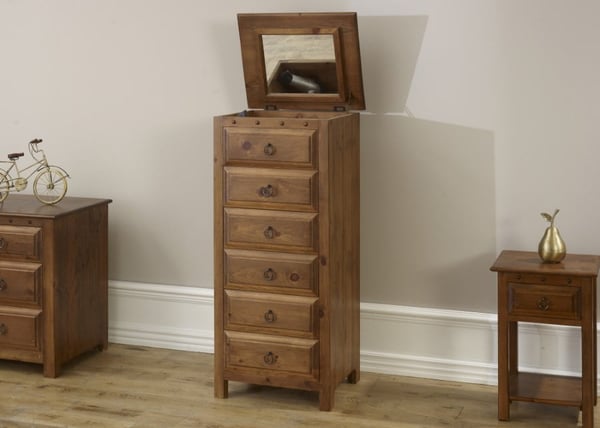 Shown: Vanity Chest
Mirrors are a well-known trick most interior enthusiasts have up their sleeve. Mirrors are known for bouncing light, creating the illusion of additional space and providing interest without adding any out-there accessories.
Nature-driven projects need to focus on the beauty of natural light, so your room can monopolise on those golden hours and take on new personalities as the day progresses. In the morning, light is soft and diffused, but by midday, it's striking. Mirrors help to emphasise this as one of the simplest pleasures the natural world can bring, creating variety every day and a reliable rhythm to the day to day.
11. Embrace Flora and Fauna

Image credit: Vogue
Many of us get creative with fresh flowers, dried wreaths and garlands at Christmas time. But why must we wait until the festivities to bring feminine florals and breathtaking blooms into our space?
Whether incorporating live flower arrangements into a room or choosing floral patterns as a feature, we should do more bold, bright and beautiful decorating year-round to achieve that organic objective. From dressing fireplaces to treating yourself to some colour on your dressing table, there are many areas of our home just waiting for some flowers to freshen it up.
For Endless Interior Inspiration, Look No Further Than Our 'Inspirations for the Home' Guide
Enjoyed this round-up of tips to bring back where it belongs? Get more actionable interior insights for all areas of your home by downloading our ultimate guide.
'Inspirations For The Home' goes beyond Pinterest posts — though we must admit, we're also addicted — to give you the motivation to make it happen.
Create the home you've always dreamed of. Download your copy by clicking the link below.