7 Bedroom Furnishing Ideas for a Comfortable and Cosy Sleep
For a bedroom that feels as good as it looks, we're sharing seven of our best-kept furnishing secrets, from four-poster drapes to premium pillows.
These innovative bedroom furnishing ideas will take your standard sleep space to a photoshoot ready room while allowing you to indulge in a comfortable, cosy sleep every single time your head hits the pillow.
1. Egyptian Cotton Bedding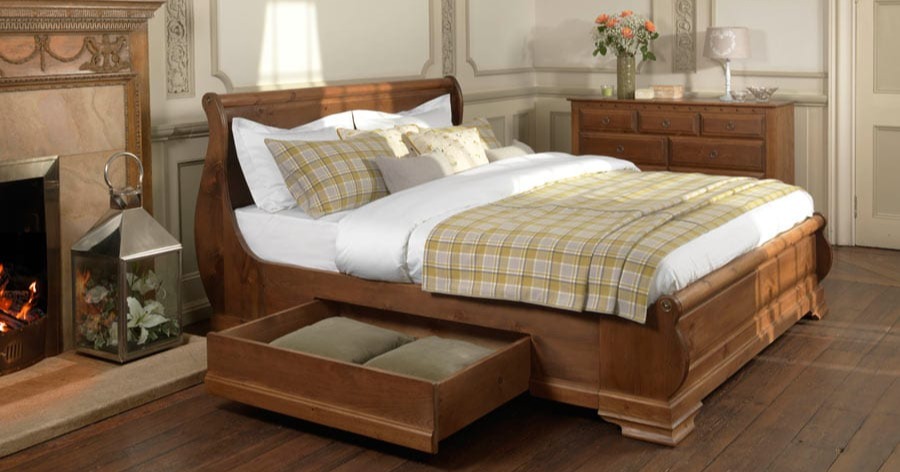 There are many reasons why Egyptian cotton bedding sets remain a staple in every luxury bedroom, also explaining why they had to appear first in our list of the best bedroom furnishings—especially when we're speaking of comfort.
Compared with other cotton sheets, Egyptian cotton is superior in terms of softness, wear and breathability, giving you a guaranteed good night's sleep. This is thanks to the long fibres of Egyptian cotton that mean the resulting fabric is stronger and more durable while retaining its softness and clean, white colour over time.
In short, there's little sense in buying a bespoke bed and failing to finish it with the best sheets.
All Egyptian cotton sheets are worth splashing out for, even if they're a lower thread count, as the raw material is such good quality, the number of threads per square inch won't make much difference. Of course, if you can afford to invest in top of the line 1000 thread count sheets, then do. But don't buy higher thread count sheets of another material in place of an Egyptian cotton set, as it just won't be worth it.



2. Four Poster Drapes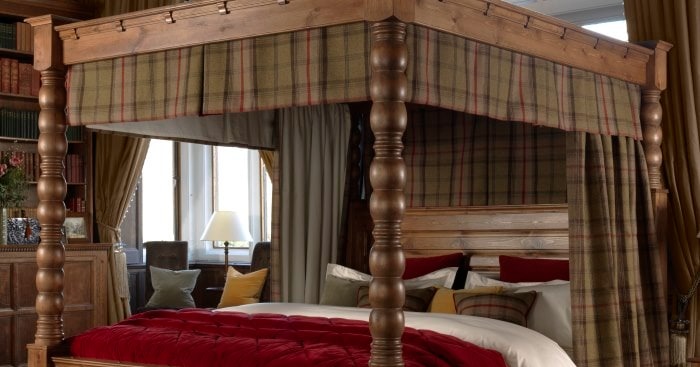 For lovers of four-poster beds, luxury drapes are the only way to do your bed justice. From heavy brocades to dreamy voiles, there are plenty of drape options to make your space feel secluded.
This bedroom furnishing idea helps your bed to appear soft, instead of hardening the room with dark wood and a strong structure. If anything, it helps your four-poster to appear even grander while simultaneously making it feel more inviting.
The beauty of bedroom drapes is their ability to transport a room from one time period to another. Depending on the print you choose, your room can mirror Medieval, Georgian or Victorian design, as well as bring traditional four posters into the present.
If you invest in bedroom drapes today, you'll no doubt still find use for them years down the line. As one of the most durable soft furnishings, bedroom drapes can be dry cleaned and switched out from season to season, staying in your laundry cupboard for later use.




3. Premium Pillows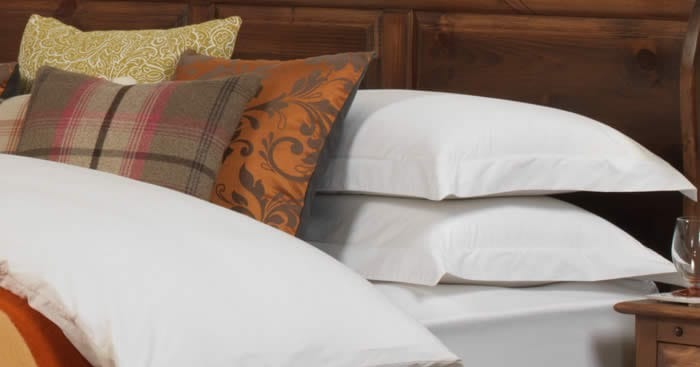 Premium pillows are a practical investment, helping to avoid neck pain and promote sleep, yet they also serve as a nice interior touch, helping your bed area to look plump and prepared for action.
The most show-stopping beds use several types of pillows to layer their look, from the standard size slipped into Oxford pillowcases to more decorative bolsters that add support and enhance bed styling. With two standard size pillows and a brightly coloured bolster, it's easy to create a sleep space that looks as though it's sprung from the pages of a style magazine.
Some of the most luxurious pillow stuffings are Hungarian feather and white goose down. All give a substantial amount of support, retain their shape and control body temperature making sure your sleep isn't interrupted by being either too hot or cold during your slumber.
Ultimately, you should choose your fillings based on your fancy. After all, there is no one right type of stuffing for everybody. You should pick your pillow based on your ideal sleep space and the amount of support you need when you hit the hay.
4. Luxury Duvets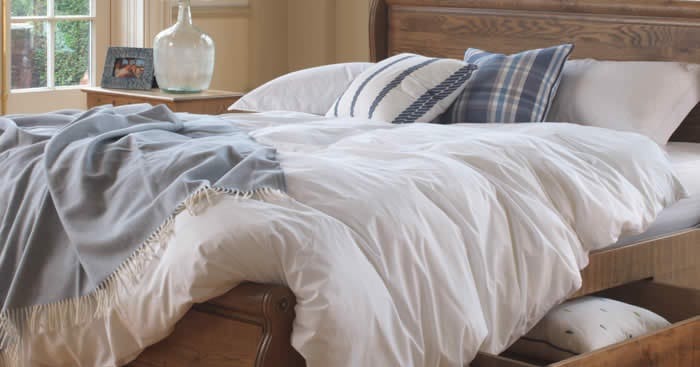 Perhaps the bedroom's cosiest cast member is its duvet, helping you to find fluffy solace and satisfaction at the end of a long day.
Most of us own more than one duvet—one for each season. So, we'll all be familiar with the feeling of wanting to get our duvet's weight, fill power and feeling "just right".
Just like pillows, there are plenty of fillings to choose from when buying luxury duvets including Hungarian goose feather, Canadian goose down and even hypoallergenic varieties. When choosing a duvet, you'll also need to consider its tog count which will determine how heavy and hot it is. As such, try to choose a lower tog, between 1 and 10, for warmer seasons and a higher tog, anywhere from 10 to 15 for colder seasons.
Truly luxurious duvet sellers will give you even more options than this, allowing you to prescribe the length and width of your ideal duvet so you never have to fight for the quilt or put up with a conventional sized duvet if you have a custom-sized bed.
5. Mattress Protectors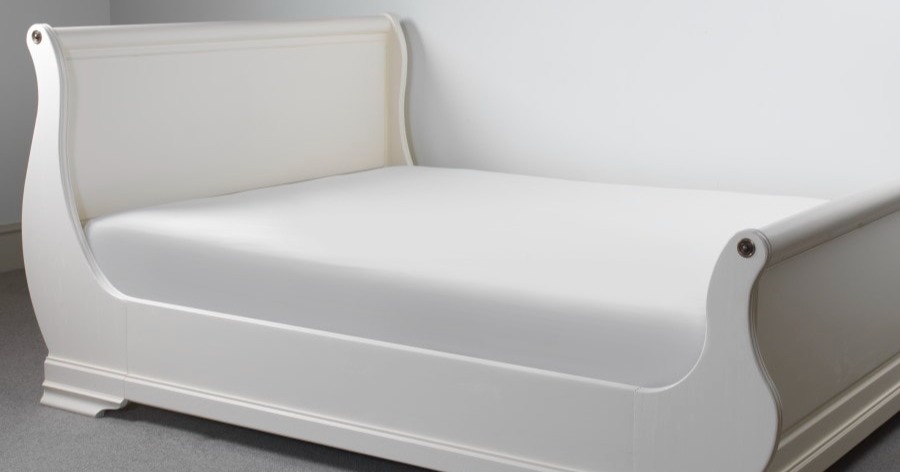 A very hidden part of a hideaway is its mattress protector that prolongs the life of your mattress while providing extra lumbar support.
While mattress protectors won't do anything obvious for your interiors, they aren't a bedroom furnishing idea to be ignored.
They should take pride of place in your bedroom (even if it's a more private affair).
When it comes to comfort, mattress protectors make beds breathable so you don't get too hot during sleep. They're also made from soft, supple materials that never make a noise when you adjust sleeping positions, so you won't have to worry about disturbing a partner in the early hours of the morning. This isn't to mention how much of a vital role mattress protectors play in protecting your initial mattress investment.
In short, skipping the step of buying a mattress protector is a mistake.
As an often ignored bedroom furnishing, most people assume mattress protectors are all the same—but this too is wrong. Mattress protectors come in a variety of styles from luxury quilted toppers to waterproof protectors.
6. Custom Ottomans
One of the easiest but most effective bedroom furnishing ideas is placing an ottoman at the end of your bed, to elongate your sleep space and provide additional storage. They're the stiletto of bedroom styling, helping your bed to feel fancier and even more luxurious.
Not only do ottomans look the part, they play the part too, helping you to store bonus bedding, sentimental items and anything else you can't find room for in your home.
You'll notice that stately homes and hotels often adopt this style where storage space is limited and first-impressions are high on their agenda. If you're going down this hotel-inspired route, make sure to opt for an ottoman with a fabric or leather lid for extra elegance and glamour. These styles serve as a comfortable place to sit as well as give you another opportunity to elevate your interiors.
Custom ottomans take this to the next level, allowing you to handpick the fabric for the item.
The more enthusiastic interior designers amongst us may match this fabric with another in the room, be it a headboard, throw cushion or curtain.
7. Leather Upholstered Beds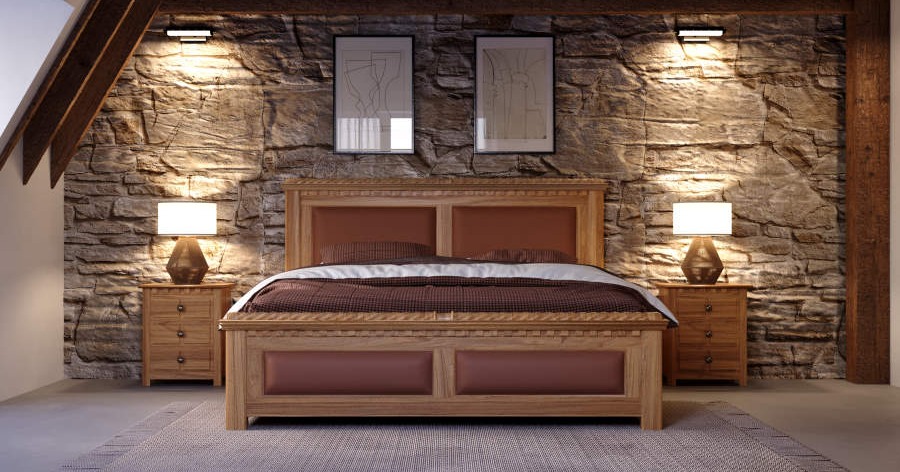 Most of our bedroom furnishing ideas are fixated on our sleep space. As such, picking out the perfect bed is often our greatest interior challenge.
Although there are many different styles of luxury beds suitable for every individual, you can never go wrong with a classic wooden bed upholstered in full-grain Italian leather. Leather upholstered beds provide additional comfort whether you're watching TV, engaging in some pillow talk or snuggling up with a good book before bedtime. They also look the part, pulling together a colour scheme and drawing the eye to their soft, smooth surface.
Often, leather upholstery is used to mark some sort of masculinity in a room—but it isn't limited to this. From pale tones like cottonseed and rice milk to punchy shades such as firestone and tuscany, there's a diverse selection of design options when you choose to incorporate leather into a look.
When compared to clinical metal frames, leather upholstered beds look like just the type of sleep space that a heavy head would wish for.
Spark Better Bedroom Furnishing Ideas with Matching Bedroom Furniture
If your creative well is closed, it's time to go back to basics.
From bed frames and bedside cabinets to dressing tables and chests of drawers, it's important to invest in durable, designer furniture pieces to build a strong foundation for a bedroom.
From here, adding soft furnishings will feel like second nature with so much of the 'hard work' already done.
To find matching bedroom furniture all finished with the same quality craftsmanship browse our Collections Brochure.
Bring our showroom to your sofa by downloading your copy below.