7 Reasons Why Revival Beds are the Ideal Bed and Breakfast Furniture Supplier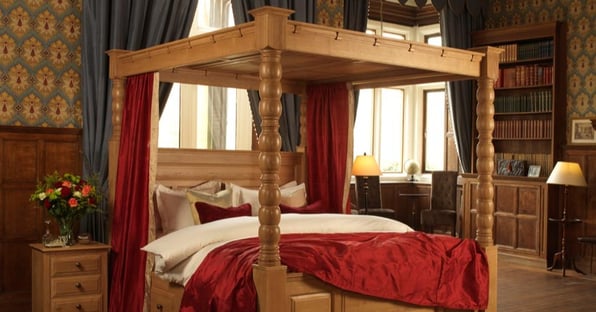 As far as bed and breakfast furniture suppliers go, we're experts. Our clientele spans from castles to manor houses and beyond, with many prestigious stays showcasing our furniture ranges across the UK. But there are many reasons, other than the beautiful, handcrafted artisan furniture we make and sell, to choose us as your one-stop supplier.
1. Four Poster Connoisseurs and Creators of Revival Furniture
If you're looking to create show-stopping spaces — after all, which holidaymaker doesn't have a breathtaking bedroom on their wishlist? — Revival Beds specialises in statement beds.
We're known for our grand four poster frames and for more understated takes on this traditionalist style. As our name suggests, we're expert crafters of revival furniture, recovering well-loved styles from throughout history, be it sleigh beds dating back to Ancient Rome or slightly more modern shaker styles inspired by 19th-century religious sects.
No matter which style you choose for your bed and breakfast, we can supply an authentic, artisan-made bed.
2. A One-Stop Shop For Superior Sleep
We're a one-stop-shop for boutique bedrooms. Even though we're famous for our bespoke, handcrafted beds made lovingly in the UK, our inventory doesn't stop at aged European oak bed frames. We also supply all other additional items you might need, including mattresses, bedding, drapes and more.
For completely 'done for you' bedrooms, we have matching furniture collections so you can create a seamless experience tying in the design of your bed frame with bedside cabinets, dressing tables, wardrobes, chests, ottomans, mirrors and more. The opportunities are endless with bespoke bed and breakfast furniture suppliers like us.
3. Five-Star Service, From Beginning to End
Working with us is a luxurious experience, mirroring the superior quality of our products. We're on hand to help with the entire buying journey, whether you have simple questions to ask about delivery and installation or require a more consultative approach to create truly unique interior concepts.
Our attitude is far from that of a mass-manufactured furniture company. We take pride in our process, with service at the forefront. Our makers are real individuals you can interact with, with passion for their heritage, discipline and most importantly, for the people and businesses it impacts. Our showroom door is always open, with no corner of our operation kept a secret.
We want to hear about your experience and be a part of your bed and breakfast journey. So, indulge in a new kind of sales process that doesn't feel rushed, confusing or unnecessarily complicated.
4. British Born, British Made
Many British bed and breakfast establishments look to us for a local feel. As a British brand, we keep everything in-house, shipping all raw materials to our Nottinghamshire workshop for our experts to assemble.
Keeping your supplier close to home not only helps legitimise the quality and authenticity of your order but can also give your bed and breakfast a unique selling point. Knowing everything is domestically sourced can attract guests to your stay and point to a more environmental way to do business.
Of course, we let our heritage also guide our design process, which you can see throughout our different product ranges. The County Kerry, County Cork and County Clare models are perfect for Irish abodes, while the much-loved Balmoral Four Poster is perfect for any quintessentially British stay.
5. Made to Last a Lifetime
Alongside style, we know bed and breakfast hosts look for durability, reliability and quality when buying a boutique bed. Our products use only the finest quality materials and are made to last a lifetime, so you can keep Revival Beds products through every refurbish.
Our 10-year guarantee is a commitment to this quality, giving you peace of mind that some of your greatest business investments are taken care of, no matter what the next decade brings.
6. Universal Appeal, Individual Design
Revival beds are crowd-pleasers, whether placed in regal castles or installed in an individual's home. Their care, attention to detail and design give them universal appeal. However, they're also exclusive and customisable to your every requirement.
With custom capabilities beyond most bed and breakfast suppliers, at Revival Beds, we can offer something unique, so your company doesn't need to make any compromises and your guests don't need to feel them either.
From changing bed frame dimensions to dictating whether a bed should have in-built storage, we'll work with you to craft your creative vision.
7. A Business That Understands Business
We know coordinating large orders can be tricky and for busy bed and breakfast operations, everything from hassle-free installation to timely delivery counts. That's why we're intent on delivering clear communication throughout every step of your order and offer all the after-care you'd expect, including policies like a money-back guarantee as standard.
Delivery and installation are free to mainland UK. Not to mention installation is always a shoes-off affair. We're quick yet cautious when assembling furniture, so your guests don't have to wait to start benefiting from a superior sleep.
Not Ready to Select a Supplier? First, Find Some Inspiration
If you're not at the stage of selecting a supplier, don't worry. Because the truly fun bit comes first anyway.
Find design inspiration for your boutique stay, see examples of to-die-for hotel spaces and learn how to make every piece feel 'put together' with our expert style guide.
Whether you're a novice hotel owner looking to build a respected brand or a seasoned boutique stay pro embarking on an all-important update, read this resource to gain out-of-the-box ideas and revise design principles.