How To Choose The Right Upholstery Leather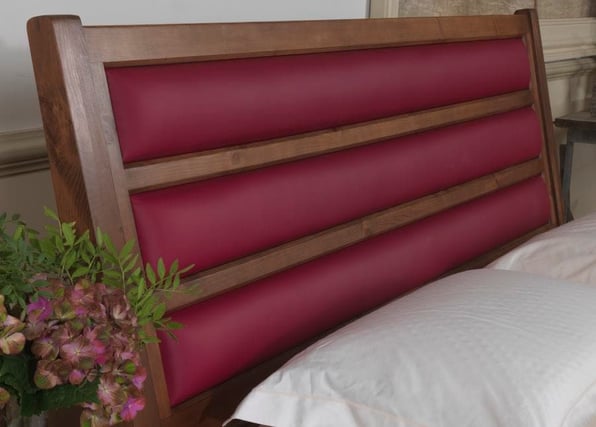 Leather is one of man's earliest and most useful discoveries. Our ancestors hunted wild animals for food, then made clothing, footwear and makeshift shelters/tents from the hides to protect themselves from the elements.
The earliest recorded leather artefacts crafted by our ancestors date back to around 1300 BC. Like then, hides used today are a by-product. Animals are raised for the meat, dairy and wool industries, not for their hides.
Due to its durability and comfort, leather has been used for seating throughout the history of transportation and furniture making. It has always been the ideal material for saddles, harnesses and tack. During the Middle Ages, leather became the seat cover of choice for dining chairs as is was easy to maintain and did not soak up food odours.
Nowadays leather is used in many applications; car interiors, restaurant seating, watches, wallets and handbags, footwear, sofas and beds to name just a few.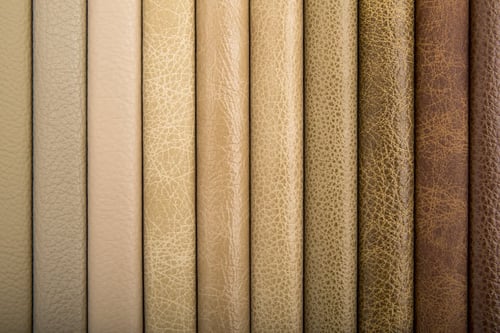 Types of Leather
Aniline Leather
Also known as 'natural', aniline is the most expensive type of leather due to the exclusive selection of hides. This leather is dyed and has no pigmented coating applied, allowing the leather the breathe naturally, showing any unique markings and variations.
+ The most natural type of leather available, each hide is unique and has its own story to tell.
- Prone to staining and fading as the leather has no protective coating.
Semi-Aniline Leather
Similar to aniline, but with the added advantage of a thin protective coating. Natural markings are still visible, but not to the extent of an aniline leather.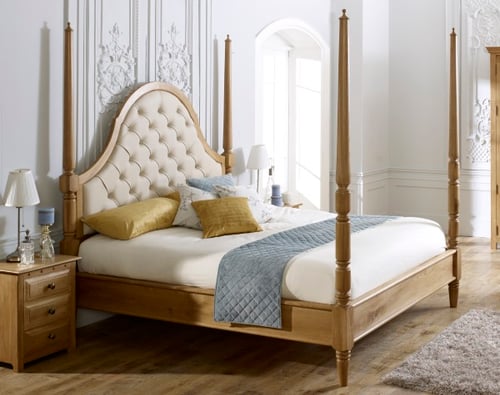 Pictured: Quebec (Natural Oak with Rice Milk Semi-Aniline Leather)
+ Some natural markings still visible, soft feel and easy to clean and maintain.
- The only complaint is that semi-aniline is slightly less natural than aniline leather.
Pigmented Leather
This type of leather is coated with a fine pigmented spray, giving the leather a solid colour with no shade variations. Sometimes referred to as corrected grain leather, this is when an artificial grain pattern is imprinted into the hide as the natural grain surface is completely concealed under the pigmented coating. The colour is uniform across the hide and all defects are covered.
+ Hard-wearing and durable, easy to clean and maintain.
- Natural grain pattern is masked and the leather has reduced ability to breathe.


Pictured: Leather Types & Properties
Bi-cast Leather
A polyurethane film is bonded to the surface of the leather, making it very hard wearing.
+ Easy to clean and maintain and uniform colouring across the hide.
- No natural grain surface, so not a very natural product at all.
Pull Up Leather
A very natural leather that is designed to distress as it ages. The colour lightens when stretched or scratched.
+ Natural, lived-in look. All natural markings are visible and the leather has a soft, delicate feel.
- Stains easily and can be difficult to clean.
Nubuck
This leather is buffed on the grain-side to create a velvet-type surface.
+ Nubuck leather is very natural with a lovely soft, delicate feel.
- Prone to staining, and difficult to clean and maintain as it has no protective coating.
Suede
A split hide buffed to create a nap, as opposed to Nubuck which is the top grain that is buffed. Suede has a rougher texture.
Split Hide
The hide is split horizontally during the tanning process. The split hide is the bottom of the two halves, the top half is the top grain leather. Split hide is very weak and is recommended only for use on the backs and sides of furniture. This is a variation of pigmented leather where the grain is artificially embossed.
Real Leather Beds
Here at Revival Beds our leather beds are all handcrafted and then upholstered using Italy's finest leather, sourced from a trusted partner who have been in the industry for many years. By using only the finest leather for all our solid wooden beds, we can assure the finest quality.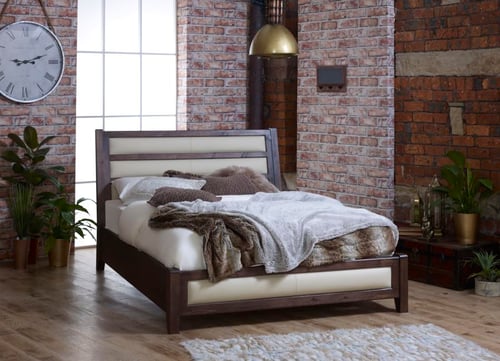 Pictured: Studio (Walnut Finish with Rice Milk Semi-Aniline Leather)
What Type Of Leather Do Revival Beds Use?
The leather we use for our wooden beds is natural grain, semi-aniline. Semi-aniline leather is our preferred choice as this type of leather maintains the natural markings and patterns within the hide, with the added protection of a thin coating to prevent wear and staining. So you get the most natural type of leather available without compromising on its durability.
We insist that our Tuscany, Amalfi, Quebec, Studio and County Cork beds are upholstered using Italy's finest leather, sourced from a company that's been at the forefront of the leather industry for many years. We offer 15 standard choice leather shades, but if you are looking for a specific shade, ask us about our vast array of bespoke leather options.
Video: Leather Manufacturing Process
Request Your Free Brochure
Our collection of wooden beds and bedroom furniture are only ever handmade to order in our Nottinghamshire workshops from the finest materials. Request your free leather samples today.
All handmade beds also come complete with a 10 year guarantee, as well as free delivery and installation - to find out more, simply download your free brochure below.