15+ Best Luxury Hotel Style Bedroom Examples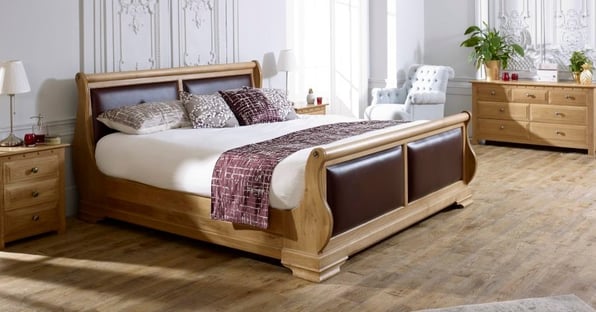 From local hotels in Leeds, Norfolk and London to tropical stays as far out as Thailand, we've gathered an extensive list of luxury hotel-style bedrooms to draw some inspiration from.
1. Dakota, Leeds
Dakota Leeds serves serious hotel bedroom inspiration with perfectly plump pillows and a stunning art arrangement.
2. The Victoria Inn, Norfolk
With a mix of old and new furniture and a nutty colour scheme to die for, The Victoria Inn's suite excels in creating a place of contemporary calm.
3. Corinthia, London
Hotel interior experts Corinthia does it again, creating a bold yet inviting guest experience. With blue on the brain, Corinthia matches its wall paint with custom fabrics and luxurious lampshades.
4. AC Hotel, Belfast
This suite looks good from every angle, especially at eye level, where you can appreciate the prestigious pillow menu in all its glory. Our bets are on Hungarian feather or goose down pillows to get that cloud-like look.
5. The White Horse, Dorking
There's more on offer at The White Horse other than a beautiful bed. The lucky occupier can explore various other areas and bathe in a sea of natural sunlight thanks to an array of luxury bedroom furniture and characterful floor to ceiling windows.
6. Raheen House, County Tipperary
For a quaint, cosy country feel, Raheen House uses subtle florals and champagne accents. There's no shortage of authentic accessories either, with a whiskey decanter ready to dive into.
7. Il Sereno, Lake Como
If sleek and stylish aesthetic appeals, take notes from Il Sereno's strip light set-up. In addition to bedside globe lamps, these features help us forgive that there are no accessories in this abode, making a truly minimalist masterpiece.
8. Castle Durrow, Ireland
For palatial pads, Castle Durrow is a great source of style ideas. Keeping it traditional with a luxurious four-poster bed, this bedroom is fit for a queen (or king).
9. Markree Castle, Sligo
From one castle to another, this bedroom has its equal share of Irish charm. As with many other hotel style bedrooms, this suite features the classic ottoman at the end of the bed trick, elongating the sleep space and adding intrigue.
10. Hambleton Hall, Oakham
When life gives you lemons, create an exquisite hotel-style bedroom. Hambleton Hall's courageous colour choice pays off in this fresh, floral suite.
11. Artist Residence, Bristol
This bohemian style bedroom feels both homely and hotel-like. With a warm colour palette and plenty of textures to take in, this small space has many strings to its bow.
12. Barnett Hill Hotel, Guildford
Sometimes, a snapshot is all you need to get your creative juices flowing. A good book and evening light instantly set an indulgent ambience.
13. Lyrath Estate, Kilkenny
If it's elegance you crave, this room at Lyrath Estate confirms a gilded gold mirror and a traditional dressing table are instant must-haves.
14. Santhiya Koh Yao Yai, Thailand
This tropical paradise relies on dreamy drapes to create a balmy, beach atmosphere that flows from inside to outside.
15. Relexa Hotel, Munich
Sometimes, less is more, as is the case in the Relexa Hotel, Munich. For smaller budgets or tight timeframes, look to suites that prioritise comfort and cleanliness to create an urban oasis.
16. Hotel Le Coucou, France
This hotel suite has a clear point of difference, proving not all hotel style bedrooms have to look the same. With a quirky, custom bed frame, it's love at first sight.
17. The Culpeper, London
Not every hotel-style bedroom must be prim and proper. With a rustic look, attention can be drawn to natural materials and functional items like wardrobes, mirrors and shelves.
18. Royal Mansour, Marrakech
If anyone can show you the power of patterns in your boudoir, it's the Royal Mansour. For opulent interiors, look to brocade, chinoiserie, damask and fleur-de-lis styles that have been prominent in hotel interiors across the ages.
Get Even More Luxury Hotel Style Inspiration Straight to Your Inbox
Can't get enough of hotel-style inspiration? Download our Hotel Style Guide, a resource packed with helpful information about boutique hotel interiors. Created for hotel owners, this guide offers up expert advice for creating the most irresistible guest experience ― but one that can be mirrored in the home too.
Click the banner below to instantly download your guide and get a copy sent to your inbox.